These strawberry kiwi popsicles are the perfect cure for a hot summer day!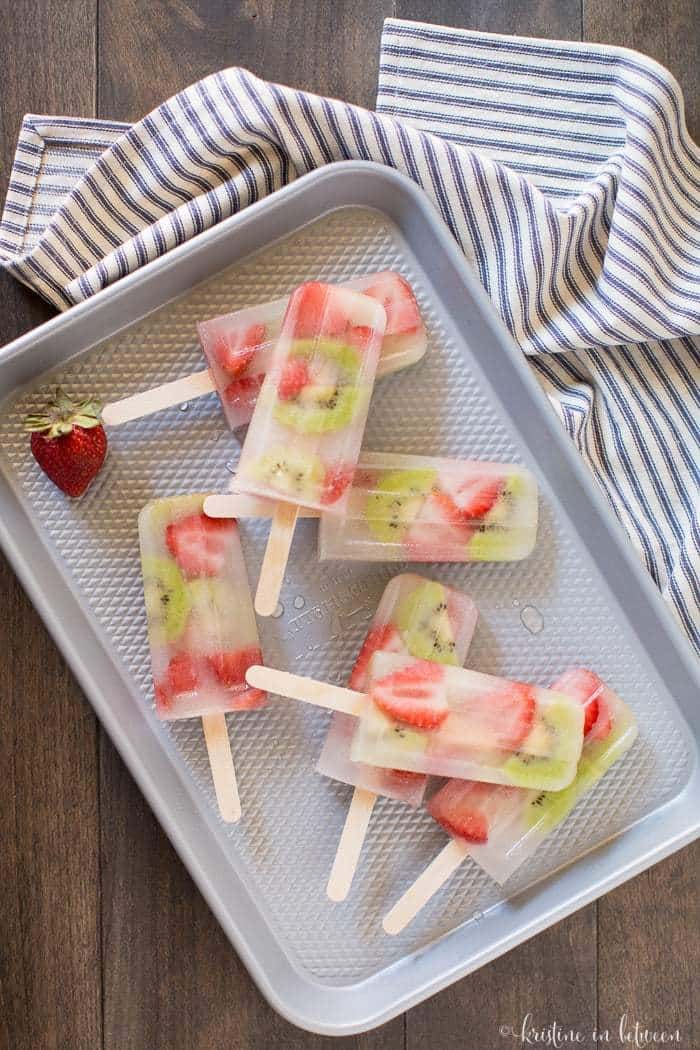 Oh man you guys, summer is upon us. And it came very suddenly. we were having the most gorgeous spring and then bam, 115 degrees. Thankya so much Arizona. That's all i can say.
Anyway with the kids out of school for summer and the soaring june temperatures we've all been searching for cold, yet healthy treats. That's when I got the idea for these super simple strawberry kiwi popsicles, or 'fruit-sicles' as Mad calls them. They only require a few fresh ingredients and can be made with whatever fruit you have in the fridge. We had strawberries and some incredibly delicious kiwi, so we went with strawberry kiwi.
All you do is wash and cut up the fruit, add it to the mold, and pour in some coconut water. I let them freeze about an hour or so (and might I suggest you set a timer…eh hem…you know just in case) and then insert the sticks. It just helps them stay upright so you can easily remove the lid from the mold.
Oh! And a little tip; it makes this super fast if you slice the fruit up with an egg slicer like the one below. I cut up all the fruit for these strawberry kiwi popsicles in like 5 minutes (I would have been faster, but the darn kiwi skin slows me down every time!).
Strawberry Kiwi Popsicles
Print
Ingredients
10

large strawberries, sliced thin

1

or 2 kiwi, sliced thin

Unsweetened coconut water
Instructions
Wash and slice fruit (I used my egg slicer)

Place fruit in the popsicle mold, filling 3/4 full (we like a lot of fruit)

Pour unsweetened coconut water over the fruit to fill molds completely.

Freeze for 1 hour and then insert popsicle sticks.

Freeze overnight to fully harden.

Soak in warm water to remove popsicles and enjoy!
You'll also want to check out these strawberry cupcakes or this no-churn raspberry frozen yogurt, also summertime favorites!