These gluten-free, grain-free almond flour shortbread cookies with raspberry jam are the perfect (and healthy way) to celebrate Valentine's Day…or any day, really! They're soft, and sweet, and a whole lotta yummy!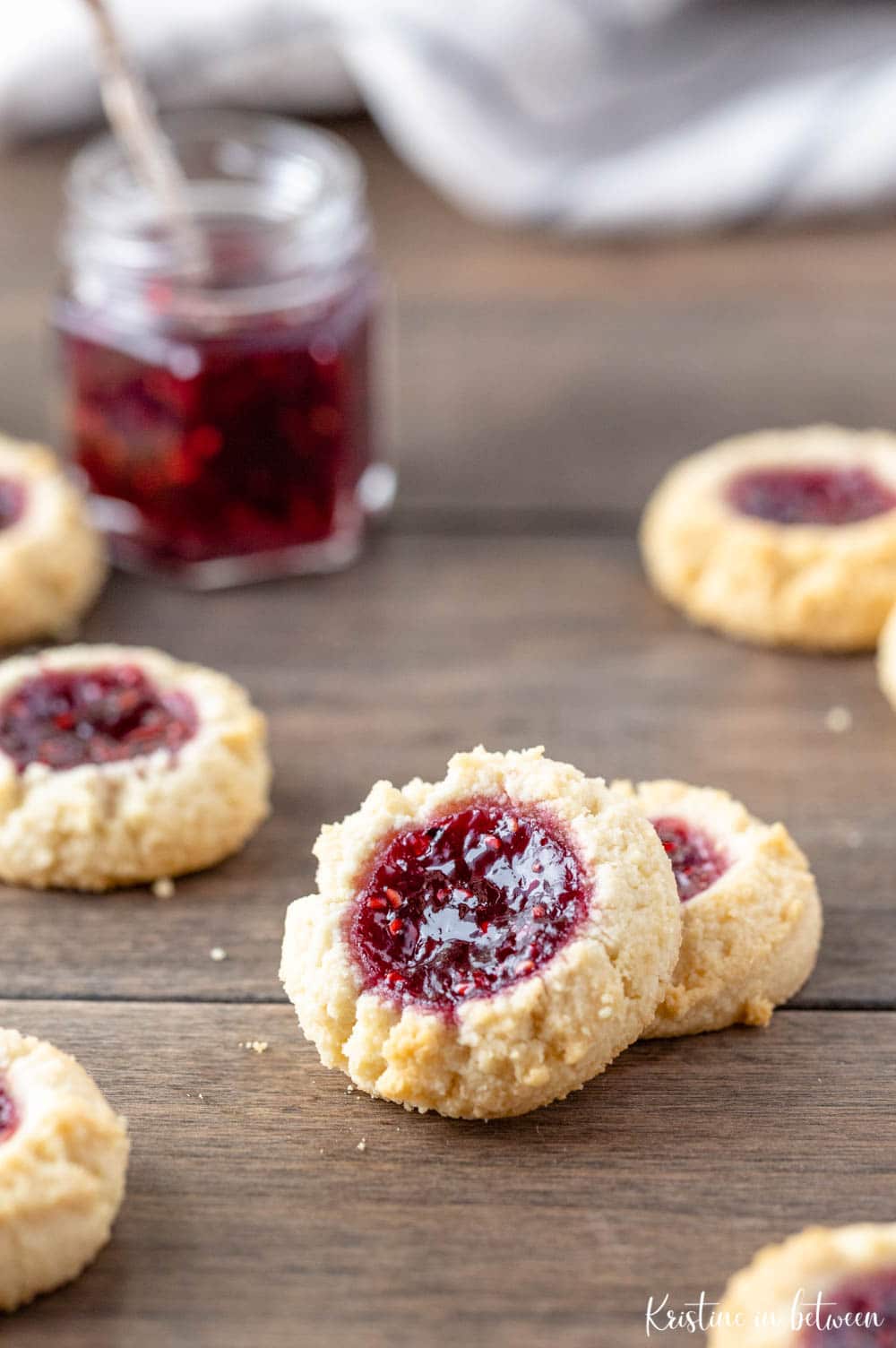 I'm sure I've mentioned this once or a hundred times, but my favorite kitchen activity is baking. I love everything about it. I really think it's part of who I am. Combing ingredients in a bowl, scooping out perfectly portioned little balls, and baking them into warm, sweet, satisfying little bites of heavenly goodness makes my soul happy.
And there's nothing I'd rather be doing. Nothing..except possibly photographing said little bites of heavenly goodness, of course!
As much I as I love baking though, baking doesn't always love me. I want to fill my diet with delicious, soft, chewy cookies all day every day, but I just can't do it. So every now and then, I have to either take a break from baking or switch over to some healthy baking.
I'm currently in a healthy baking phase. This is my second, yes SECOND gluten-free or lightened up recipe in a row now! You're welcome!
Several years ago, when I first switched our family over to whole food, I was in another healthy baking phase and I posted a recipe for coconut flour shortbread cookies and these cookies quickly became the most popular cookie recipe on this blog! Which. Is. Crazy! So today, I'm posting a sister recipe – almond flour shortbread cookies with raspberry jam!
Over the recent years, and countless recipe trials, I've discovered that I much prefer almond flour over coconut flour, so I was really excited to bake these almond flour shortbread cookies.
I decided I should compare the two side-by-side too, so I did. As I had suspected, I loved the almond flour shortbread cookies much more than the coconut flour cookies, but it could have also been because I added a dollop of my homemade raspberry chia jam to the center of each of these cookies, giving them some extra tartness and flavor. They are ridiculously good!
Ingredients you'll need to make these almond flour shortbread cookies:
Almond flour.
Unsalted butter.
Sea salt.
100% maple syrup.
Vanilla extract.
Raspberry jam (or jam of choice).
That's it! I love how simple these cookies are, and no, I guess you don't haaaaave to make your own jam, but if you have time (and the desire), I suggest you try it, at least once! So. Good.
These almond flour shortbread cookies are soft and tender without being dry and crumbly like some other recipes I've made, and because they only have 1 TBS of maple syrup, they're not super sweet either – just enough. They're delectable.
And because they are a shortbread cookie, you could really have some fun with the recipe and add dark chocolate drizzle, a dash or two of cinnamon, or even just flatten them and have them plain! For a 'healthier cookie', they really do still taste like a treat!
Good news too, I calculated the nutritional information for these little guys and each cookie is 57 calories and only 2.3 g carbs!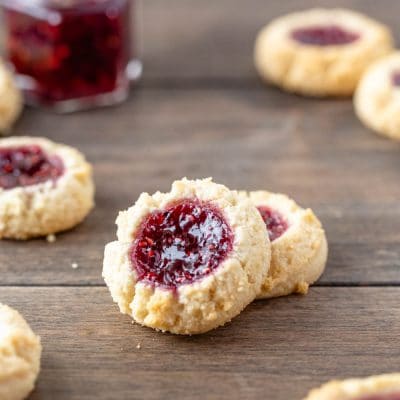 Almond Flour Shortbread Cookies
Soft and lightly sweet almond flour shortbread cookies with raspberry jam!
Print
Ingredients
1-1/4

cup

almond flour

3

TBS

unsalted butter, room temperature

1/8

tsp

sea salt

1

TBS

maple syrup

1/2

tsp

vanilla extract
Instructions
Preheat oven to 350 degrees and line a baking sheet with parchment paper.

In a medium bowl cream almond flour, butter, and sea salt until smooth.

Add maple syrup and vanilla and mix until a dough forms.

Using a 1 TBS cookie scoop, scoop dough on to lined baking sheet.

Press down on the top of each cookie with the back side of a small measuring spoon to create a divot.

Fill each cookie with 1/2 tsp

raspberry jam

(or other fruit jam of choice).

Bake for 12-15 minutes until lightly brown around the edges. Avoid over-baking or they will dry out.

Allow cookies to cook for a few minutes on the baking sheet prior to transferring to a wire rack to cool completely.

Store cookies in an airtight container for 3-4 days or freeze.
Nutrition
Serving:
1
cookie
|
Calories:
57
kcal
|
Carbohydrates:
2.3
g
|
Protein:
0.8
g
|
Fat:
5.2
g
|
Saturated Fat:
2.3
g
|
Cholesterol:
9
mg
|
Sodium:
48
mg
|
Potassium:
5
mg
|
Fiber:
0.4
g
|
Sugar:
1.5
g
|
Calcium:
10
mg
|
Iron:
0.2
mg
Try these coconut flour shortbread cookies or go for the real thing with these strawberry thumbprint cookies!