This post contains affiliate links, thanks for your support!
This soft and sweet strawberry banana bread is the perfect way to use up some of those delicious fresh summer strawberries!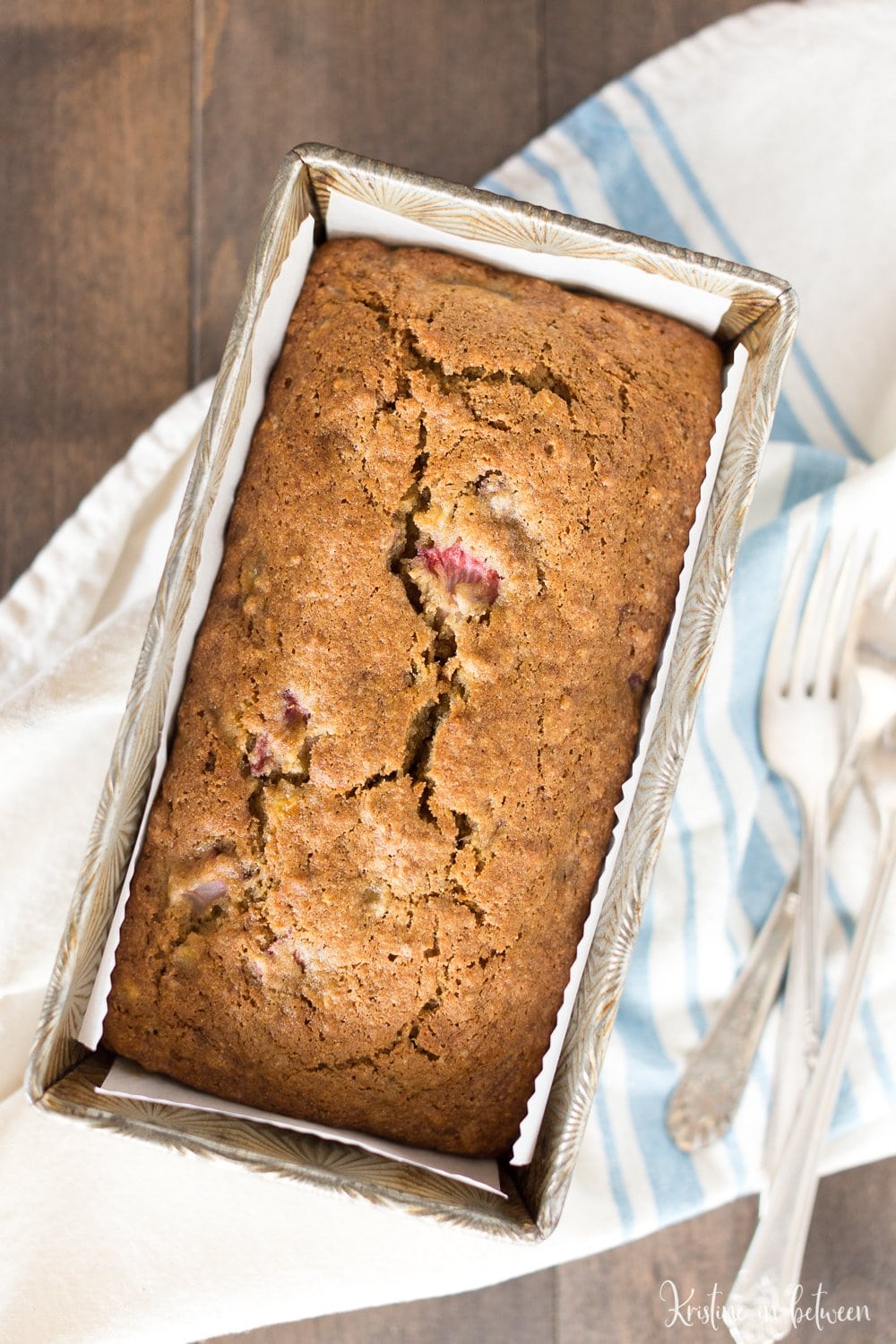 It's totally strawberry season and there are delicious looking berries everywhere I go, so I've putting them in everything I can think of! We are some strawberry loving folks over here! Waffles, cupcakes, yogurt, ice-cream, jam, and yes, in this most delicious whole wheat strawberry banana bread!
Let me go off on a tangent here for a second (it's relevant, I promise!), I'm a little old grandma at heart. I love anything old, dated, and sometimes even worn out. I'm fascinated by the past and things from the past and yep, you guessed it, I love going antiquing! I'm particularly drawn to kitchen and baking things (shocking, I know) and I never get tired of rummaging around in bins filled with old metal pans or tubs full of random pieces of tarnished flatware.
During my last trip to the antique mall, I found this bread pan. I saw it on a shelf and fell in love with it instantly. I even did that excited little giggle and one-legged hop as I picked it up and put it in my basket. I knew I had to have it and that it would look incredible in photos!
Anyway, as soon as I had the pan home and clean, I knew it was time to find something to bake/photograph in this little beauty. And being that it's strawberry season and that I had some overly ripe bananas sitting on the counter, I knew I had to make a quick bread and this whole wheat strawberry banana bread was born!
Things to remember about this strawberry banana bread recipe:
You'll want to use really ripe bananas to add that extra sweetness to the bread. Don't have any ripe bananas around? Try this oven ripening method – it works!
To make removing the bread from the loaf pan easier, line with parchment paper or aluminum foil.
You'll want to bake the bread until a toothpick inserted into the center comes out clean, it takes a while – there's a lot of moisture in the fruit, be patient!
You can substitute regular unbleached flour for white whole wheat if you prefer.
Tossing the strawberries in flour helps them stay suspended in the batter and not settle to the bottom or rise to the top.
This bread will dry out quickly, so keep it covered but not airtight or it will mold from the high moisture content. You can also store it in the refrigerator (if it's around that long).
The bread itself it a hearty bread, since it's made with white whole wheat flour, but it's still soft and spongy like you'd expect from a banana bread. It has a perfectly crispy crust when it comes out of the oven, which is probably my favorite part! The fresh strawberries add a little tang to this bread, which is kind of surprising, but delightfully so. It just screams summertime and is bursting with summer flavor!
Next time you have some ripe bananas on the kitchen counter, don't just make plain old banana bread, make this strawberry banana bread instead! You'll be really glad you did!
Strawberry Banana Bread
Fresh strawberry banana bread made with whole wheat flour for a healthier bread! Lightly sweet and perfect for summertime!
Print
Total Time:
1
hour
10
minutes
Ingredients
1/4

cup

unsalted butter, room temperature

1/2

cup

sugar

1

large egg

1

tsp

vanilla extract

2

ripe bananas, mashed

1

cup

white whole wheat flour

1/2

tsp

baking soda

1/2

tsp

sea salt

3/4

cup

chopped strawberries, tossed in 1 TBS of flour
Instructions
Preheat oven to 375 degrees and line a loaf pan with parchment paper.

In a medium size bowl, cream butter and sugar until smooth.

Add the egg and vanilla extract and mix well.

Fold in mashed bananas and stir to combine.

In a small bowl, whisk together the flour, baking soda, and sea salt.

Add flour mixture to wet ingredients and mix until just combined.

Toss strawberries in flour to coat evenly and add to batter.

Pour batter into a prepared loaf pan ad bake for 15 min at 375 degrees. Then reduce heat to 350 degrees and bake for 35-45 more minutes. Bread is done when a toothpick inserted in the center comes out clean.

Let bread cool completely before removing from loaf pan. Then slice and serve.

Keep bread covered with foil for up to 1 week or freeze.
Nutrition
Serving:
1
slice
|
Calories:
108
kcal
|
Carbohydrates:
17.7
g
|
Protein:
1.9
g
|
Fat:
3.9
g
|
Saturated Fat:
2.2
g
|
Cholesterol:
22
mg
|
Sodium:
139
mg
|
Potassium:
110
mg
|
Fiber:
1.5
g
|
Sugar:
9.9
g
|
Iron:
0.4
mg