These strawberry cheesecakes are a healthier version of the old-fashioned favorite!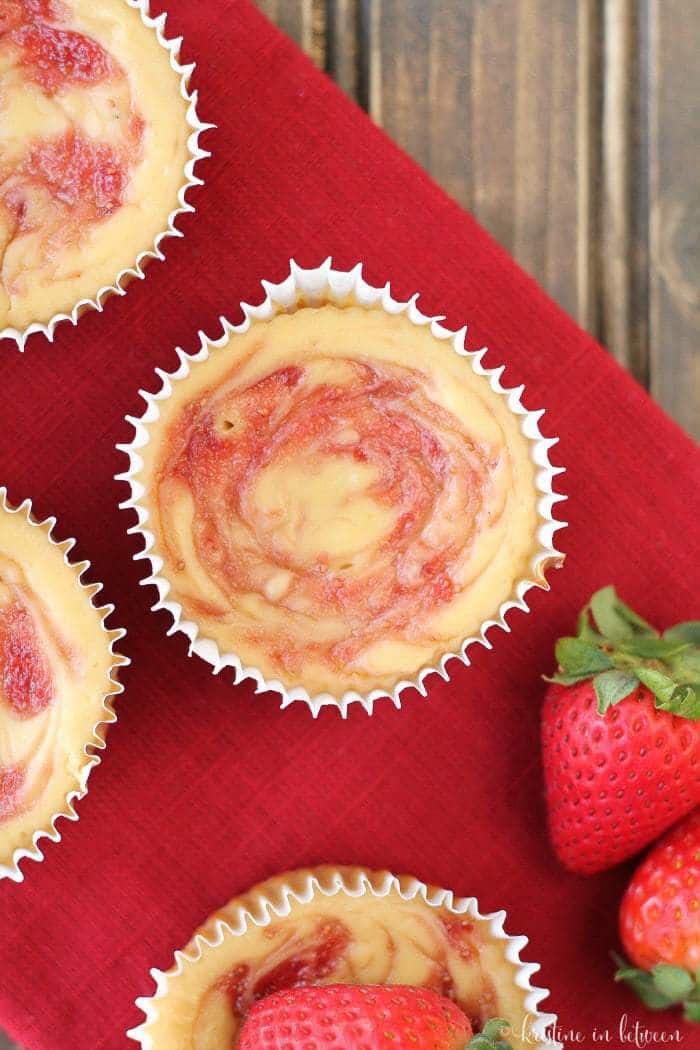 I was in the kitchen the other day cooking dinner, talking to Hannah (she sits at the bar/counter and chit-chats with me while I prepare food) and we were going over some of our favorite treats, trying to compile a list of our top 5 favorites. And let me tell ya, dessert titles were flying all over our kitchen, top 5 my butt – more like top 50!
During all of this conversing about sweets though, I learned something. In the 13 years I have been Hannah's mom, I never knew her favorite dessert were strawberry cheesecakes (insert mouth-wide-open pause here).
Mom of the year. I've never once made her a cheesecake or any type of cheesecake-ish anything. After this discussion though, cheesecake moved to the top of my to-bake list.
Now, for the second part of this story, we have to trek 'way' back to my childhood. My mom used to make these little cheesecake things, actually she calls them cream cheese tarts, I think. They have a vanilla wafer at the bottom, a cream cheese middle, and cherry pie filling on top. They. Are. Delish. But, they are also full of ingredients we don't really eat. So, I was inspired to revise her recipe a little and create a new cheesecake treat for Hannah.
With a few easy substitutions and a little homemade strawberry sauce, a new recipe was born! Strawberry cheesecakes! These can be made with or without the graham cracker crust.
Strawberry Cheesecakes
Print
Ingredients
For the strawberry sauce:
1

cup

frozen strawberries

2

TBS

maple syrup or honey

3

TBS

water
For the crust (optional):
1

cup

whole wheat graham cracker crumbs

1

TBS

meted butter

1

tsp

maple syrup
For the cheesecake filling:
1

8 ounce package of cream cheese, softened

4

TBS

sour cream

1/2

cup

maple sugar

1

egg

1

tsp

vanilla

1

TBS

white whole wheat flour
Instructions
Preheat oven to 325 degrees.


For the sauce:
In a small saucepan over medium heat, cook berries, syrup, and water until berries are soft and falling apart.

Puree with immersion blender until smooth.

Pour into an airtight jar and cool completely.


For the crust (if using):
In a small microwave safe bowl, melt better.

Stir in graham cracker crumbs and maple syrup and mix well.

Spoon crumbs into lined muffin cups and press into the bottom.

Bake crusts for 5 minutes.


For the filling:
In a medium bowl, mix cream cheese, sour cream, flour, and maple sugar.

Add egg and vanilla and mix until smooth.

Carefully spoon mixture over pre-baked graham cracker crusts, filling 2/3 full.

Once all of the cups are filled evenly, using a spoon drop 3-4 drops of strawberry sauce on the top of each cheesecake.

With a toothpick, gently swirl the strawberry sauce into the cream cheese mixture.

Bake for 18-20 minutes, rotating halfway through.

Cool on a wire rack.
Notes
Did you make this recipe? We want to see! Tag @kristineinbetween on Instagram and hashtag it #kinbetween
You'll also love this strawberry banana bread or these strawberry thumbprint cookies!