All Double Crochet Blanket (Afghan)
This post contains links to affiliate websites and we receive a small commission for any purchases made using these links. As always, we appreciate your support!
This gorgeous all double crochet blanket (afghan) was my very first one and has become one of my favorite blankets ever! All 18,000 stitches of it were well worth it!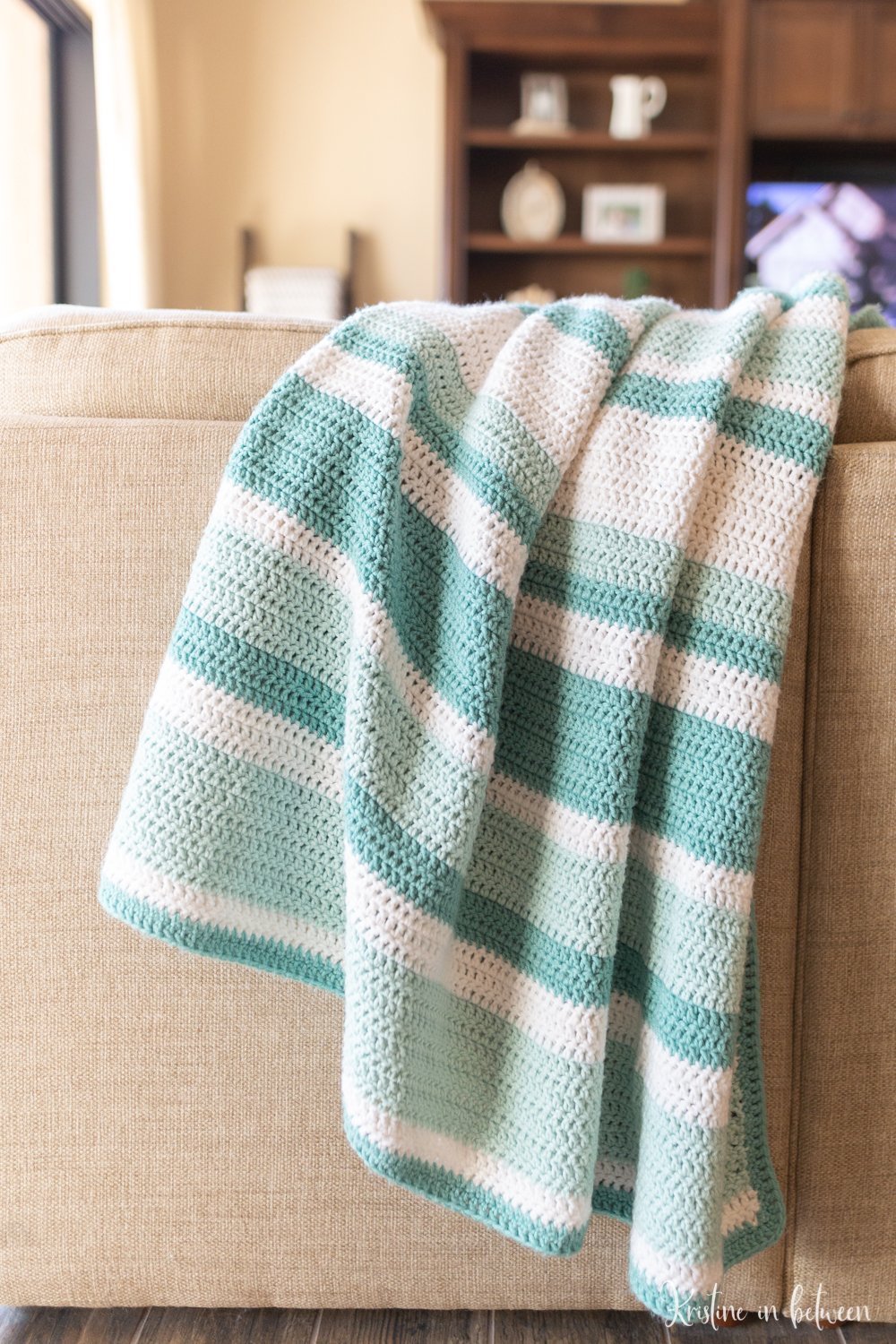 The story about this blanket
Two summers ago, we spent a week in the White Mountains and I decided I needed a new hobby. Yep, right then and there. Crochet. I really didn't think about it much or ponder the idea, I just went for it. I headed into town (where they have only a Wal-Mart) and hit up the craft department.
Now, I have never crocheted (or knitted) before, in fact, the last yarn/string project I remember doing was making knotted embroidery floss bracelets in Junior High… So, to say I started from scratch couldn't be more accurate.
I bought the book "I Taught Myself Crochet", which included an instructional DVD (score!) along with numerous crochet hooks, afghan patterns (why mess with something small, go big right?), several colors of yarn, and of course a handy carrying case.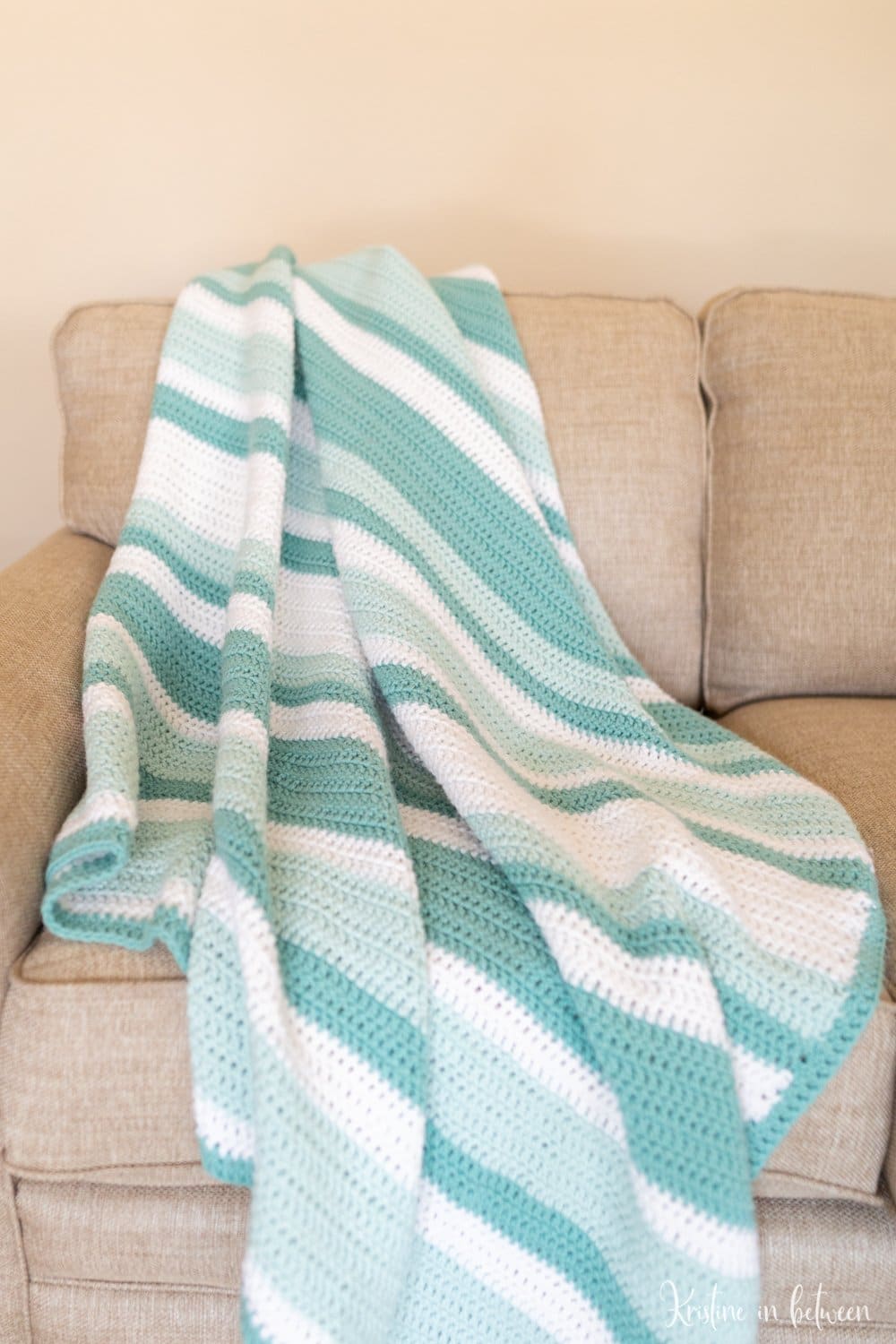 Well, thanks to the book, YouTube, and some diligence I was able to pick up some simple stitches and spent 2 whole days in my PJ's on the sofa doing nothing but crocheting a perfectly imperfect and flawed piece of random – was going to be an afghan, until it took on a completely jagged and unsightly shape. Scrap that.
Upon arriving home later that week, I was inspired to start a "real" project, so I bought some more yarn and began again. This pattern of starting and ripping out, and then eventually abandoning projects continued on for several more weeks.
Finally, in hopes of actually completing a project, I decided on something easy; a simple throw-sized afghan, with only 1 stitch, and minimal color changes. I could do that! After only a week and a half and 18,000 stitches, I am extremely proud to announce, I'VE FINISHED MY FIRST CROCHET BLANKET! It's an all double crochet blanket (afghan)!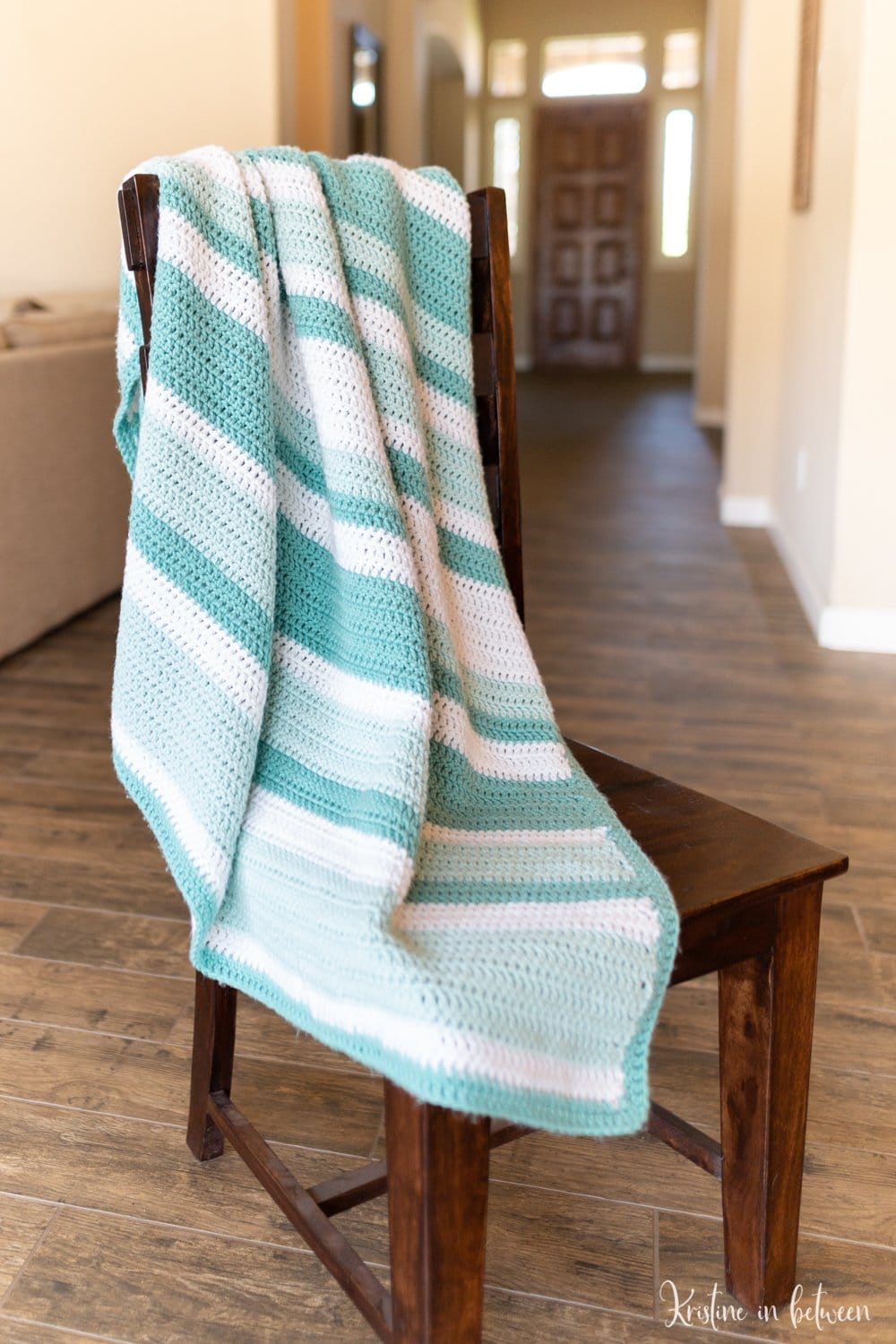 How I made this blanket
The pattern I used was simple, the entire blanket is crocheted in double crochet (dc), nothing fancy. Using a "J" or 6 mm hook, I chained 120 and did 150 rows (for a total of 18,000 stitches!).
For the border, I did one row of single crochet (sc) and then on top of that, one row of double crochet (dc) all the way around – that's it! The finished size is approximately 50 x 60″.
The coolest part about the project was the random stripe generator I found online , which I used to create the inconsistent stripe pattern. It allows you to select your colors and the amount of rows you'll need and then it generates the pattern for you! If you don't like it, resubmit your selections until you find one that is visually appealing to you.
Then you just print it out and follow the pattern. This is not something I would normally do, considering I am a minimalist usually, but I ended up loving the unpredictable colors and chunkiness of this blanket, not to mention the fact that I actually completed an all double crochet blanket (afghan)!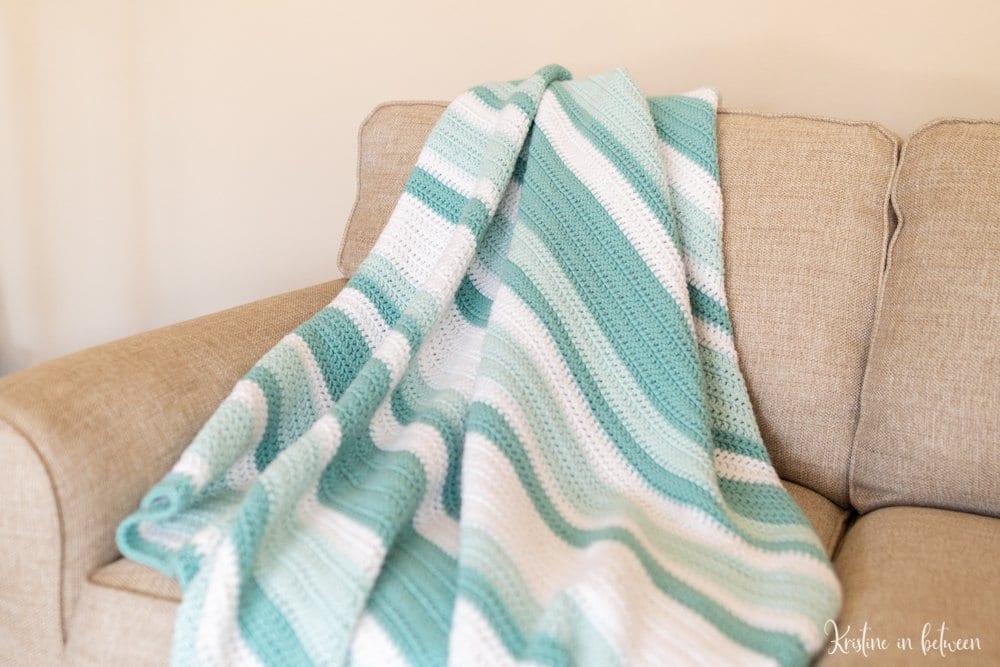 Update, February 2017
I've been asked several times for the exact pattern I used from the random stripe generator, and believe it or not, I still have it handy, so I decided to add it to the post for everyone! If you're interested in making this exact blanket, here are the rows of colors I used (I started the chain with white):
The stripe pattern I used
2 white
8 light teal
8 white
6 light teal
4 white
8 dark teal
2 white
4 dark teal
4 light teal
2 white
8 dark teal
4 white
6 light teal
4 white
2 dark teal
8 white
4 light teal
4 white
6 light teal
2 white
2 dark teal
4 white
4 light teal
6 white
8 dark teal
2 white
8 light teal
4 white
6 light teal
2 dark teal
2 white
4 light teal
2 white
I am more inspired than ever to begin my next project and couldn't be happier with the way this all double crochet blanket (afghan) turned out. It's simple, tailored, and very, very warm!
Did you make this project? We want to see! Tag @kristineinbetween on Instagram and hashtag it #kinbetween
And don't forget to try this easy single crochet afghan, easy granny stripe afghan, or these SUPER helpful letter board tips!
These photos were updated in April of 2018