I have to interrupt the holiday festivities to share these strawberry cupcakes with you!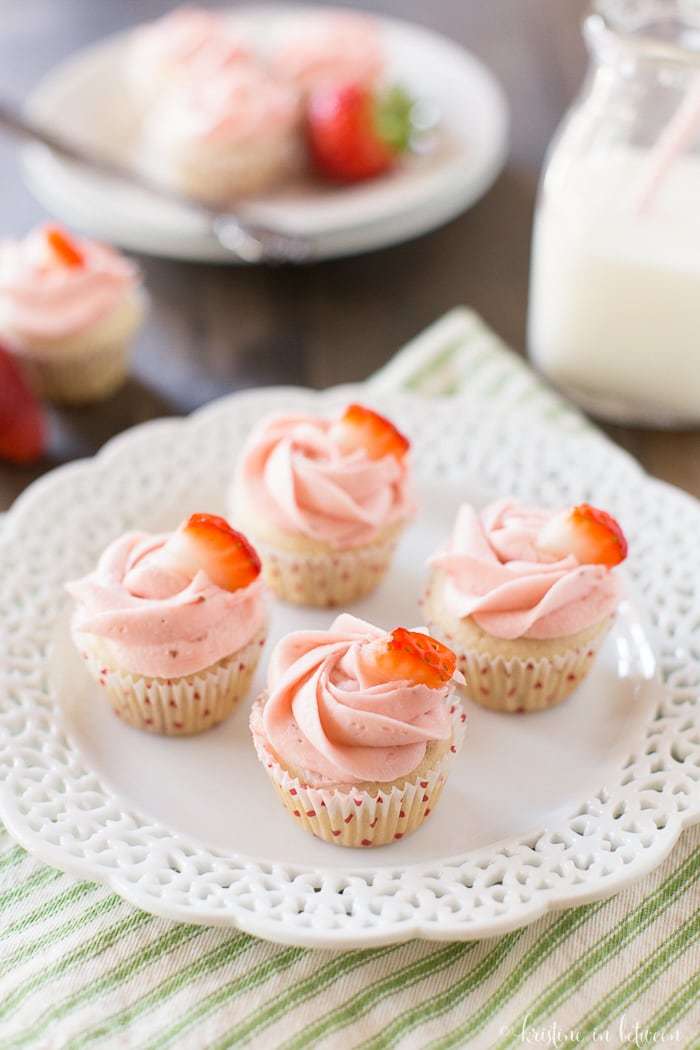 They are so good, I can't hold on to this post, you need to try them.
It's strawberry season now!
We've lived in our house for about a year and a half now and we've met a few people on our street, but that's about it. I was convinced there had to be other fun-loving families in this neighborhood, somewhere.
Well, there are! Monday night was our first girls night in! It was 13 incredibly amazing ladies, delicious snacks, many bottles of wine, a few sweet treats, tons of laughter and even some dancing (you know who you are – wink)! It was so loud at one point, I think we all may have been yelling. It was a hilariously good time!
And, you guessed it. Me being me, I baked for this event. Not like healthy baked either, I legitimately baked. With sugar and white flour. I made strawberry cupcakes and strawberry buttercream frosting with homemade fresh strawberry puree. And they were sinful! I think I had 3 before I even left the house.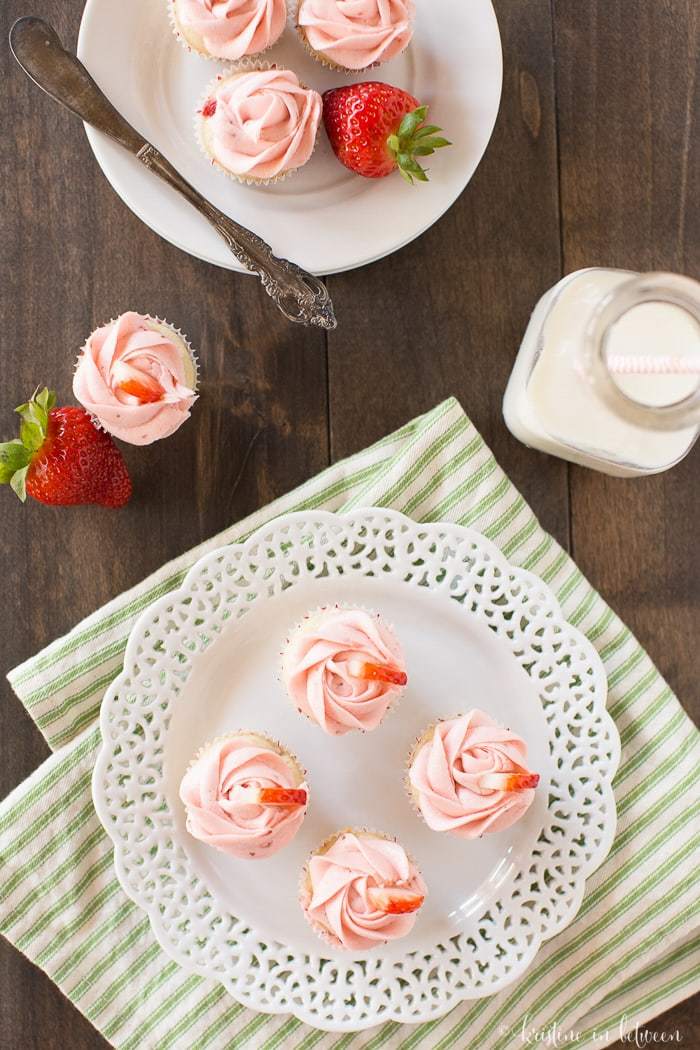 Let me give you a little preview of these strawberry cupcakes, these cake is a soft vanilla flavor with fresh chopped strawberries in the batter. When you bite into them they are spongy and not overly sweet, but there is a subtle tang from the strawberries.
And the frosting is traditional buttercream mixed with a fresh strawberry puree made of berries and honey, simmered on the stove. You can just eat it all by itself (we totally did), but it brings just the perfect amount of sweetness to the cupcakes.
Next time you have a few extra strawberries laying around, try these strawberry cupcakes – they are sweet as summertime!
Strawberry Cupcakes
Print
Ingredients
1-1/3

cup

flour

1/2

cup

sugar

1/4

tsp

baking soda

1/2

tsp

baking powder

6

TBS

butter, room temperature

1

egg

2

tsp

vanilla

1/4

cup

sour cream

1/4

cup

milk

1/4

tsp

sea salt

1/2

cup

chopped strawberries
For the icing:
1/2

cup

unsalted butter

3

cup

powdered sugar

3

TBS

strawberry puree (could substitute all natural strawberry spread)

1/4

tsp

sea salt
Instructions
Preheat oven to 350 degrees.

In a medium bowl, whisk together the flour, sugar, baking soda, baking powder.

Add egg, vanilla, sour cream, and milk and beat on medium speed until smooth.

Fold in chopped strawberries.

Carefully spoon batter into lined muffin tins, filling just over halfway.

Bake for 12-14 minutes, rotating halfway through.

Cool on wire rack.


For the icing:
Beat butter and sea salt until smooth.

Slowly add powdered sugar until fully combined.

Stir in strawberry puree.

Add mild by the tsp to reach desired consistency.

When cupcakes are cool, pipe icing onto cupcakes.
Notes
Did you make this recipe? We want to see! Tag @kristineinbetween on Instagram and hashtag it #kinbetween
Ingredients
1/2

cup

water

2

TBS

honey

1

+ cup chopped strawberries
Instructions
In a medium size saucepan, bring all ingredients to a boil.

Simmer for 10-15 minutes until the strawberries break down and mixture becomes smooth and runny.

Cool completely and pour into an airtight container. store in the refrigerator.
Notes
Organic ingredients are recommended.
© Kristine in between. If you wish to republish this recipe, please rewrite the recipe in your own words or link back to this post.
If you have some extra strawberries around, try this strawberry banana bread or these strawberry thumbprint cookies too!