When it comes to baking cookies, you can never, ever go wrong with a big ol' chocolate chip cookie! These homestyle chocolate chip cookies are thick and chewy, and they're loaded to the brim with chocolate chips!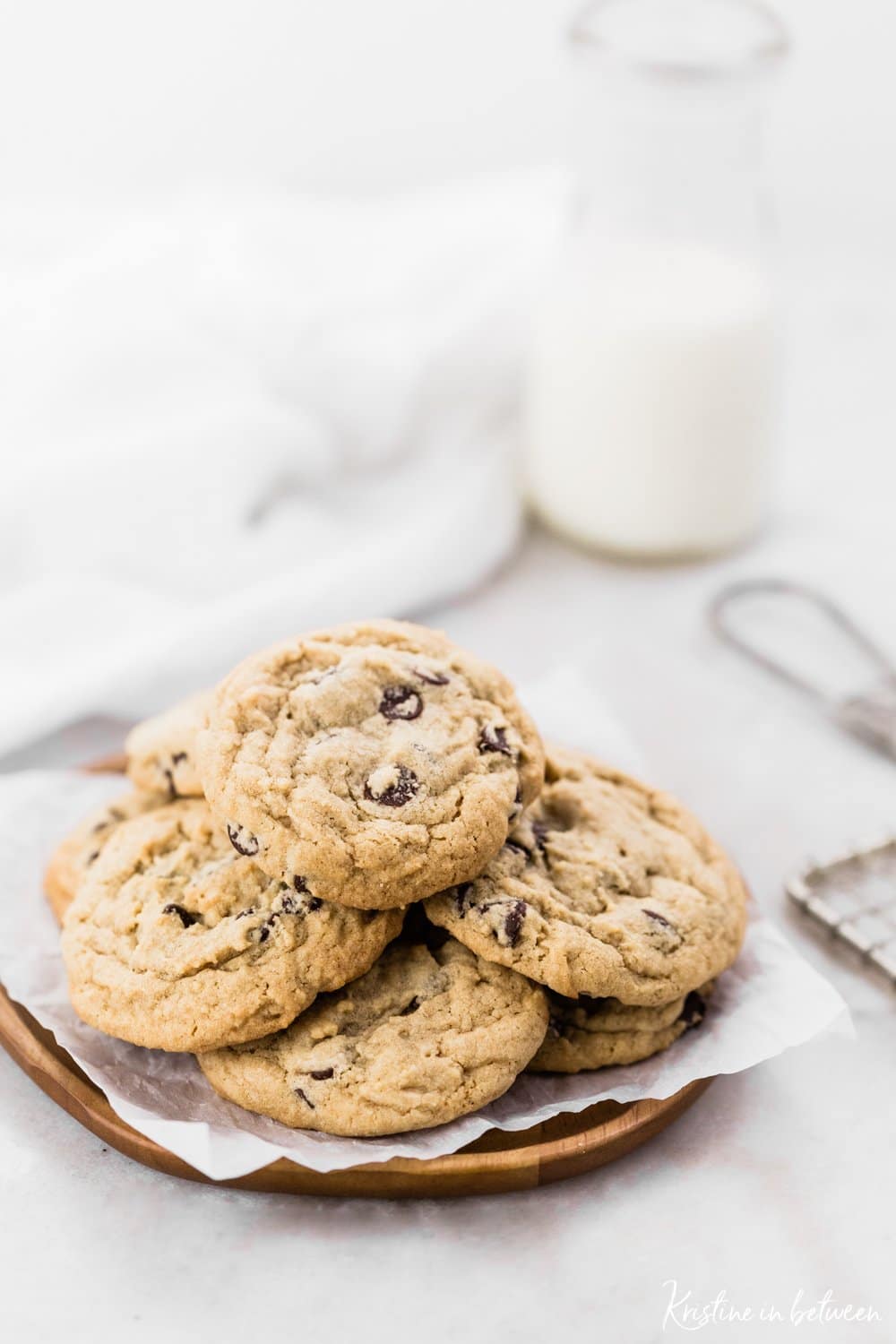 Can we just take a minute here to talk about how how chocolate chip cookies can make anything better? It's an amazing thing, really. No matter what's happening in your life, the act of baking and eating homestyle chocolate chip cookies will make everything at least a hundred times better.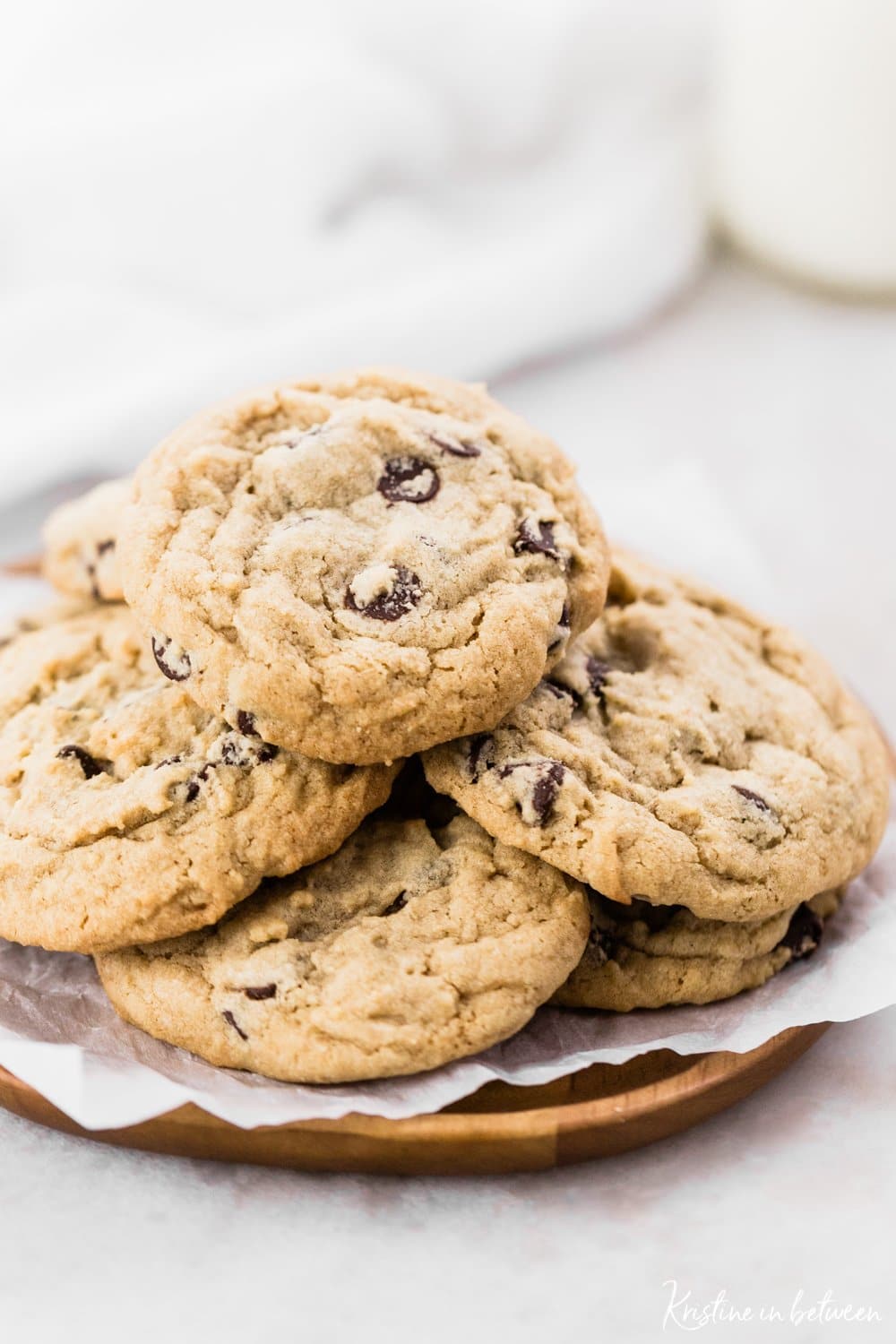 And don't worry, I can back up that claim! This weekend we went on a super fun little mountain getaway with some old friends. A huge storm had just moved through and dropped a couple feet of fresh snow at our mountain house and everything was glorious. That is, until we tried to go home Sunday morning.
The truck was frozen solid and wouldn't run long enough to get us out of the driveway, let alone get us all the way back home.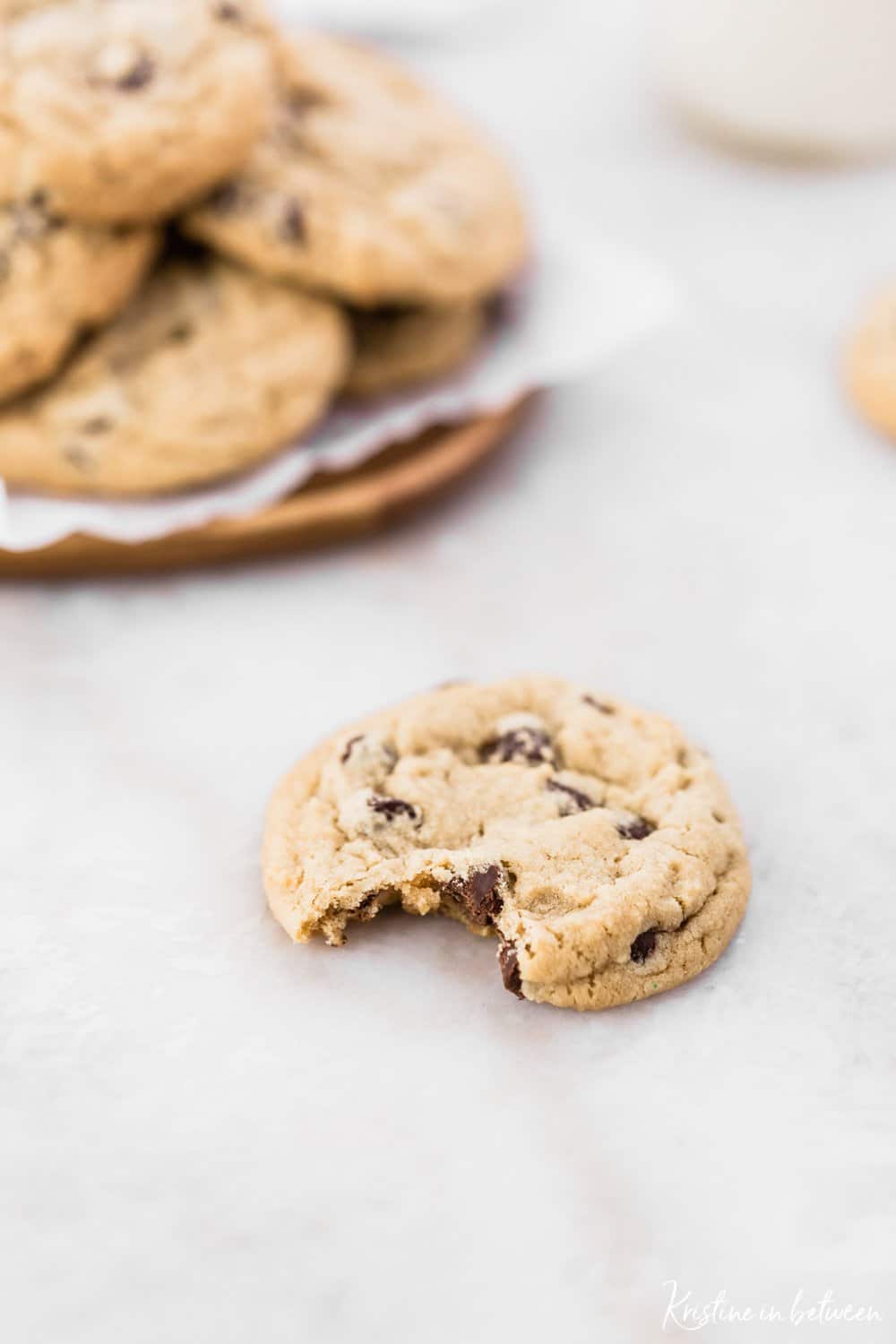 So after messing around with it for a few hours and trying to warm it up in the heated garage, we unpacked everything, repacked it in a friend's truck and headed home; leving our truck in the garage to be dealt with another day.
Needless to say, everyone's spirits were running low and tensions were running high. But after 3 hours with 6 adults all packed in one truck, we finally made it home safely…minus one diesel truck that is.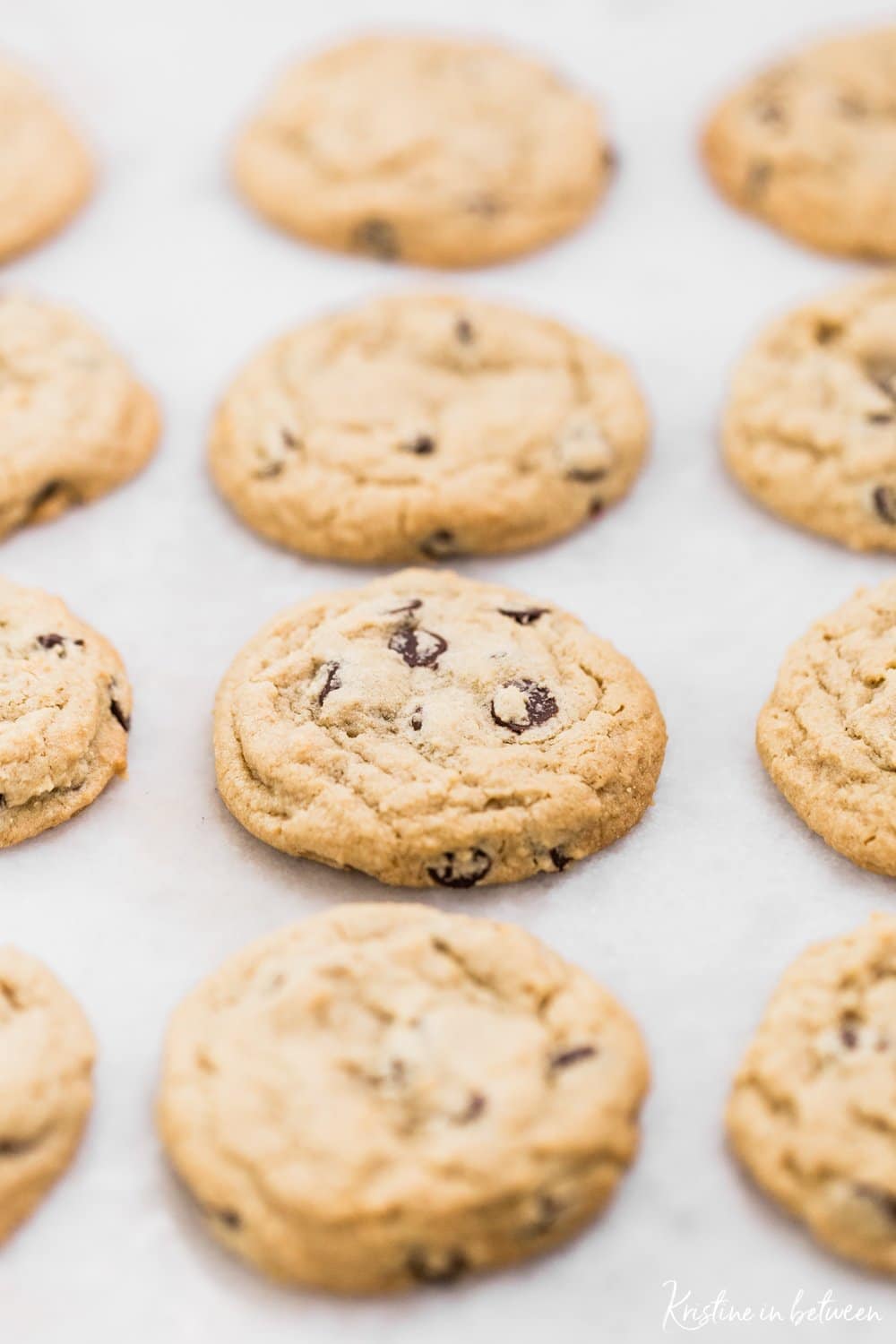 The very first thing I did when we got inside was get laundry started, of course, but then I almost immediately threw myself into a baking a batch of these homestyle chocolate chip cookies. Baking is my therapy, you know.
And this recipe is perfect for said therapeutic baking because it's simple, I always have all of the ingredients in my pantry, and it requires only one bowl to mix up. It's literally a dream!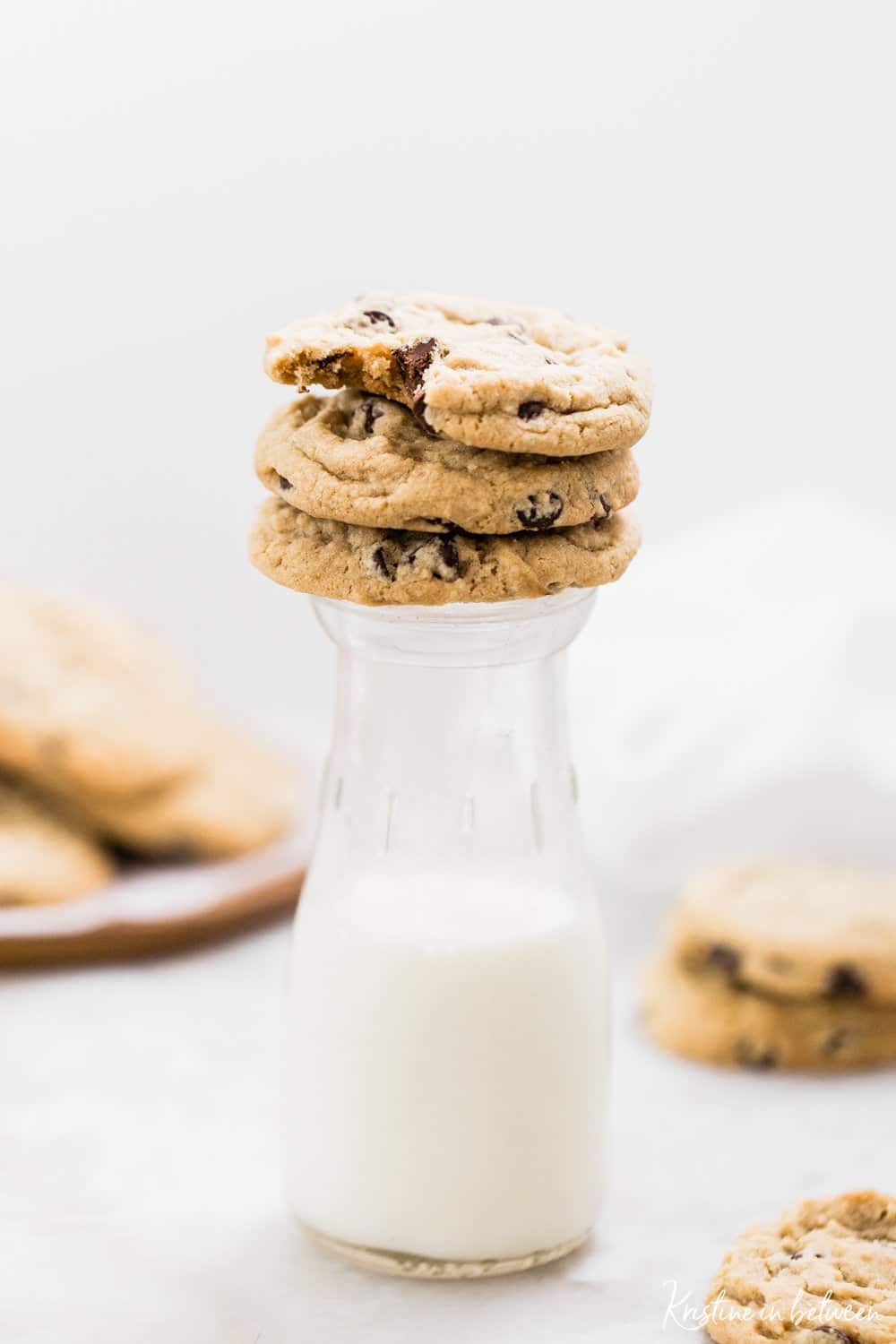 Anyway, after whipping up the dough and a quick 12 minutes in the oven, things were looking a little brighter around the Underwood household. We were home safe and sound, unpacked even, and there were warm cookies on the counter.
The stress of dealing with the broken down truck and how to get it home was seeming less monumental. And just so you know, I'm fairly certain it was solely because of these cookies.
I don't know what it is about homestyle chocolate chip cookies that gives them the power to make everything right with the world, but they really do.
These cookies are some of the best I've ever eaten, too. They're large, and warm, and chewy, and loaded with chocolate! My favorite thing on earth is to eat one when it's freshly out of the oven; when it's almost too hot to handle. It's so, so, so good!
The only ingredients you need to make these homestyle chocolate chip cookies:
Unsalted butter
Sugar
Brown sugar
Milk
Vanilla extract
Egg
Baking soda
Sea salt
Flour
Chocolate chips (any kind, but I use semi-sweet)
That's it! That's all you need to make these mood-elevating, happiness-creating homestyle chocolate chip cookies for yourself! This recipe is so simple, and the cookies so delicious, it'll absolutely become your go-to everyday chocolate chip cookie recipe!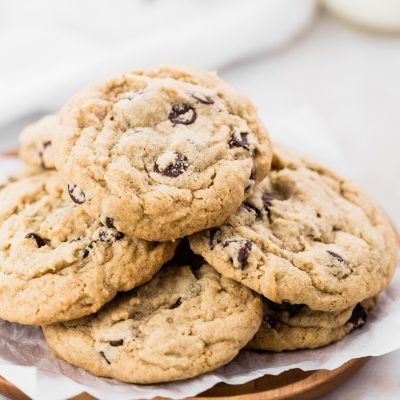 Homestyle Chocolate Chip Cookies
A thick and hearty homestyle chocolate chip cookie that you can make in one bowl and in under 30 minutes!
Print
Ingredients
1/2

cup

unsalted butter, room temperature

1/4

cup

sugar

3/4

cup

brown sugar

1

tsp

milk

1

tsp

vanilla extract

1

egg

1/2

tsp

baking soda

1/2

tsp

sea salt

1-1/2

cups

flour

3/4

cup

chocolate chips, semi-sweet
Instructions
Preheat oven to 350 degrees and line baking sheets with parchment paper.

In large bowl, cream butter, sugar, and brown sugar together until smooth.

Add milk, vanilla extract, and egg and stir to combine.

Mix in the baking soda and sea salt.

Add flour, half at a time, mixing until just combined.

Using a 3 TBS cookie scoop, scoop dough onto a lined baking sheet, 2 inches apart.

Bake for 12 minutes, rotating halfway through. Cookies will be just barely brown on the bottom and may not look done. Do not over-bake.

Allow cookies to cool on the baking sheet for 10 minutes before transferring to a wire rack to cool completely.

Store in an airtight container for up to 5 days or freeze.
Nutrition
Serving:
1
cookie
|
Calories:
164
kcal
|
Carbohydrates:
20.5
g
|
Protein:
1.8
g
|
Fat:
8.5
g
|
Saturated Fat:
5.4
g
|
Cholesterol:
27
mg
|
Sodium:
150
mg
|
Potassium:
53
mg
|
Fiber:
0.5
g
|
Sugar:
13.9
g
|
Calcium:
20
mg
|
Iron:
0.7
mg
Looking for other easy traditional cookie recipes? Try these peanut butter cookies or these no-roll sugar cookies, they're super popular!