Oatmeal cookie lovers! I've got you! These new oatmeal dark chocolate chunk cookies are literally the best oatmeal cookie I've ever tasted!
When it comes to baking cookies, oatmeal cookies are like the last cookie that comes to my mind. I don't know why this is; I mean I love me a good oatmeal cookie, but they have this stigma attached to them that has been with me since childhood, I think.
One time I took a big ol' bite of an oatmeal cookie that I thought had chocolate chips, but actually had RAISINS and I was forever ruined. Nasty. As a kid, I despised raisins, so once was all it took for me to swear off oatmeal cookies for, oh, about 20-ish years.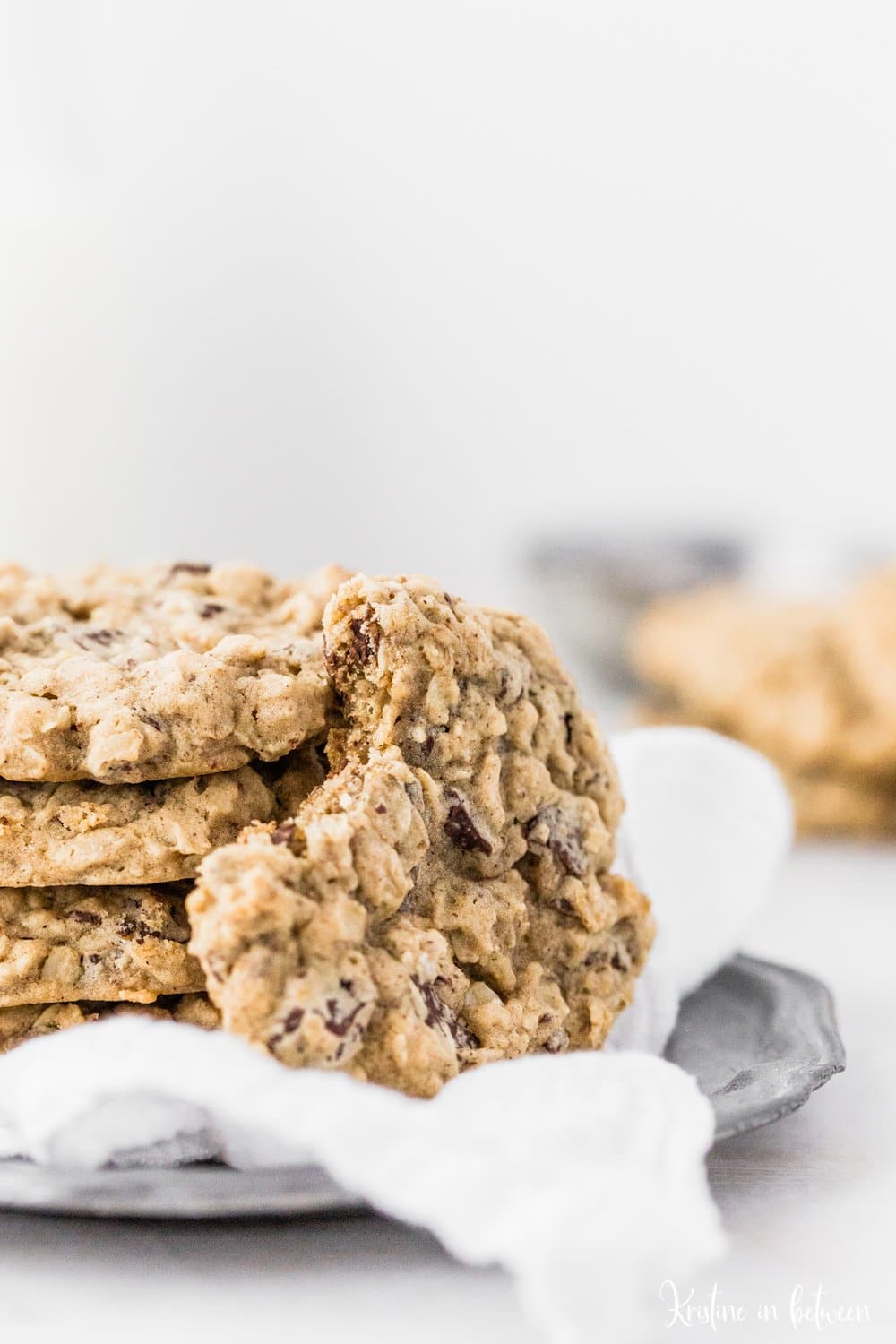 I did finally get over it, and now as a grownup, I do appreciate a good oatmeal raisin cookie, but not enough to make them today. Instead I opted for my preferred choice, an oatmeal cookie with chocolate!
In my very humble opinion, there are two solid choices when it comes to an oatmeal cookie-the thin and chewy, or the thick and chunky type. These oatmeal dark chocolate chunk cookies are of the thick and chunky variety. Very thick and very chunky!
I also did something new with these cookies; instead of just tossing in chocolate chips, I used a dark chocolate bar, chopped roughly, so the cookies have this rustic quality to them-with different sized pieces of chocolate and tons of oats. Their texture is ah-mazing, really.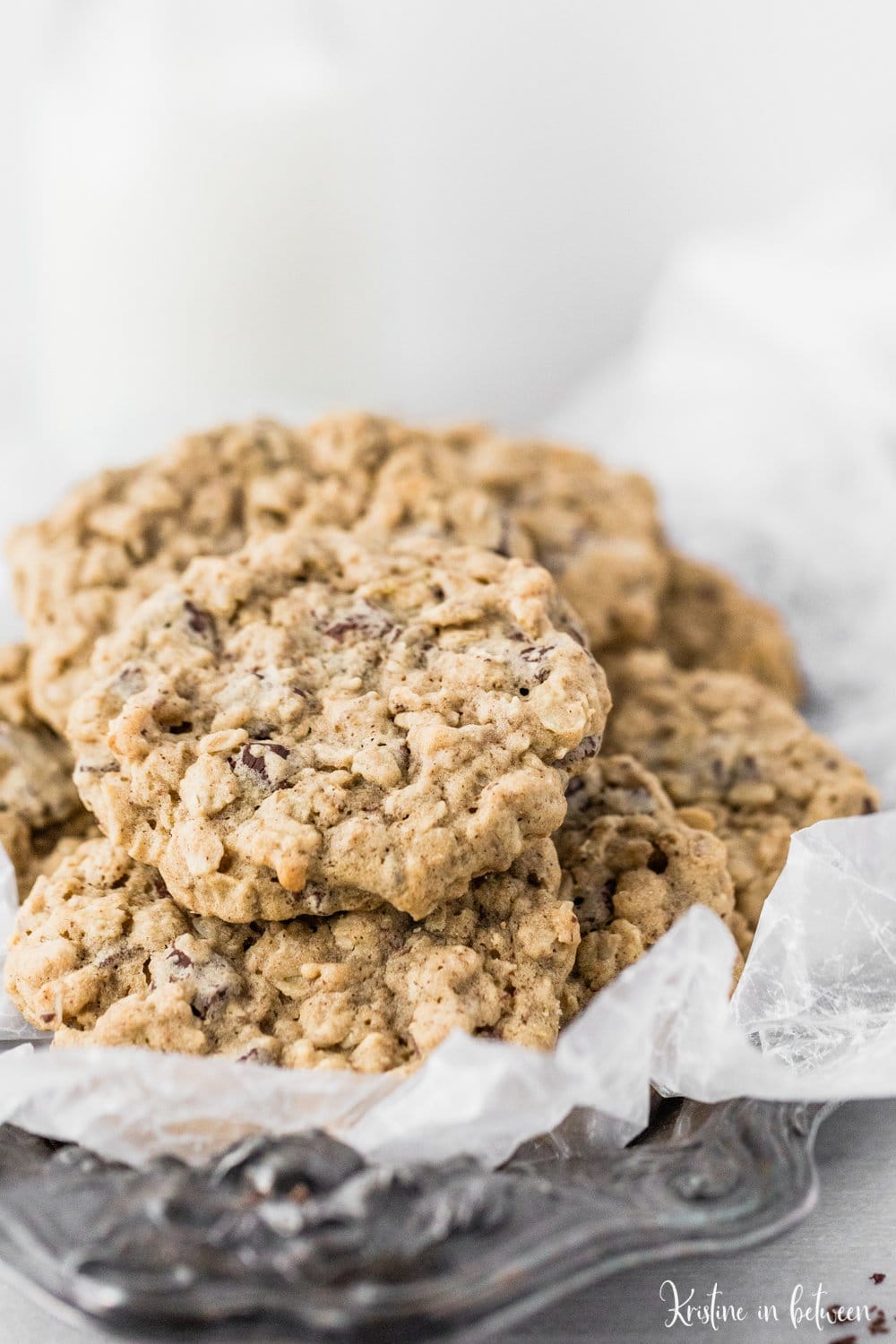 How to make these easy oatmeal dark chelate chunk cookies:
In a large bowl, you start by creaming the butter and brown sugar together until light and smooth.
Then you add the egg, vanilla extract, and milk in at the same time and give it a good stir.
Then you'll mix in the salt and spices.
Once that's good and mixed, you'll stir in the flour until it's all pretty combined.
The last step is to fold in the oats and of course, the rough chopped dark chocolate. I just mix this up until it's pretty even and call it good.
Then, using a 3 TBS cookie scoop, you'll scoop dough onto pre-lined baking sheets and bake them for about 10-ish minutes.
After a few minutes of cooling time, they'll be all warm and melty and totally ready to eat!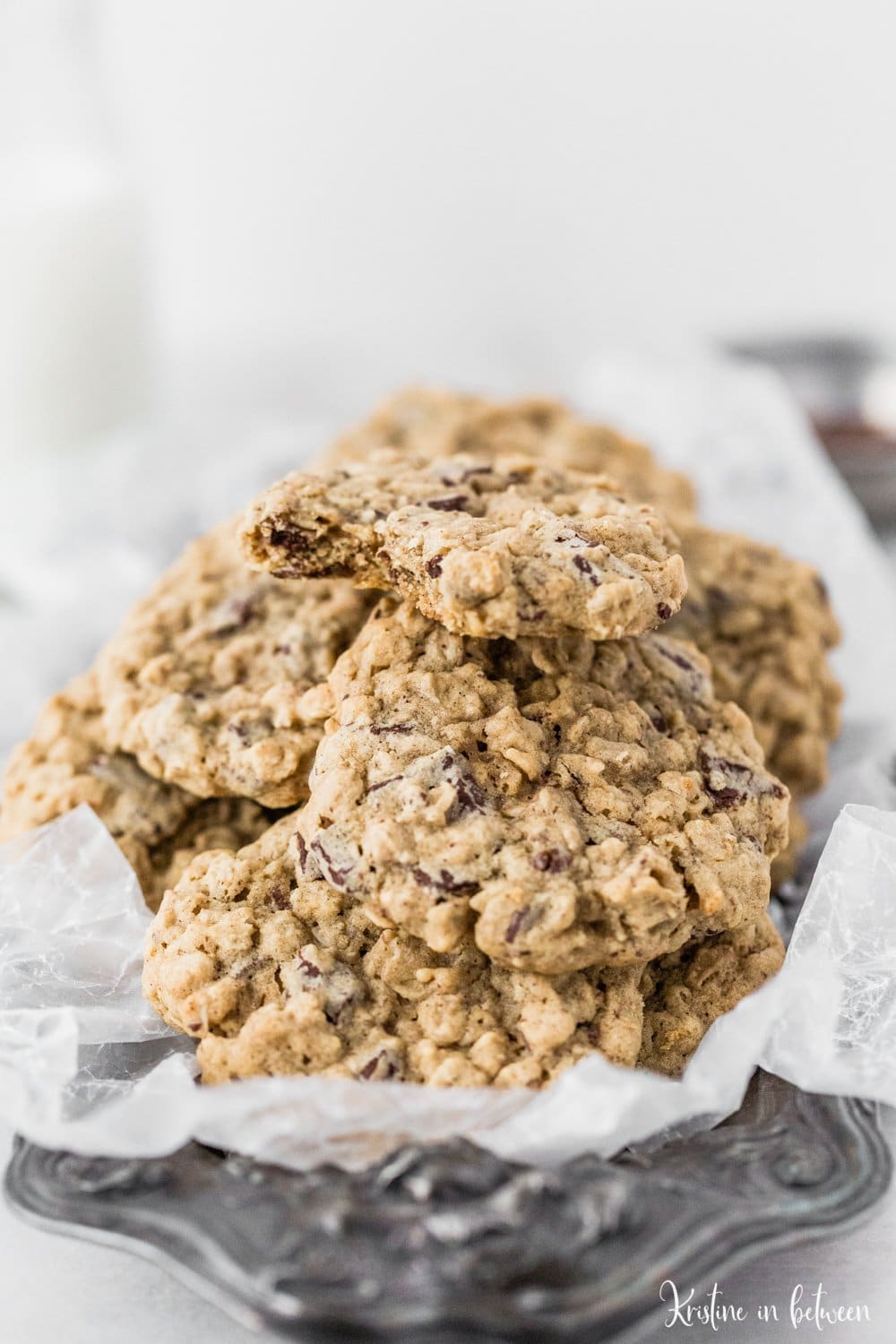 The cookies themselves are glorious. No wimpy cookies here! When you bite into these oatmeal dark chocolate chunk cookies, they're substantial, but yet soft and chewy at the same time.
I also love the variety of textures these cookies have, between the chew from the brown sugar, the coarseness of the oats, and a little snap from the chocolate, they're oatmeal cookie perfection.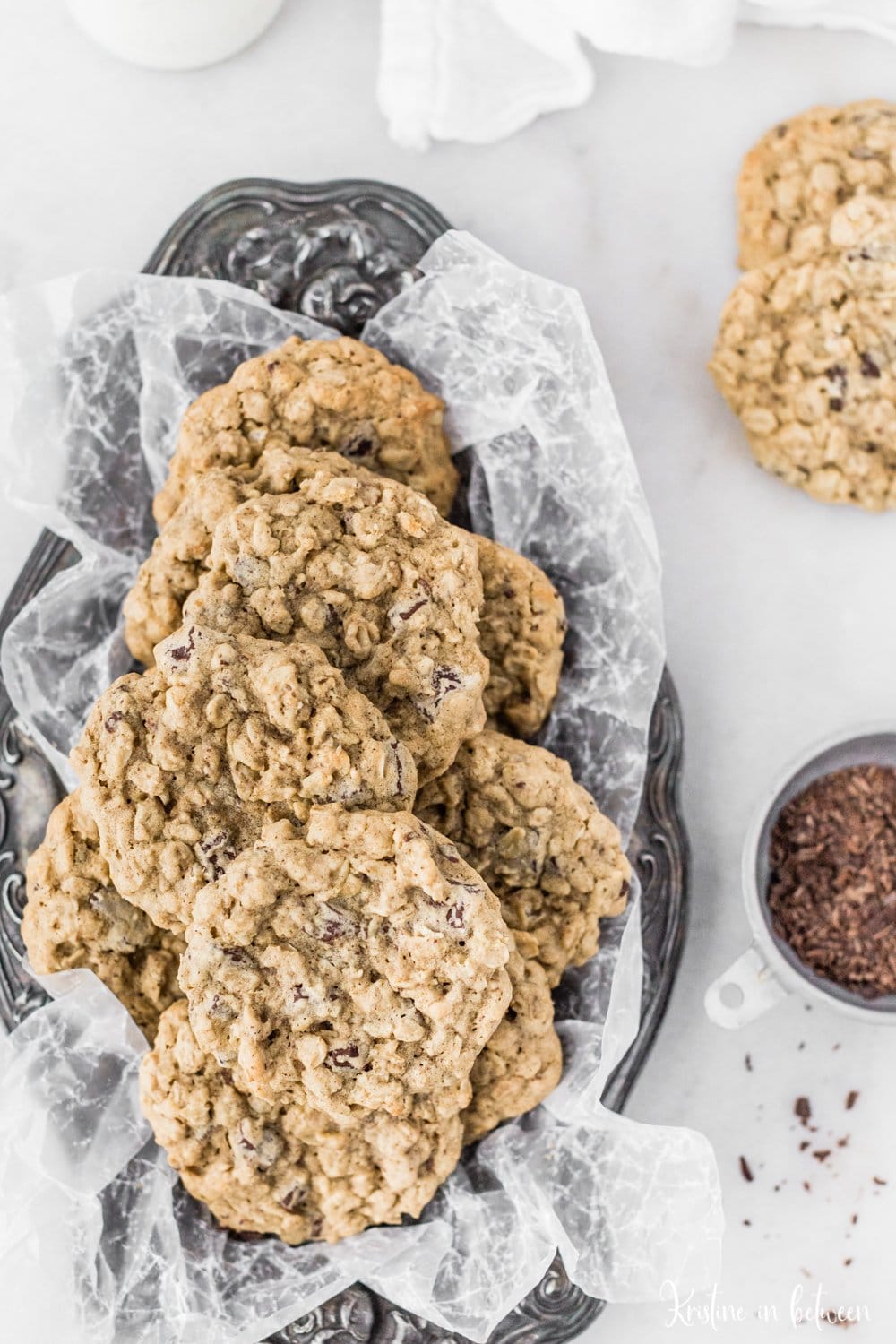 These oatmeal dark chocolate chunk cookies are pretty much the perfect everyday oatmeal cookie. The recipe is simple, they don't require fancy equipment or techniques, and you can make them jumbo size (as written) or use a smaller scoop to make a bigger quantity of smaller cookies, making them super versatile. This will be the oatmeal cookie recipe you reach for time after time!
Oatmeal Dark Chocolate Chunk Cookies
A thick and chewy cookie loaded with chunks of dark chocolate!
Print
Ingredients
1/2

cup

unsalted butter, room temperature

3/4

cup

brown sugar, packed

1

egg

1

tsp

vanilla extract

1

tsp

milk

1/2

tsp

sea salt

1/2

tsp

cinnamon

1/4

tsp

ginger

1/4

tsp

nutmeg

1/2

tsp

baking soda

1

cup

flour

1-1/2

cups

rolled oats

4

oz

dark chocolate, roughly chopped
Instructions
Preheat oven to 350 degrees and line 3 baking sheets with parchment paper.

In a large bowl, cream butter and brown sugar together until light and smooth.

Add egg, vanilla extract, and milk and stir.

Mix in sea salt and spices.

Add flour, half at a time and stir until just combined.

Fold in dark chocolate chunks.

Using a 3 TBS cookie scoop, scoop dough onto lined baking sheets, 2 inches apart.

Bake for 10 minutes, rotating halfway through. Cookies will be just done with the tops set, but will not be brown.

Allow cookies to cool for 10 minutes on the pan before transferring to a wire rack to cool completely.

Store cookies in an airtight container for up to 5 days or freeze.
Nutrition
Serving:
1
cookie
|
Calories:
149
kcal
|
Carbohydrates:
18.2
g
|
Protein:
2.2
g
|
Fat:
7.6
g
|
Saturated Fat:
4.7
g
|
Cholesterol:
24
mg
|
Sodium:
133
mg
|
Potassium:
61
mg
|
Fiber:
0.9
g
|
Sugar:
9.2
g
|
Calcium:
20
mg
|
Iron:
0.7
mg
And if you love these cookies, you'll want to try these chewy oatmeal milk chocolate chip cookies or these old-fashioned oatmeal cookies!