Small-Batch Brownies For Two
This post contains links to affiliate websites and we receive a small commission for any purchases made using these links. As always, we appreciate your support!
Is there anything better than homemade brownies? I don't think so, except for maybe these homemade small-batch brownies for two! If you've got a loaf pan and 27 minutes, you've got homemade small-batch thick and fudgy brownies!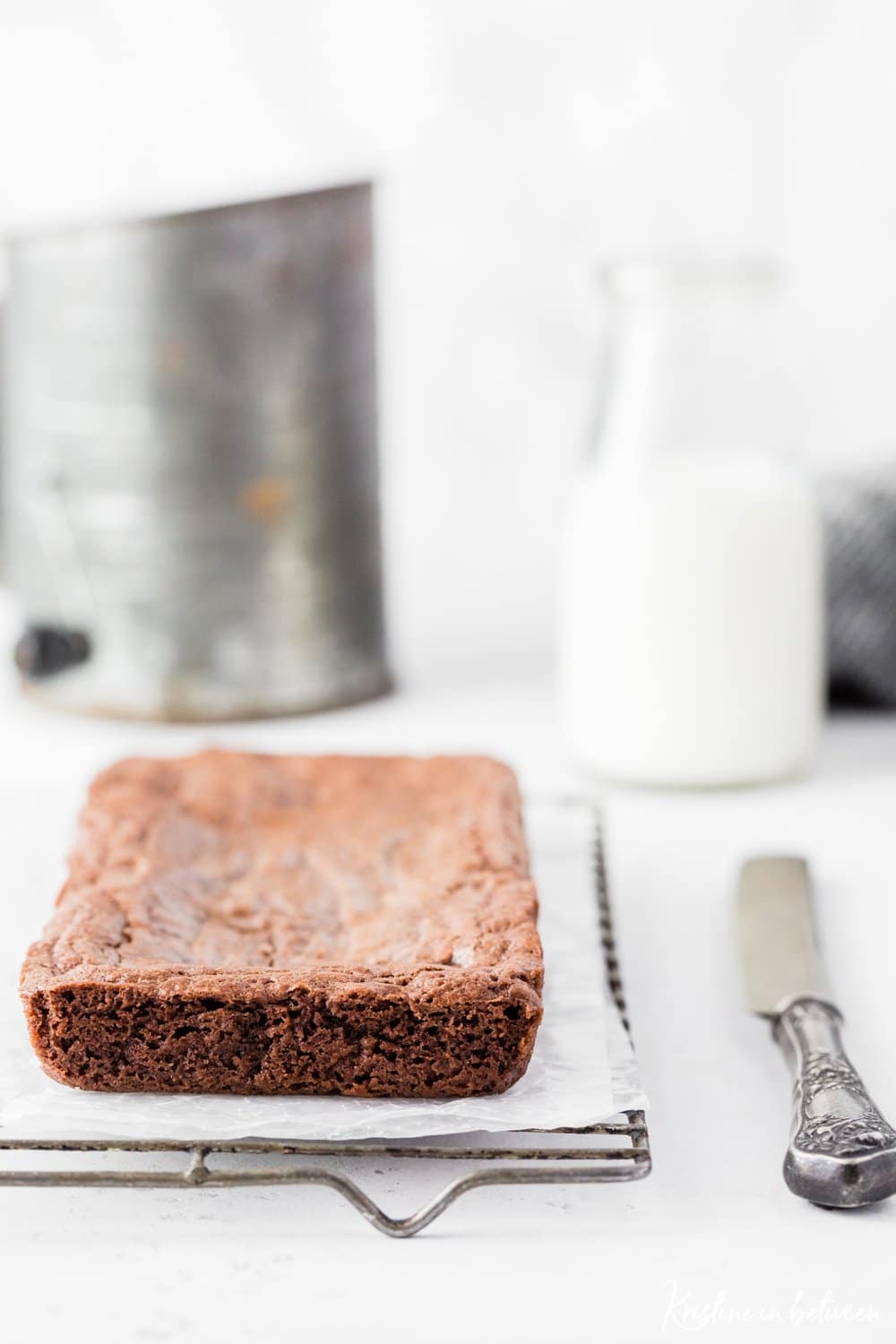 First things first, let me give you fair warning here – this is going to be a very image-heavy post. I'm sorry, I can't help it. There were literally so many beautiful photos of these brownies, I couldn't decide, so I had to post them all. I hope your eyes are hungry!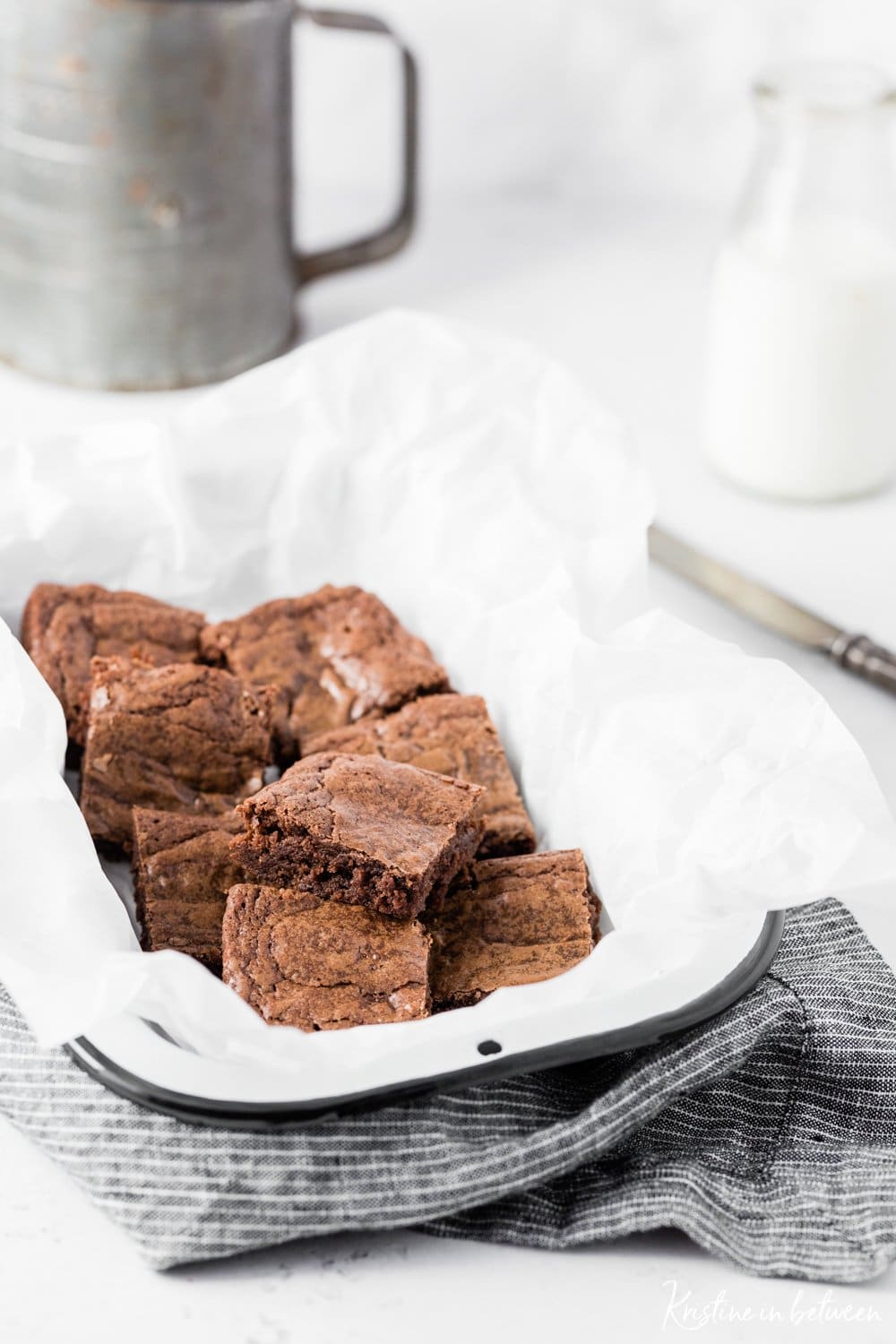 Anyway, I don't know what's gotten into me lately, but over the past few weeks, I've baked about six pans of brownies! And if you know me at all, you know this is pure craziness because I'm 100% on team vanilla!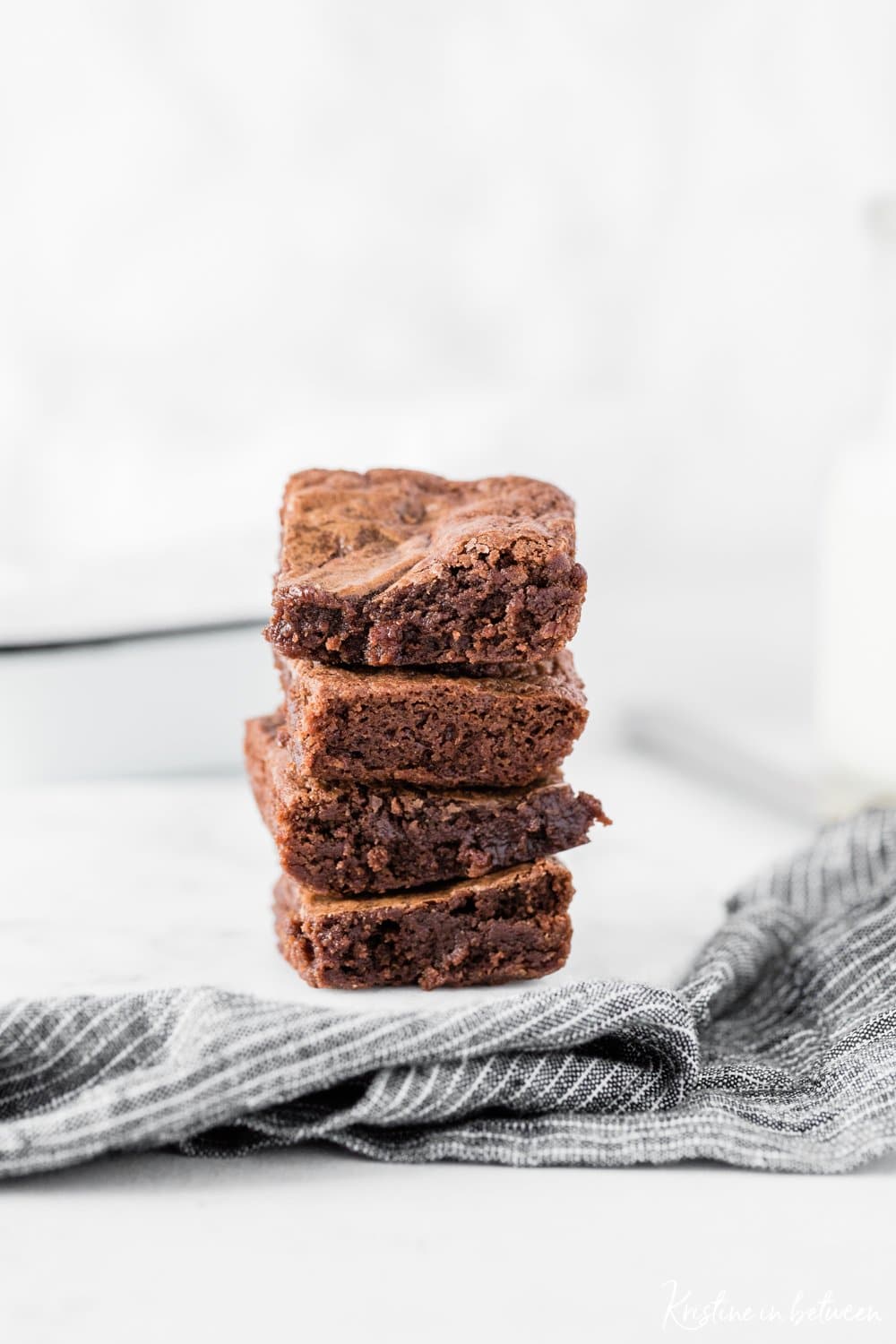 I have to admit though, prior to lately, the only brownies I made came from a box and while there's nothing wrong with that, I really wanted to try to make a decent brownie from scratch. So I set aside my love of all things vanilla and went to the other side. I starting baking pan after pan of chocolate brownies.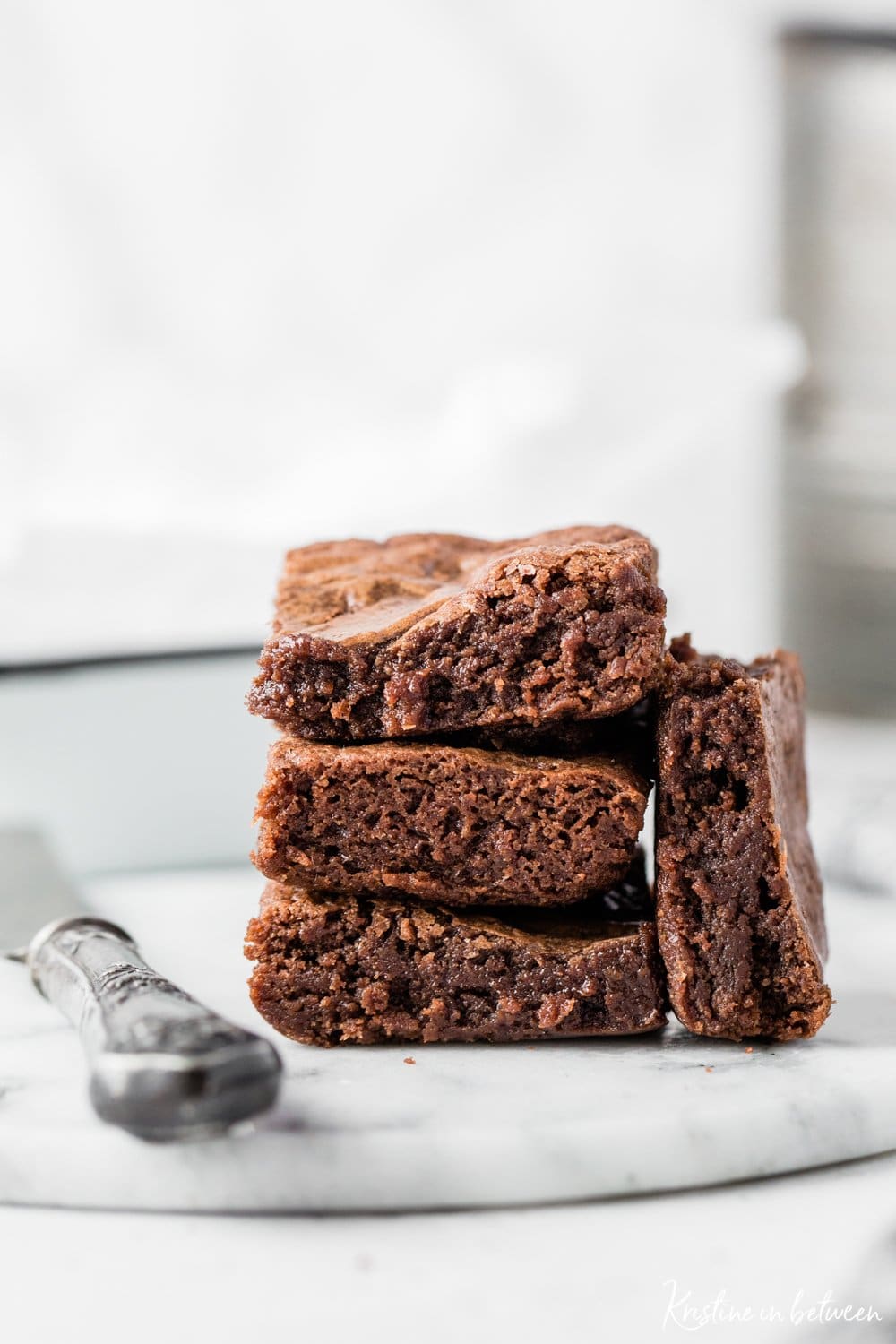 Of course, I had a few fails…more like three, but then I struck gold! I baked THE BEST BROWNIES I'VE EVER EATEN! So what did I do next, you ask? I assumed it was some sort of fluke, I baked them again, and again, and then again one more time.
Nope, not a fluke, you guys. They're the real deal; actual brownies with only 9 ingredients and in under 30 minutes!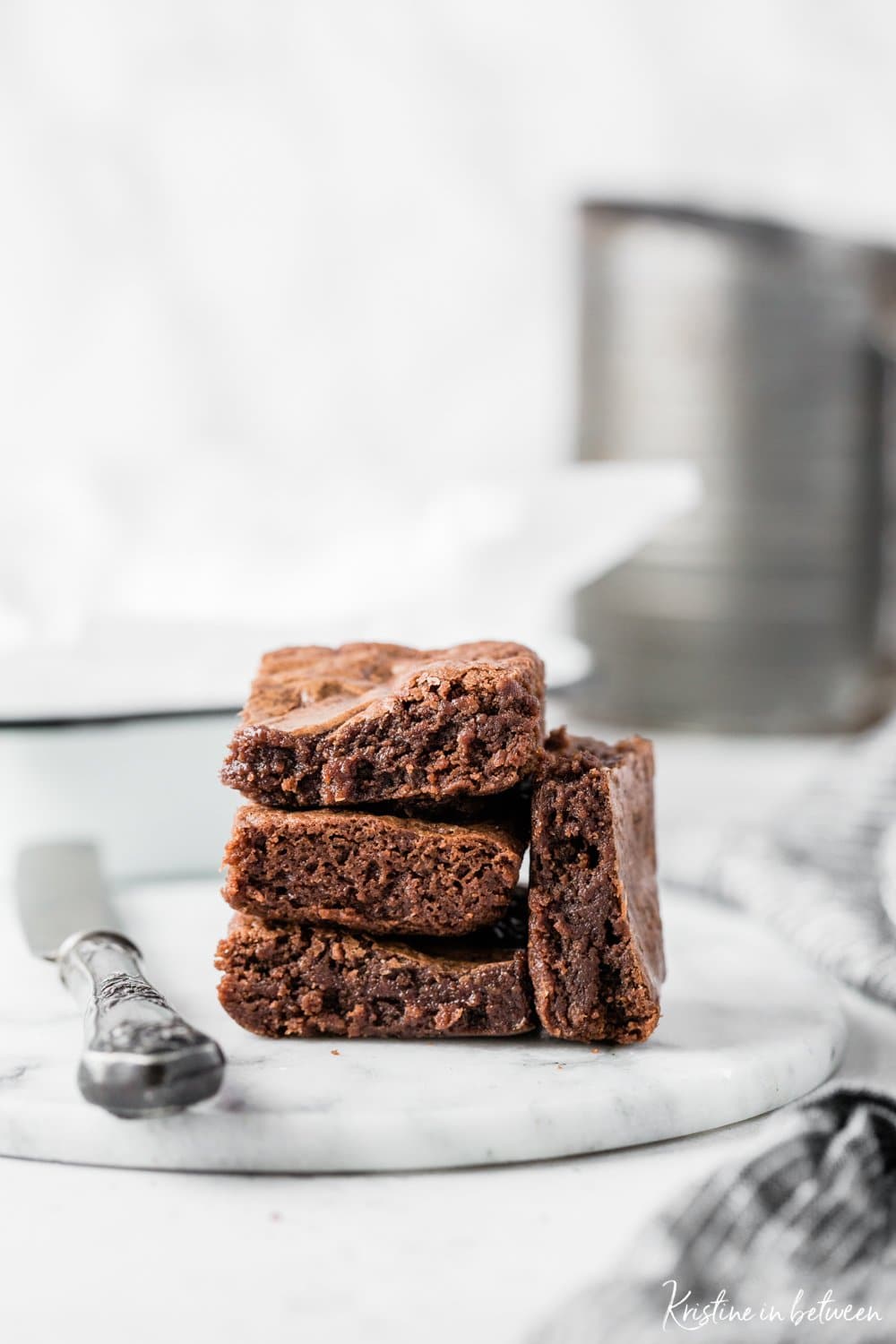 As with every recipe of mine, these small-batch brownies for two are super simple to make, but there are a few things you'll want to keep in mind before you get started.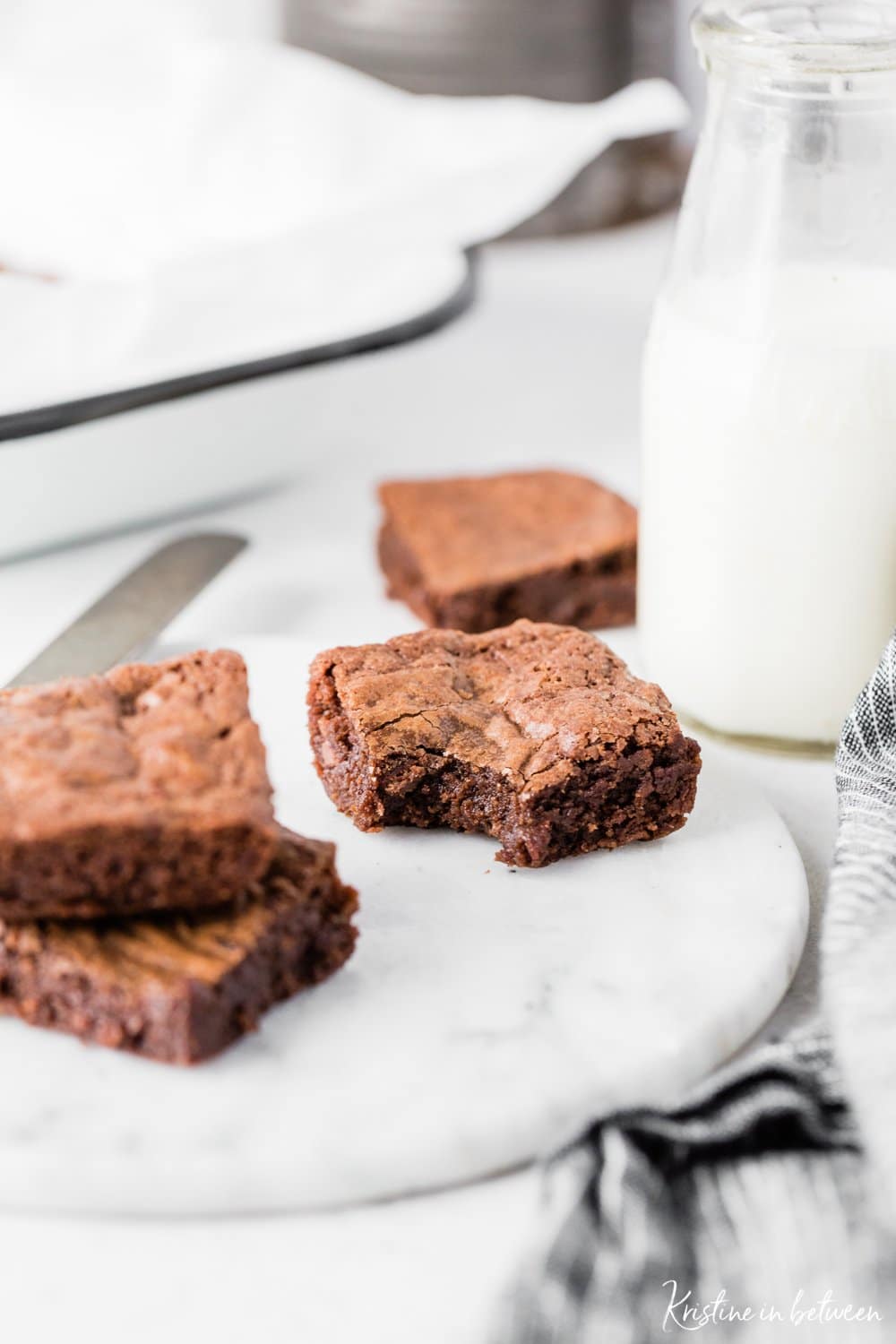 Tips for baking perfect small-batch brownies for two:
The way you mix up these brownies matters, greatly. Just trust me, I learned this the hard way – always follow the directions.
Lining the pan is also super important and will save your life when you try to remove the brownies out of the pan. Take the 3 minutes and line your loaf pan. Again, trust me here.
The brownies will tell you when they'e done. I'm serious! They puff up slightly at the very end of the baking time, but the top will fall right around that 20 minute mark. If the top is flat, you can be assured they are probably done.
Have the oven preheated and ready to go while you're mixing everything up. You'll want to get these brownies into the oven right away.
Let the brownies cool, almost completely, before you lift them out and slice them up. These are a very fudgy brownie and if they're too warm, they'll be a huge mess when you try to cut them. Again, trust me. #eagerbeaver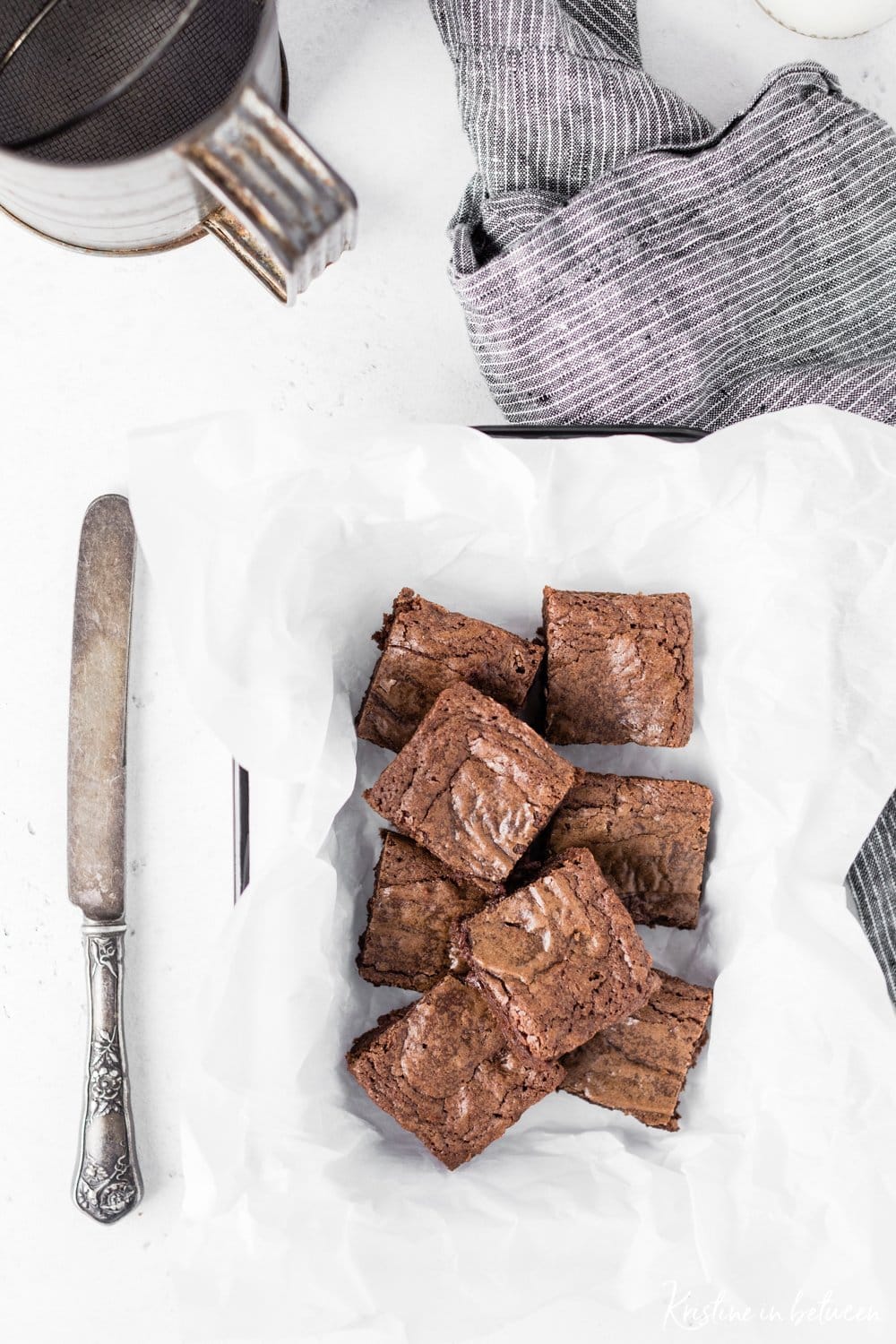 Now let's talk about these how good these brownies are. And, they are! They're thick and super chocolatey; I think the melted chocolate is key. They have the perfect chewy, fudgy consistency on the inside with a slightly crunchy, crispy edge (my favorite). And guess what, brownie edge lovers? Because you bake these in a loaf pan, every single brownie is either an edge or a corner! Can I get a HECK YES!? …sorry middle brownie lovers.
As stated below, I cut these brownies into 8 (somewhat small slices), but you could very easily just cut them in half or into fourths. In fact, Jay said, "why are they so tiny?" to which I answered, "babe, they're small-batch", to which he responded "well, that's dumb, you should double the recipe." Oh boy. Haha!
So, of course, if small-batch isn't your thing (Jay), you can double the recipe and bake it in an 8 x 8 pan, but I personally love the smaller size. Less guilt for me!
Now here's the goods…
Here's More Chocolate to Love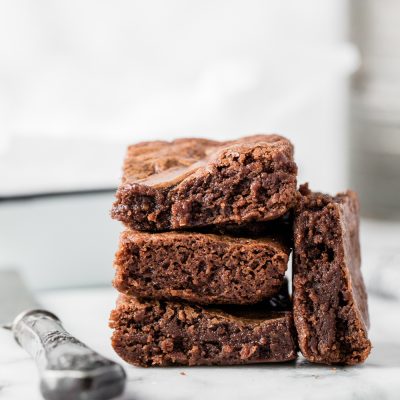 Small-batch Brownies For Two
All you need is a loaf pan and 27 minutes and you can have these perfectly thick and fudgy small-batch brownies for two!
ingredients
1/4

cup

unsalted butter, melted and set aside

1/3

cup

flour

1/2

cup

sugar

2

TBS

+ 2 tsp unsweetened cocoa powder

1/8

tsp

sea salt

1/8

tsp

baking powder

1

egg

1

tsp

vanilla extract

1/4

cup

milk chocolate chips, melted smooth
INSTRUCTIONS
Preheat oven to 350 degrees and line a loaf pan with parchment paper or aluminum foil.

Melt butter in a small dish in the microwave and set aside to cool slightly.

1/4 cup unsalted butter, melted and set aside

In a medium bowl, whisk together the flour, sugar, cocoa powder, sea salt, and baking powder.

1/3 cup flour,

1/2 cup sugar,

2 TBS + 2 tsp unsweetened cocoa powder,

1/8 tsp sea salt,

1/8 tsp baking powder

Add egg and vanilla and stir.

1 egg,

1 tsp vanilla extract

Add melted butter and mix until smooth.

Fold in melted chocolate and stir until just combined.

1/4 cup milk chocolate chips, melted smooth

Pour batter into a prepared loaf pan and bake for 20-22 minutes, rotating halfway through. Brownies will puff up slightly as they bake, but the top will fall when they are done.

Allow brownies to cool in the pan for 15-30 minutes. Lift out of the pan, slice, and serve.

Store brownies in an airtight container for 3-4 days or freeze.
Nutrition
Serving:
1
brownie
Calories:
150
kcal
Carbohydrates:
20.9
g
Protein:
2.1
g
Fat:
8.2
g
Saturated Fat:
5.1
g
Cholesterol:
37
mg
Sodium:
44
mg
Potassium:
74
mg
Fiber:
1
g
Sugar:
15.4
g
Calcium:
20
mg
Iron:
0.7
mg