Sugar Cookie Bars with Cream Cheese Frosting
This post contains links to affiliate websites and we receive a small commission for any purchases made using these links. As always, we appreciate your support!
These sugar cookie bars with cream cheese frosting are the perfect way to say 'I love you' to your sweetheart this Valentine's Day…or heck, any old day!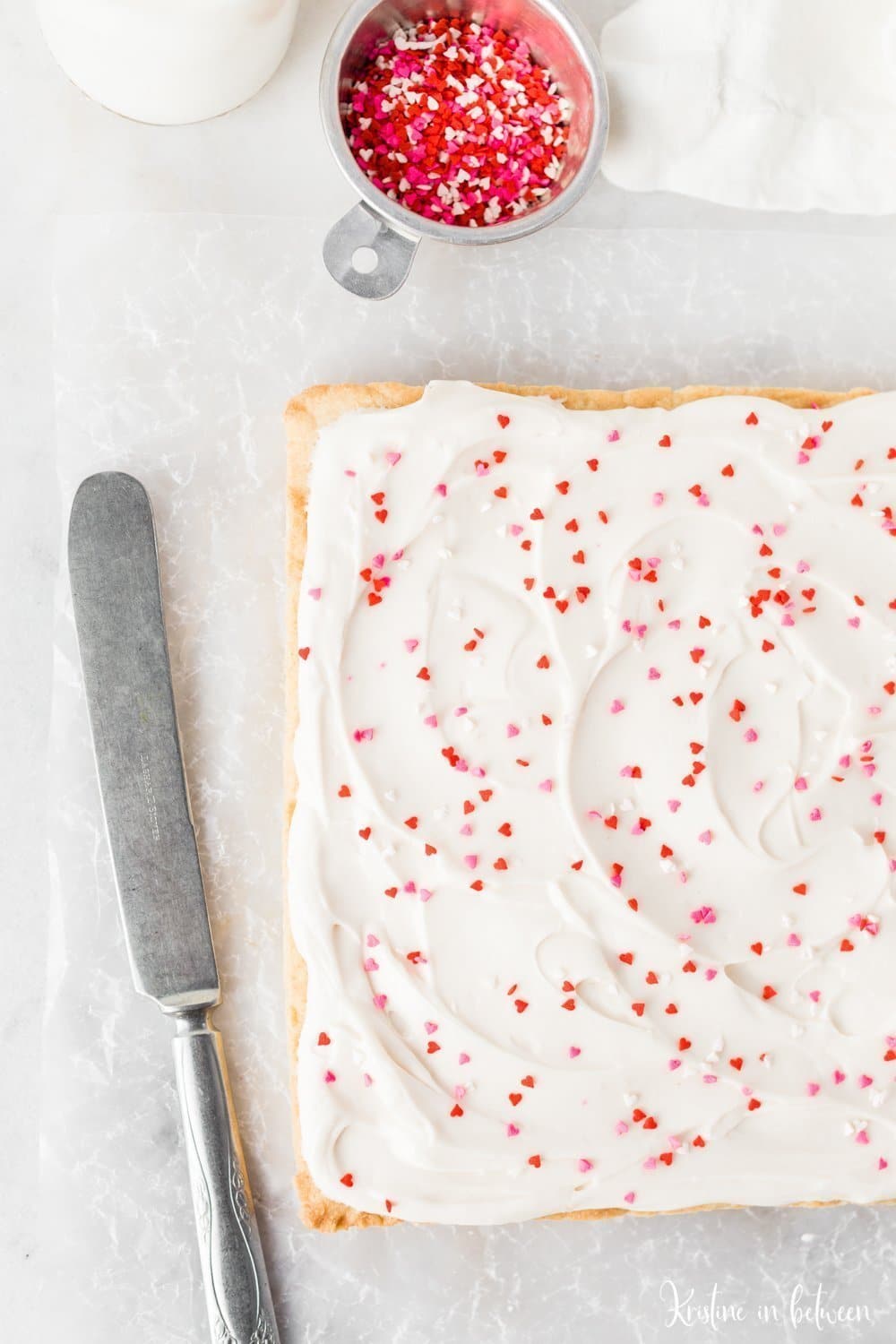 How is Valentine's Day only two days away, you guys? Like. Where. Has. The. Time. Gone? I hope you're further along in your Valentine's Day preparations than I am. I have done absolutely nothing…until today, that is.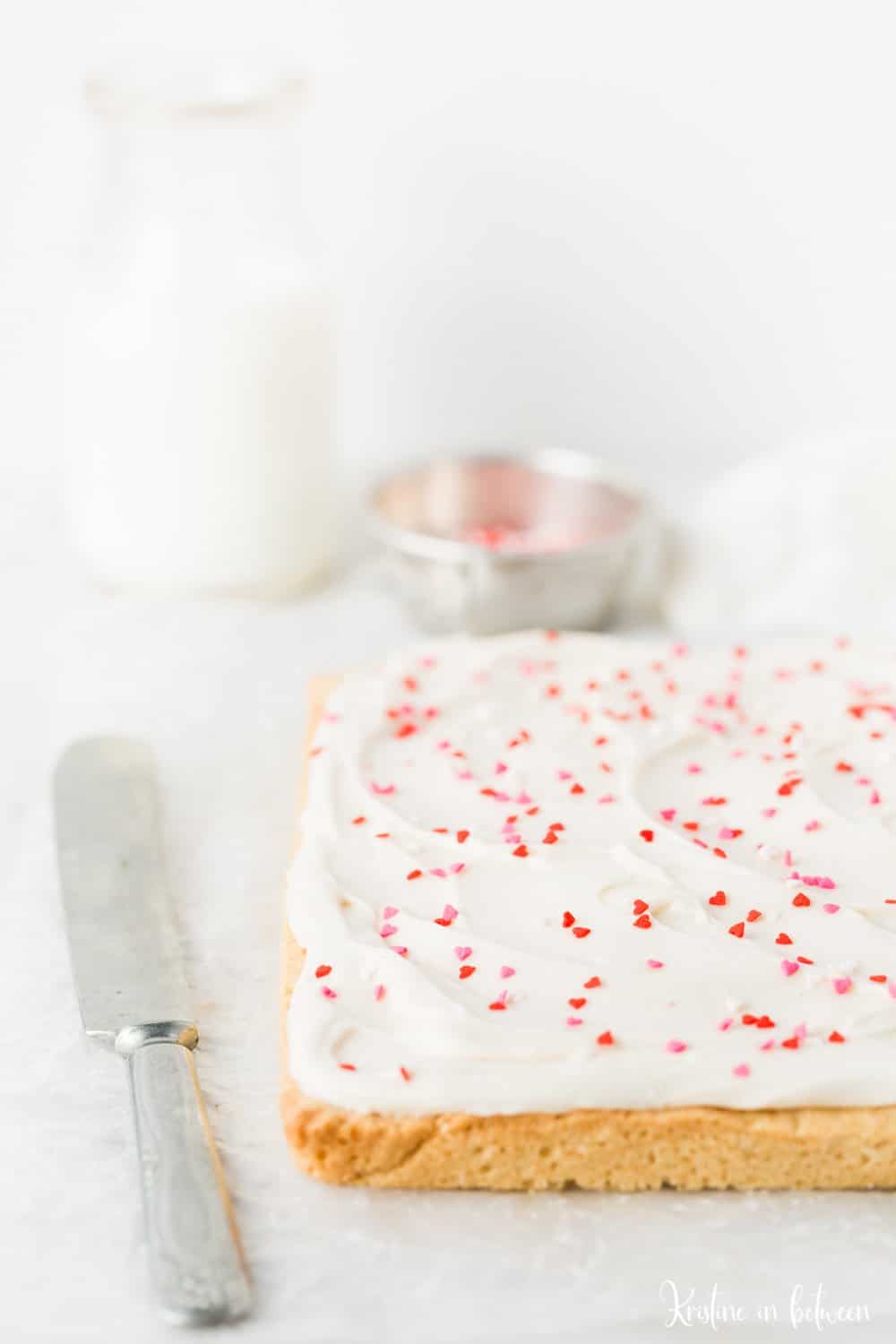 I'm finally getting myself together enough to get some baking done, specifically Valentine's Day treats! I got all gung-ho yesterday, in fact, and baked these sugar cookie bars with cream cheese frosting, as well as not one, but two different types of homemade brownies (coming soon!), and a loaf of banana bread!
Raise your hand if you're a fellow sugar cookie bar lover like myself? I literally feel like they are the best thing to come along since sliced bread. And as you know, I'm a lover of all things sugar cookie, but I feel like real sugar cookies are such a royal pain-in-the-A to make, hence the value of the sugar cookie BAR!
My favorite things about sugar cookie bars:
They have all the goodness of an actual roll-out sugar cookie, but are so much less labor intensive to make.
This recipe is small-batch, so it doesn't make 7 dozen sugar cookies (like my actual sugar cookie recipe does).
The cookie part is much thicker than a traditional sugar cookie, so you can really pile the frosting on, if that's your thing.
The mess is pretty minimal, even if you make the frosting from scratch.
They're quick and easy, and totally kid friendly.
You can very easily feed a crowd by doubling the recipe and/or slicing them smaller, but honestly who wants a small sugar cookie bar?
You can make them for any party theme or holiday just by changing up the sprinkles (I should have listed this first second, because it's one of my absolute favorite things about sugar cookie bar – THEMES!).
These small-batch sugar cookie bars with cream cheese frosting are no exception to any of the things above. The cookie is thick and chewy, and not dry at all. I love the height of the cookie bar, but they still taste just like a sugar cookie. Biting into one is like biting into the fattest, fluffiest sugar cookie you've ever had. It's glorious.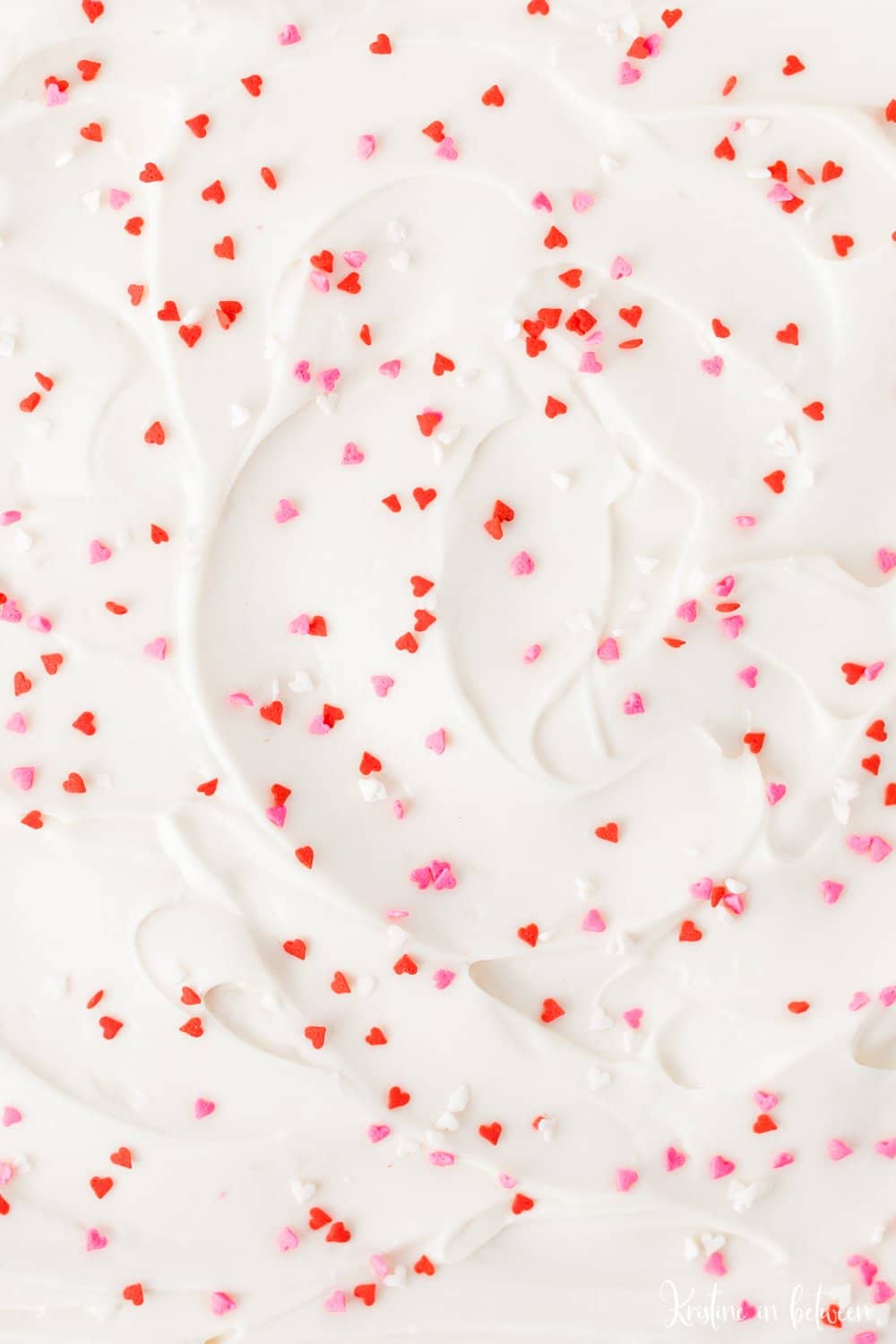 And let's talk about that cream cheese frosting for a sec. I mean I could have used a buttercream frosting and it would have been delicious, but for some reason, cream cheese was calling to me! This cream cheese frosting isn't quite a sweet as buttercream (which I very much appreciate) and it's bursting with flavor, which makes these sugar cookie bars some of the best I've ever eaten. Yes, the best!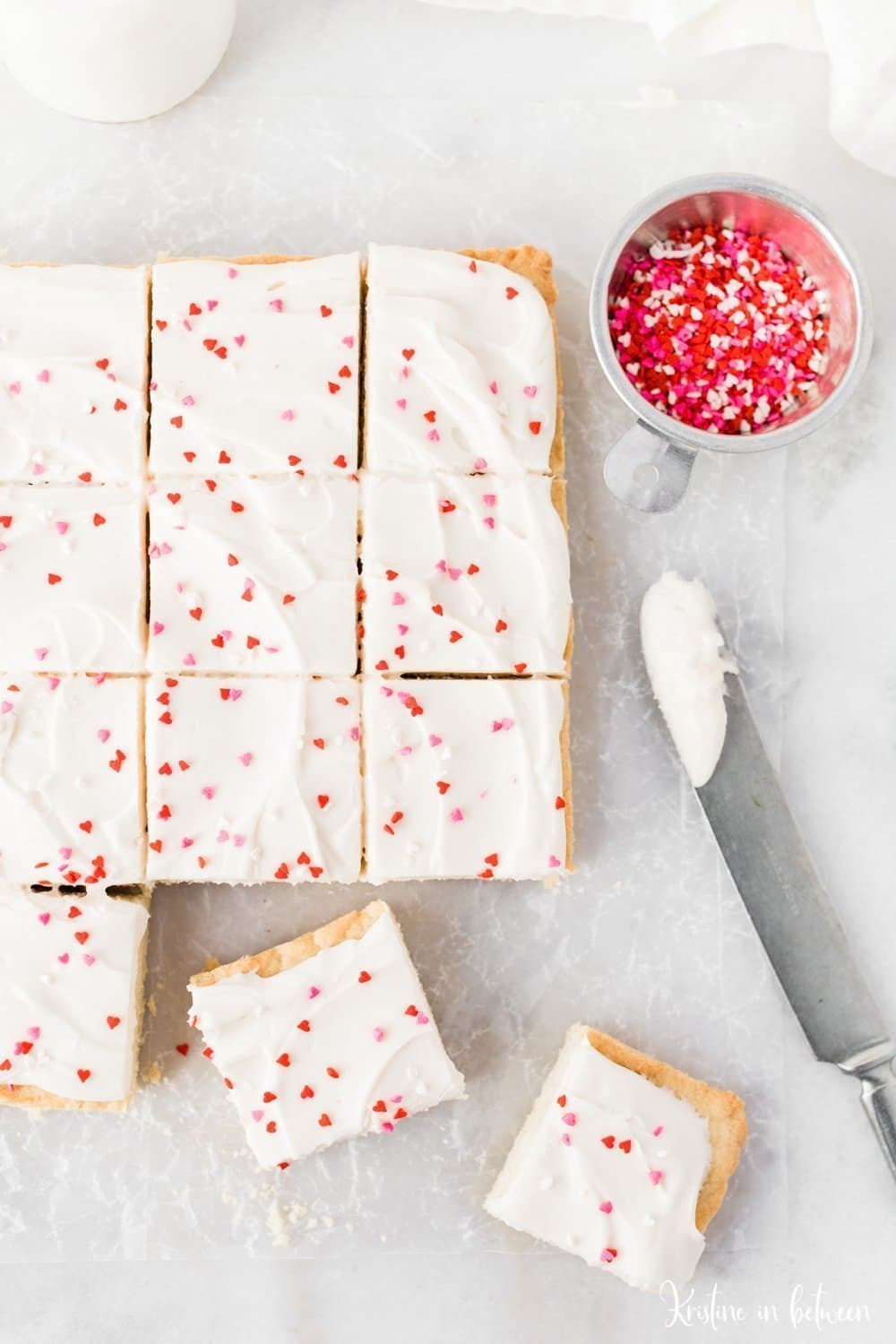 Now, you know me, I don't often color my frosting because I don't love food coloring, BUT if you do, imaging how perfect these would be with a light pink frosting!?
Random question. I've wanted to try some natural food coloring for things like this, anyone have a suggestion of something you love? I mean I do love me an all white everything, all the time, but it would be so fun to color the frosting occasionally. LMK (which means 'let me know', which I learned from my teenagers haha)!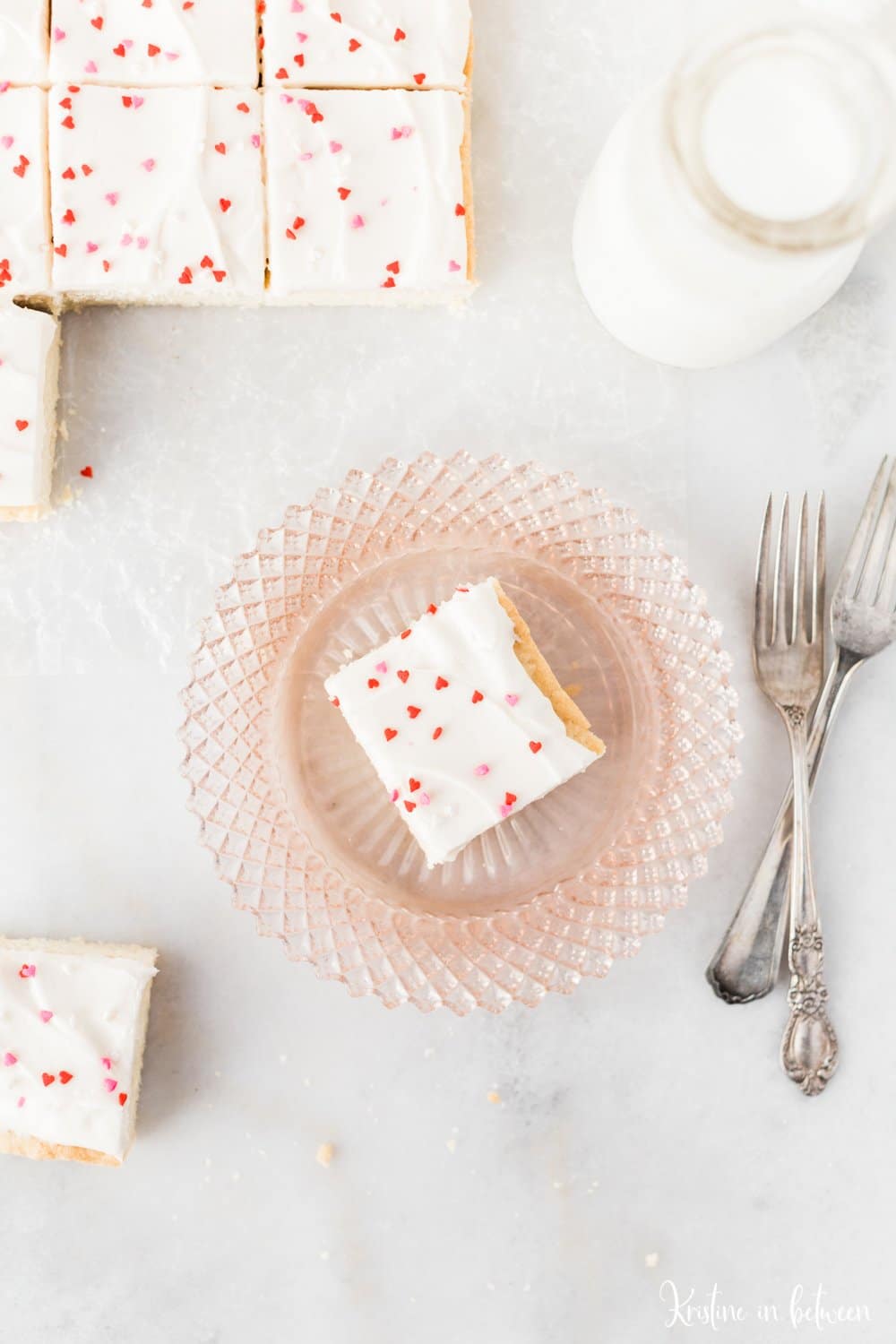 So anyway, if you're looking for an easy way to shortcut sugar cookies, or you just have a sugar cookie addiction like me, you'll definitely want to make these sugar cookie bars with cream cheese frosting over and over and over again! And if you aren't a fan of cream cheese frosting, you should try topping these bars with my traditional buttercream sugar cookie frosting, it is INSANE!
Sugar cookie fans, here you go!
Sugar Cookie Bars with Cream Cheese Frosting
Skip the work of sugar cookies and make these chewy sugar cookie bars with cream cheese frosting instead!
ingredients
For the cookie bars:
1/2

cup

unsalted butter, room temperature

3/4

cup

sugar

1

egg

1

tsp

vanilla extract

1/2

tsp

baking powder

1/2

tsp

sea salt

1½

cups

flour
For the frosting:
4

TBS

unsalted butter, room temperature

3

oz

cream cheese

1/2

tsp

vanilla extract

2

cups

powdered sugar

Sprinkles for decorating
INSTRUCTIONS
To make the cookie bars:
Preheat oven to 350 degrees and line a 9 x 9 square pan with aluminum foil or parchment paper.

In a large bowl, cream butter and sugar together until smooth and light colored.

1/2 cup unsalted butter, room temperature,

3/4 cup sugar

Add egg, vanilla extract, baking powder, and sea salt and stir to combine.

1 egg,

1 tsp vanilla extract,

1/2 tsp baking powder,

1/2 tsp sea salt

Add flour, half at a time, and mix until just incorporated.

Using the back side of a spoon floured well, gently press the cookie down into a lined baking pan. Continue flattening until it is even and all the way across the bottom of the pan.

Bake for 20 minutes, rotating halfway through. The edges will be slightly brown around the edges and the center may puff up slightly. This will settle when cooling.

Remove from oven and allow cookie bars to cool in the pan for 10 minutes before lifting out to cool completely.
To make the frosting:
In a medium bowl, using a hand mixer, cream butter, cream cheese, and vanilla extract together until fluffy and smooth.

4 TBS unsalted butter, room temperature,

3 oz cream cheese,

1/2 tsp vanilla extract

Add powdered sugar, half at a time and mix on medium speed for 1-2 minutes until smooth and fluffy.

Using a frosting spatula, spread frosting evenly over cookie bars, slice, and serve.

Store cookie bars in an airtight container for 3-4 days or freeze.
Nutrition
Serving:
1
cookie bar
Calories:
228
kcal
Carbohydrates:
30.6
g
Protein:
1.8
g
Fat:
11.5
g
Saturated Fat:
7.1
g
Cholesterol:
41
mg
Sodium:
145
mg
Potassium:
40
mg
Fiber:
0.2
g
Sugar:
24.2
g
Calcium:
10
mg
Iron:
0.5
mg