Chewy, crispy, chocolatey! These chocolate sugar cookies have it all and they are super easy to whip up!
Are you a sugar cookie lover? What about a chocolate lover? How about a chocolate sugar cookie lover? Never tried one? Well friends, I'm about to make your day!
You think that just because you haven't seen much from me lately, that I've been over here twiddling my thumbs don't you? Well let me assure you that while, yes, I have been crazy busy trying to get Hannah graduated from high school and all set up to head off to college in a few months, I have also been brainstorming cookies and playing around with some new and fun recipes!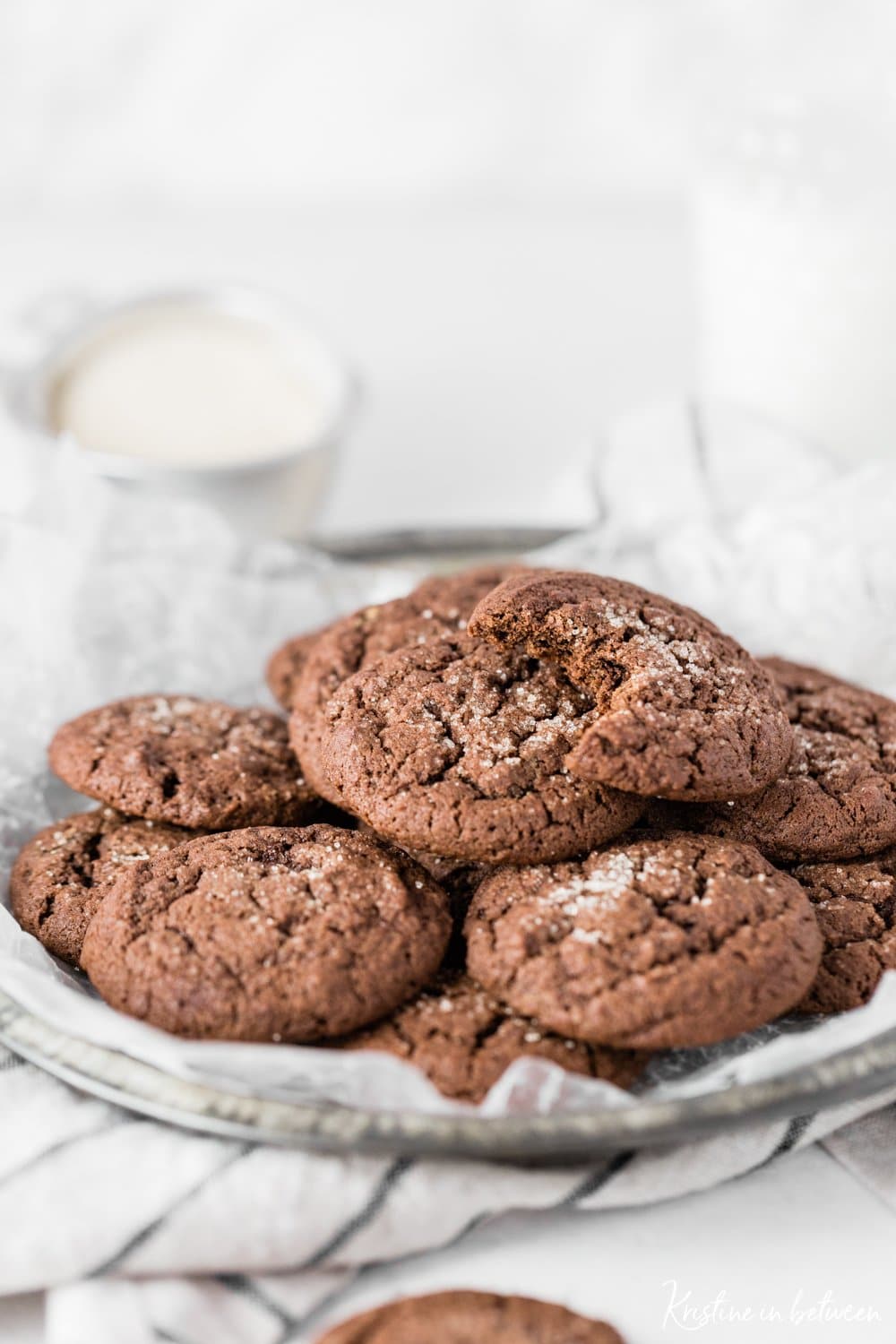 One of my glorious ideas was these chocolate sugar cookies! I figured that since I love sugar cookies and I also love chocolate, combining the two would be a huge win! And I was correct. These chocolate sugar cookies are wonderful as well as wonderfully easy to make!
One of my favorite qualities in a sugar cookie is that it has to be soft, not necessarily gooey, but soft in the center and I like me a good crispy edge. These chocolate sugar cookies have both! They are substantial when you bite into them, but they are ultimately a chewy cookie. The texture is ah-mazing!
Things to remember when baking these chocolate sugar cookies:
You can make the whole recipe in one bowl. Just follow the sequence written in the recipe.
Using a cookie scoop will really help with getting the correct portion. You can find my favorite one here.
You don't have to roll them out or roll them into a ball, just scoop and sprinkle with sugar.
It's easy to over-bake these cookies because of their dark color. They will puff slightly and the centers will not be shiny when they're done.
Allow the cookies to cool on the baking sheet for 5-10 minutes prior to moving them to allow the tops to fall and crack.
As with most of my cookie recipes, you could use a smaller cookie scoop and make 24-ish smaller cookies instead of the 12 larger cookies. But, if you're anything like me (or the other people who live in my house), making smaller cookies just means you'll eat more than one at a time. Of course, to each is own though. Haha!
Regardless of what size you make these chocolate sugar cookies, you'll find that they are scrumptious and I'm pretty sure that after you try these cookies for yourself, you'll add them to your usual cookie baking repertoire just like I did. I find that it sure is nice to have another easy sugar cookie recipe to whip up, especially CHOCOLATE sugar cookies!
Chocolate Sugar Cookies
Thick and chewy, one-bowl chocolate sugar cookies! They're everything you love about a sugar cookie with a yummy chocolate twist!
Print
Ingredients
1/2

cup

unsalted butter, room temperature

3/4

cup

brown sugar, packed

1/2

tsp

sea salt

1/2

tsp

baking soda

1

egg

1

tsp

vanilla extract

2

TBS

+ 2 tsp unsweetened cocoa powder

1

cup

flour

Sugar for sprinkling
Instructions
Preheat oven to 350 degrees and line 2 baking sheets with parchment paper.

In a medium bowl, cream butter and brown sugar together until smooth and light colored.

Add sea salt and baking soda and stir.

Add egg and vanilla extract and mix until just combined.

Add flour, half at a time and mix until just combined.

Using a 3 TBS cookie scoop, scoop dough and place 2 inches apart on the cookie sheet.

Bake for 12 minutes, rotating halfway through.

Allow cookies to cool on the baking sheet for 5 minutes before transferring to a wire rack.

Store cookies in an airtight container for 4-5 days or freeze.
Sugar cookie fans, you've got to try these no-roll sugar cookies and chocolate cookie fans, you've got to try these chocolate crinkle cookies! Both are easy and delicious!