Pumpkin Pecan Banana Bread
This post contains links to affiliate websites and we receive a small commission for any purchases made using these links. As always, we appreciate your support!
This pumpkin pecan banana bread is the perfect quick bread to make during the fall! It's everything you love about banana bread with a delicious fall twist!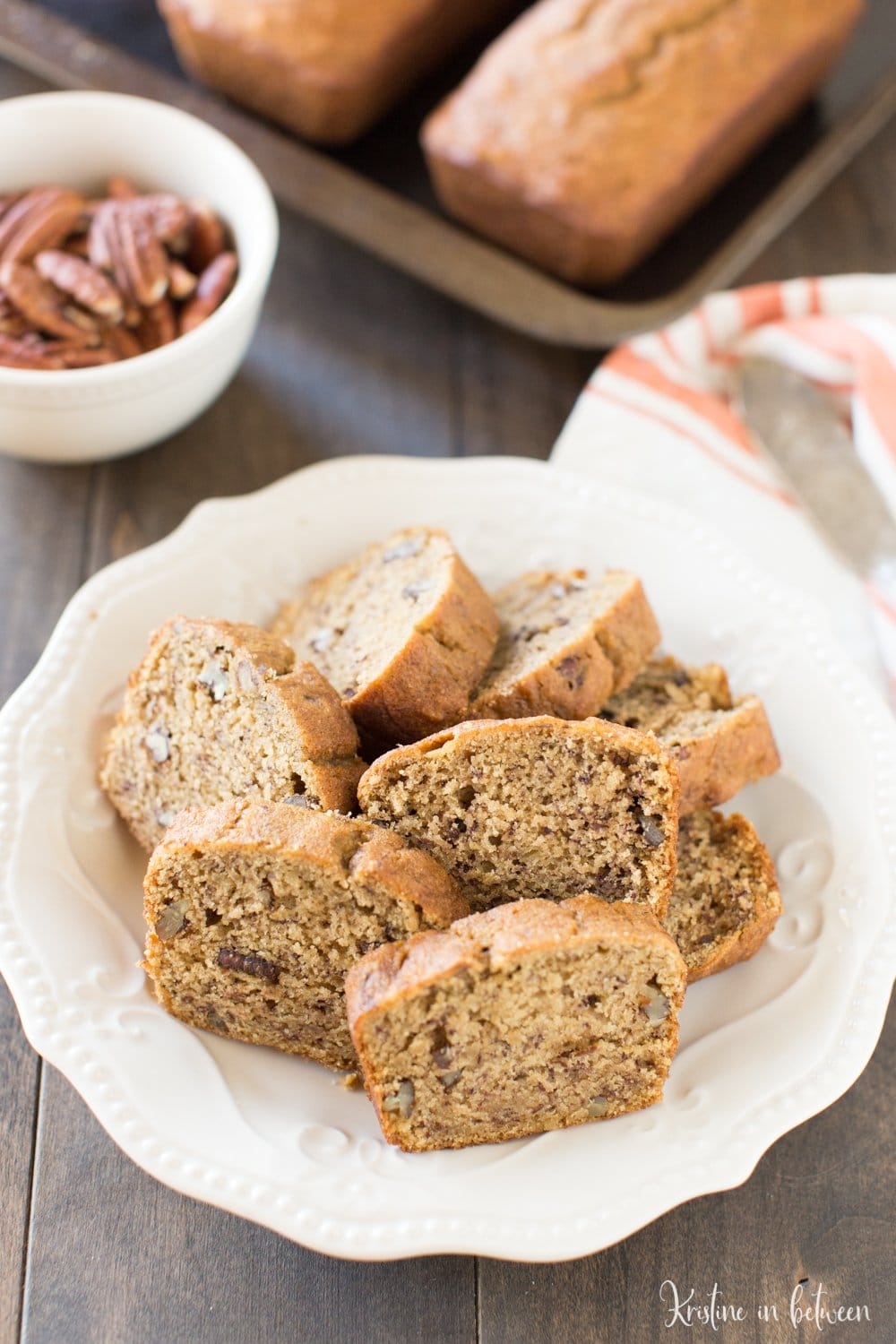 I wish my creativity wasn't always elusive, but the truth is, most days it is. I spend a lot of time waiting for a grand recipe idea to come to me. Every once and a while though, there will be a day when my creativity just flows and I get all sorts of great ideas. Let's take the day I figured out how to make pumpkin puree in the Crock-Pot for example! Now, that was a great day!
Well, today was another one of those days where I had a decent amount of creativity. Woo! Since I've been feeling fall-festive and since it's almost pumpkin season, I've been adding my pumpkin puree to all sorts of tasty recipes, which inspired me to add some to my banana bread and make a pumpkin/banana bread.
If you've followed this blog for any amount of time now, you know that I make traditional banana bread often; seriously, I make it almost every week at least! I just hate to throw away rotten bananas (and we are some banana bread eatin' fools).
Since I was having a good creative day, it seemed like the perfect time to experiment with my banana bread recipe(s). So, I added some of my homemade pumpkin puree, some pumpkin pie spices, and some chopped pecans to my usual recipe and what I ended up with was nothing short of amazing! Bum, ba, ba, bum! I give you my new pumpkin pecan banana bread!
This pumpkin pecan banana bread is literally the bomb! Jay said it's probably the best banana loaf I've ever made! Winner! The pumpkin and spices are subtle, which I love; just a little hint of fall. And the bread itself is super soft with a nice crispy crust. It's not overly sweet or overly banana-y (yes, that's totally a thing – haha). It's fall perfection, really. I find that it pairs perfectly with a cup of coffee on a crisp fall morning!
Looking for more pumpkin recipes?
Pumpkin Pecan Banana Bread
Perfectly soft and sweet pumpkin pecan banana bread, perfect for fall!
ingredients
1/2

cup

butter

1

cup

sugar

1

egg

1

cup

pumpkin

1

tsp

vanilla

1/2

tsp

baking powder

3/4

tsp

baking soda

1/2

tsp

sea salt

1

tsp

cinnamon

1/2

tsp

ginger

1-1/2

cups

white whole wheat flour

1/2

cup

chopped pecans

3

overly ripe mashed bananas
INSTRUCTIONS
Preheat oven to 350 degrees and grease loaf pans (I used the Wilton 4 mini loaf pan).

In a large bowl, cream butter and sugar together.

1/2 cup butter,

1 cup sugar

Add egg, pumpkin, and vanilla and mix well.

1 egg,

1 cup pumpkin,

1 tsp vanilla

Stir in the baking powder, baking soda, salt, cinnamon, and ginger and mix well.

1/2 tsp baking powder,

3/4 tsp baking soda,

1/2 tsp sea salt,

1 tsp cinnamon,

1/2 tsp ginger

Slowly add the flour in batches and mix until combined.

1-1/2 cups white whole wheat flour

Fold in pecans and mashed bananas.

3 overly ripe mashed bananas,

1/2 cup chopped pecans

Pour batter into prepared loaf pans or muffin tins.

Bake for 30-35 minutes, rotating halfway through.
Nutrition
Serving:
1
slice
Calories:
149
kcal
Carbohydrates:
18.2
g
Protein:
1.6
g
Fat:
8.5
g
Saturated Fat:
5
g
Sodium:
82
mg
Fiber:
1.6
g
Sugar:
10.8
g