Pumpkin Puree
This post contains links to affiliate websites and we receive a small commission for any purchases made using these links. As always, we appreciate your support!
I love fall baking season! There are so many really good recipes to make and one thing they all have in common is pumpkin puree. Let me tell you, there's nothing better than homemade fresh pumpkin puree for all those delicious fall recipes.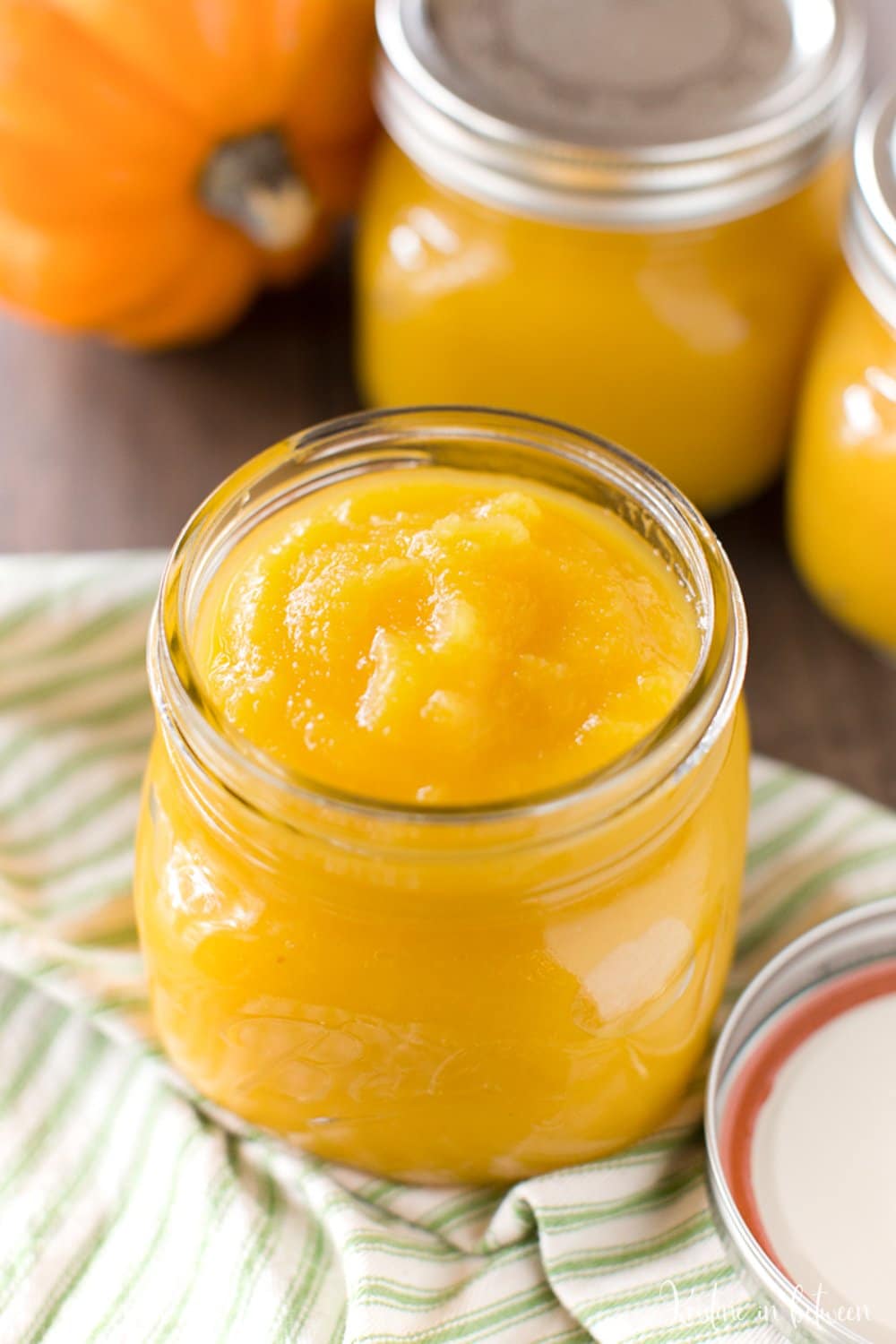 Why this recipe is brilliant
If you've known me for more than 5 minutes, you know I'm not a huge fan of processed foods and that I really, really like to make things myself (as long as it doesn't take 16 hours in the kitchen) and that's why this recipe is brilliant.
It cooks in the Crock-Pot, so you literally just set it and forget it.
I've roasted pumpkins in my oven before (the usual way, on a cookie sheet) and it was pretty uncomplicated, but the Crock-Pot, now that's a whole new level of simplicity.
And let me tell you, the difference is huge! Fresh pumpkin puree is so, well, fresh! You will never, ever, ever buy pumpkin again. And I mean never. Mark my words!

How to make homemade fresh pumpkin puree
Wash the outside of two sugar pumpkins and cut the stems off.
Carefully cut both pumpkins in half and scrape out the pulp and seeds using a pumpkin scraper or a large spoon.
Place the pumpkin halves skin side up in the bottom of your Crock-Pot and cook them on high for a couple of hours.
Let the pumpkins cool and scrape the flesh from the skin. This is really easy to do when they're cooked. Then place the pumpkin flesh in a big bowl.
Mash the pumpkin flesh up with a fork or if you want smooth puree, run it through your food processor for a few minutes until no lumps remain.
Then just jar it up and use it in your fall recipes.

Two things you need to know about fresh pumpkin puree
You MUST use sugar pumpkins. I'm serious. The large carving pumpkins are bland and stringy and do not make very appetizing treats. They're just not made for eating, so don't do it.
Don't be alarmed, fresh pumpkin puree is always pale light yellow in color, and it can also be slightly more runny than canned pumpkin, but I promise it works just the same in all of those delicious pumpkin recipes.
Not sure which pumpkin to buy? Visit all about pumpkins for everything you need to know about pumpkins!
Questions about this recipe
And now, are you ready for this pumpkin puree recipe? You're not going to believe how simple it is.
Now, check out these recipes that use pumpkin puree
Crock-Pot Pumpkin Puree
An easy Crock-Pot recipe for fresh pumpkin puree. It's perfect for all of your fall recipes.
ingredients
2

sugar pumpkins (pie pumpkins)
INSTRUCTIONS
Wash the outside of the pumpkin with warm water and scrub off any dirt.

Remove the stem and cut the pumpkin in half.

Remove all the seeds and stringy parts inside the pumpkin (save the seeds if you roast them). Use a spoon to scrape the inside clean.

Place the pumpkin halves skin side up in the Crock-Pot. Cut the pieces into smaller chunks if necessary.

Cook on high for 2-3 hours or until fork tender (the pumpkin should be really soft).

Allow the pumpkin to cool enough to handle and then scrape the flesh from the skin with a spoon.

Mash the insides with a fork to remove lumps or puree it in a food processor or blender for a very smooth texture (I put mine in the food processor for a few minutes before jarring it).

Store pumpkin puree in the fridge for up to 1 week or in the freezer for up to one year.

Use the fresh pumpkin in place of canned pumpkin in recipes.
Nutrition
Serving:
1
cup
Calories:
30
kcal
Carbohydrates:
7.5
g
Protein:
1.2
g
Fat:
0.1
g
Saturated Fat:
0.1
g
Sodium:
1
mg
Fiber:
0.6
g
Sugar:
1.6
g