There's nothing better than homemade pumpkin puree for all those delicious fall recipes!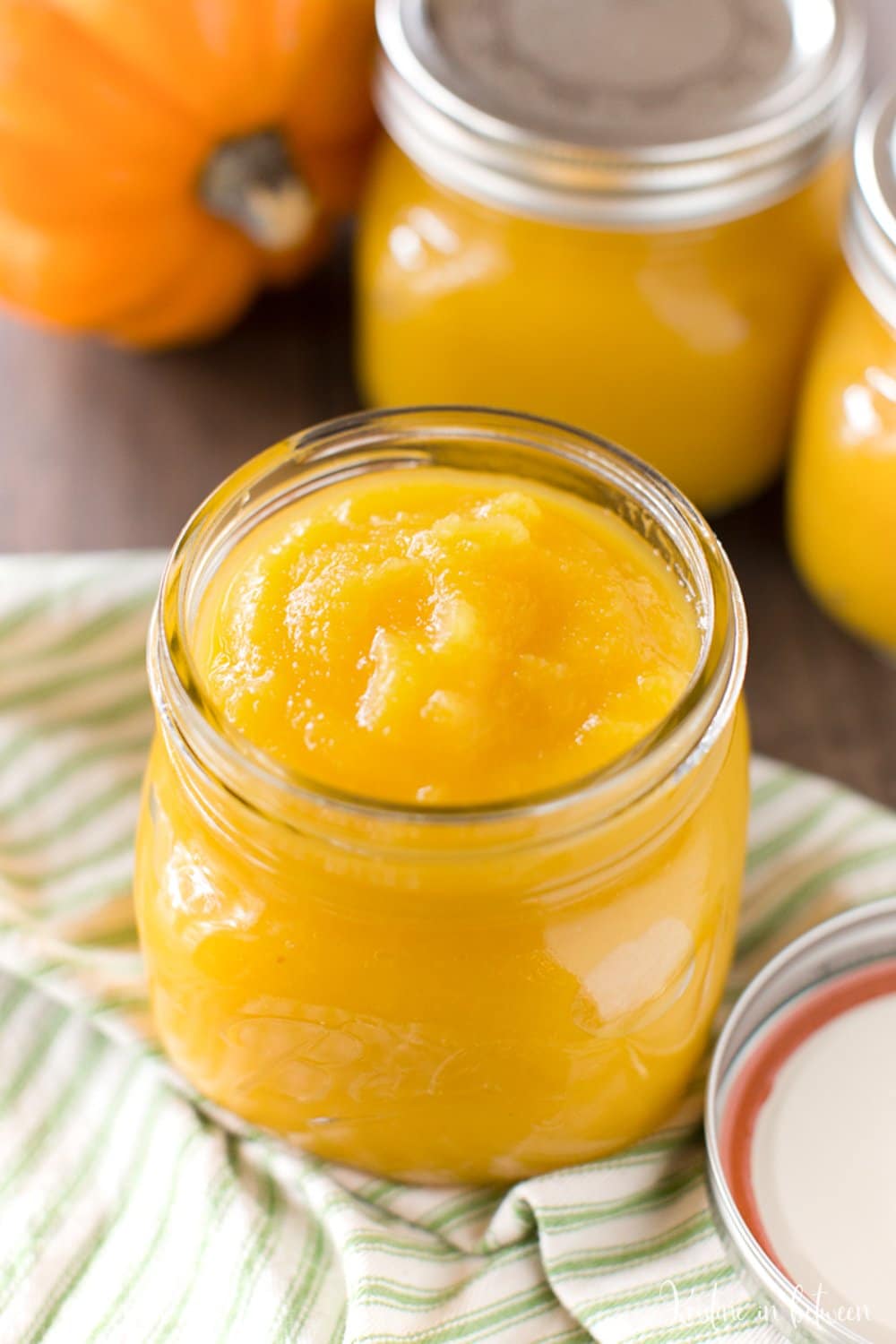 Do you ever get an idea, one that's so big, you can't wait to tell everyone? That totally happened to me! As you know, it's pumpkin season, which means it's also baking season, which means pumpkin pies, pumpkin cookies, pumpkin granola, and so on!
If you've known me for more than 5 minutes, you know I'm not a huge fan of processed foods and that I really, really like to make things myself (as long as it doesn't take 16 hours in the kitchen) and that's where my brilliant idea comes in. Homemade pumpkin puree in the Crock-Pot!

I've roasted pumpkins in my oven before (the usual way, on a cookie sheet) and it was pretty uncomplicated, but the Crock-Pot, now that's a whole new level of simplicity. Right?!
And let me tell you, the difference is huge! Fresh pumpkin puree is so, well, fresh! You will never, ever, ever buy pumpkin again. And I mean never. Mark my words!

There are only two things you need to know about making your own pumpkin puree. Number one, you MUST use sugar pumpkins. I'm serious. The large carving pumpkins are bland and stringy and do not make very appetizing treats. They're just not made for that.
Number two, don't be alarmed, fresh pumpkin puree is always light yellow in color, and it can also be slightly more runny than canned pumpkin, but I promise it works just the same in all of those delicious pumpkin recipes (and tastes 100 times better)!
And now, are you ready for this pumpkin puree recipe? You're not going to believe how simple it is.
Crock-Pot Pumpkin Puree
Canned pumpkin can contain any winter squash, make your own 100% pumpkin puree with this easy Crock-Pot recipe.
Print
Total Time:
3
hours
10
minutes
Ingredients
2

sugar pumpkins (pie pumpkins)
Instructions
Wash the outside of the pumpkin with warm water and scrub off any dirt.

Remove the stem and cut the pumpkin in half.

Remove all the seeds and stringy parts inside the pumpkin (save the seeds if you roast them). Use a spoon to scrape the inside clean.

Place the pumpkin halves skin side up in the Crock-Pot. Cut the pieces into smaller chunks if necessary.

Cook on high for 2-3 hours or until fork tender (the pumpkin should be really soft).

Allow the pumpkin to cool enough to handle and then scrape the flesh from the skin with a spoon.

Mash the insides with a fork to remove lumps or puree it in a food processor or blender for a very smooth texture (I put mine in the food processor for a few minutes before jarring it).

Store pumpkin puree in the fridge for up to 1 week or in the freezer for up to 6 months.

Use the fresh pumpkin in place of canned pumpkin in any recipe.
Notes
Did you make this recipe? We want to see! Tag @kristineinbetween on Instagram and hashtag it #kinbetween
Nutrition
Serving:
1
cup
|
Calories:
30
kcal
|
Carbohydrates:
7.5
g
|
Protein:
1.2
g
|
Fat:
0.1
g
|
Saturated Fat:
0.1
g
|
Sodium:
1
mg
|
Fiber:
0.6
g
|
Sugar:
1.6
g
Not sure which one to buy? Visit all about pumpkins for everything you need to know about pumpkins!
And because it's pumpkin season, try these pumpkin ginger molasses cookies or this pumpkin French toast, they're incredible!