Christmas in July – Gifts To Buy in July & A FREE Printable!
Merry Christmas in July, my friends! You know me, I love to celebrate the holidays and since I like to start as early as I possibly can, I'm kicking off my annual Christmas in July celebration here on the blog!
There will be Christmas cookies, wrapping tips, and of course a FREE holiday gift list so you can make those Christmas lists!
Before you run off shaking your head screaming 'No!', just hear me out. It's the halfway point to actual Christmas and that's totally worth celebrating on its own, but there's actually some benefit from starting your Christmas shopping really early…like now, in July.
Besides the fact that you'll be organized for the holidays super-duper early, there are several gifts you should actually try to buy in July.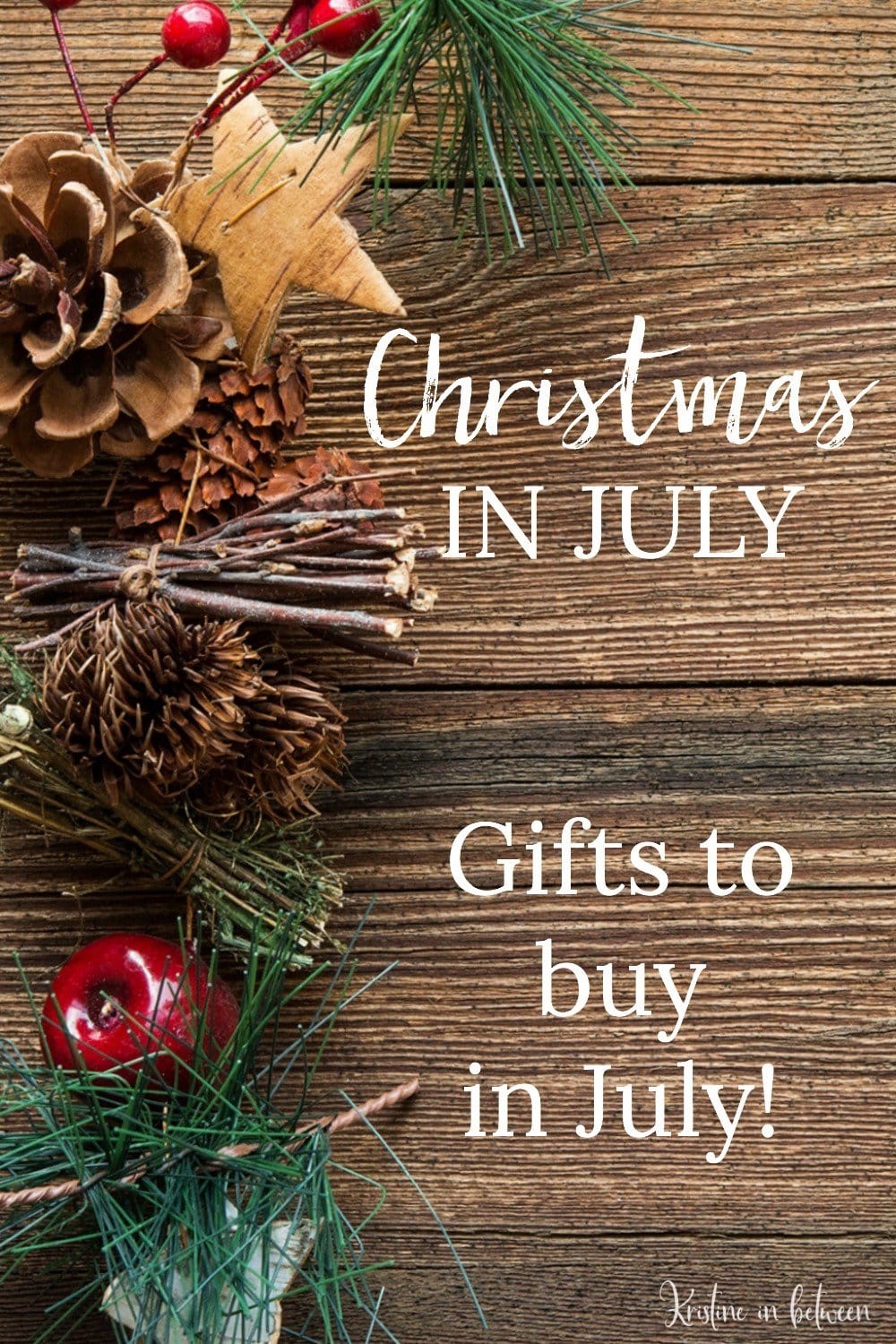 Since people aren't usually thinking about Christmas in July when the grass is green and the sun is shining, the summertime is great for getting a jump start on all of your Christmas shopping.
Get out that holiday gift list, jot down some gift ideas, and get a few things crossed off while you're sitting by the pool basking in the summer sun.
Here are my favorite gifts that you should actually buy in July:
BOOTS AND WINTER SHOES | Winter clothing, boots, and cold weather shoes are usually hugely discounted in the summer months, making this the perfect time to stock up on great gifts for christmas as well as essentials.
CHRISTMAS DECORATIONS | Everything is on sale online during the summer. No one is thinking about wreaths, garland, and mistletoe in July…except for me and now maybe you too. Take advantage of this! Put on some holiday music (deck the halls with bows of holly, fa-la-la-la, la-la-la-la), grab a cup of hot cocoa, and cyber shop it up!
TOOLS AND BBQ GRILLS | The home improvement stores usually have great sales during the summer months, so that makes it the best time to stock up on tool and grilling related christmas gifts for the men in your life.
COMPUTERS AND DSLR CAMERAS | With back to school right around the corner, lots of electronics, including computers and cameras are on super sale during the summer. While everyone else is shopping for graduation gifts or school necessities, you can be stuffing your santa bag to the brim.
EXERCISE EQUPMENT AND RUNNING SHOES | Have an athlete or fitness lover on your list? Most exercise equipment and running shoes are at their lowest prices during their prime season, the spring and summer months, making July the perfect time to stock up!
LINGERIE AND UNDIES | Tons of major retailers, including Victoria's Secret have their semi-annual sales in the summer, slashing prices up to 70%. 'Santa' could easily stuff everyone's stockings and save a ton of green…in July!
DISHES, KITCHEN GADGETS, AND HOUSEWARES | The summer months are at the peak of wedding season and also the start of dorm room shopping season, that means discounts on dishes, housewares, and kitchen gadgets! Pick up that mixer that Mrs. Clause has been dreaming about or a new comforter set for your mom at deep discounts compared to the December prices.
COLD WEATHER APPAREL AND JACKETS | This goes along with #1, Everything for wintertime is on sale or clearance in the spring and summer months. Retailers are getting rid of last years' inventory to make room for fresh new styles. You can find ski clothing, down jackets, and sweaters for next-to-nothing. Score!
LUGGAGE | Since most people take at least one trip over summer vacation, July is a great time to pick up some luggage on sale.
CHRISTMAS TREES, TREE STANDS, AND ACCESSORIES | This is a no-brainer. The online stores are cleaning out from last year to make room for new stuff! And summer is the best opportunity to buy that gorgeous new artificial tree you've been dreaming about. Both Balsam Hill and Amazon have summer specials as well as clearance items. it's definitely worth a look around.
So, there you have it, my full list of Christmas gifts to buy in July; and the best part is, you can do most of it without even leaving the house! Ready to get your holiday gift list started? Download my FREE PDF Holiday Gift List right now!
And when you're ready to decorate (I know, I know – in a few more months), you'll definitely want to read up on these Christmas tree decor posts – they're very popular! Tips to make your tree look magical, Christmas tree decorating tips, and how to add farmhouse charm to your Christmas tree.