This pumpkin chili is a thick and hearty Crock-Pot chili made with fresh pumpkin puree that will quickly become your fall favorite!
When I make chili, I like to make it a little different each time and sometimes, I get really creative based on what I have hanging out in the fridge. Actually, that's how I got this brilliant idea! I was feeling chili for dinner, opened the fridge, saw the pumpkin puree I just made, and a lightbulb went off. 'I'll make pumpkin chili.'
When I first suggested pumpkin chili to the fam though, I got mixed reactions. Jay and Mad both said it sounded delicious, but Hannah strongly disagreed. In fact, she was a 'hard no' and said that she wanted no part of it. I didn't take it personally because she says that about 90% of the food I cook these days (because…um…she's a teenager).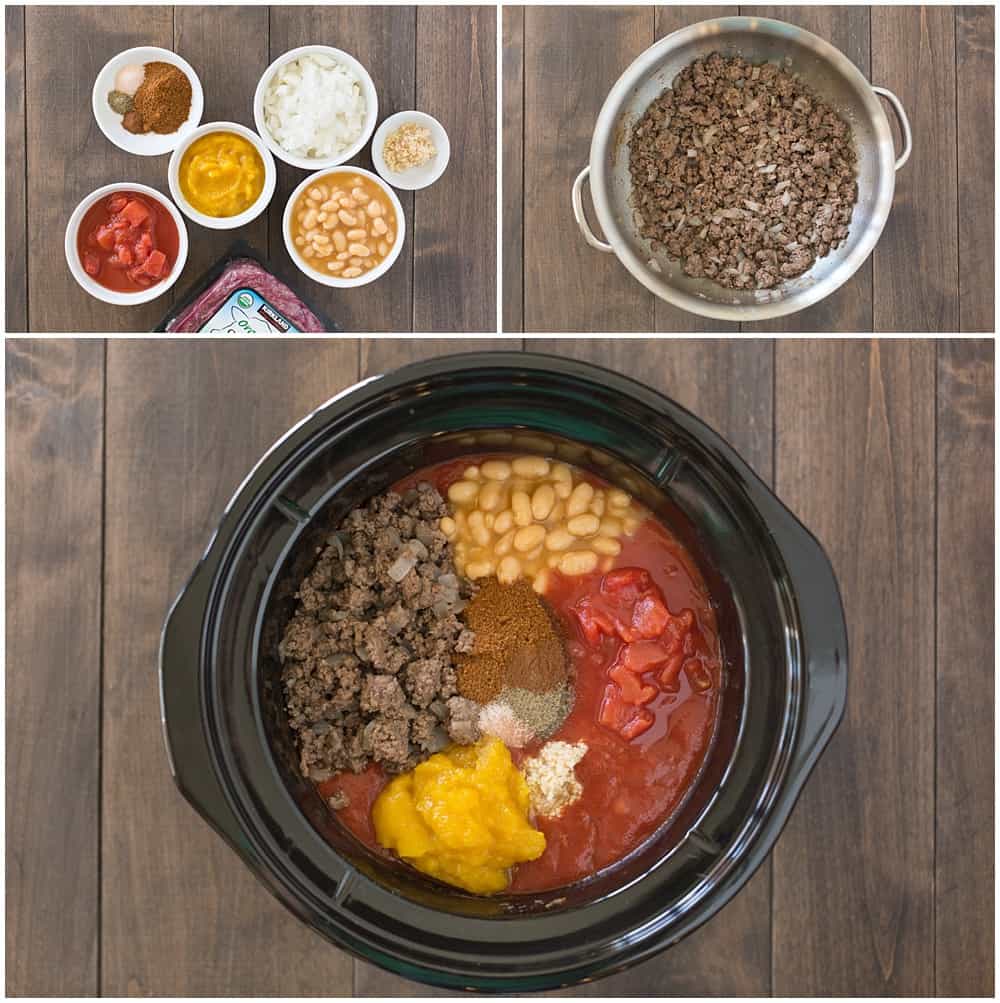 My favorite thing about this recipe is how simple it is; it's a regular old one-pot chili recipe with some extra goodness added to turn it into the perfect pumpkin chili.
You start by browning the ground beef or turkey and onion ( you can also make this a meatless meal and omit the beef or turkey all together) on the stove. Oh and I should warn you, I'm kind of freaked out by putting raw meat in the Crock-Pot, so I always precook my meat before adding it to chili.
Anyhoo, once the meat is fully cooked and the onions are tender, you just throw it along with all of the remaining ingredients into the Crock-Pot, give it a good stir, and let it go! So. Stinking. Easy.
This pumpkin chili is thick and substantial and tastes reminiscent of fall. Neither the pumpkin or the 'secret ingredient' are dominant. It's just warm and delicious! It's the perfect dinner to cozy up with after a long fall day.
And guess what, both Hannah and her friend Ian had a giant mug full (because that's how we eat chili over here, in oversized coffee mugs) and they loved it. Ian even gave it two thumbs up, not just one! If a chili can win Hannah over (especially a pumpkin chili), it's most definitely a keeper! This is one recipe you'll want to add to your dinner schedule ASAP!
*Side note: this chili also freezes great, either in an airtight container or in a Ziplock bag.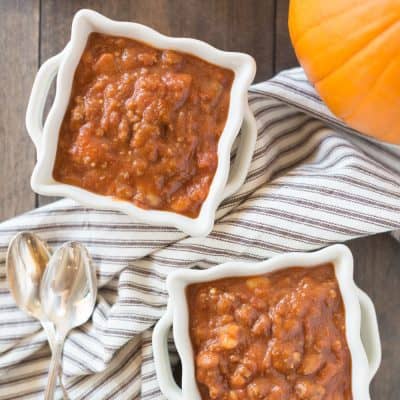 Pumpkin Chili
A thick and hearty Crock-Pot chili made with fresh pumpkin puree for a fall twist on traditional chili.
Print
Pin
Ingredients
1

pound

ground beef or turkey

1

medium

onion, chopped

2

cups

pumpkin puree

1-1/2

tsp

garlic, minced

1

28 ounce can

crushed tomatoes

1

15 ounce can

tomato sauce

1

15 ounce can

diced tomatoes

1

15 ounce can

white chili beans

1

15 ounce can

brown chili beans

1-1/2

TBS

chili powder

1/2

tsp

sea salt

1/4

tsp

pepper

1/8

tsp

cinnamon (the secret ingredient!)

1

TBS

white vinegar

1

TBS

honey or brown sugar
Instructions
In a frying pan over medium-high cook beef and onion until brown and cooked thoroughly.

In the crock of the Crock-Pot add garlic, pumpkin puree, crushed tomatoes, tomato sauce, diced tomatoes, chili beans, spices, vinegar, and brown sugar and mix well.

Stir in cooked meat and onion.

Cook on low for 4-6 hours or on high for 2-3 hours, stirring occasionally.

Let cool for 10-15 minutes prior to serving.
Nutrition
Serving:
1
bowl
|
Calories:
233
kcal
|
Carbohydrates:
26.1
g
|
Protein:
22.8
g
|
Fat:
4.7
g
|
Saturated Fat:
1.5
g
|
Cholesterol:
51
mg
|
Sodium:
822
mg
|
Fiber:
7.2
g
|
Sugar:
9.7
g
I think you'll also love this classic chili or this healthy beef stew.
About Kristine
Kristine is a self-taught cookie baker and photographer. She's passionate about finding time for everything and making baking, crafting and homemaking simple. More...