Whole Wheat Pumpkin Waffles
This post contains links to affiliate websites and we receive a small commission for any purchases made using these links. As always, we appreciate your support!
Nothing says good morning like these small-batch whole wheat pumpkin waffles! They're sure to get you up and out of bed early!
Last week was a doozy in my blog world. I found out that tons of my original photos (including the ones of Mad and Bee from my about pages) were stolen and published on fradulent stock photo site for download. While I wanted to fly off the handle (because, my babies!), I managed to keep my cool and just handle it.
Long story short, my little coroner of the blog world is super safe; now under strict lock and key.
I could have let this experience steal my love for blogging, photographing, and sharing, but I refused to! In fact, I fought back, and the very day I found out about all this, I baked (to relieve stress, of course) and photographed three new recipes! One of which was this recipe for small-batch whole wheat pumpkin waffles. The world needs them!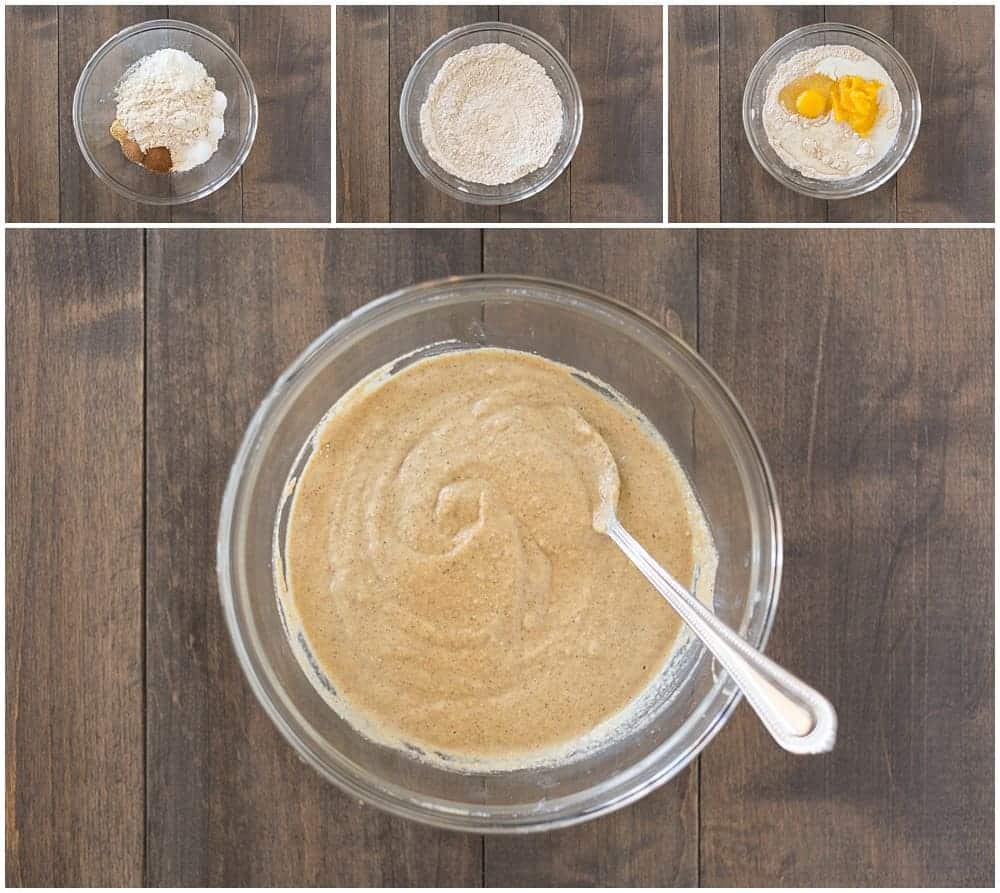 Now, moving on to breakfast talk! This little waffle recipe is the bomb; it's super duper easy to whip up and you only need one bowl. You just whisk the dry ingredients together, add the wet ingredients, let it rest for a few minutes, and then it's waffle time!
You'll only get about 4 regular size waffles out of this recipe, so you may need to double it if you need a few more, which is actually a pretty good idea; make more. I made extra and then threw them in the freezer for the weekdays – worked like a charm. Best. Breakfast. Ever.
And the waffles, you guys; the waffles are crispy, and light, and fluffy, and spicy. In a word, they are…YUM! I've always been a traditional waffle with syrup kinda gal, but when I tried these with the fresh whipped cream and chopped pecans on top, that was it; I was forever changed. I personally don't think you even need syurp for these whole what pumpkin waffles, but I'll let you be the judge of that.
More tasty breakfast ideas
Whole Wheat Pumpkin Waffles
Small-batch light and fluffy pumpkin waffles made from fresh pumpkin puree.
ingredients
3/4

cup

white whole wheat flour

1/4

cup

cornstarch

1/2

tsp

baking powder

1/4

tsp

baking soda

1/2

tsp

sea salt

3/4

tsp

cinnamon

1/4

tsp

nutmeg

1/4

tsp

ginger

1/2

cup

pumpkin puree

1/2

cup

milk

1

egg

1

tsp

vanilla

3

TBS

melted butter

1

TBS

honey
INSTRUCTIONS
In a large bowl whisk together the flour, cornstarch, baking powder, baking soda, salt and spices until mixed well.

Add pumpkin puree, milk, egg, vanilla, and melted butter and stir.

Let batter rest for 10 minutes.

Spray waffle iron with coconut oil spray and cook waffles according to the directions until golden brown.
Notes
Organic ingredients are recommended.
Nutrition
Serving:
1
waffle
Calories:
174
kcal
Carbohydrates:
30.4
g
Protein:
5.8
g
Fat:
3.2
g
Saturated Fat:
1.4
g
Cholesterol:
46
mg
Sodium:
346
mg
Potassium:
245
mg
Fiber:
3.5
g
Sugar:
7.6
g