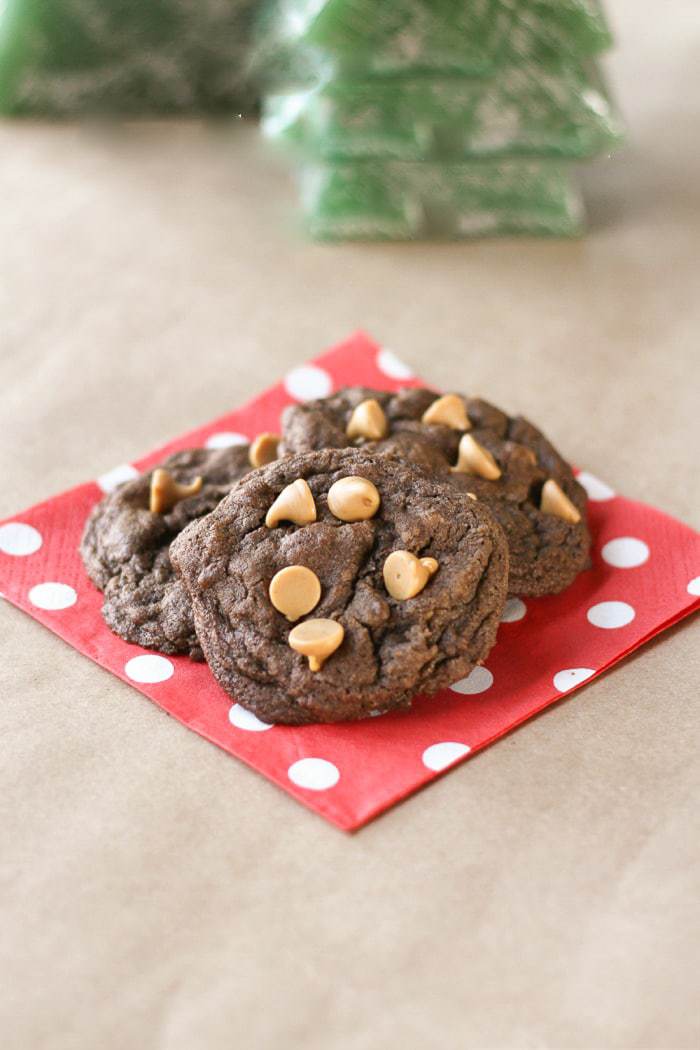 Things did not go my way today, not at all! I had originally planned to share a new macaron cookie, but I sorta kinda maybe waited until the last minute (hey, what can I say, time got away from me – smile) and when I made them this afternoon, they ran all over the pan, burned on the tops, and made a giant sticky (but sweet-smelling) mess. As my kids would say, "they were a giant fail." Totally not blog worthy…yet. Sad.
So, in my frustration and disgust with the macarons (and myself for not being prepared), I headed into the pantry to work on plan B. Since I was feeling down and out because of my baking fail, I decided I needed some comfort cookies. Something to fill my belly and put a smile on my face. Chocolate and peanut butter chip cookies should fix me right up! Yes indeedy!
Here they are, chocolate peanut butter chip cookies! This is my go-to recipe for chocolate cookies with peanut butter chips because the cookies come out perfectly thin and chewy and are loaded with peanut butter chips! My mom used to make these every once and a while and I loved them so much! It's impossible to have just one, or two.. And guess who's smiling again?!
Chocolate Peanut Butter Chip Cookies
Print
Ingredients
3/4

cup

butter, softened

1

cup

sugar

1

egg

1

tsp

vanilla

1-1/2

cup

flour

1/3

cup

unsweetened cocoa powder

1/2

tsp

baking soda

1/4

tsp

sea salt

1

cup

peanut butter chips
Instructions
Preheat oven to 350 degrees.

In a medium bowl, cream butter and sugar.

Add egg and vanilla and stir until smooth.

In a smaller bowl, whisk together the flour, cocoa powder, baking soda, and salt.

Slowly add the flour to the wet ingredients and stir to combine.

Fold in peanut butter chips.

Spoon dough by the rounded teaspoon onto lined baking sheets.

Bake for 8 minutes, rotating halfway through.

Cool on a wire rack and store in an airtight container for up to 1 week.