I don't always do dark photography, but when I do, I do sinfully good dark chocolate cookies too. And these are the best thick and chewy, loaded with dark chocolate cookies you'll find!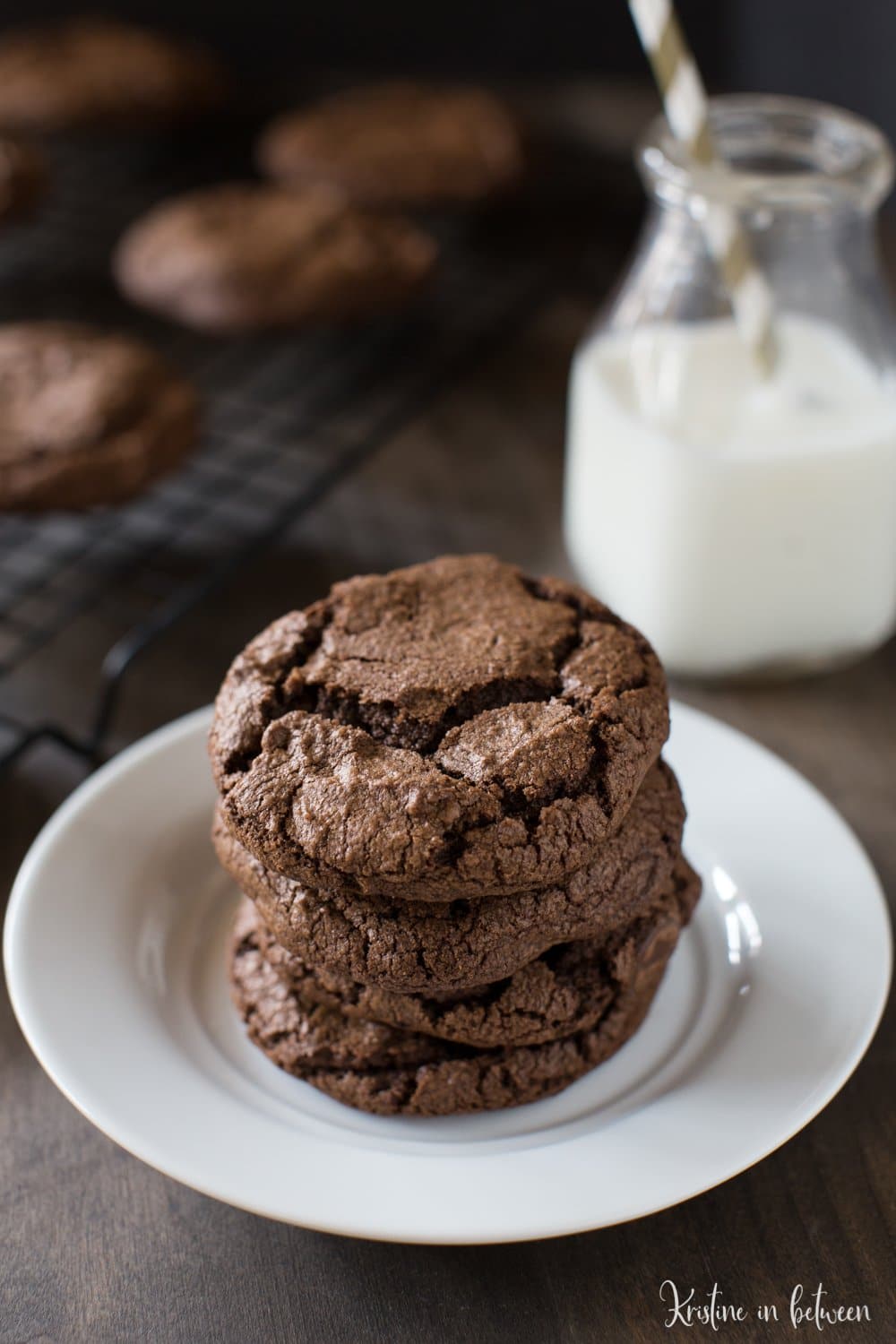 I'm going to let you in on a little secret, I have a really hard time branching out or doing things that go against 'my style' and my photography is no different. I like what I like and I know how to do what I do, but that's it and that's a pretty close-minded way to look at things, now isn't it?
I was 'challenged' by a sweet friend to test the limits of my photography and, gasp, try something new. Go dark, she said. Humpf was my first reaction to this notion.
We talked this over some more and I remained steadfast in my love of bright food images. It wasn't until after she said 'well, dark really isn't your thing anyway' that my who attitude changed. Huh? Challenge accepted, my friend. I thought to myself, 'I'll show you, I can do dark, I'm going to make dark photography my b**** (you know, as they say).' 🙂
That whole you-don't-think-I-can-do-it thing really got to me (and by the way, my friend knew this would eventually be my reaction and that's exactly why she said it. She's always pushing me to try new things because, well, she knows it's good for me and that I won't do it on my own).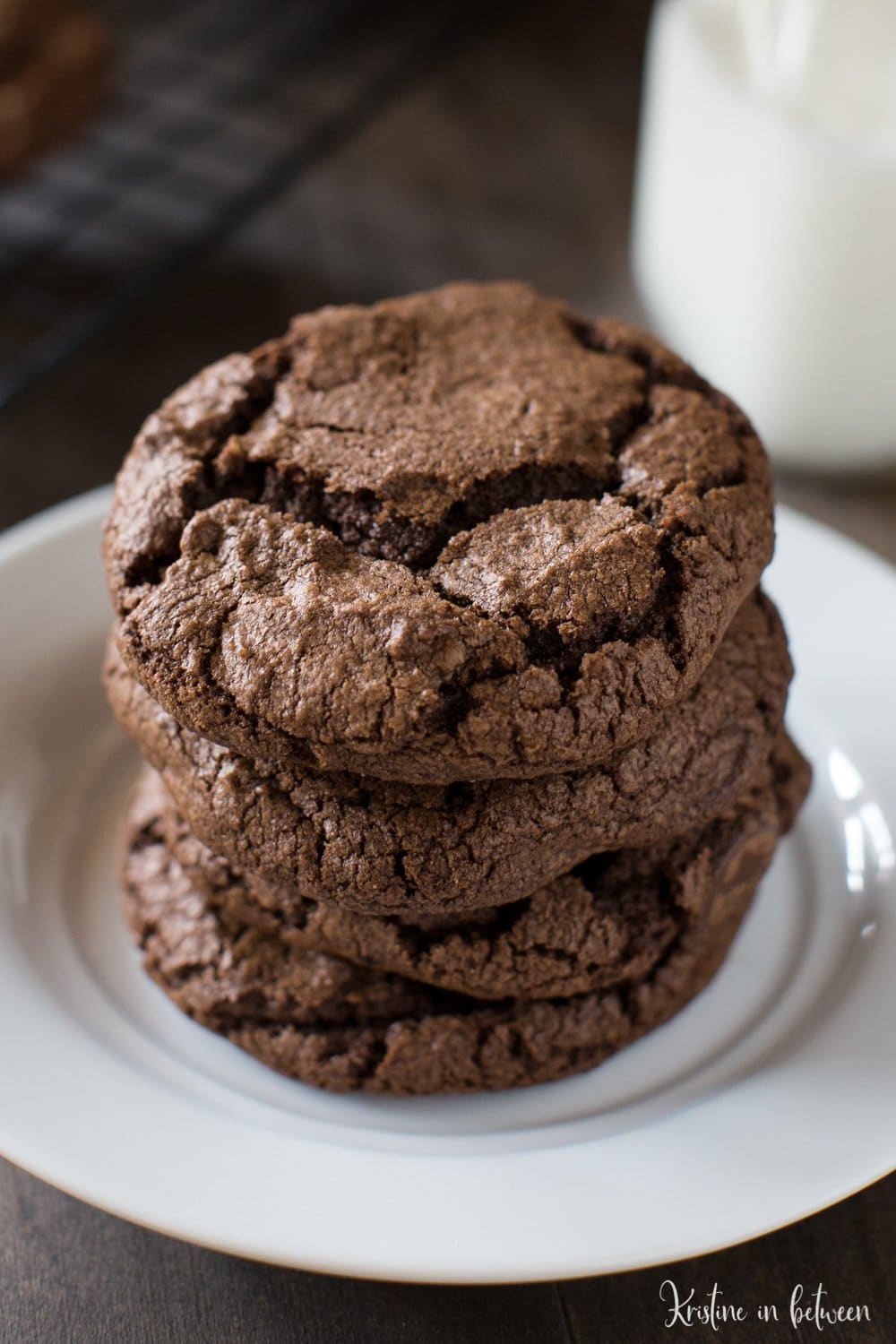 So after some careful consideration, I selected a recipe that I thought would fit perfectly with my new dark photography challenge, these dark chocolate cookies. And I should warn you that these cookies are so dark and sultry that you should probably eat them alone, in the dark, by candlelight. Just trust me on this one.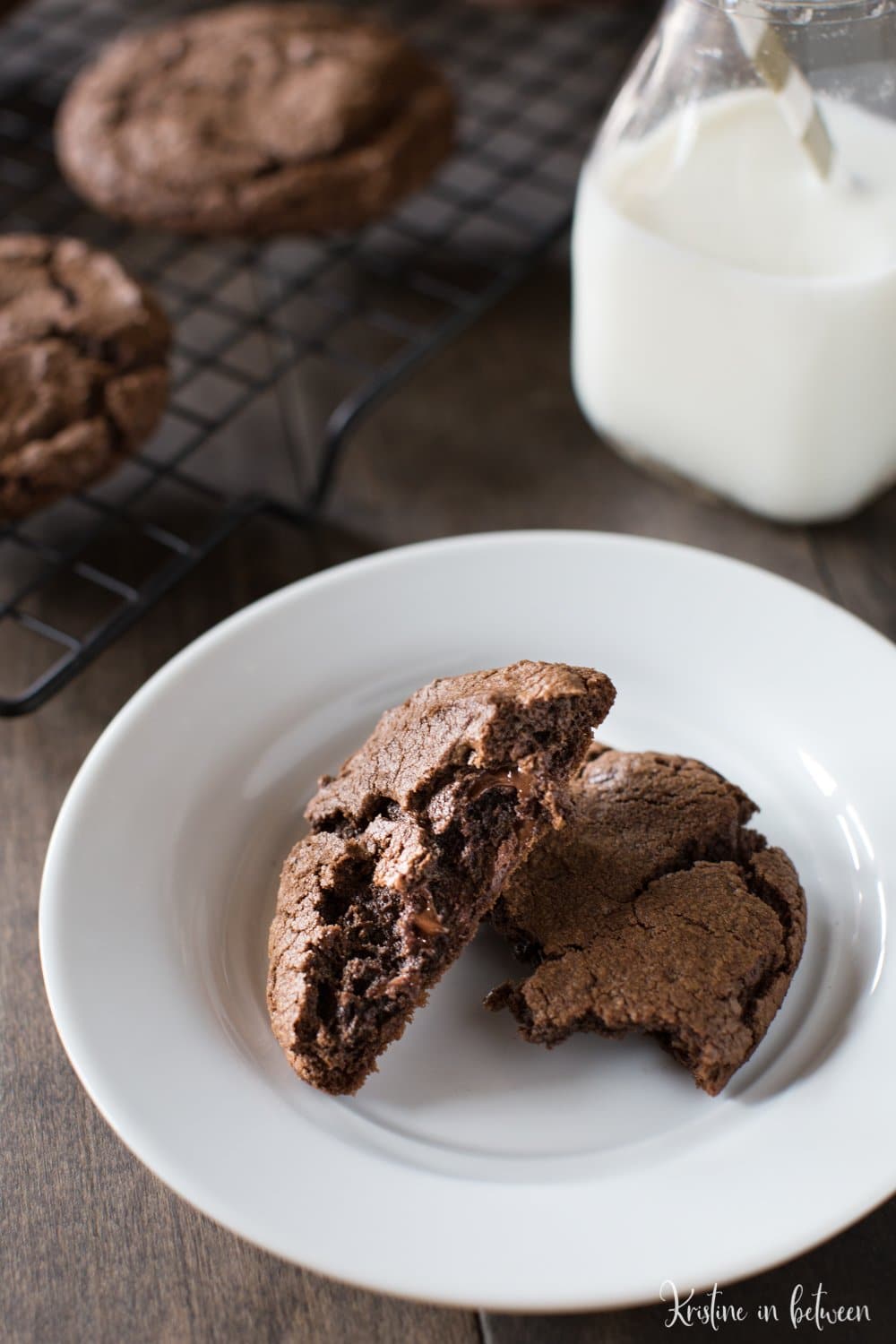 If you are in any way a dark chocolate lover, these are the cookies of your people. They are made with dark chocolate cocoa powder as well as dark chocolate chunks. The dark chocolate melts into the cookie to create the most perfect, decadent, dark chocolate cookies ever! The edges of these cookies come out crisp and slightly crumbly, but the inside is soft and chewy, and oozing melty dark chocolate.
Remember what I said, alone, in the dark…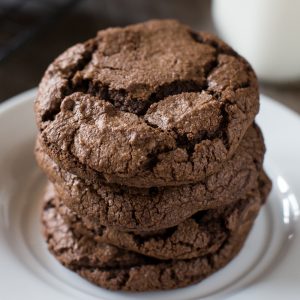 Dark Chocolate Cookies
Thick and chewy dark chocolate cookies there are so good, you won't want to share!
Print
Ingredients
1/2

cup

unsalted butter, room temperature

1/2

cup

brown sugar, packed

1/4

cup

sugar

1

egg

1

tsp

vanilla extract

2/3

cup

dark chocolate chips, melted smooth

3/4

cup

flour

1

tsp

baking soda

1/2

tsp

sea salt

1/4

cup

unsweetened dark cocoa powder

1

cup

dark chocolate chips
Instructions
Preheat oven to 350 degrees and line baking sheets with parchment paper.

In a small bowl melt 2/3 cup dark chocolate chips in the microwave on 50% power, 30 seconds at a time until smooth, set aside.

In a medium bowl cream butter, sugar, brown sugar together.

Add egg, vanilla extract, and melted chocolate and mix until smooth.

In another bowl whisk together the flour, cocoa powder, salt, and baking soda.

Add flour mixture to wet ingredients and stir to combine.

Fold in 1 cup dark chocolate chips.

Bake for 12-14 minutes, rotating halfway through.

Let cool on baking sheet for 5 minutes before transferring to wire rack.

Store in an airtight container for up to 1 week or freeze.
Nutrition
Serving:
1
cookie
|
Calories:
202
kcal
|
Carbohydrates:
23.4
g
|
Protein:
2.6
g
|
Fat:
13.1
g
|
Saturated Fat:
7.9
g
|
Cholesterol:
23
mg
|
Sodium:
163
mg
|
Potassium:
34
mg
|
Fiber:
2
g
|
Sugar:
15.8
g
|
Calcium:
10
mg
|
Iron:
0.5
mg
If you're a chocolate cookie lover, you need these
mint chocolate cookies
!