Easy Ways To Get Your Teen To Eat More Fresh Fruit
This post has been sponsored by The Coca-Cola Company. All thoughts and opinions are my own.
Raise your hand if, like me, you've got a teenager or two in your house! Teens are notoriously not the most healthy eaters (mine included), especially around stressful and busy times of year like back to school. Making good food choices is super important to me as a mom, but it's always a struggle with my girls. So, I've come up with some really easy ways to get your teen to eat more fresh fruit!
Let's get right down to business! Here are some easy ways to get your teen to eat more fresh fruit:
Our number one favorite option is the Odwalla® Mango Tango® smoothie in a bottle because it's the most convenient grab-and-go way to get in a serving of fruit and loads of essential vitamins and nutrients in one fell swoop! My teens love Odwalla because it's tasty and it requires ZERO effort. I love it because it's an all-natural, good-for-you, non-GMO, no-sugar-added way to get fruit in my teenagers! BOOM!
Oh! And before I forget, I've also got a fantastic digital coupon offer for you, too, from some of my favorite brands! You can save $1.00 on fresh-cut fruit when you buy two Odwalla 15.2 oz or ZICO 13.5 oz bottles at any of the Albertsons Companies family of stores with this coupon. You'll want to download the Safeway app if you don't have it already.
Another great option is to make your own fresh-cut fruit smoothies using ZICO® coconut water and fresh-cut fruit! It so easy, even your teen can make it! Using ZICO coconut water as the base provides electrolytes, calcium, iron, magnesium, zinc, B-vitamins, and potassium, too!
You'll find our favorite quick and easy, super good-for-you, teenager-approved smoothie recipe at the bottom of this post.
And finally, the easiest way to get your teens to eat more fruit; make fresh-cut fruit easily accessible! And I mean EASY! I keep fresh-cut fruit in bowls in the refrigerator, washed and ready to go At. All. Times. My kids (and my husband!) will grab a handful of something each time they open the fridge. After a few stops to the refrigerator, they've eaten a whole serving or two of fruit by the end of the day! I just love it!

You can also put different combinations of fruit in little snack bags, for a quick and healthy grab-and-go snack, for lunch boxes, or to quickly toss into a smoothie when you're short on time.
And while we're talking about fresh-cut fruit here, can we talk about the best places to buy fruit? I don't know about you, but I buy all of our fresh fruit from our local Safeway. I find that their produce, specifically their organic fruits and veggies are some of the freshest around.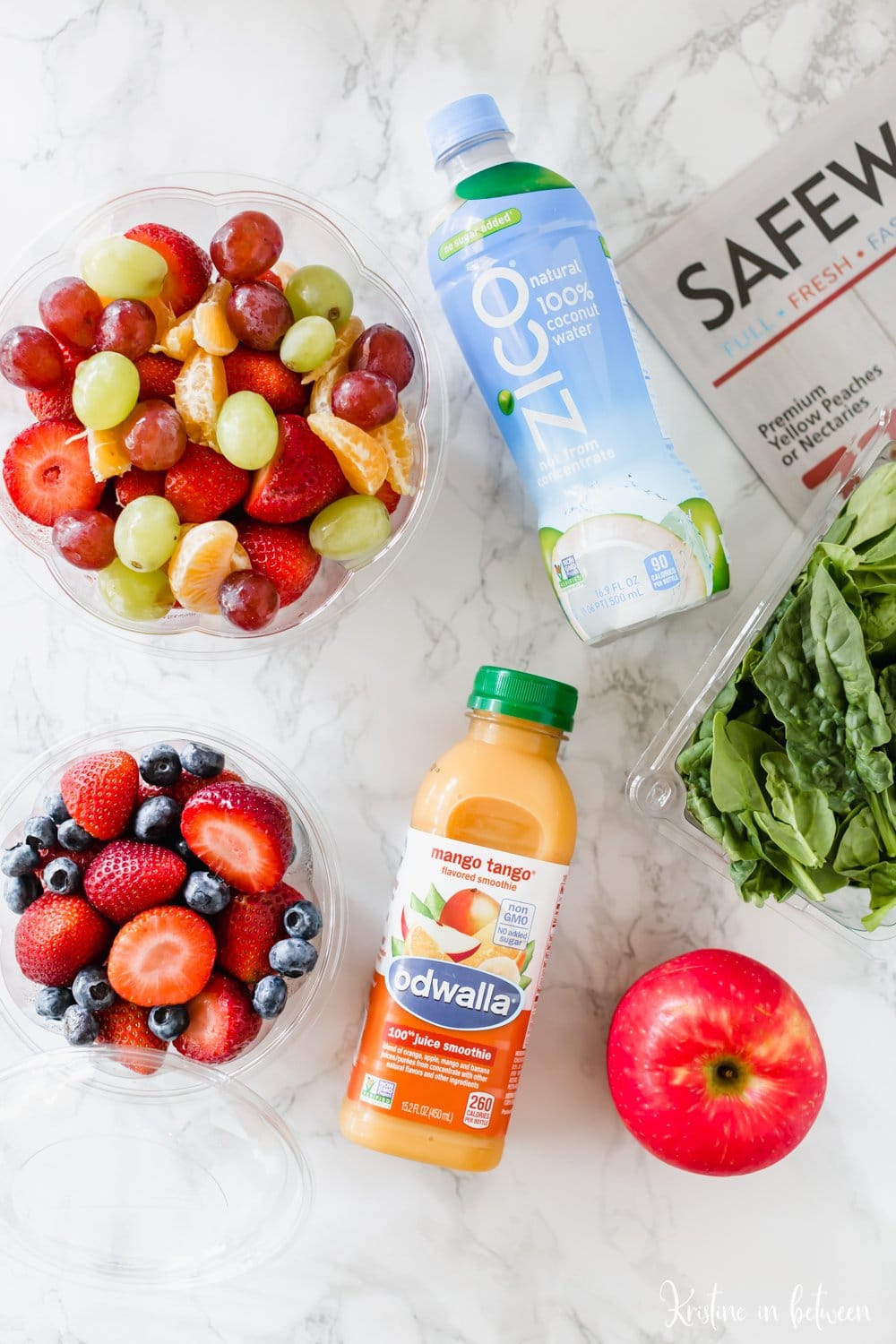 I also love that in my Safeway store, the fruit is literally right by the main door, so when I need to make a quick run in for spinach or some berries, which happens to me at least once a week; it's super convenient. And guess what? You can also pick up both Odwalla and ZICO at Safeway too!
Easy Coconut Fruit Smoothie
An easy and healthy teenager-approved fruit smoothie recipe.
ingredients
1-1/2

cups

ZICO® coconut water

1/2

cup

strawberries and/or raspberries

1/4

cup

blueberries

1/2

cup

spinach leaves (optional)

1/2

cup

Greek yogurt, plain (optional)

Large handful of ice cubes
INSTRUCTIONS
Add all ingredients to the cup of an immersion blender or in a full-size blender and process until smooth.
Nutrition
Serving:
1
smoothie
Calories:
181
kcal
Carbohydrates:
29.5
g
Protein:
16.2
g
Fat:
0.4
g
Cholesterol:
10
mg
Sodium:
122
mg
Potassium:
983
mg
Fiber:
2.7
g
Sugar:
21.4
g
Calcium:
160
mg
Iron:
1.3
mg
There you have it friends, some really easy ways to get your teen to eat more fresh fruit! Try them out and let me know how they work for you and your family. And don't forget to use the digital coupon for Odwalla/ZICO and Safeway and if you would, show Odwalla, ZICO, and Safeway some love!