Whole Wheat Peanut Butter Banana Muffins
This post contains links to affiliate websites and we receive a small commission for any purchases made using these links. As always, we appreciate your support!
Banana muffins are good, but these whole wheat peanut butter banana muffins with chocolate chips are even better!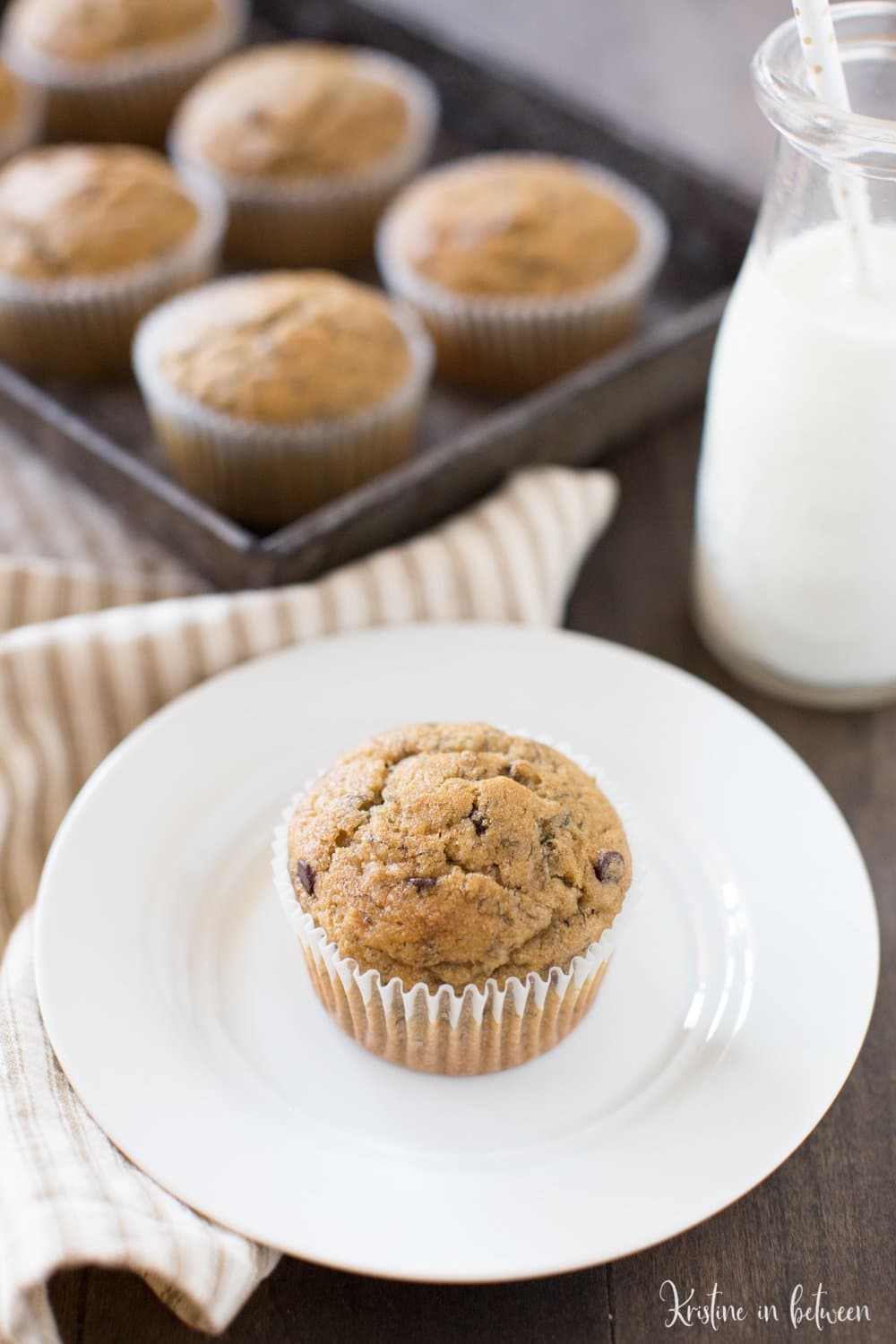 During the summer months my cravings for baked goods go way down (they're still present, but are little teeny bit less). It's just too hot here in Arizona to fire up the oven some days. But, I wouldn't be me if I didn't continue to bake something every once and a while, now would I?
Whenever I want to bake something, I usually ask Mad what she feels like, because she (much like me) will always get down on some baked goods! Over breakfast yesterday, Mad and I were talking about what I should bake this week, because you guessed it – I had a hankering to bake!
One of Mad's favorite treats are my banana bread muffins, so that was her first choice. She usually requests I add some chocolate chips to at least half the batter too, just for her. She's a firm believer that chocolate chips make everything better and I must say, I agree!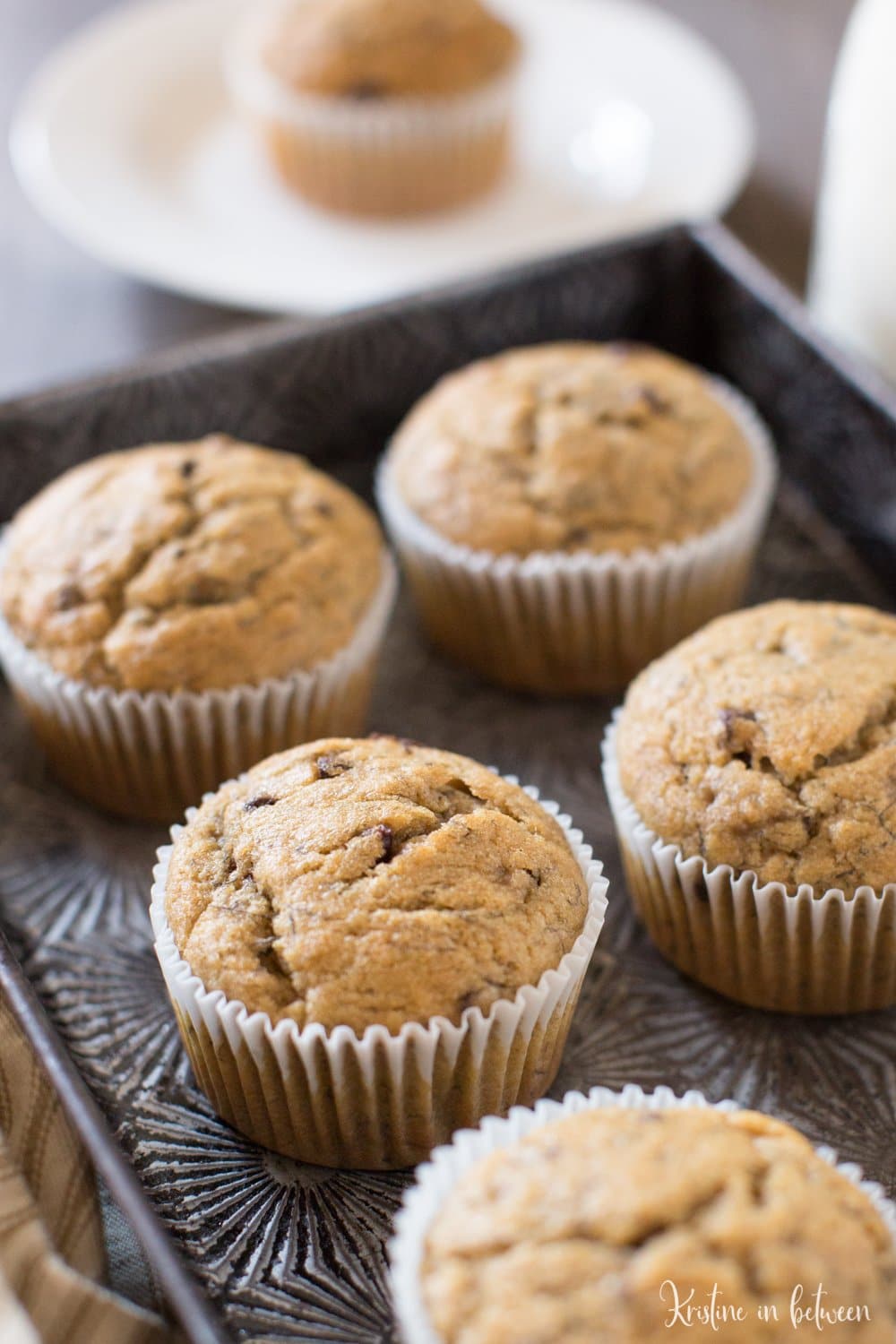 Since I bake with bananas A LOT in this house, I wanted to do something a little different than I normally do. During our chat about banana bread muffins, Mad and I agreed that peanut butter also makes everything better! We decided that some peanut butter as well as the addition of chocolate chips would make my plain Jane banana bread muffins something totally new and amazing!
So, you guessed it, we did it! These are our new and improved whole wheat peanut butter banana muffins with chocolate chips (courtesy of Mad)!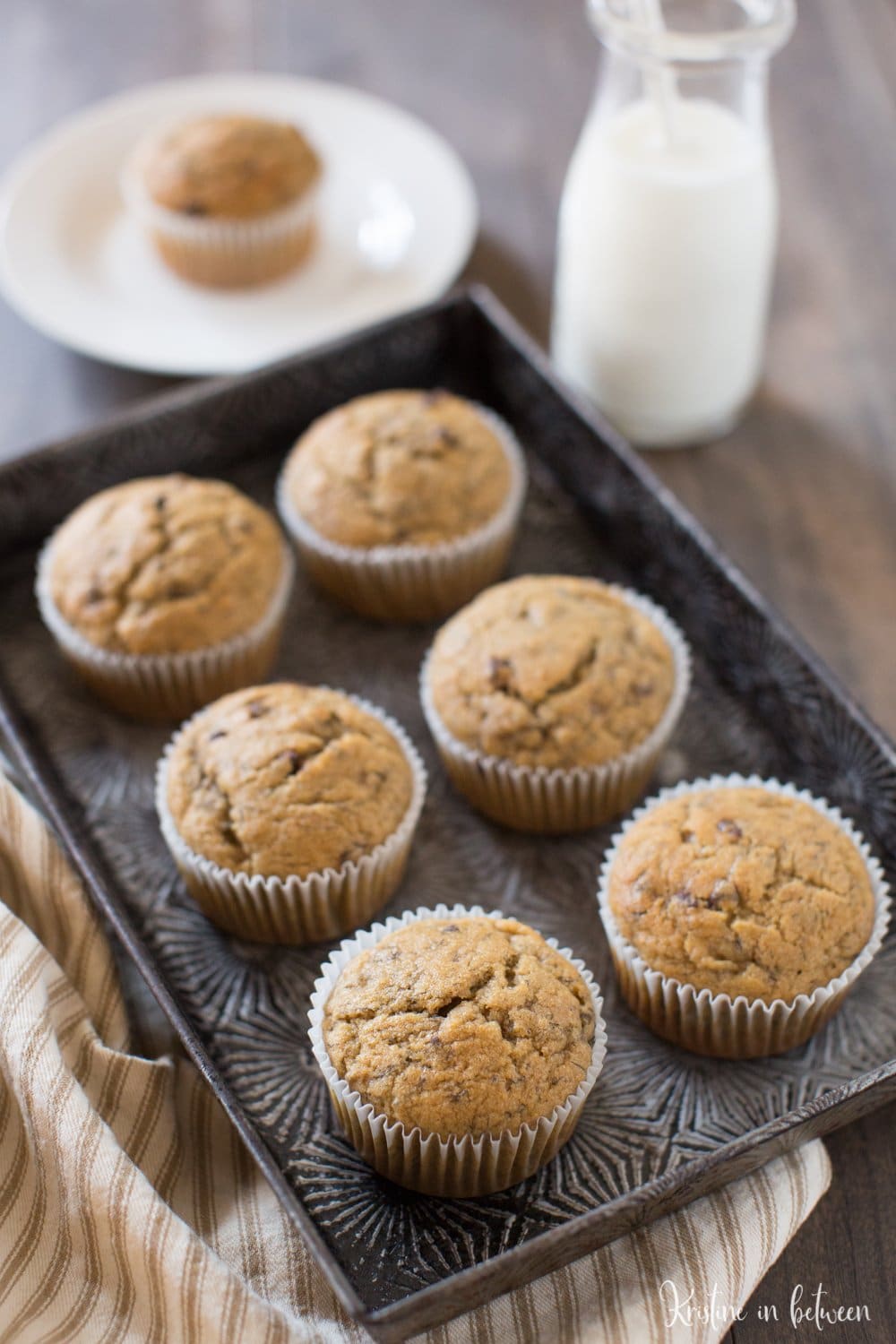 These soft, sweet, and spongy muffins are everything we love about my traditional banana bread, but with chocolate and peanut butter too! I had a feeling we would really like these whole wheat peanut butter banana muffins, but the truth is, we absolutely loved them! Even my inconsistent baked good consumers (Jay and Hannah) were caught enjoying a few! Now, I know this recipe is a keeper!
Other banana bread recipes for you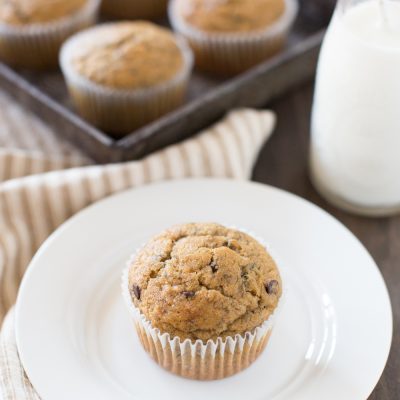 Whole Wheat Peanut Butter Banana Muffins
Perfectly soft and moist muffins with peanut butter, banana, and chocolate chips. Perfect for breakfast or a treat!
ingredients
1/2

cup

butter

1/2

cup

sugar

2

eggs

1/2

tsp

baking powder

3/4

tsp

baking soda

1/2

tsp

sea salt

2

tsp

vanilla extract

1/4

cup

milk

1/2

cup

peanut butter

2

cups

white whole wheat flour

3-4

mashed bananas (the more ripe the better!)

1/2

cup

mini chocolate chips
INSTRUCTIONS
Preheat oven to 350 degrees and line muffin pan.

Cream butter and sugar together until smooth.

Add eggs, one at a time and mix well.

Stir in baking powder, baking soda, and salt.

Add milk and mix well.

Stir in vanilla extract.

Fold in mashed bananas and chocolate chips.

Scoop batter into muffin pan, filing 2/3 full.

Bake 30-35 minutes, rotating halfway through.

Cool on wire rack and store in an airtight container.
Nutrition
Serving:
1
muffin
Calories:
232
kcal
Carbohydrates:
26.9
g
Protein:
5.6
g
Fat:
12.4
g
Saturated Fat:
5.9
g
Sodium:
172
mg
Fiber:
2.7
g
Sugar:
13.2
g