When you want a home-baked sweet treat, what's the first thing you think of? Soft, chewy, traditional chocolate chip cookies, am I right? Well friends, I've got THE recipe for you today! These are the most perfect traditional chocolate chip cookies EVER!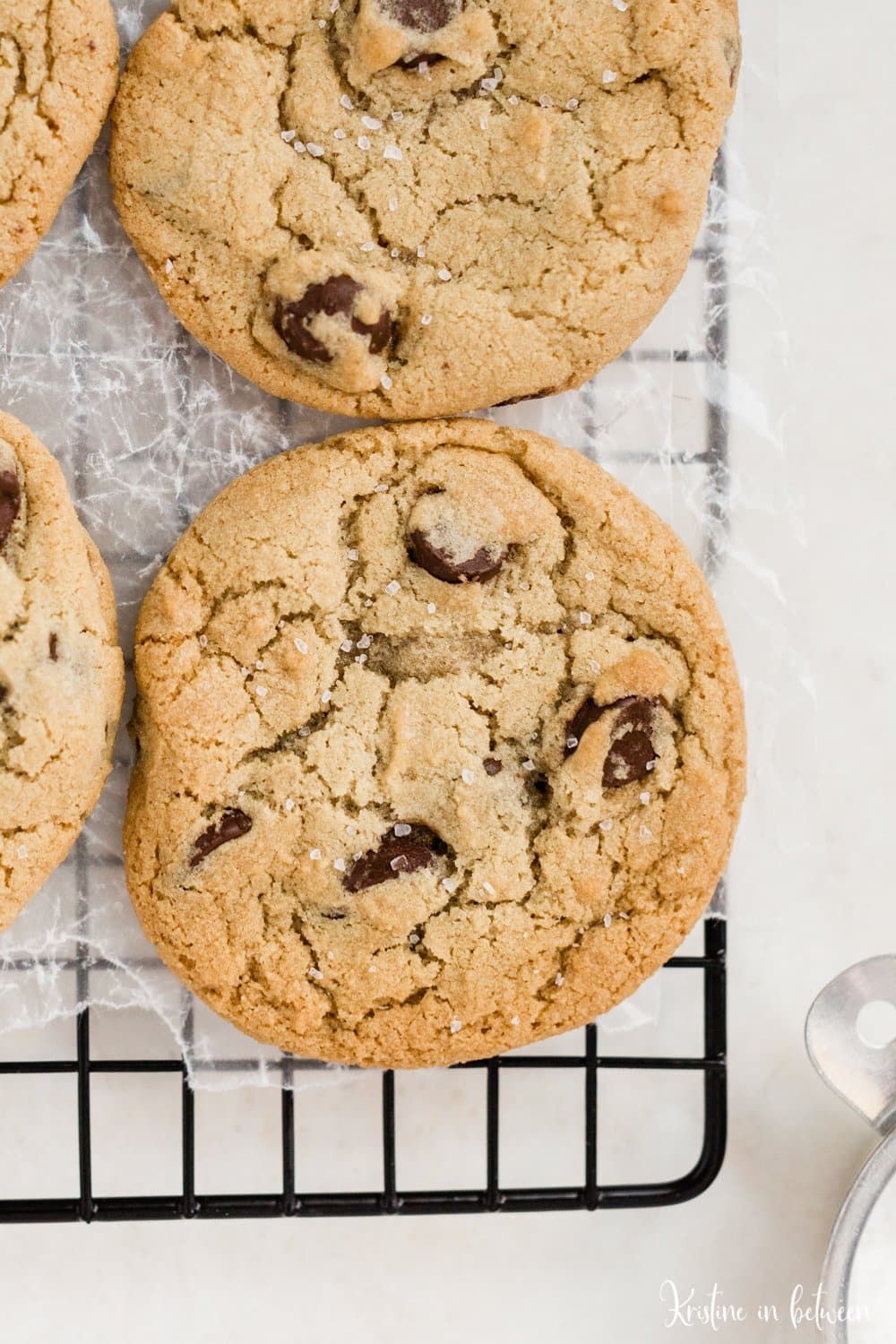 It's been one of those weeks where I've been inspired to bake things, lots of things. mainly cookies (which, as you know are my all-time favorite)! In fact, maybe I should apologize for the abundance of cookies I'm throwing your way this week, but nah, I'm not really thaaaat sorry, it's been so fun and tasty!
I spent the day yesterday at the mall (actually two malls!) with Hannah trying to find a dress for the 8th grade formal. The sheer fact that our youngest daughter is old enough to be shopping for a formal dress sent me into the kitchen for cookies, lots of cookies. I baked away my mommy sadness, or tried to anyway. I can't believe how fast the time is passing.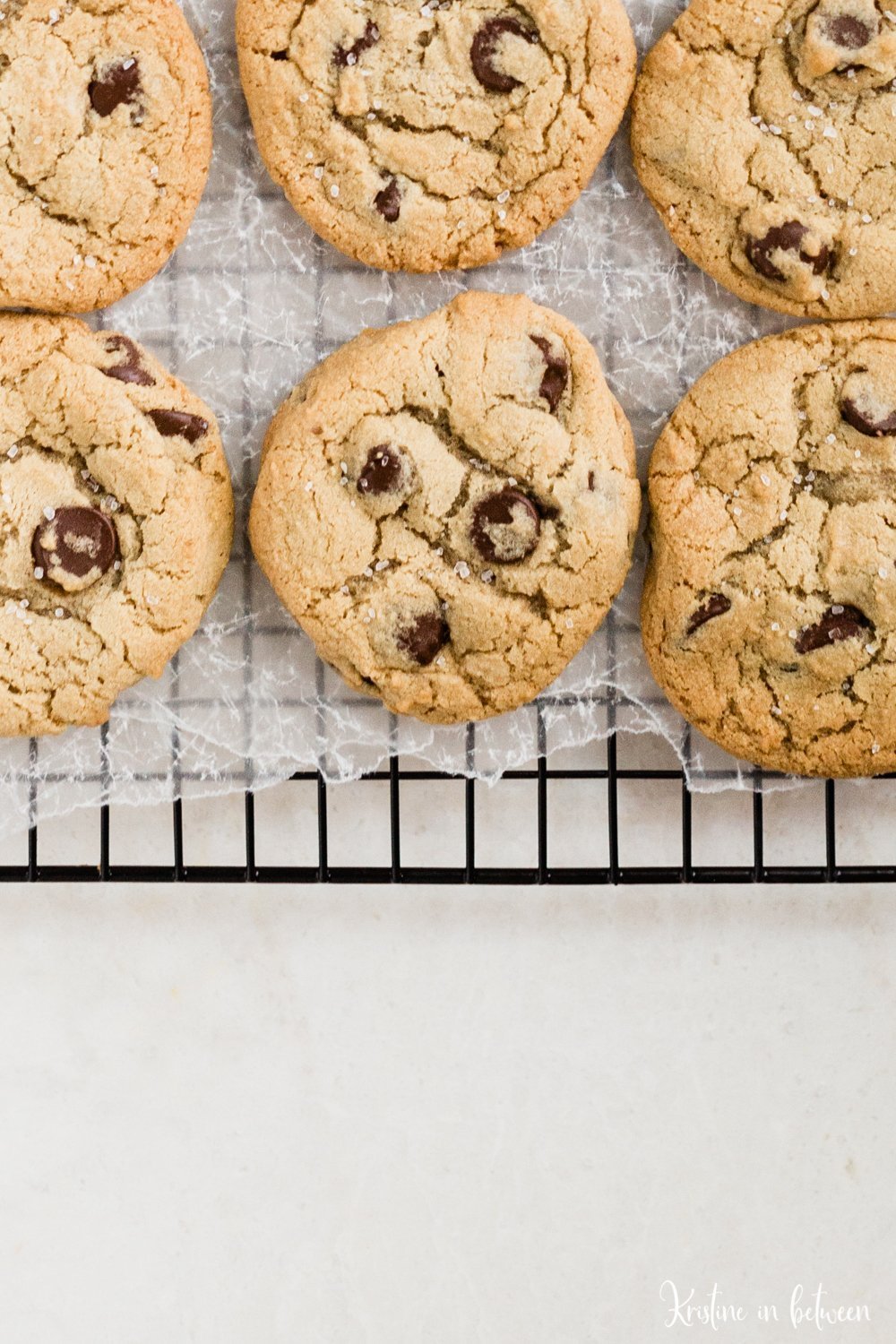 Anyway, I ended up baking three different recipes, including these particular chocolate chip cookies, which are a favorite of pretty much everyone in this house. These are my everyday chocolate chip cookies; I don't know why I even try to top them. The recipe is simple, I always have the ingredients, and I can make them in…oh, about 7 minutes (not including bake time). They're soft and chewy with a crispy edge and they're just totally and completely delish!
Things that make this the best recipe for chocolate chip cookies:
The ingredient list is super simple and you'll almost always have the ingredients on-hand, which means no trip to the store!
These chocolate chip cookies can be made in one bowl, so it's great for baking with kids (and therefore containing the mess – you're welcome).
This recipe doesn't make tons-and-tons of cookies, just a couple dozen tablespoon-ish size or 14-16 larger 3 tablespoon size, so no overabundance of cookies, unless…
You can very easily double or even triple this recipe if you need/want more cookies.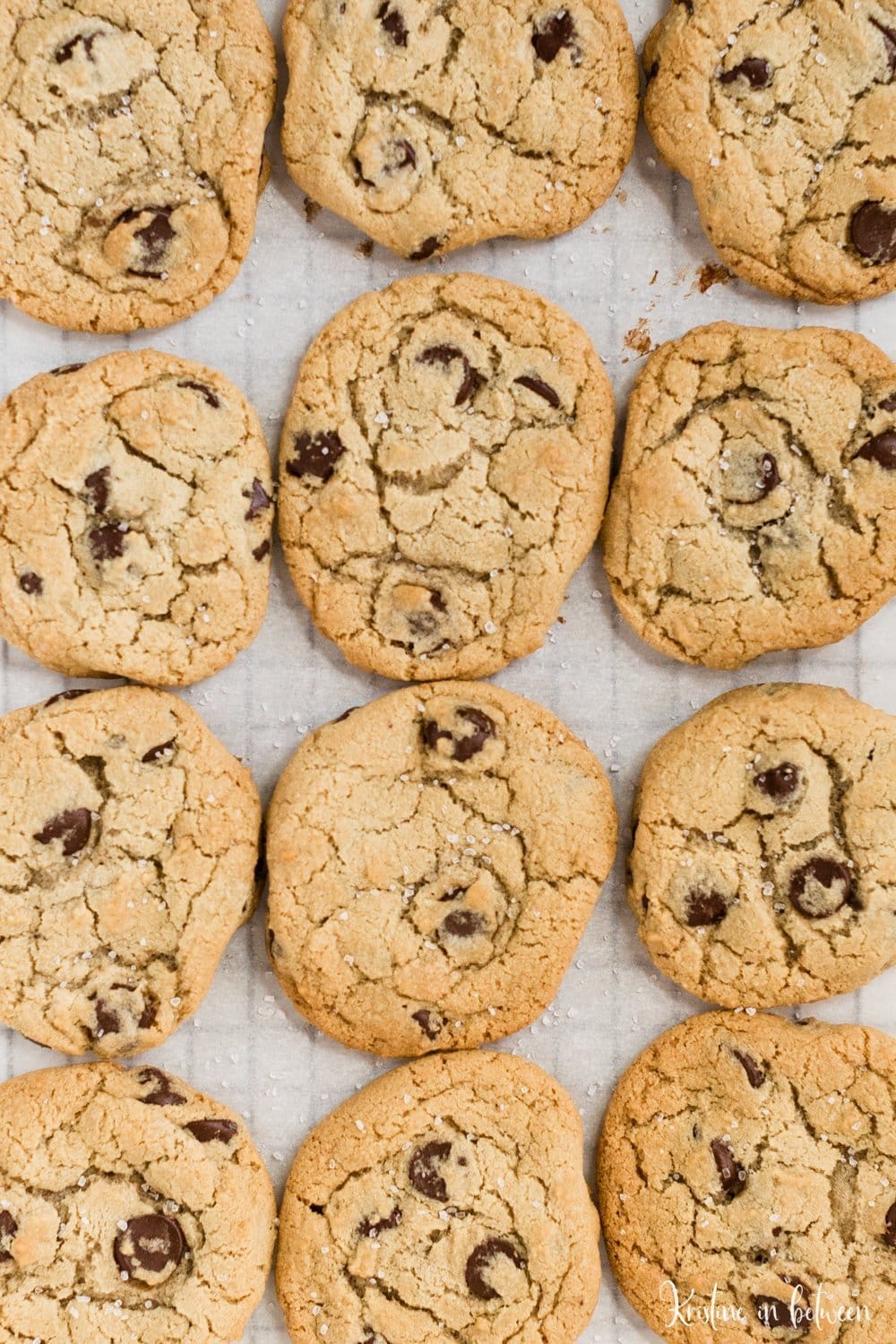 Now let's discuss these here cookies. The cookies aren't the super flat and chewy type, nor the thick and cakey type, they're perfectly in the middle. They are soft and chewy in the center and have a crisp outside edge. And depending on how many chocolate chips you fold in, they could be even meltier!
And yes, they've been known to cure mommy guilt, mommy sadness, and the bad day blues, so you'd better give them a try…you know, for your health and all. ?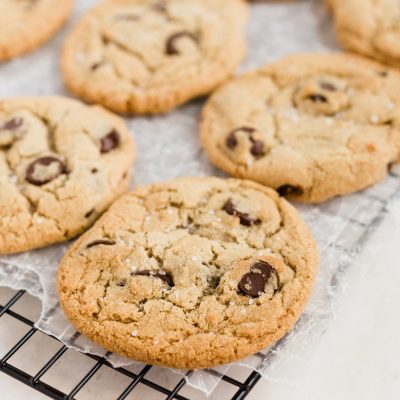 Chocolate Chip Cookies
This is the best recipe for traditional bakery style chocolate chip cookies! They cookies are soft and chewy with crispy edges!
Print
Pin
Ingredients
1/2

cup

unsalted butter, room temperature

1/4

cup

sugar

1/2

cup

brown sugar

1

egg

1

tsp

vanilla extract

1/2

tsp

sea salt

1/2

tsp

baking soda

1-1/4

cups

flour

1/2

cup+

chocolate chips, semi-sweet
Instructions
Preheat oven to 350 degrees and line two baking sheets with parchment paper.

In a medium bowl, cream butter, sugar, and brown sugar together until smooth.

Add egg and vanilla extract and stir.

Stir in baking soda and sea salt.

Slowly add flour, half at a time mixing until fully incorporated.

Using a 1.5 TBS cookie scoop, scoop dough onto prepared baking sheets 2 inches apart.

Bake for 10-12 minutes, rotating halfway through.

Allow cookies to sit on the baking sheet for 5 minutes before transferring to a wire rack.

Store in an airtight container for up to one week or freeze.
Notes
*The recipe calls for a minimum of 1/2 cup chocolate chips, feel free to add up to 1 cup of any chip variety.
**Cookie dough may also be frozen. Thaw completely and bring to room temperature prior to baking.
Nutrition
Serving:
1
cookie
|
Calories:
94
kcal
|
Carbohydrates:
11.1
g
|
Protein:
1.1
g
|
Fat:
5.1
g
|
Saturated Fat:
3.2
g
|
Cholesterol:
18
mg
|
Sodium:
100
mg
|
Potassium:
26
mg
|
Fiber:
0.3
g
|
Sugar:
6.9
g
|
Calcium:
10
mg
|
Iron:
0.4
mg
Chocolate chip cookie lovers, you'll also want to try these fun chocolate chip sprinkle cookies or these chocolate chip coconut cookies, they're ridiculously good!