Blueberry Muffin Oatmeal
This post contains links to affiliate websites and we receive a small commission for any purchases made using these links. As always, we appreciate your support!
One of my all-time favorite breakfasts is this blueberry muffin oatmeal. If you're anything like me, you've got a real soft spot for warm, comforting breakfasts, especially oatmeal.
This recipe combines the wholesome goodness of oats with the sweet, juicy blueberries. It's a comforting and filling breakfast that tastes just like your favorite blueberry muffin. Now let's discuss this…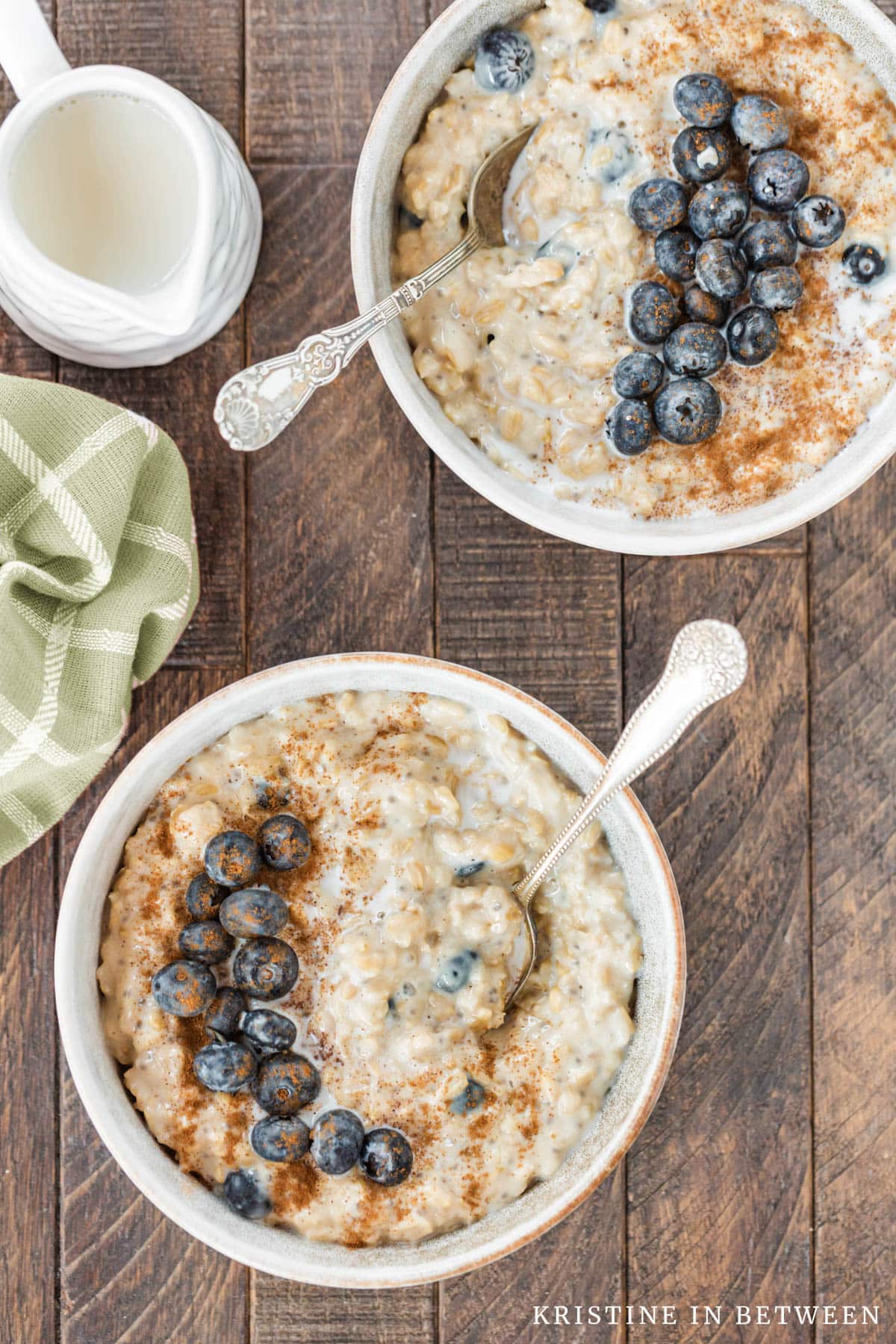 What is Blueberry Muffin Oatmeal?
Before we jump into the how-to of this amazing recipe, let's talk about what this magical creation is. Blueberry muffin oatmeal is like a fusion between your favorite classic blueberry muffin and a hearty bowl of oatmeal. It combines the sweetness of blueberries with the comforting creaminess of oatmeal, creating a warm, cozy breakfast.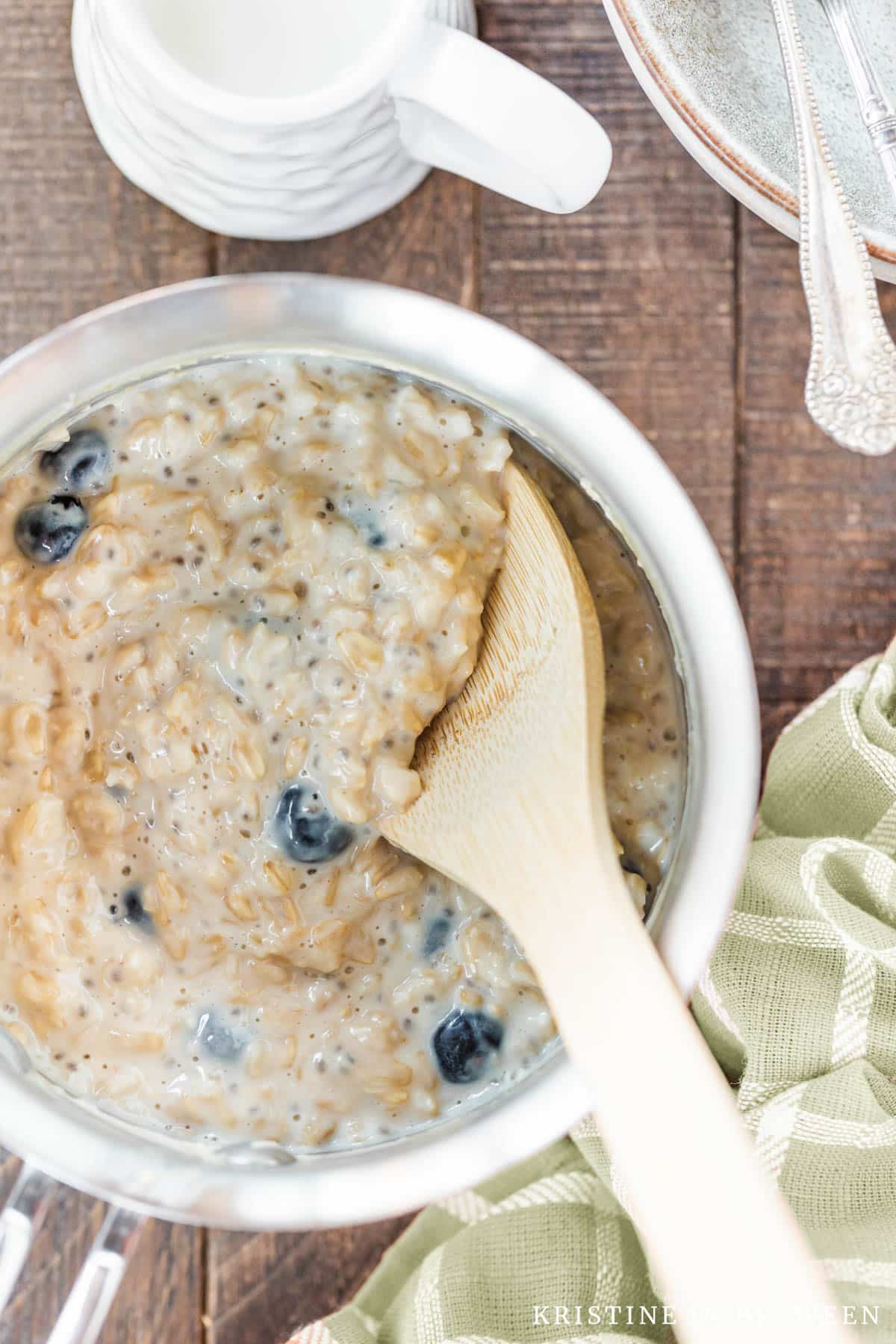 Why It's So Good
Comfort Food: Oatmeal is a nutritional powerhouse, packed with fiber, vitamins, and minerals. It keeps you full and energized throughout the morning while offering a dose of whole-grain goodness.
Sweet and Tart Harmony: The burst of sweet blueberries in every bite is balanced by the creamy oats, creates the perfect contrast of flavors and textures.
Creaminess: The addition of Greek yogurt at the end of cooking adds the perfect balance of creaminess and tangy flavor that mimics homemade blueberry muffins.
Easy to Customize: Blueberry muffin oatmeal is highly customizable. You can adjust the sweetness, add your favorite toppings, or even mix in other fruits or nuts to suit your tastebuds.
Quick and Convenient: This breakfast can be whipped up in a matter of minutes, making it perfect for busy mornings when you need something tasty and satisfying, quickly.
And my friends, if you need a simple, on-the-go breakfast option try these super yummy breakfast cookies.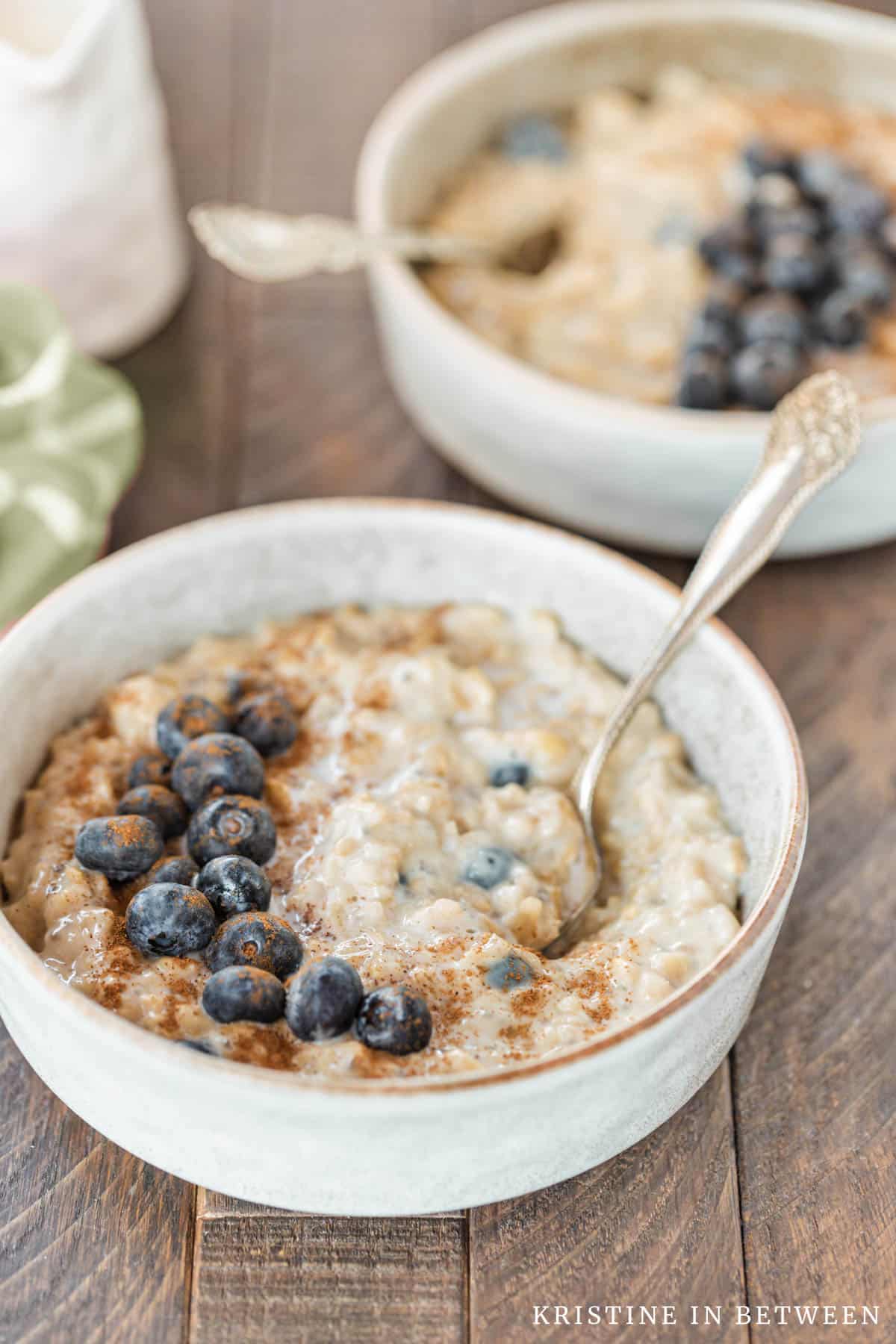 The Full List of Ingredients
Now, let's get down to the nitty-gritty of preparing this wholesome and filling breakfast. Here's my simple recipe that will have you enjoying your blueberry muffin oatmeal in no time:
1 cup old-fashioned rolled oats
1 cup milk (dairy or non-dairy of your choice)
1 cup water
2 TBS brown sugar
1 tsp chia seeds
1 tsp vanilla extract
1/4 tsp sea salt
1/4 cup Greek yogurt
1/2 cup fresh blueberries
Make sure you don't skip the Greek yogurt in this recipe. It's important! It adds a the tangy, creaminess that gives this oatmeal the true blueberry muffin flavor. Stir it in with the blueberries just before serving – you won't regret it, I promise.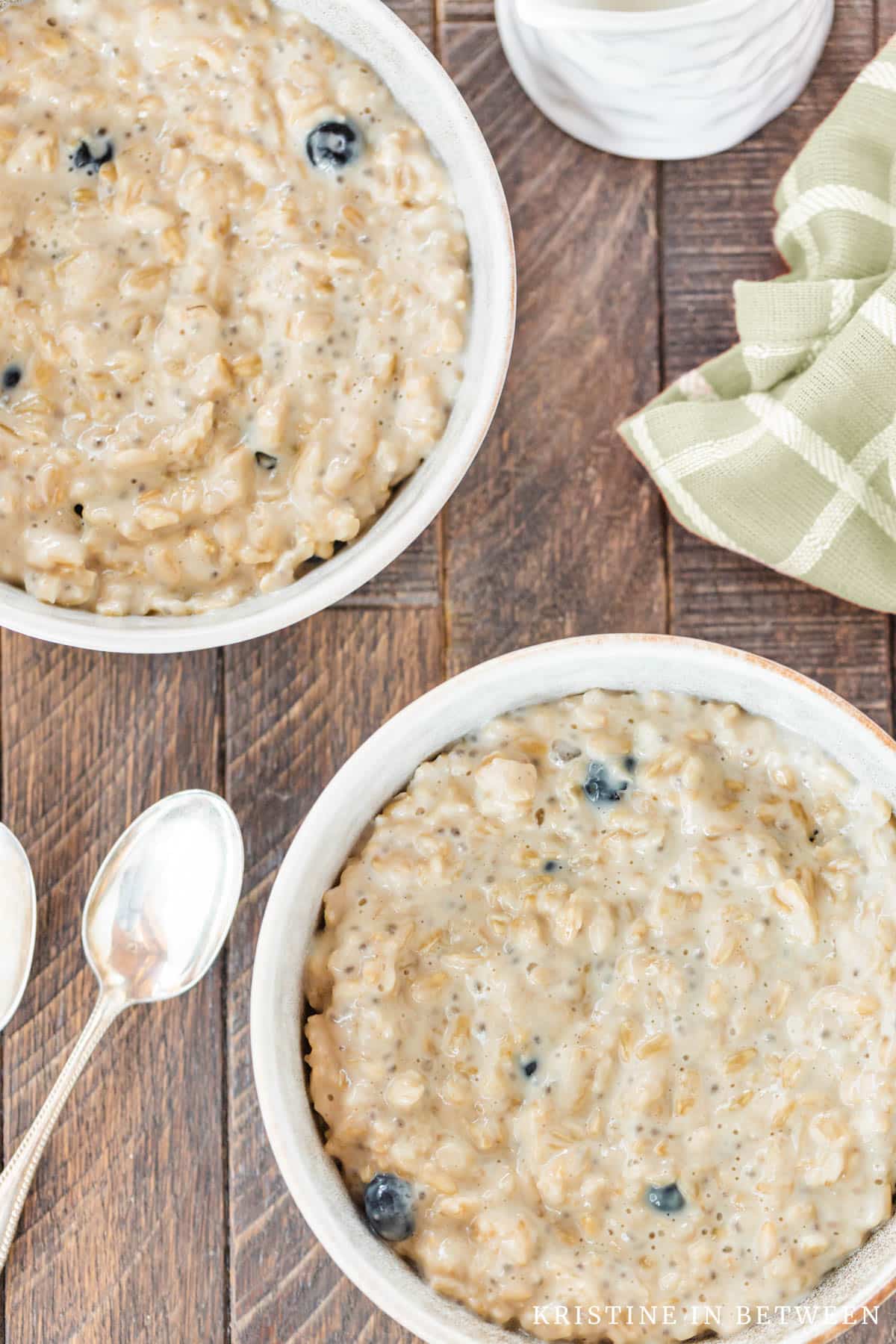 Now, Here's How to Make Blueberry Muffin Oatmeal
Combine the Basics: In a saucepan, combine the oats, milk, water, brown sugar, chia seeds, and vanilla extract. Add a pinch of sea salt and bring it to a gentle simmer over medium heat until it thickens. Stir frequently to prevent sticking.
Add Blueberries and Greek Yogurt: Once the oats have absorbed most of the liquid (usually within 8-10 minutes), remove from heat and stir in the Greek yogurt and blueberries. The heat will soften the blueberries slightly and they'll release their sweet juices into the oatmeal and the Greek yogurt melts like butter into the oats to create the creamiest texture.
Serve and Customize: Spoon your creamy blueberry muffin oatmeal into a bowl (actually, two bowls – unless your super hungry). And now comes the fun part – add your favorite toppings. Whether it's a sprinkle of chopped nuts for crunch, a spicy pinch of cinnamon, or a drizzle of maple syrup for extra sweetness, make it your own my friends.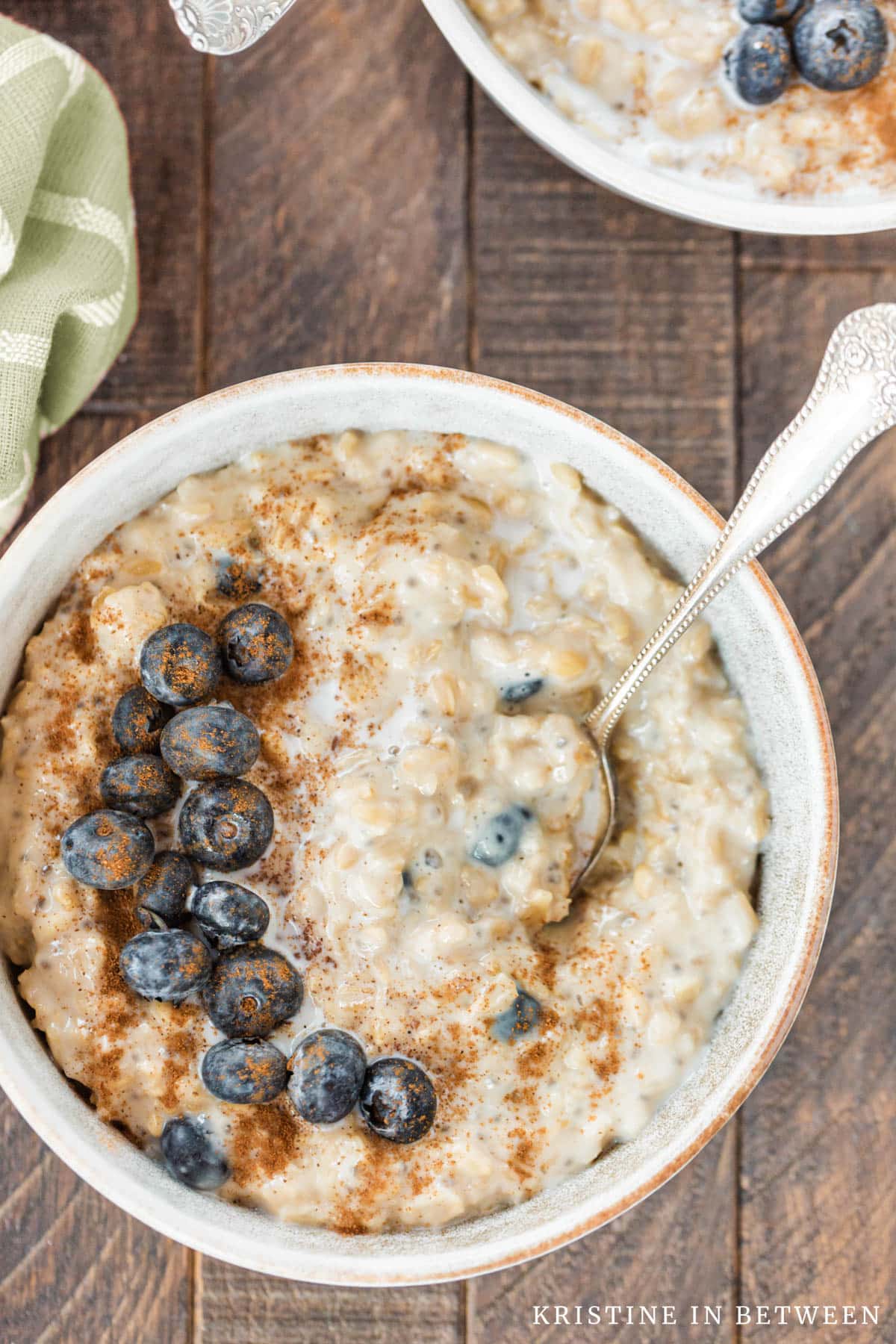 Ahhh there it is my friends, the best recipe for mouthwatering, soul-soothing blueberry muffin oatmeal. The breakfast dish that's more than just a meal; it's an experience that's blueberry muffin indulgence in a bowl (no, I'm not being dramatic AT ALL, haha).
So, the next time you find yourself craving the warmth and comfort of a blueberry muffin, but it's only 6 am, remember this recipe. It's a delicious way to start your day on the right foot, with a bowl full of goodness that'll put a smile on your face and satisfy your blueberry muffin craving. You won't be disappointed, and that's a fact.
Other Breakfast Oats You'll Love Too
Blueberry Muffin Oatmeal
This blueberry muffin oatmeal combines the wholesome goodness of oats with the sweet, juicy burst of blueberries, creating a comforting breakfast that tastes just like your favorite blueberry muffin. In mere minutes, you'll create a creamy bowl of oatmeal that will warm your heart and fuel your day.
ingredients
1

cup

rolled oats

1

cup

milk

(any kind)

1

cup

water

(***may use 2 cups of milk if you prefer – see notes)

2

TBS

brown sugar

1

tsp

chia seeds

(optional, but why not?)

1

tsp

vanilla extract

1/4

tsp

sea salt

1/4

cup

Greek yogurt

1/2

cup

blueberries
INSTRUCTIONS
In a medium saucepan, mix the oats, milk, water, brown sugar, chia seeds, vanilla extract, and sea salt together.

1 cup rolled oats,

1 cup milk,

1 cup water,

2 TBS brown sugar,

1 tsp chia seeds,

1 tsp vanilla extract,

1/4 tsp sea salt

Cook oat mixture over medium heat for 8-10 minutes, until oats are tender and oatmeal has thickened to a desired consistency.

Once cooked, stir in the Greek yogurt and blueberries and mix until smooth.

1/4 cup Greek yogurt,

1/2 cup blueberries

Serve topped with more blueberries, chopped walnuts or pecans, a splash of milk, and a dash or two of cinnamon.
Notes
*The nutritional information does not include toppings. It's only for the prepared oatmeal.
**The nutritional information was calculated using 2% milk.
***You can use 2 cups of milk instead of 1 cup milk and 1 cup water if you prefer. Using all milk will yield a thicker and stickier oatmeal.
Nutrition
Serving:
1
serving
Calories:
310
kcal
Carbohydrates:
52
g
Protein:
12
g
Fat:
6
g
Saturated Fat:
2
g
Polyunsaturated Fat:
2
g
Monounsaturated Fat:
2
g
Trans Fat:
0.1
g
Cholesterol:
11
mg
Sodium:
368
mg
Potassium:
403
mg
Fiber:
6
g
Sugar:
23
g
Vitamin A:
142
IU
Vitamin C:
4
mg
Calcium:
219
mg
Iron:
2
mg