It is Halloween day today and what does that mean? It means I'm already thinking about the next holiday!
When it comes to holiday meals, I love to cook and I love to have everyone over, but I hate spending all day in the kitchen, especially cooking a turkey. I don't want to miss any 'in between' moments! So, I came up with an alternative; I introduce to you my Simple Turkey Recipe!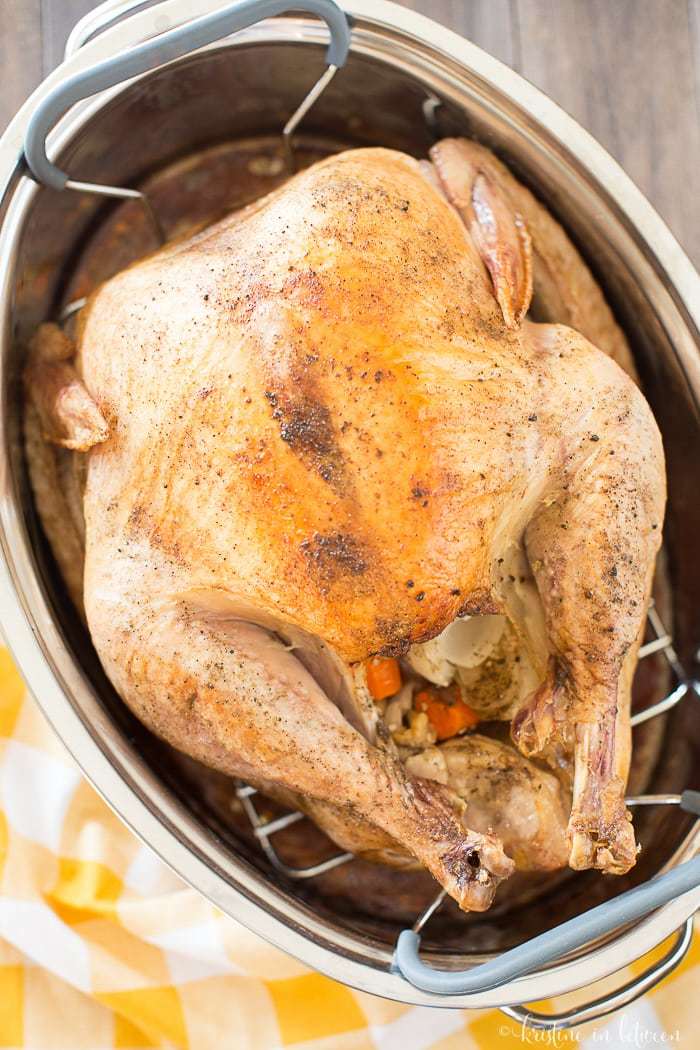 If you've read any of my prior blog posts, you know that I like to do as many things as I can by hand or from scratch, but I always find a quick and easy way to do it. I created this simple turkey recipe because I needed an easy; or as I like to say, low-maintenance turkey recipe that I can just pop in the oven and let go.
This simple turkey recipe is just that! I can sum it up in just a few steps:
Wash and dry the turkey. Of course, you'll want to take the giblets and neck out first, haha.
Stuff both ends with chopped veggies (see below).
Rub the whole bird with olive oil and sprinkle salt, pepper, and poultry seasoning (or your favorite spice blend).
Place bird on rack in roasting pan, add a bit of chicken stock, and roast according to weight.
No basting or changing the oven temperature is required for this recipe. The only thing you have to remember is to put the lid on about halfway through!
This is my go-to recipe when I need to make a turkey because it allows me to make a moist and delicious bird, but frees me up to get everything else done and enjoy my people, even on the busiest of holidays!  And just because you don't have to baste this turkey, don't mean you can't, if you're a baster, by all means baste away!
Also, if you are the type that stuffs your bird with actual stuffing, you can do that too, just add the veggies to the neck and put the stuffing in the main cavity.  You could also add some veggies to the bottom of the roasting pan for extra flavor.
This simple turkey recipe makes preparing a homemade Thanksgiving just a little bit easier! And when the big meal is over and the cleanup is done, make a batch of my easy turkey stock with the leftover turkey carcass!
Simple Turkey Recipe
Print
Ingredients
1 14-22

pound

turkey, thawed

1-1/2

cups

chicken broth

Olive oil

1

sweet onion

2

carrots

2

ribs celery

3-4

cloves

garlic

Salt and pepper

Poultry seasoning (or your favorite spice blend)
Instructions
Preheat oven to 325 degrees.

Remove turkey from package, remove giblets, and wash thoroughly.

Pat dry with paper towel.

Place turkey on wire lifting rack and put in roasting pan.

Stuff both ends of the turkey with chopped onion, carrots, celery and garlic.

Rub turkey skin with olive oil and massage.

Sprinkle with salt, pepper, and poultry seasoning.

Allow bird to rest for at east 30 minutes prior to carving.
Notes
Did you make this recipe? We want to see! Tag @kristineinbetween on Instagram and hashtag it #kinbetween
And don't forget to use your leftover carcass to make some homemade turkey stock!