Simple Snickerdoodle Cookies
This post contains links to affiliate websites and we receive a small commission for any purchases made using these links. As always, we appreciate your support!
Say goodbye to complicated snickerdoodle cookies and have delicious homemade cookies any old day with these thin and chewy simple snickerdoodle cookies!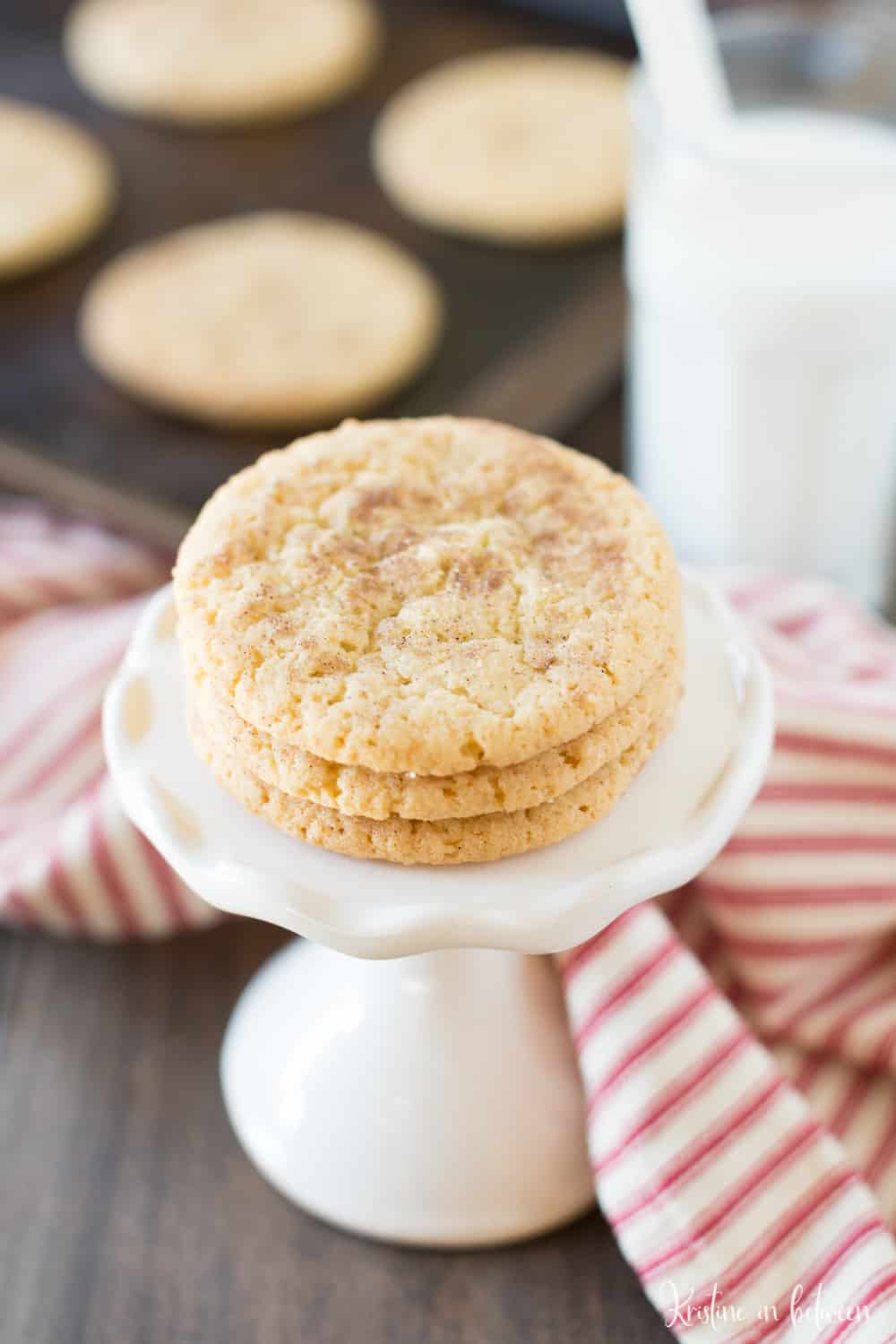 It's spring break here and the girls are both home all day every day, which I love; I really do, but they get bored and then they pester me. So I've been trying to come up with helpful for me things to keep them busy. Since they both like working in the kitchen, especially Hannah, who is in her second year of culinary class at school, I've been having them take over a lot of the cooking (and baking!).
Both girls are more than willing to jump in and do the cooking/baking part, but it's funny how after it's all said and done, I'm the only one left in the kitchen. It's like I'm on permanent clean-up duty around here.
With that in mind, recipes with minimal bowls are ideal. And as you can imagine, we've been having lots of one-pot, one-bowl, or sheet pan meals lately!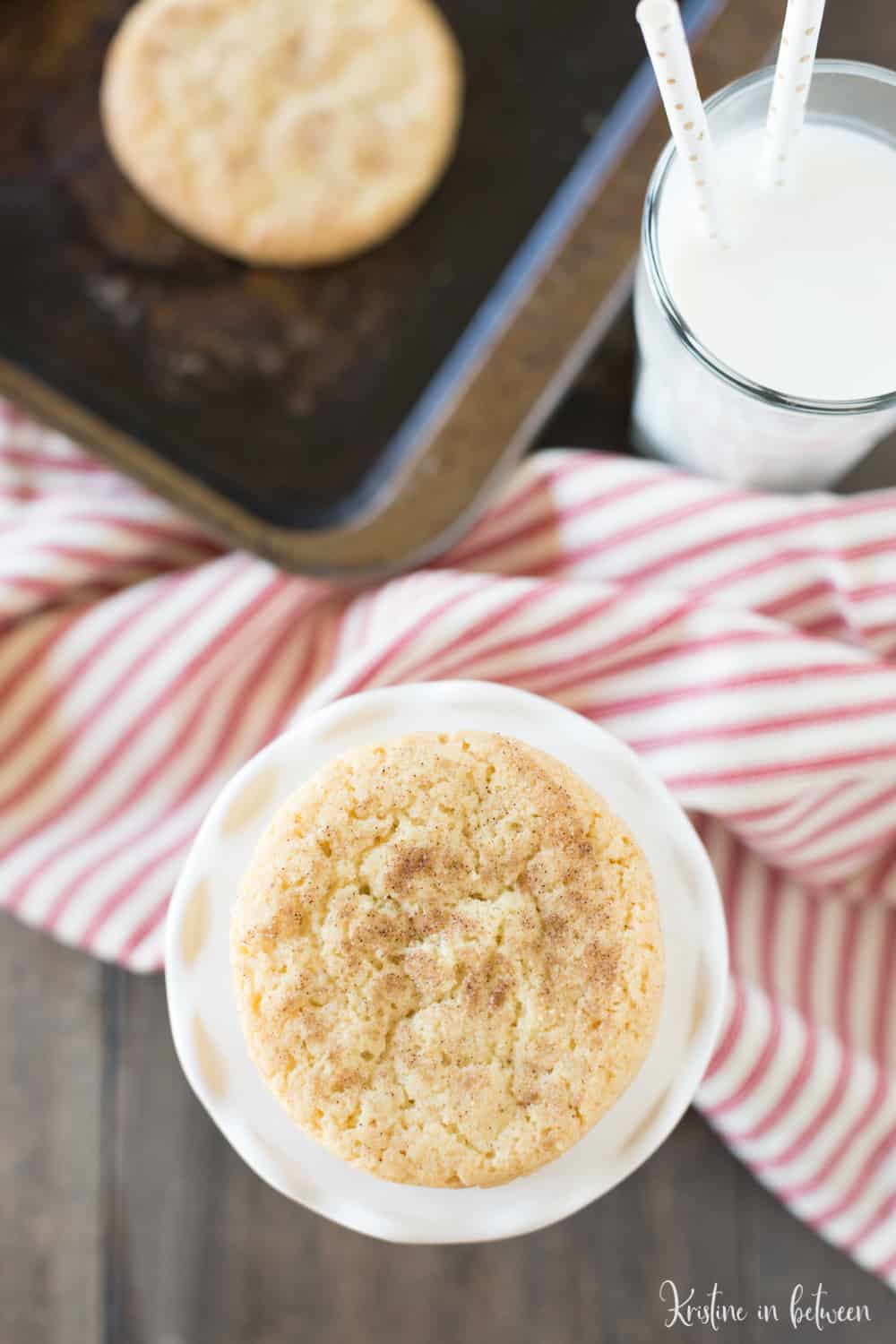 Oh, and speaking of one-bowl recipes, these simple snickerdoodle cookies one too! I know, I almost can't believe it myself – snickerdoodle cookies in one bowl and in less than 30 minutes. It's a dream come true (and that means only one bowl and two cookie sheets for me to clean – WOOO!).
These simple snickerdoodle cookies are of the thin variety. Their texture is light and chewy. Trust me when I say that they're the best when eaten while still warm. If you're anything like me, you won't be able to resist them!
This recipe makes only a couple of dozen cookies (though you can easily double it to make more), so the cookies won't last long, making them perfect for a quick sweet treat that doesn't feed a bazillion people.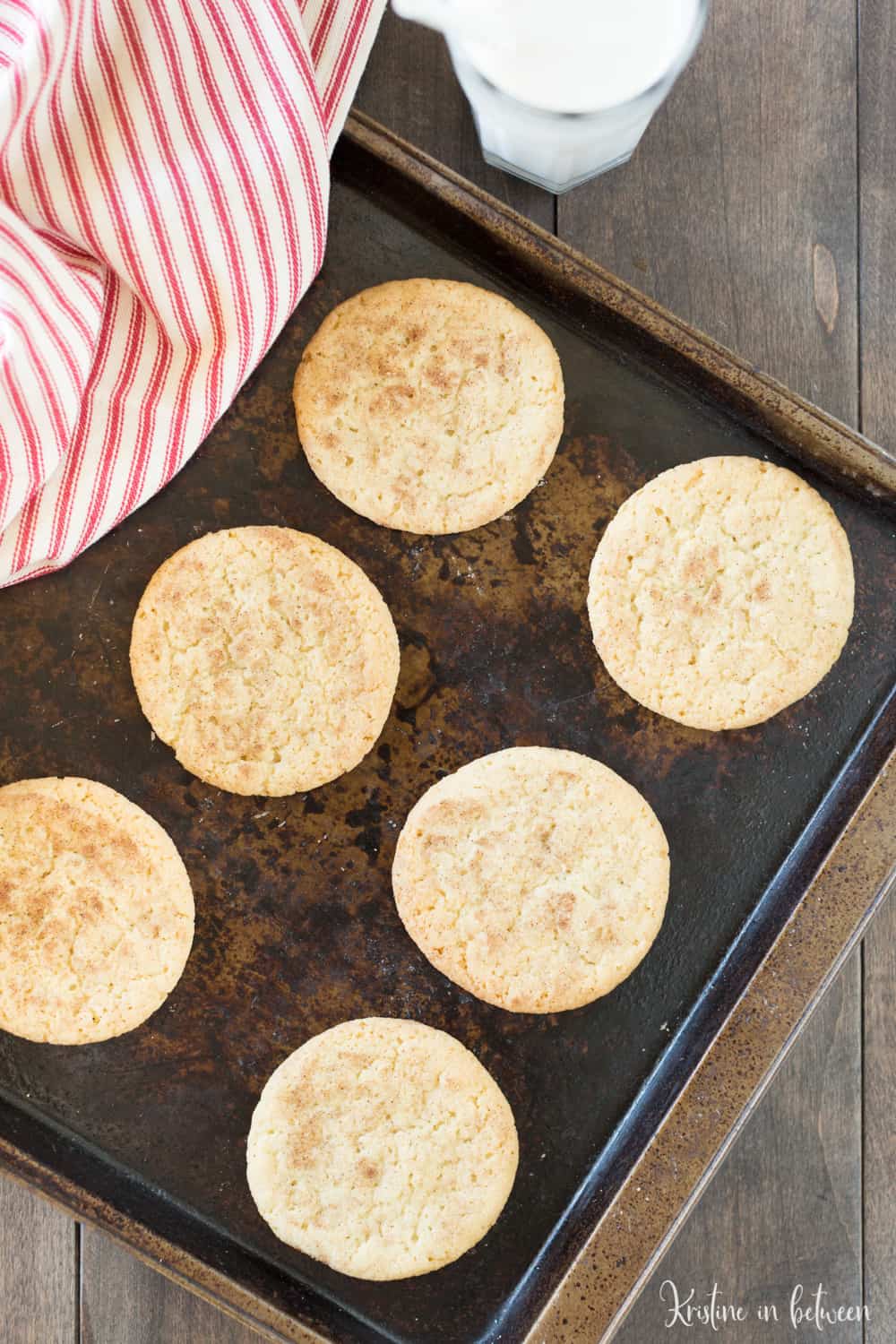 The best things about this snickerdoodle recipe:
You can make it all in one bowl.
It takes less than 30 minutes to make them from start to finish.
You can add more or less topping to make them as snickerdoodle-y as you want!
The recipe is small-batch and only makes 24 cookies.
Each cookie is only about 100 calories!
Next time you have cookie craving or need to make cookies urgently (hey, it happens!), give these simple snickerdoodle cookies a try – they won't disappoint!
You'll love these simple cookies too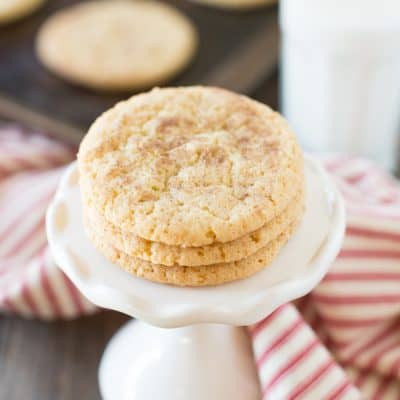 Simple Snickerdoodle Cookies
Thin and chewy snickerdoodle cookies that you can quickly make in one bowl. No rolling required!
ingredients
For the cookies:
1/2

cup

unsalted butter

(room temperature)

1

cup

sugar

1/2

tsp

baking soda

1/2

tsp

sea salt

1

tsp

water

1

tsp

vanilla extract

1

egg

1½

cups

flour
For the cinnamon sugar topping:
1/4

cup

sugar

2-3

tsp

cinnamon, to taste
INSTRUCTIONS
Preheat oven to 350 degrees and line baking sheets with parchment paper.

In a small bowl, mix together the 1/4 cup sugar and cinnamon until well combined. Set aside.

1/4 cup sugar,

2-3 tsp cinnamon, to taste

In a large bowl, cream butter and sugar together until smooth.

1/2 cup unsalted butter,

1 cup sugar

Add baking soda, salt, and water and mix well.

1/2 tsp baking soda,

1/2 tsp sea salt,

1 tsp water

Add egg and vanilla and stir to combine.

1 tsp vanilla extract,

1 egg

Add flour, half at a time, stirring until combined. Do not over-mix.

Using a 1.5 TBS cookie scoop, scoop dough and place on the cookie sheets 2 inches apart.

Sprinkle the cinnamon sugar mixture over the top of each cookie.

Bake cookies for 12-14 minutes, rotating halfway through, until just golden brown on the edges.

Cool on cookie sheet for 5 minutes prior to transferring to a wire rack.

Store in an airtight container or freeze.
Nutrition
Serving:
1
cookie
Calories:
102
kcal
Carbohydrates:
16.6
g
Protein:
0.9
g
Fat:
3.9
g
Saturated Fat:
2.4
g
Cholesterol:
10
mg
Sodium:
94
mg
Potassium:
11
mg
Fiber:
0.3
g
Sugar:
10.5
g
Calcium:
40
mg