When it comes to decorating a Christmas tree, I've learned a few things in my day.
If you've read my first few Christmas tree posts (3 tips to make a tree look magical and holiday charm) you've seen my transition, and boy has there been one!
Our first few trees held only the handmade ornaments the girls made at school with some sort of a bow at the top. I then graduated to decorating a 'theme' tree, which had primarily one color of ornaments and white lights with a little ribbon around the tree.
Now, several years later, I've graduated yet agin to a full-on decorator tree! My tree is loaded with all sorts of neutral colored coordinating, but not matching ornaments, burlap ribbon, pearls, and giant pinecones.
Whenever I'm decorating a Christmas tree though, I always go about it the exact same way, so I put together a little list of my tree decorating process for you. Here are my 10 very best Christmas tree decorating tips!
1. Fluffing/trimming. Always start by fluffing the branches (if your tree is artifical) or trimming off any rogue branches (if your tree is real).
2. Lights. Wrap the tree in lights if it is not prelit. Running lights up and down the tree (instead of around) will give a more uniform look. I like to use more than one size light bulb. My tree is prelit with white mini lights and I add several strings of larger white C9 bulbs on top of those.
3. Garland/ribbon. Place garland or ribbon into the tree before adding any ornaments, starting at the top of the tree and working your way down, keeping the spacing uniform. Attach with twist ties or bend branches around the garland/ribbon to create a bunched look.
4. Large ornaments. Always place the largest ornaments on the tree first. Start at the top and space them out evenly throughout the open areas inbetween the garland/ribbon.
5. All other ornaments. Fill in the open areas with smaller ornaments, mixing up colors, textures, and shapes for variety. To add some personality and uniformity, use fancy ornaments hooks on every ornament (like these S hooks from Hobby Lobby or Walmart).
6. Finishing touches. I call these sticks; the curled ting branches. Separate each branch and stick them in the tree, so that only the curled end shows. Strategically place them all over the tree to add texture.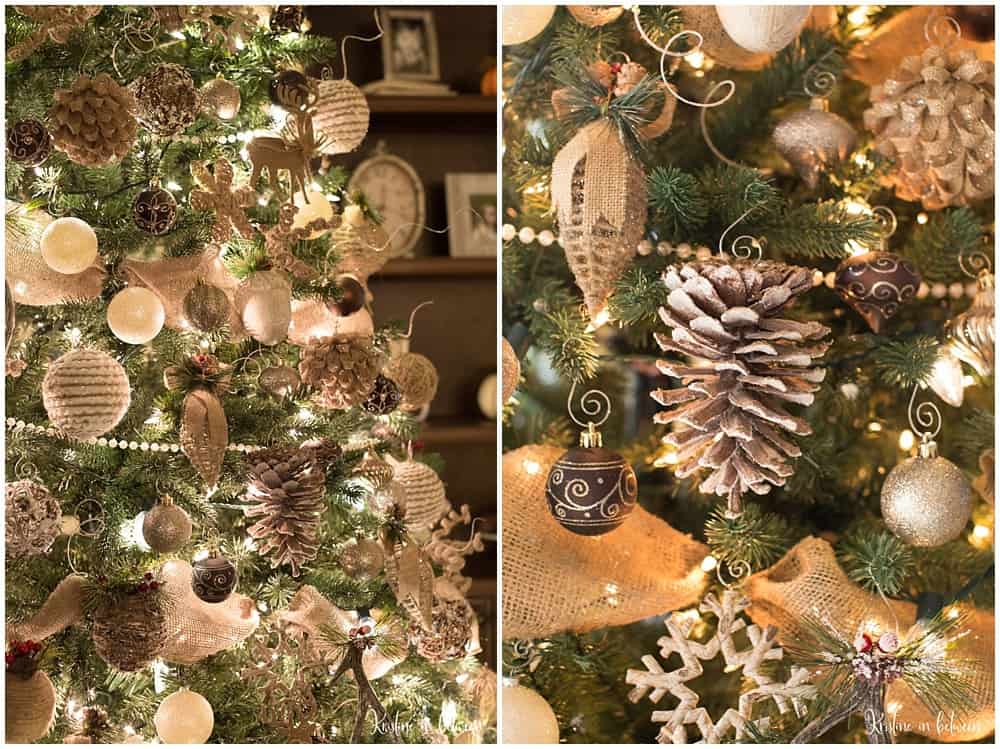 7. Make adjustments. Stand back and look over the whole tree, check ornament spacing, variety of ornaments, and dead/dark spots. Rearrange ornaments as needed. My motto is the more random the better!
8. Tree topper. Place the tree topper and make sure it's straight and secure.
9. Tree skirt. If your tree is on the floor, place the tree skirt and smooth out any wrinkes. If you tree is in a bucket or basket, carefully wrap the trunk of the tree with the tree skirt (or material i.e. white sheet, burlap, piece of natural colored linen) and fluff it evenly.
10. Enjoy your masterpeice. This is the best part! Grab a cup of hot cocoa or coffee, curl up on the couch and enjoy the beauty of your Christmas tree; I mean really take it all in. 🙂
And don't forget to check out my other Christmas tree decor posts!