Homemade Chili Mac
This post contains links to affiliate websites and we receive a small commission for any purchases made using these links. As always, we appreciate your support!
You guys! I'm back at it with another old-fashioned one-pot meal today. Homemade chili mac. Each spoonful of this nostalgic meal is a delicious blend of savory beef, bold spices, and gooey cheese.
Paired with garlic bread or cornbread, it's a meal full of comfort and cheesy indulgence that you'll want to make over-and-over, all winter long.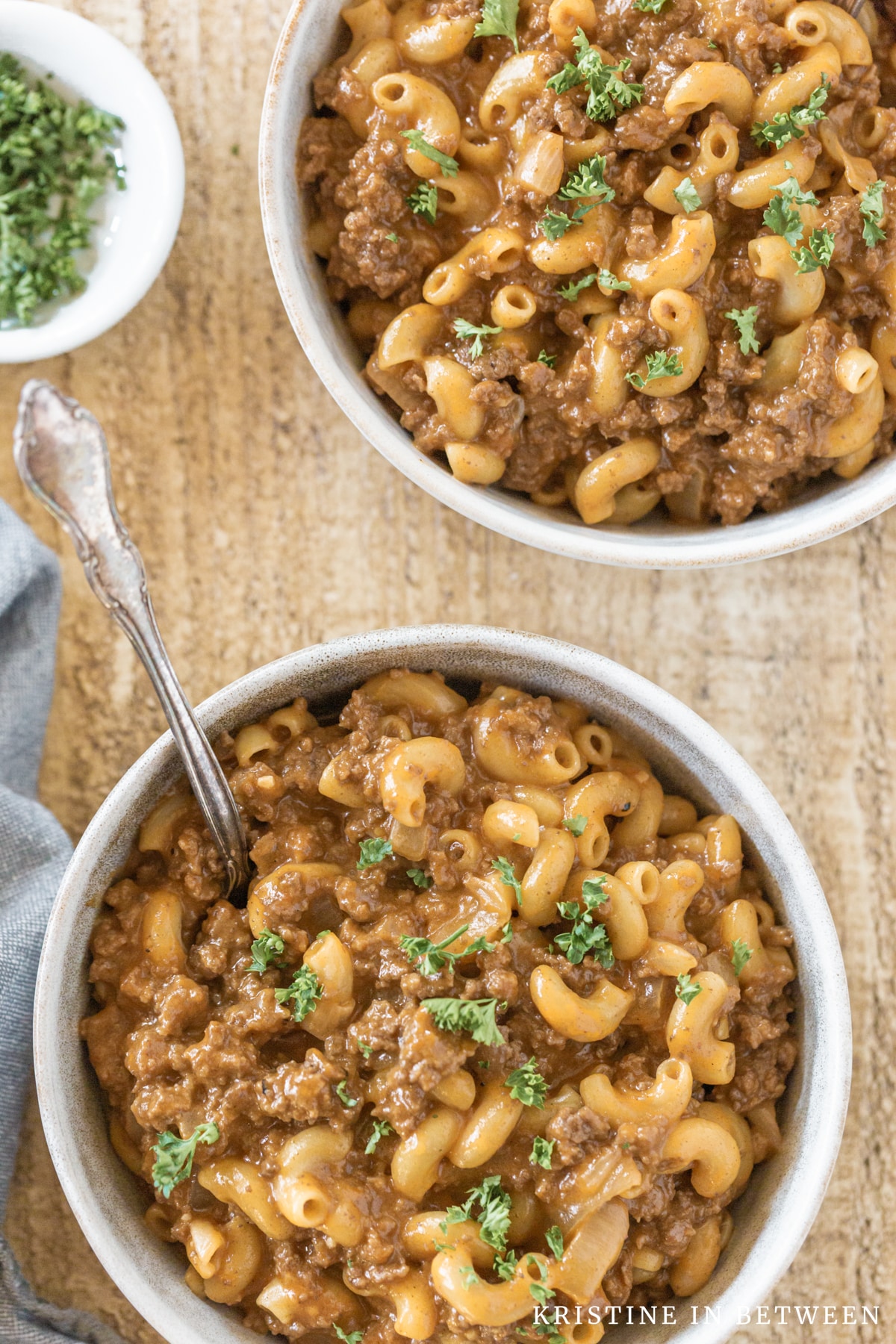 Dutch Oven Magic
First things first, let's talk about the Dutch oven. It's really the unsung hero of this recipe, providing even heat distribution and allowing flavors to blend together beautifully. If you don't own one, consider it a worthy investment. The Dutch oven is a game-changer in the kitchen, and you'll find yourself using it for a variety of dishes well beyond this chili mac – I know I sure do.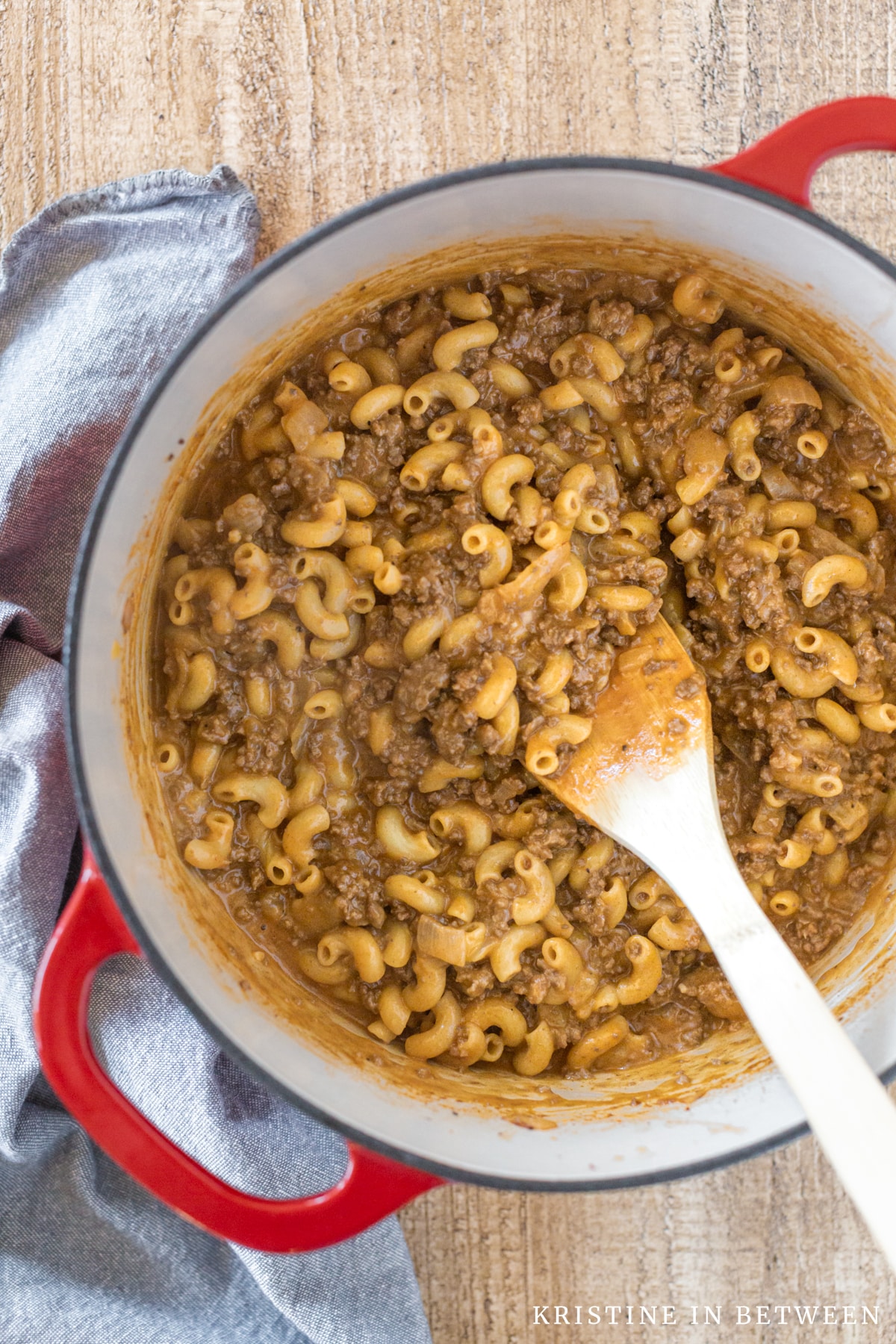 The Ingredients
Now, let's get to the good stuff – the ingredients. You'll want to grab a pound of lean ground beef, a yellow onion, minced garlic, tomato paste, chili powder, sea salt, pepper, beef broth, elbow macaroni, fresh cheddar cheese, and some Italian parsley for that finishing touch.
How to Make Chili Mac
Start by heating your Dutch oven over medium-high heat. Once it's hot, throw in the ground beef and onions. Cook them up, breaking the meat apart as you go. I find there's just something therapeutic about the sizzle and aroma that fills the kitchen as the meat and onion cook. Mmm!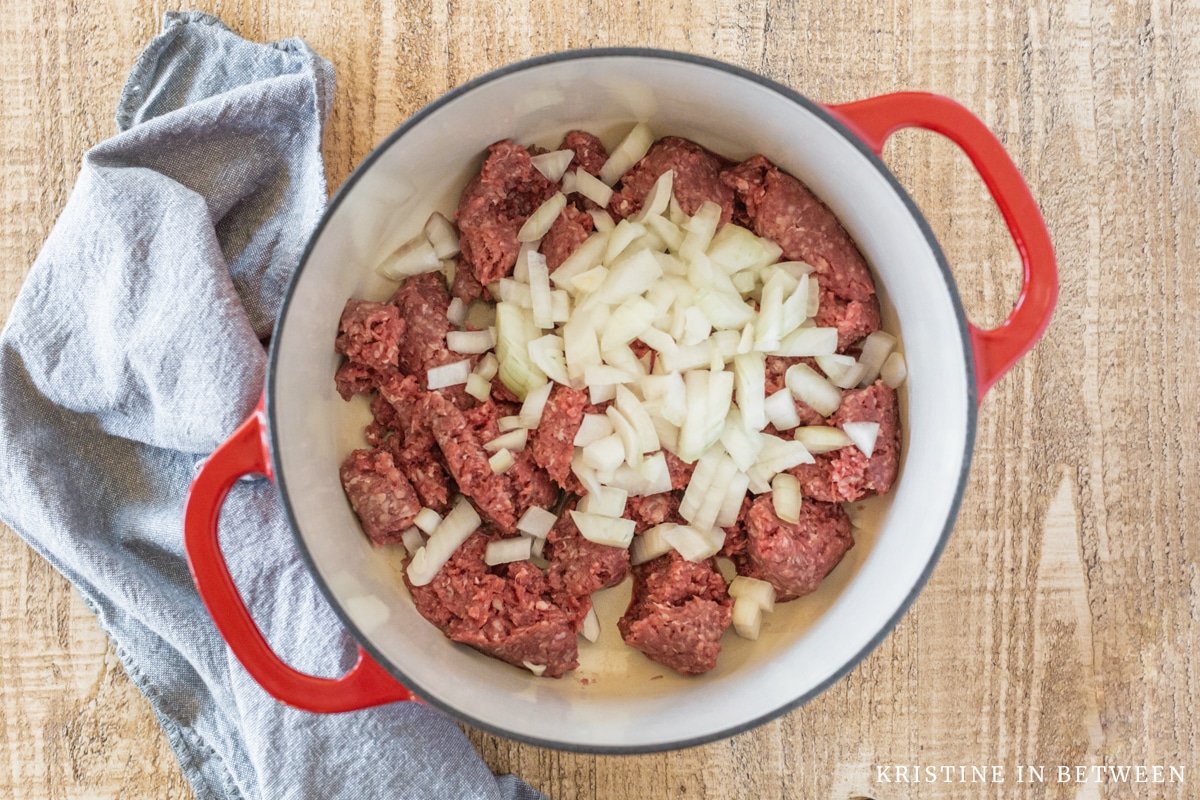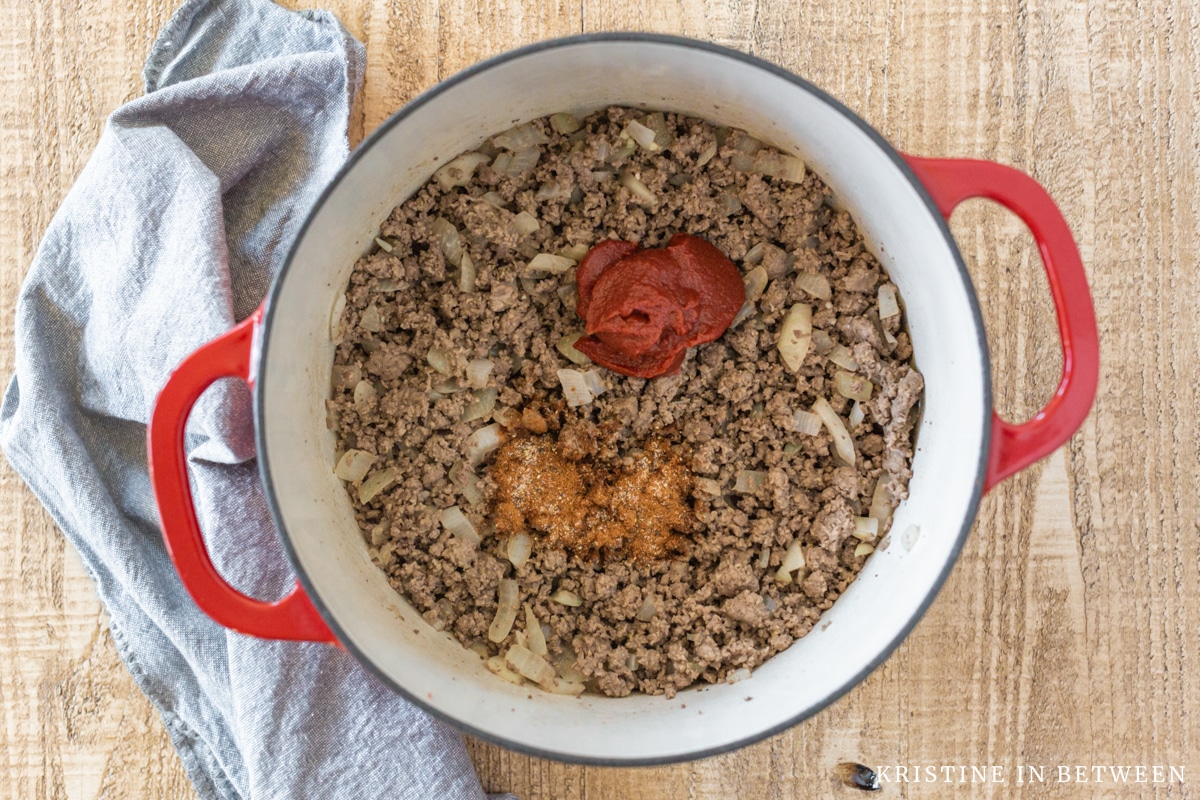 When your beef and onions are the perfect golden brown color, add the minced garlic. Let it sauté for a minute or two until it becomes fragrant.
Then, it's time to add the tomato paste, chili powder, sea salt, and pepper. Give it a good stir, and watch the colors and aromas intensify.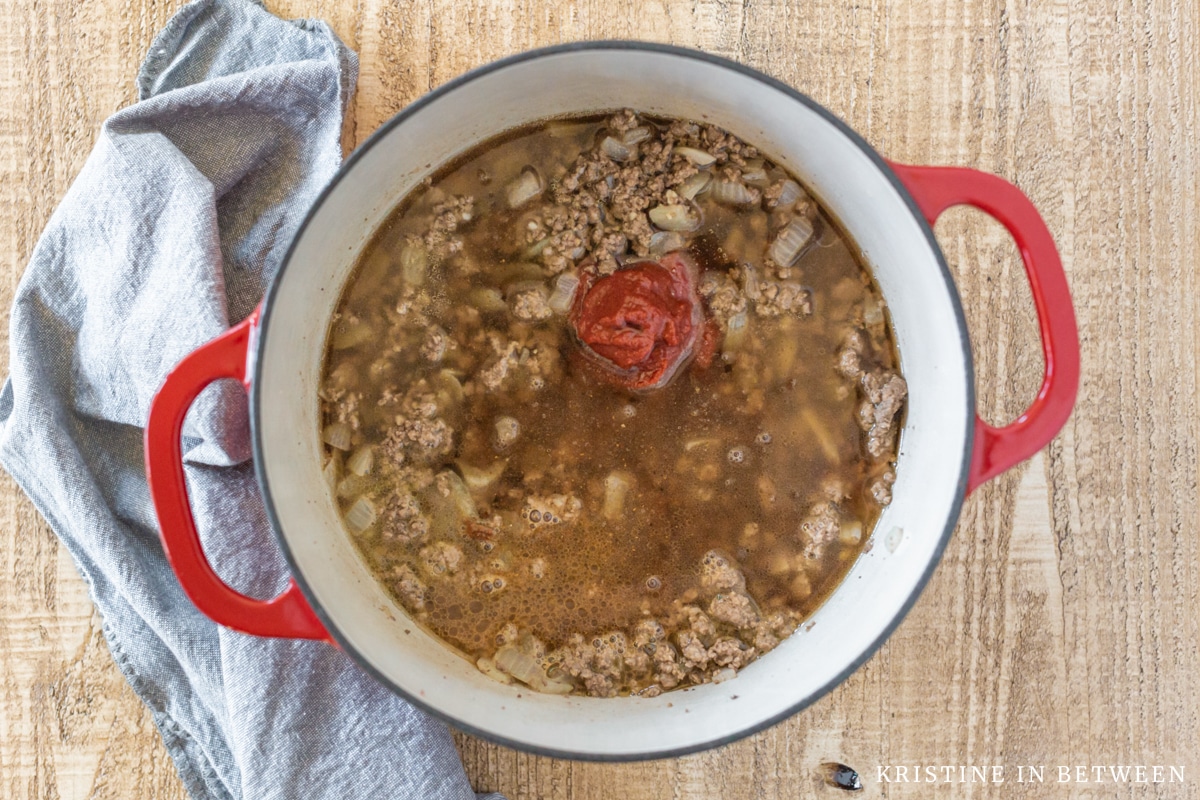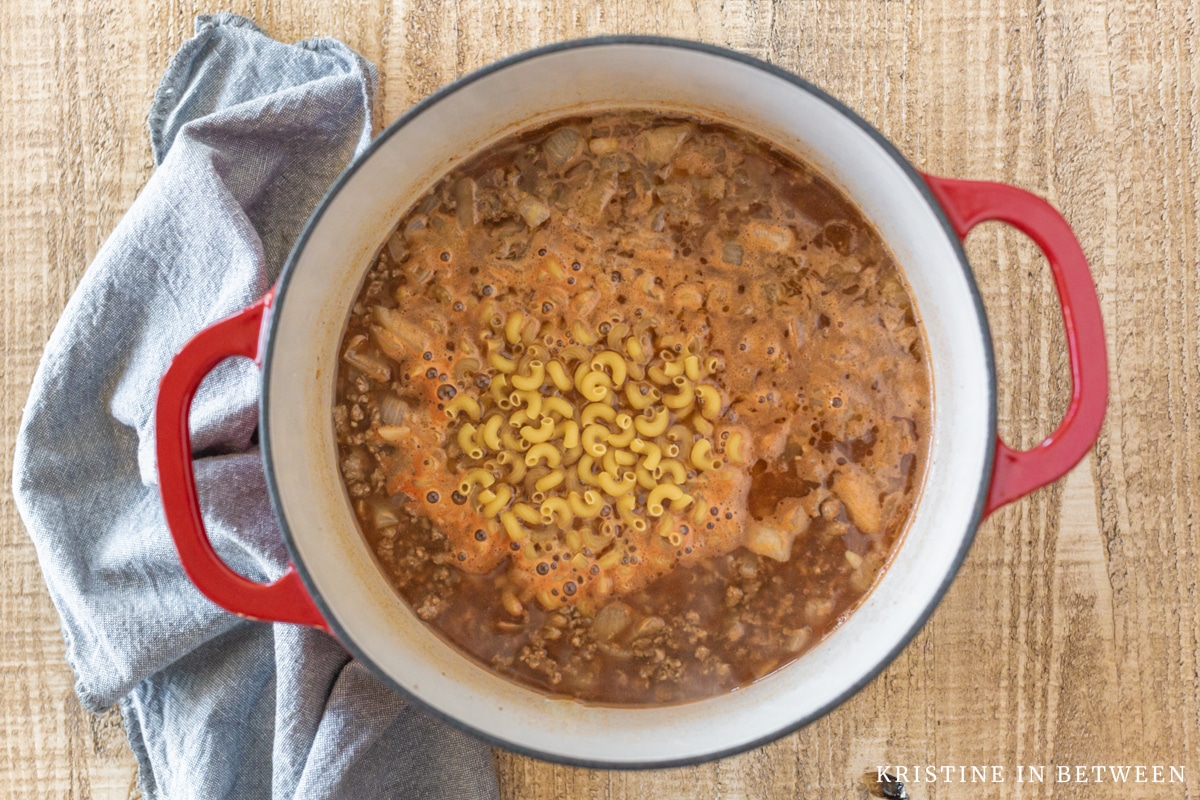 Slowly pour in the beef broth and crank up the heat. Once it starts to bubble, toss in the uncooked elbow macaroni. Lower the heat to a gentle simmer and let it simmer away for about 15 minutes, until the macaroni reaches that perfect al dente texture.
The grand finale involves the cheese OF COURSE – the gooey, melty glue that holds everything together. Once the macaroni is tender, remove the pot from the heat and fold in the freshly grated cheddar. Stir until every noodle is coated in that luscious orange goodness.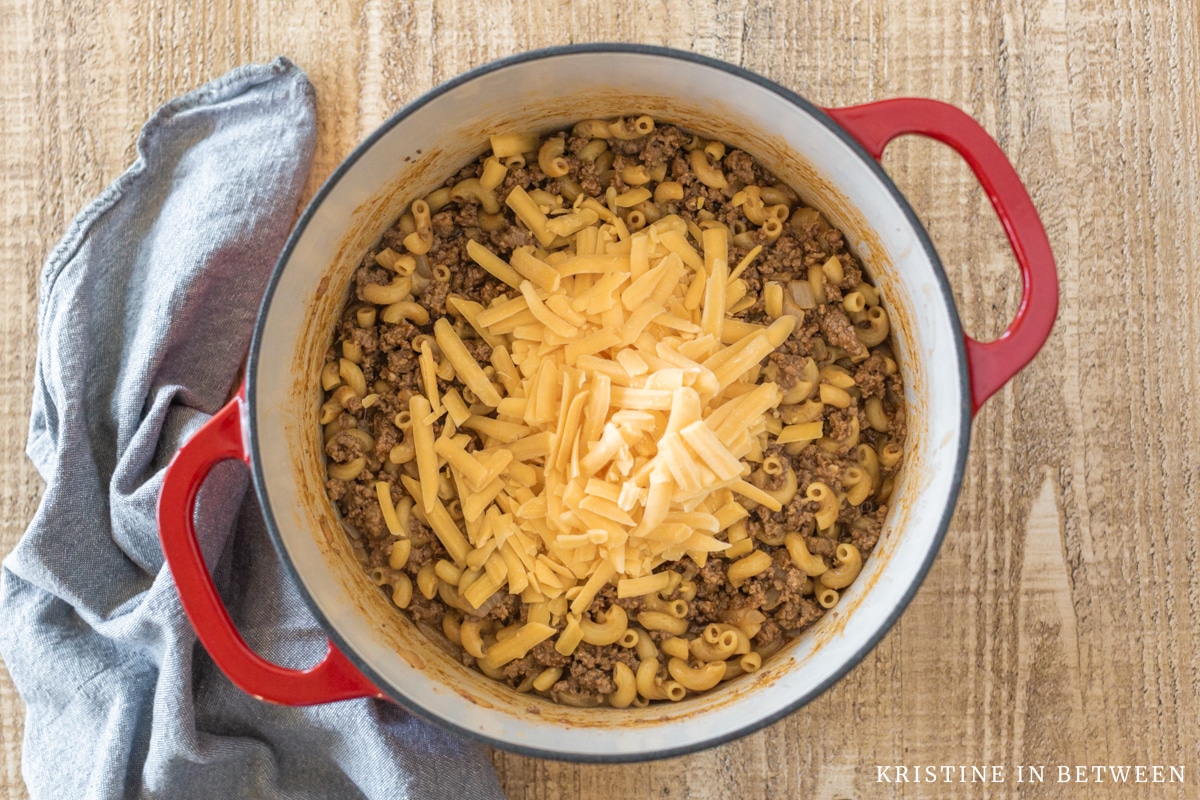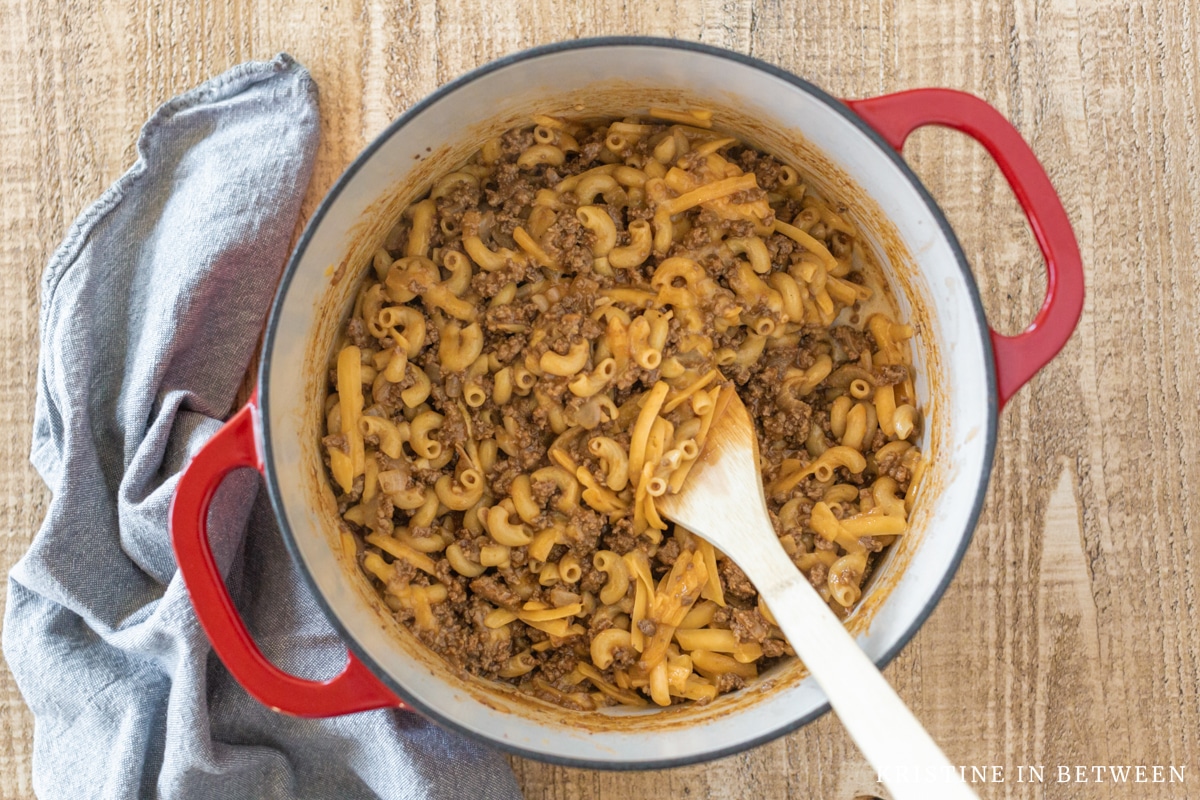 Then, spoon the chili mac into bowls, and sprinkle some freshly chopped parsley on top for a burst of freshness and a pop of color. It's like the finishing touch on a masterpiece. 🤌🏻
Why This Chili Mac Is so Good
Now, let's talk about why this homemade chili mac is so darn good. It's not just a meal; it's a cheesy experience. The beef is savory, the spices are bold but not overpowering, and the cheese – oh, the cheese – the gooeyness takes it to a whole new level. It's like a grown up version macaroni and cheese (but kids love it too!).
What Goes Well With Homemade Chili Mac?
Now that your homemade chili mac is ready, what do you pair it with? Personally, I love serving it with a side of warm garlic bread or fluffy cornbread. The buttery, garlicky notes complement the richness of the chili mac, creating a match that's hard to resist.
For a lighter option, consider a crisp green salad with a tangy vinaigrette. The freshness of the salad provides a crunchy contrast to the heartiness of the chili mac, making it a perfectly well-rounded meal.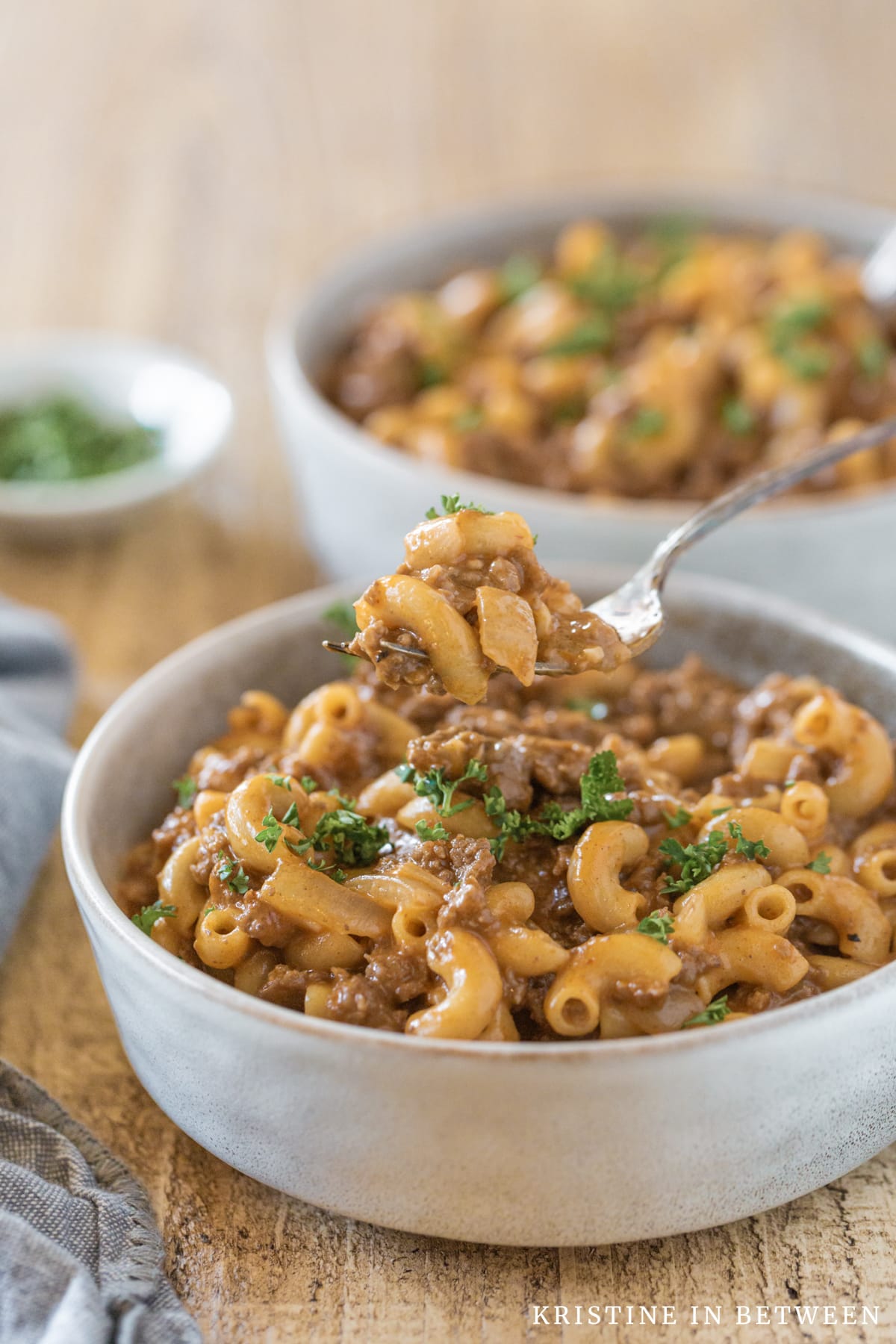 Variations to Spice Things Up
Now, if you're feeling adventurous, there are countless ways to put your spin on this homemade chili mac. Consider adding a can of black beans for extra protein and a touch of earthiness. Want some heat? Throw in diced jalapeños or a dash of hot sauce. The beauty of this recipe lies in its adaptability, so don't be afraid to experiment and have some fun with it.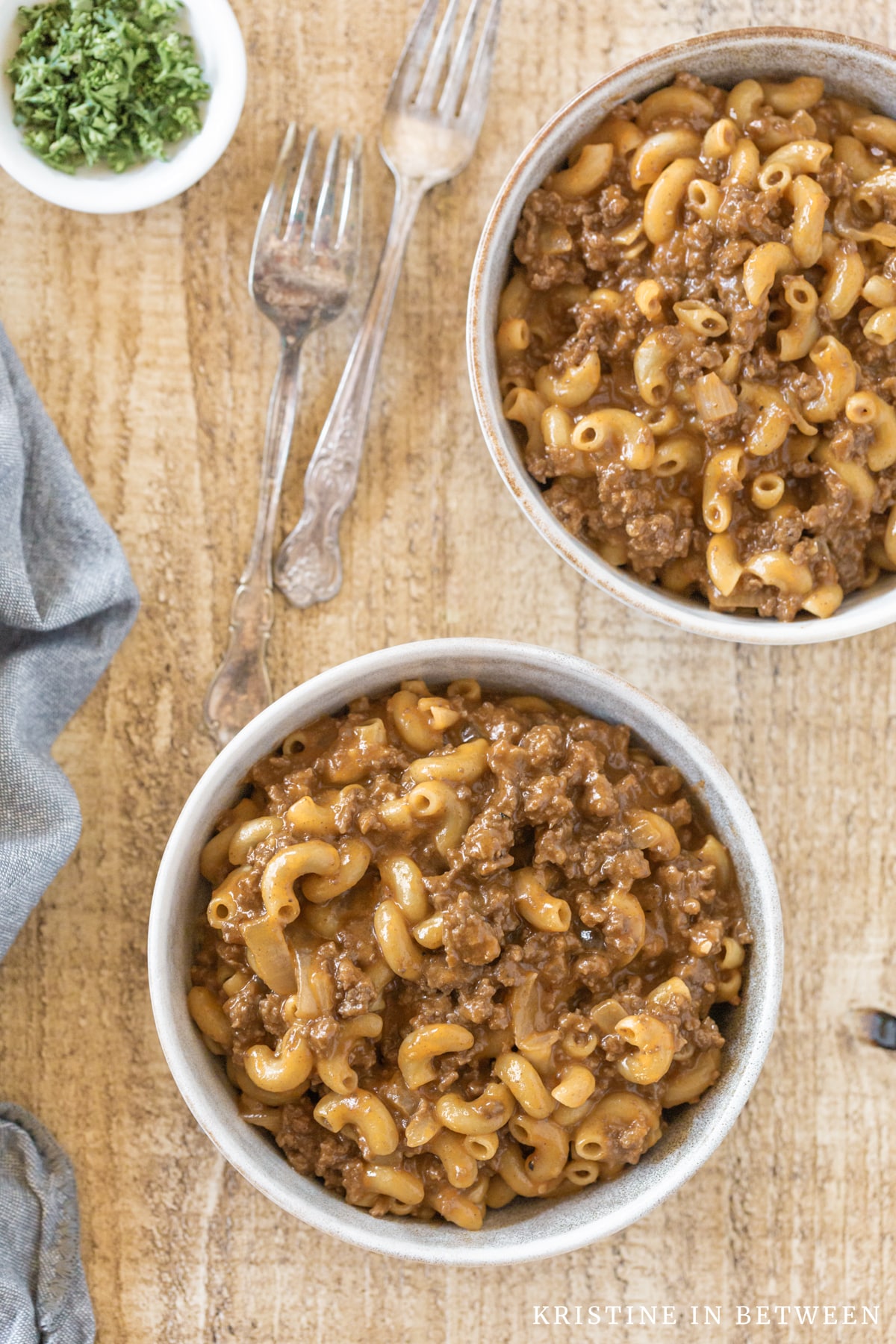 Homemade chili mac is an old-fashioned one-pot wonder that combines simplicity with cheesy indulgence. It's the kind of dish that's filled with nostalgia and tends to bring people together. So, grab your Dutch oven, gather the ingredients, and let's get cookin' my friends.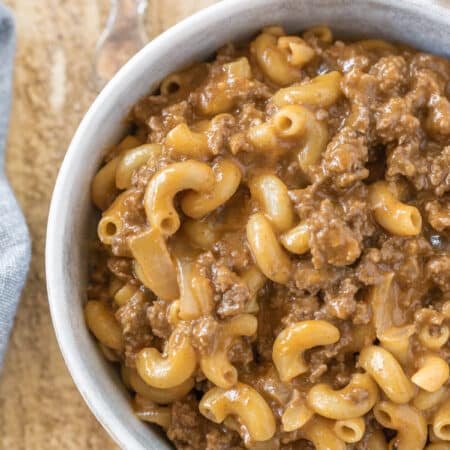 Homemade Chili Mac
Each spoonful of this nostalgic homemade chili mac is a delicious blend of savory beef, bold spices, and gooey cheese.
ingredients
1

lb

ground beef

(lean)

1

yellow onion

(chopped)

1

tsp

minced garlic

(or 1 clove of garlic minced)

2

TBS

tomato paste

(heaping)

1 1/2

tsp

chili powder

1

tsp

sea salt

1/2

tsp

pepper

3

cups

beef broth

1

cup

elbow macaroni

(uncooked)

2

cups

cheddar cheese

(fresh grated)

fresh parsley

(chopped, for garnish)
INSTRUCTIONS
Heat Dutch oven over medium high heat. When hot, add the beff and onions and cook, breaking the meat up as you go.

1 lb ground beef,

1 yellow onion

When meat is fully cooked and onions are translucent, add minced garlic and cook for an additional minute or two, until fragrant.

Add tomato paste, chili powder, sea salt and pepper and stir.

2 TBS tomato paste,

1 1/2 tsp chili powder,

1 tsp sea salt,

1/2 tsp pepper

Slowly pour in beef broth and mix everything together. Increase the heat to high. Once it begins to boil, add the macaroni noodles.

3 cups beef broth,

1 cup elbow macaroni

Reduce the heat to medium and simmer for about 15 minutes, until the macaroni noodles are tender.

Once the macaroni is done, remove the pot from heat and stir in the cheese until melted and well incorporated.

Spoon chili mac into bowls and garnish with fresh parsley.
Nutrition
Serving:
1
bowl
Calories:
545
kcal
Carbohydrates:
26
g
Protein:
32
g
Fat:
34
g
Saturated Fat:
16
g
Polyunsaturated Fat:
1
g
Monounsaturated Fat:
12
g
Trans Fat:
1
g
Cholesterol:
110
mg
Sodium:
1417
mg
Potassium:
530
mg
Fiber:
2
g
Sugar:
3
g
Vitamin A:
671
IU
Vitamin C:
3
mg
Calcium:
361
mg
Iron:
3
mg