Chewy Pecan Pie Cookies
This post contains links to affiliate websites and we receive a small commission for any purchases made using these links. As always, we appreciate your support!
Friends! If you're a fan of the nutty, caramel-y flavor of classic pecan pie, but also have huge a soft spot for cookies (like me), then I have some great news. I've created a cookie that brings them both together. Chewy pecan pie cookies!
These cookies combine the rich, nutty flavor of pecan pie with the irresistible charm of a soft, chewy brown sugar cookie. And you're going to LOVE them.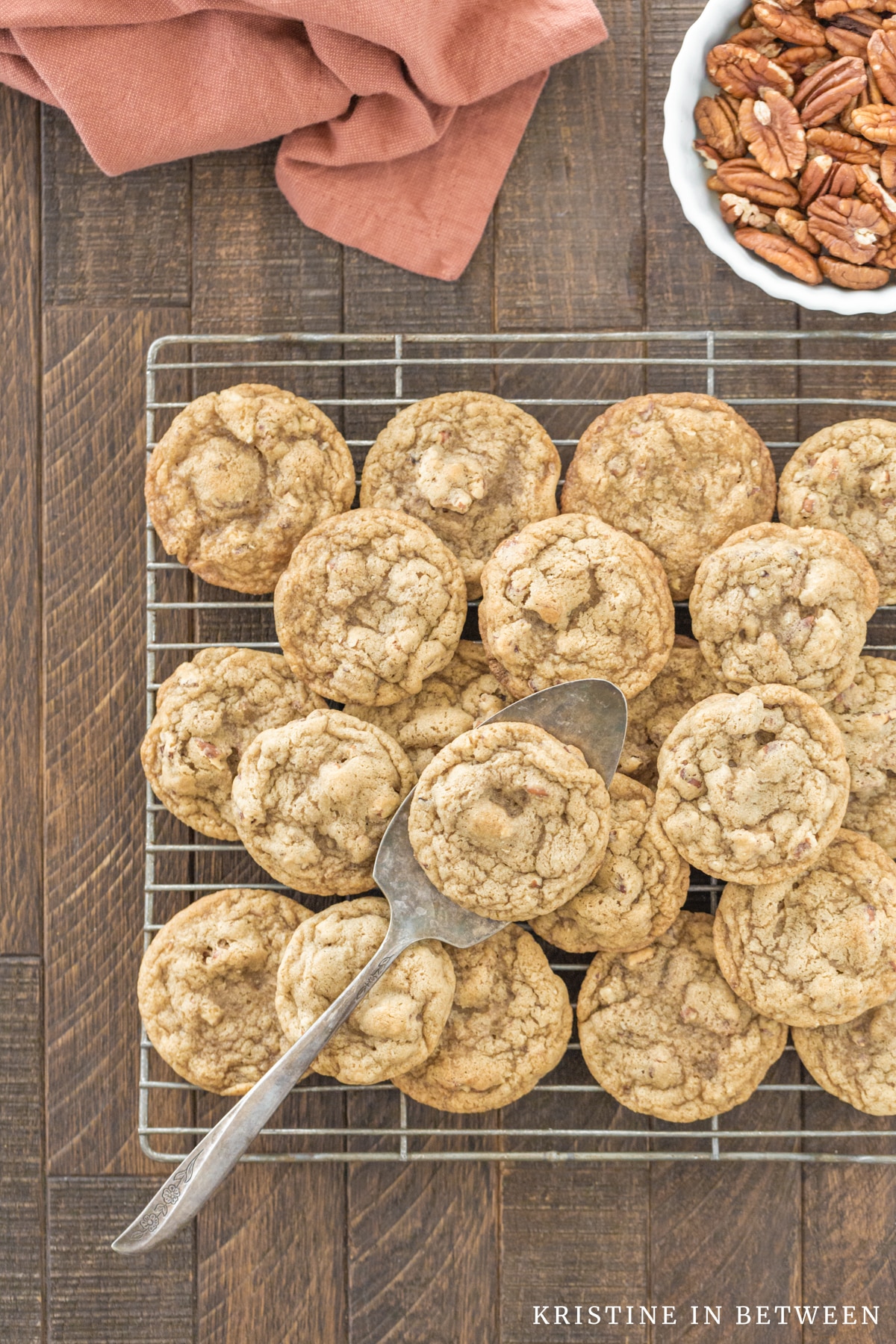 About These Chewy Pecan Pie Cookies
The star of the show is undoubtedly the pecans in these cookies. They add a satisfying crunch and a distinctive nutty flavor to each bite. They're really the heart and soul of these cookies.
But what makes these cookies even more pecan pie-like is their unique texture. Because they're made with all light brown sugar and not a whole lot of flour, the cookies are thin, incredibly chewy, and have a rich caramel flavor (just like pecan pie).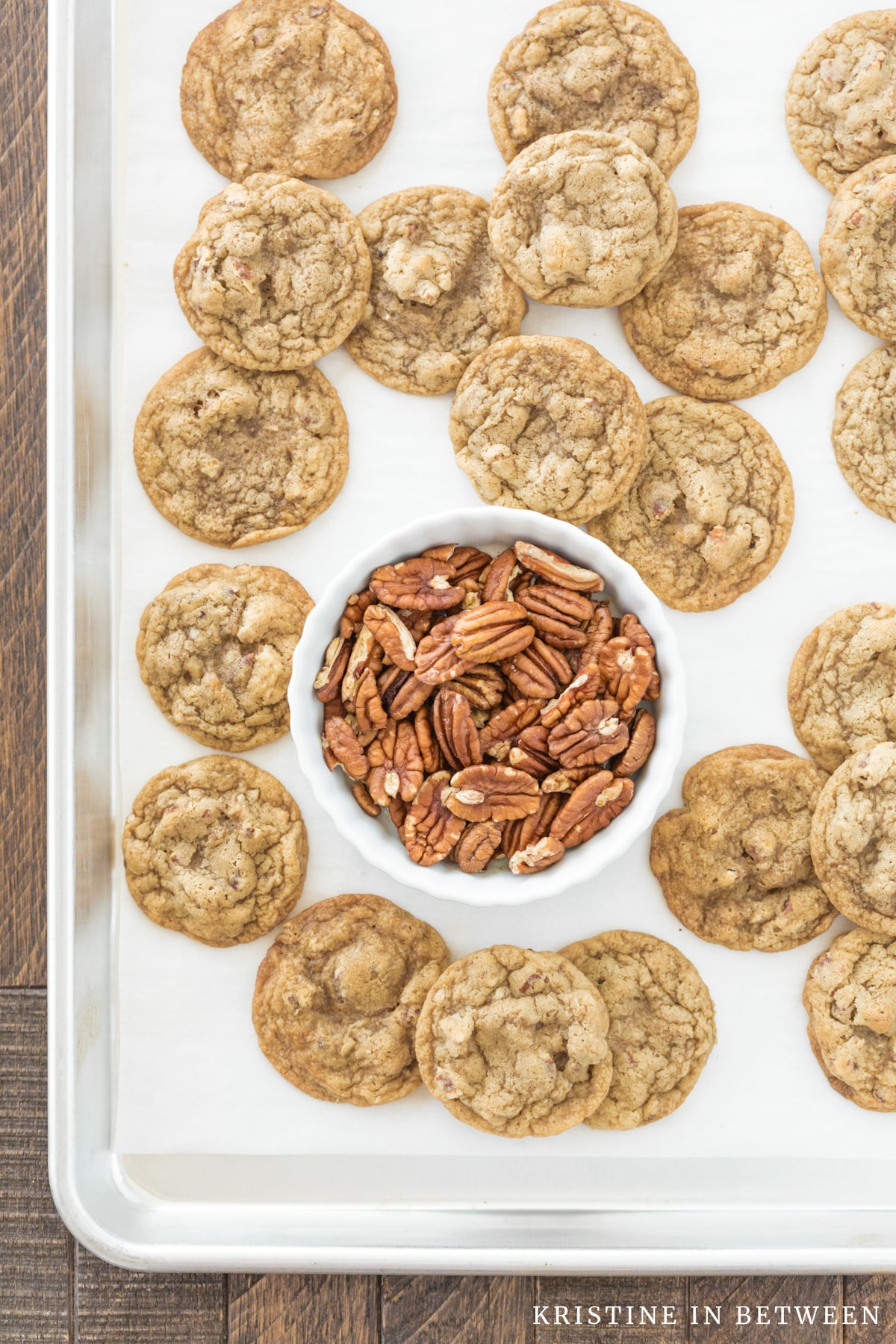 Light Bersus Dark Brown Sugar – It Matters
Now, let's talk sugar. In this recipe, I used light brown sugar, and there's a good reason for it. Light brown sugar contains a lower amount of molasses compared to dark brown sugar. Molasses adds moisture and a deeper, more complex flavor to baked goods.
For these pecan pie cookies, light brown sugar strikes the perfect balance between the two. It imparts a subtle caramel note without overpowering the pecans and the lower moisture content (compared to dark brown sugar) prevents them from spreading like crazy.
The result is a cookie with a wonderful toffee-like flavor that complements the pecans beautifully. The are delicious.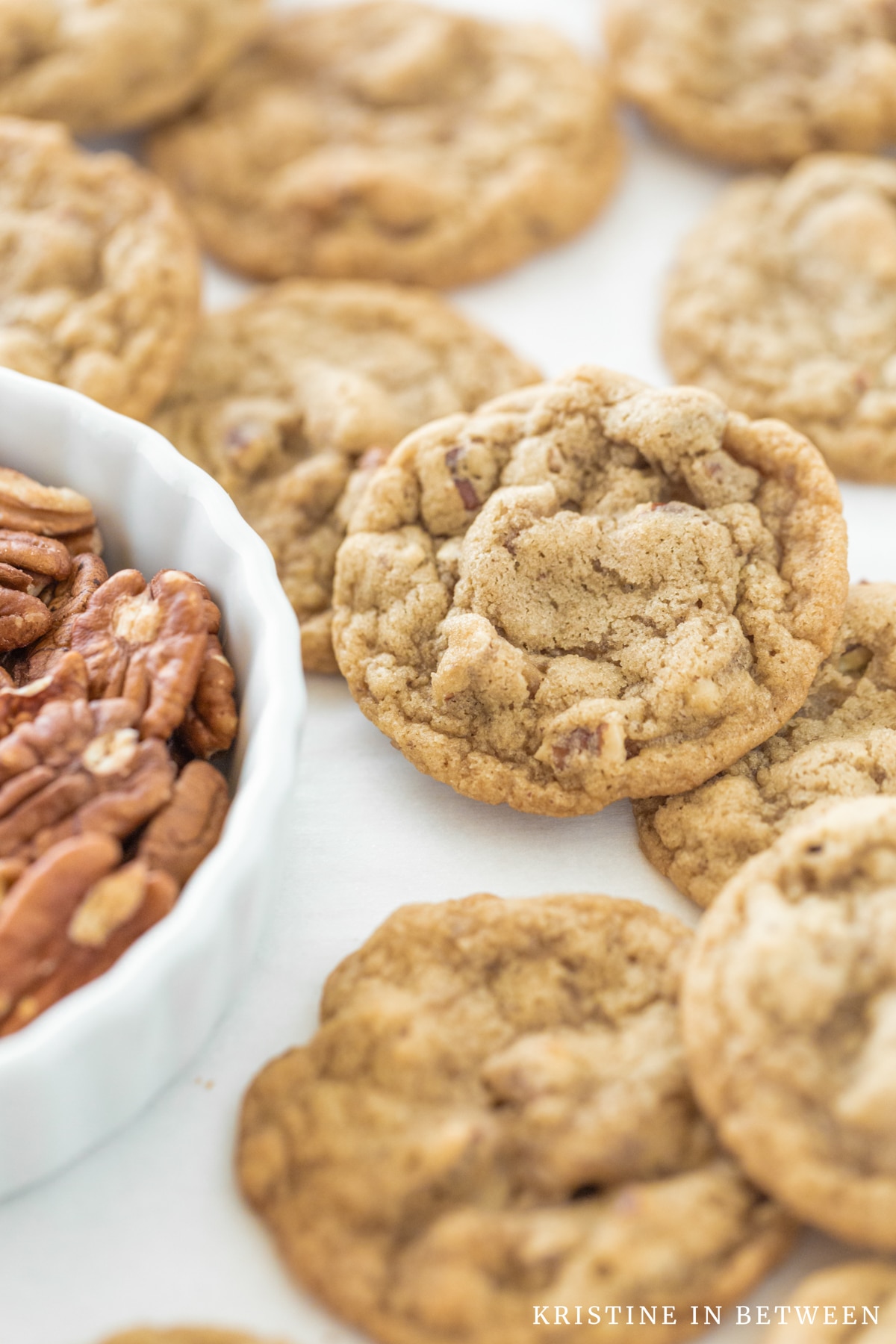 The Game-Changer, Toasted Pecans
If you've ever had pecans straight from the bag, you might have noticed their raw, slightly bitter taste. Toasting pecans transforms them, enhancing their natural sweetness and intensifying their nutty aroma.
This extra step is a game-changer in the world of pecan pie cookies. You can skip it if you must, but I definitely don't recommend it, haha.
How to Toast Pecans
Toasting pecans is surprisingly simple. Just preheat your oven to 350°F (175°C) and spread the pecan halves evenly on a lined baking sheet. Pop them in the oven for 5-7 minutes, but keep an eye – they can go from perfectly toasted to burnt in a flash.
When they release a fragrant aroma and turn a golden hue, they're ready. Let them cool completely before chopping them up and adding them to your cookie dough.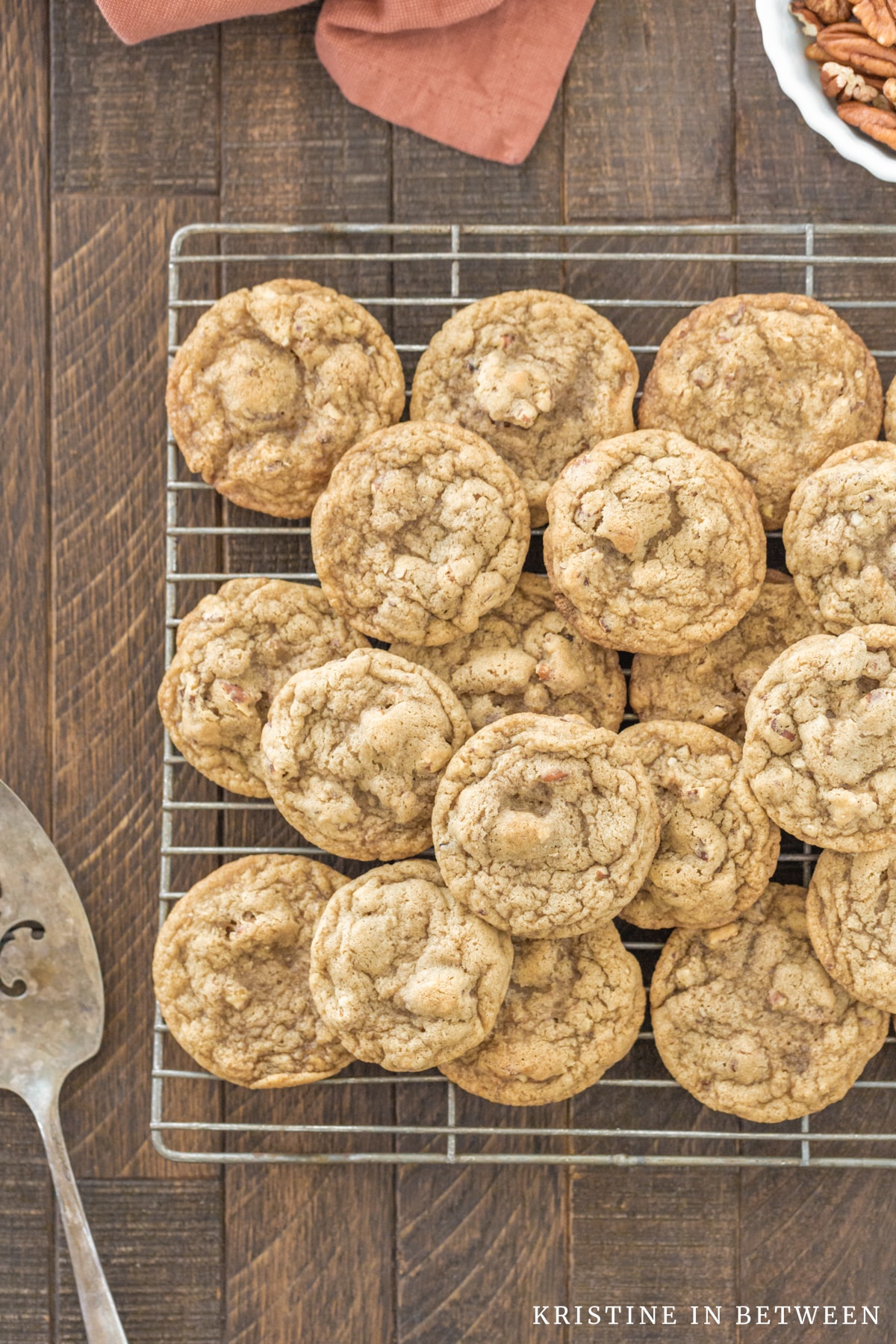 How to Make the Cookies and the Ingredients You'll Need
Now, let's get to the good stuff. Here's everything you need to know to make these chewy pecan pie cookies.
Ingredients:
1 cup pecan halves (toasted and roughly chopped)
1 1/4 cup all-purpose flour (unbleached)
1/2 tsp sea salt
1/2 tsp baking soda
1/2 cup unsalted butter (room temperature)
1 cup light brown sugar
1 egg
1 1/2 tsp vanilla extract
Instructions:
Toast the Pecans: Preheat your oven to 350°F (175°C). Spread the pecan halves on a baking sheet and toast for 5-7 minutes or until fragrant and golden. Allow them to cool, then chop them roughly and set aside.
Prepare the Dough: In a medium-sized bowl, whisk together the flour, sea salt, and baking soda. In another larger bowl, cream the butter and light brown sugar together until light and fluffy. Add the egg and vanilla extract, mixing until just combined.
Combine: Gradually add the dry ingredients to the wet ingredients, mixing until a soft, sticky dough forms. Fold in the toasted pecans.
Bake: Preheat your oven to 350°F (175°C). Scoop the cookie dough onto lined baking sheets, leaving enough space for them to spread. Bake for 8 minutes or until the edges turn golden brown. The centers may not look done.
Cool and Enjoy: Allow the cookies to cool on the baking sheets for a few minutes before reshaping the edges with a spatula or a glass. Then transfer them to a wire rack to cool completely. Finally, enjoy the irresistible taste of pecan pie in cookie form.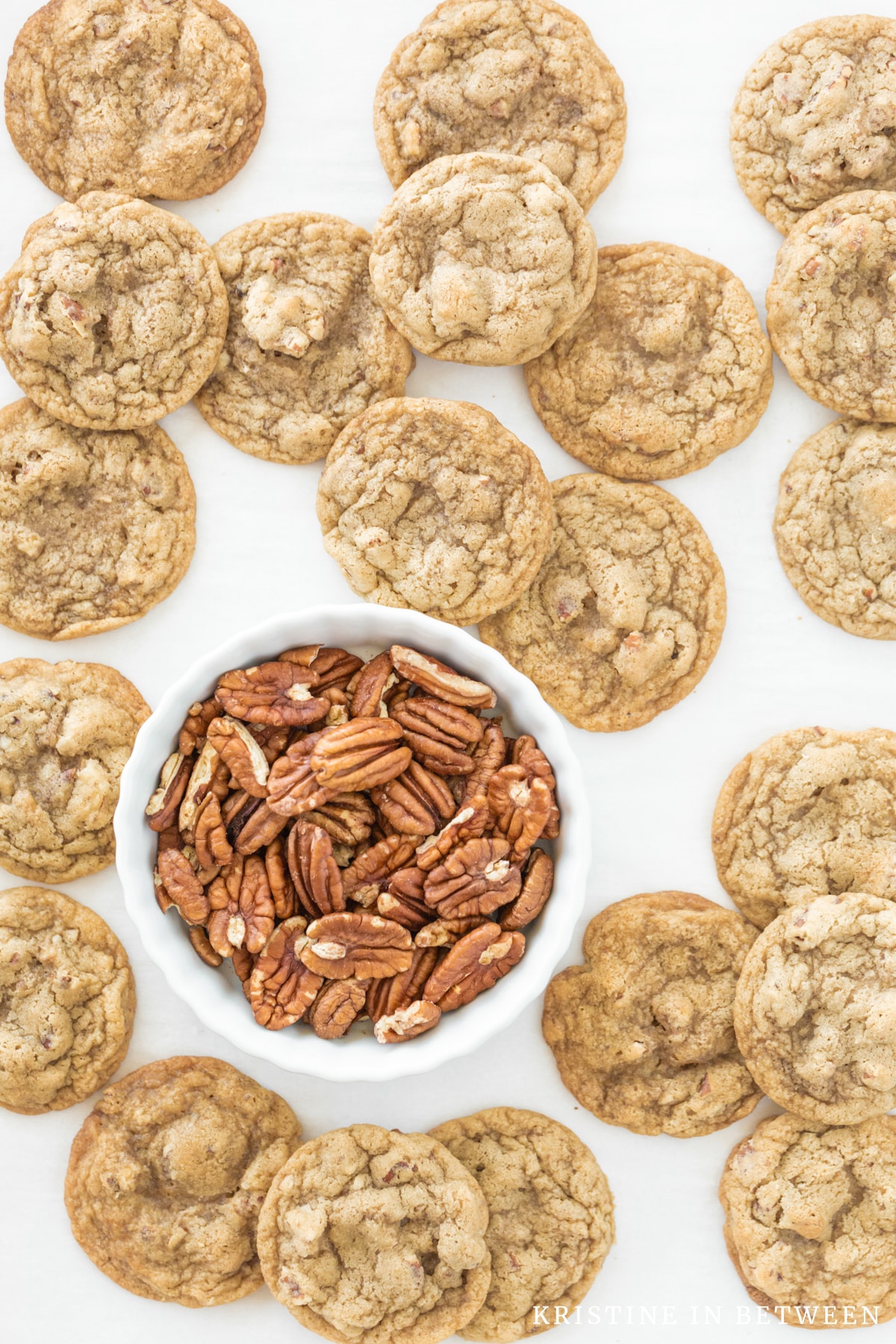 These pecan pie cookies are the perfect treat for any occasion from 4th of July to New Years Eve. Or even for when you just need a sweet little pick-me-up on a regular Tuesday (which is my preferred time).
The toasty pecans and the soft, chewy brown sugar cookie create a memorable little cookie that will have you convinced you're eating a slice of pecan pie. So why wait? Gather your ingredients and make a batch today. Don't forget to drop your questions or comments below.
Try These Other Delicious Pecan Recipes Too
Chewy Pecan Pie Cookies
Pecan pie cookies are the perfect blend between classic pecan pie and thin and chewy cookies. The base for these cookies is made with brown sugar, so they're super soft and chewy. The toasted pecans add crunch as well as nutty flavor, creating a perfect pecan pie-like cookie. Every bite is reminiscent of pecan pie.
ingredients
1

cup

pecan halves

(rough chopped)

1 1/4

cup

flour

(all-purpose, unbleached)

1/2

tsp

sea salt

1/2

tsp

baking soda

1/2

cup

butter, unsalted

(room temperature)

1

cup

brown sugar

(light)

1

egg

1 1/2

tsp

vanilla extract
INSTRUCTIONS
To toast the pecans:
Preheat oven to 350 degrees and line baking sheets with parchment paper.

Spread pecans evenly on the baking sheet and bake for 5-7 minutes until golden brown.

Remove from oven and set aside to cool.
To make the cookies:
In a medium size bowl, whisk together the flour, sea salt, and baking sod and set aside.

1 1/4 cup flour,

1/2 tsp sea salt,

1/2 tsp baking soda

In a large bowl, cream butter and light brown sugar together with an electric mixer for 3-4 minutes until smooth and light colored.

1/2 cup butter, unsalted,

1 cup brown sugar

Add egg and vanilla extract and mix for an additional minute, until the egg is incorporated. Avoid over-mixing the egg.

1 egg,

1 1/2 tsp vanilla extract

Add the dry ingredients to the wet and mix for a minute or two until most of the flour is incorporated.

Using a rubber spatula, fold in the chopped and toasted pecans.

Bake cookies for 8 minutes, rotating the pan halfway through.

Let cookies cool on the baking sheet for a few minutes. While they're cooling, gently reshape the cookies using a flat cookie spatula or a glass to make them round.

Store cookies in an airtight container for 3-4 days or freeze for up to 3 months.
Notes
*Using dark brown sugar in this recipe will cause the cookies to spread substantially.
**Make sure to read the cookie baking tips to get answers to common questions about baking cookies.
Nutrition
Serving:
1
cookie
Calories:
124
kcal
Carbohydrates:
15
g
Protein:
1
g
Fat:
7
g
Saturated Fat:
3
g
Polyunsaturated Fat:
1
g
Monounsaturated Fat:
3
g
Trans Fat:
0.2
g
Cholesterol:
17
mg
Sodium:
107
mg
Potassium:
40
mg
Fiber:
1
g
Sugar:
9
g
Vitamin A:
131
IU
Vitamin C:
0.05
mg
Calcium:
14
mg
Iron:
1
mg