Brown Sugar and Pecan Cookies
This post contains links to affiliate websites and we receive a small commission for any purchases made using these links. As always, we appreciate your support!
These brown sugar and pecan cookies are soft, chewy, a little crunchy, and loaded with pecans. They are sure to become one of your favorite pecan cookie recipes!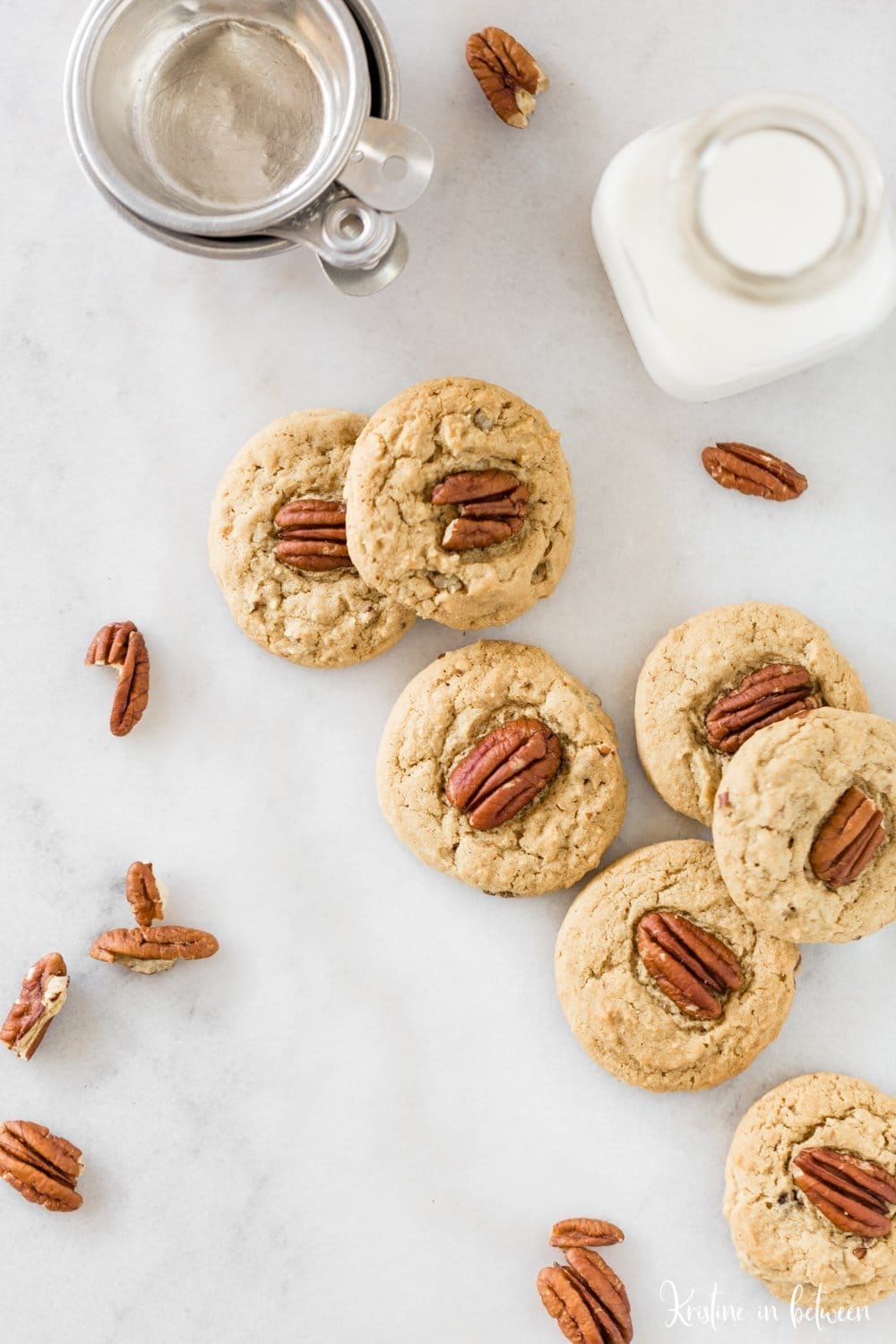 I don't know about you, but I wait all year for baking season to come around…and then it goes by so quickly! Before I know it, it's all over! Boohoo!
But, just because it's January, that doesn't mean we have to stop baking completely does it? I mean, I know we are all on the meal-prepping-healthy-eating train this month, but everything in moderation right? #cookieloverproblems
Anyway, you know it's not possible for me to quit baking cookies, ever, so I've still been coming up with new cookie ideas left and right and jotting them down for the rest of the year.
These brown sugar and pecan cookies are at the very top of that list because, number one – I LOVE pecans and number two – I have a couple of half-used bags of pecans leftover from the holidays (yes, I said a couple – as in more than one – not sure how that happened *eyeroll*).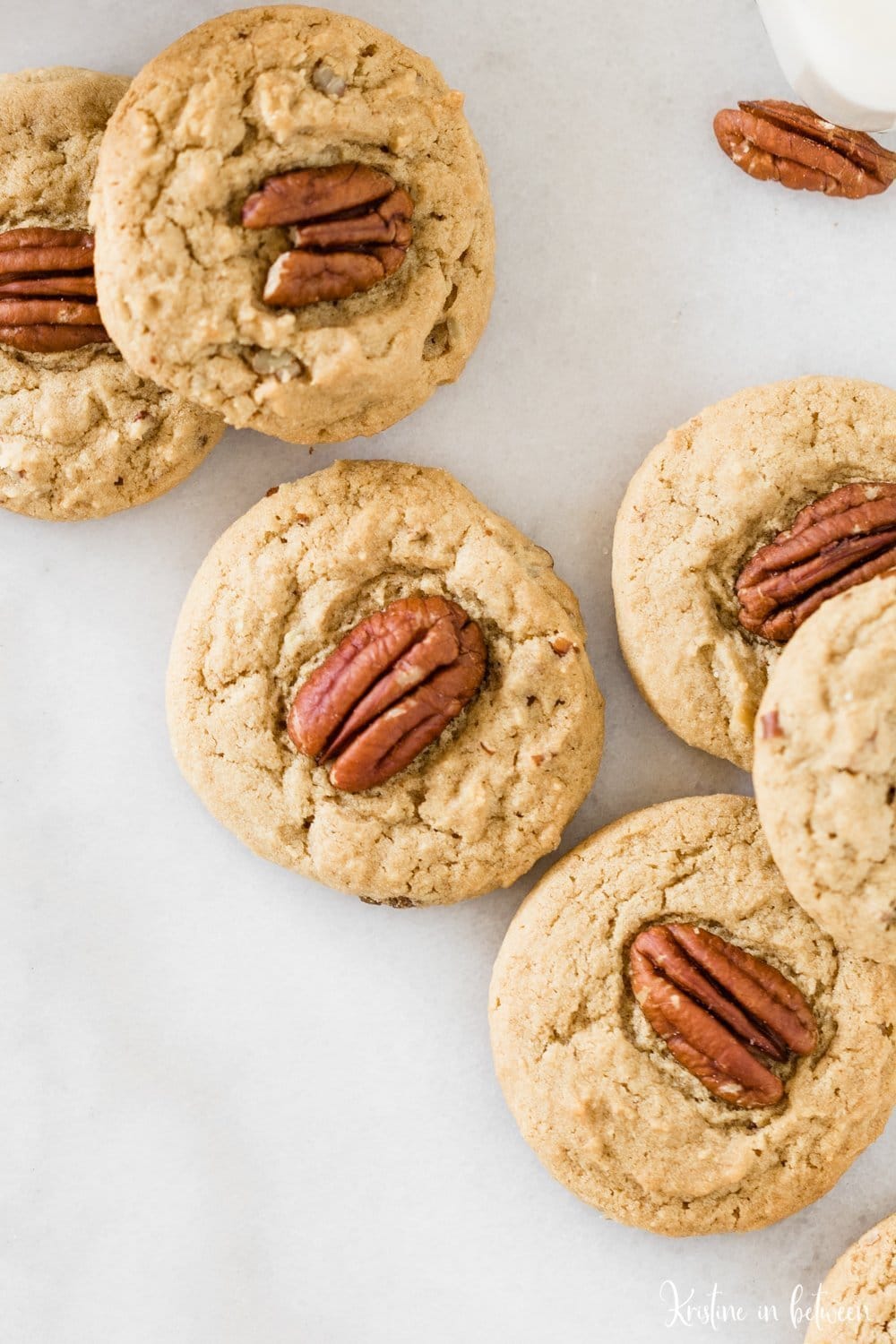 So, of course, I instantly started thinking about about cookies that I could add pecans to.
With a few simple tweaks, I took a plane-Jane cookie dough recipe into anytime-pecan-cookie-perfection just by adding some extra brown sugar and of course, tons of chopped pecans (from both bags, haha)!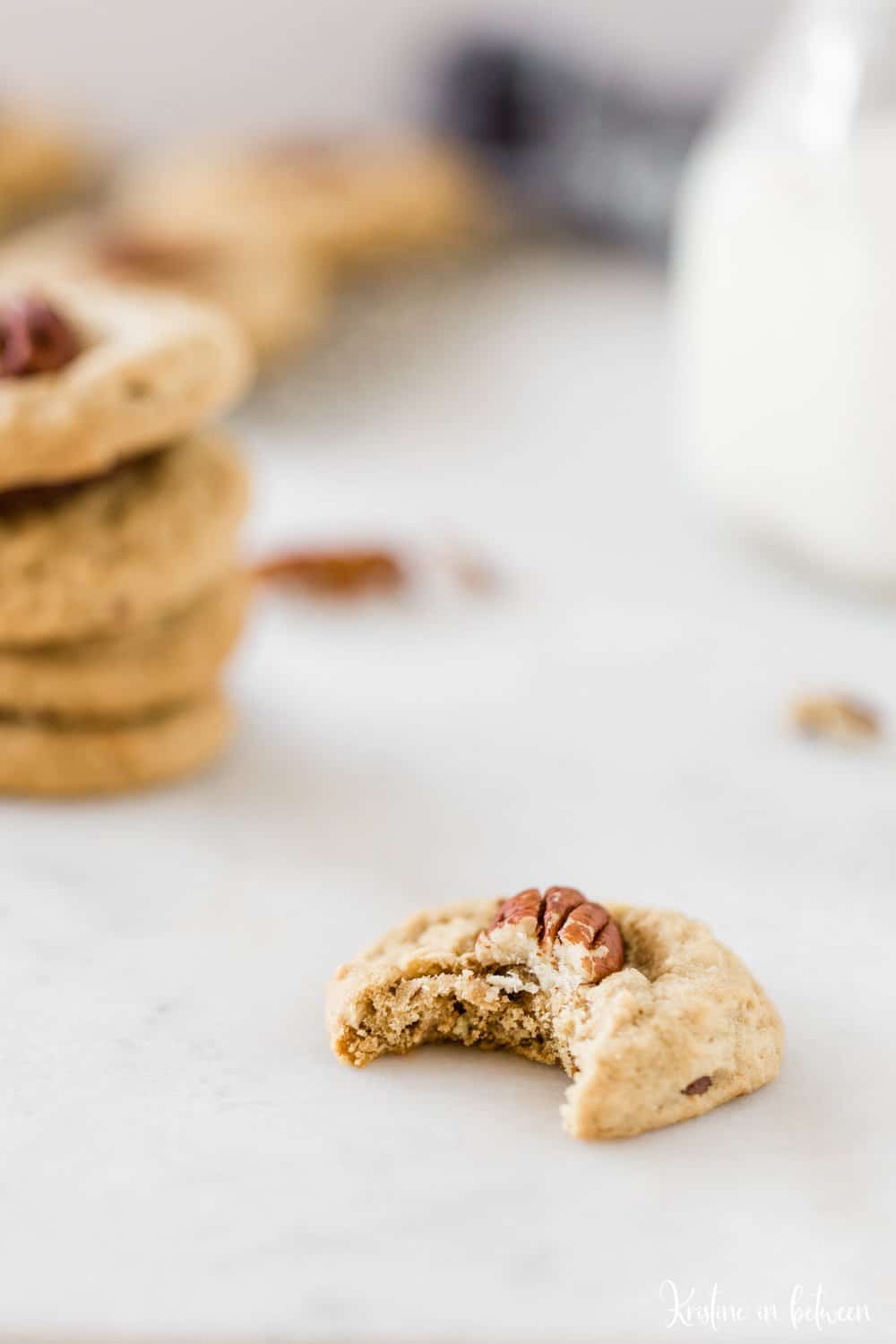 As with many of my cookie recipes, this brown sugar pecan cookie recipe super simple and, of course, it's kid friendly too.
You can make these brown sugar and pecan cookies in one large bowl and with no mixer required, making it the perfect recipe to make any old January afternoon! You're welcome cookie lovers!
Important things to remember when baking these brown sugar and pecan cookies:
You'll want to chop the pecans finely before adding them to the cookie dough.
Rotating the cookies halfway through baking will ensure even baking.
If the cookies turn brown on the bottom, they're over-baked.
Allow cookies to sit on the baking sheet for 5 minutes before transferring to a wire rack.
Once fully cooled, these cookies can be frozen for up to 3 months if needed.
More cookie favorites for you
Brown sugar and pecan cookies
A simple brown sugar and pecan cookie that you can make in one bowl. The cookies are buttery, soft, and chewy, perfect for an afternoon treat!
ingredients
1/2

cup

unsalted butter, room temperature

1/4

cup

sugar

3/4

cup

brown sugar, packed

1/2

tsp

sea salt

1/2

tsp

baking soda

1

tsp

water

1

egg

1

tsp

vanilla extract

1½

cups

flour

1/2

cup

finely chopped pecans

30

pecan halves (for the tops of each cookie)
INSTRUCTIONS
Preheat oven to 350 degrees and line baking sheets with parchment paper.

In a medium bowl, cream butter and sugars together until smooth.

Add sea salt, baking soda, and water and stir.

Add egg and mix to combine.

Add flour, half at a time, and stir until just combined.

Fold in finely chopped pecans and stir until evenly dispersed.

Using a 1 TBS cookie scoop, scoop the dough onto lined baking sheets 2 inches apart.

Gently press a pecan half into the top of each cookie. Do not over-flatten.

Bake cookies for 12 minutes, rotating halfway through.

Allow cookies to cool on the baking sheet for 5 minutes, prior to transferring to a wire rack to cool completely.

Store in an airtight container for up to 1 week or freeze.
Nutrition
Serving:
1
cookie
Calories:
117
kcal
Carbohydrates:
9.5
g
Protein:
1.4
g
Fat:
8.6
g
Saturated Fat:
2.5
g
Cholesterol:
14
mg
Sodium:
78
mg
Potassium:
43
mg
Fiber:
0.9
g
Sugar:
5.5
g
Calcium:
10
mg
Iron:
0.4
mg