Applesauce in the Crock-Pot
This post contains links to affiliate websites and we receive a small commission for any purchases made using these links. As always, we appreciate your support!
There's nothing better than homemade applesauce in the Crock-Pot! It's easy and delicious!
Happy Tuesday! I don't know about you, but it seems like the holiday craziness is already underway over here. How are we so darn busy like out of nowhere? The days are literally flying by. And I just realized yesterday that Thanksgiving is in 9 days. NINE. DAYS. And guess how much I have planned so far? Zip. Zilch. Nada. I need to get it together. For real people.
This means I need some serious shortcuts over the next 9 days. My biggest time saver of all time happens to be my Crock-pot. If I could marry it and live happily ever after, I just might.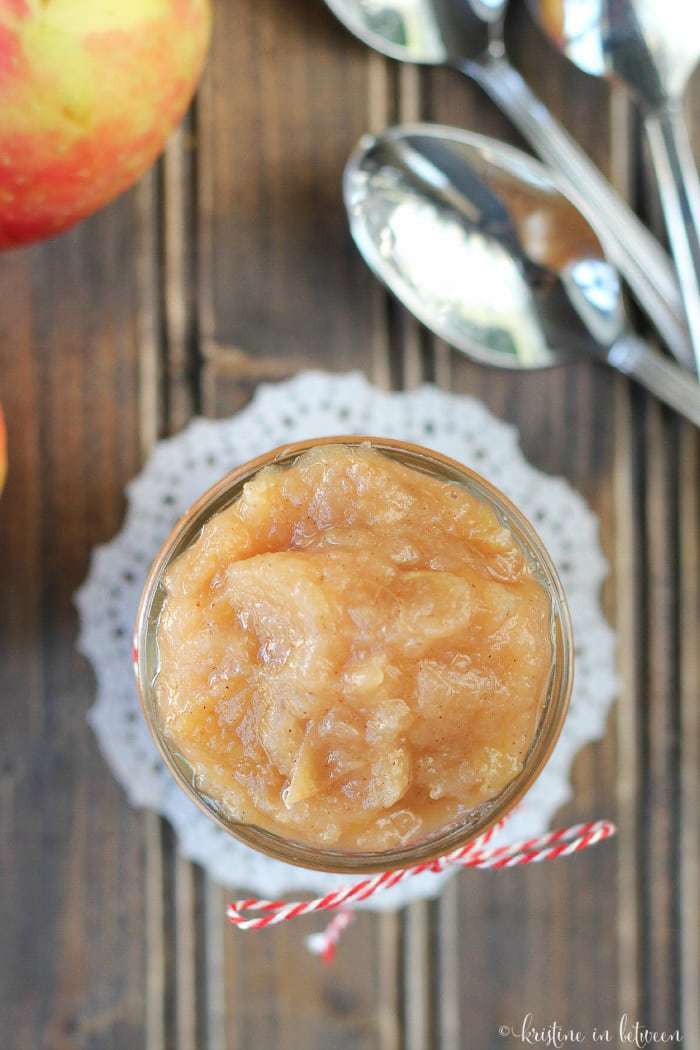 So, speaking of Crock-Pot awesomeness, lets talk about homemade applesauce in the Crock-Pot, which is the best and easiest way to make homemade applesauce, ever!
I know what you're thinking, "oh man, peeling all of those apples is quite the undertaking and is definitely not time-saving", and you're absolutely right! Which is why I don't peel them. Not a single one. I just wash them (really well), chop them up, and throw them in the Crock-Pot with the rest of the ingredients and let it go. It really is that simple.
It is (hands down) the best applause you'll ever eat!
Kristine's tip: If you find the texture a bit to coarse, just process the applesauce in the food processor for a few minutes prior to jarring it up.

Try these other apple recipes too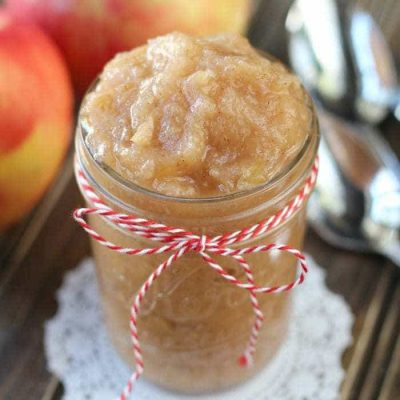 Applesauce in the Crock-Pot
Delicious homemade applesauce in the Crock-Pot. Easy to make and tasty on it's own or for fall baking.
ingredients
6

apples, chopped (I used Gala)

1/2

cup

100% pineapple juice

1-2

TBS

honey

1/4

tsp

nutmeg

1/4

tsp

cinnamon

1

cinnamon stick
INSTRUCTIONS
Thoroughly wash apples and chop them into 1 inch chunks.

Place chopped apples and the cinnamon stick in the bottom of the crock pot.

Pour the pineapple juice over the apples.

Drizzle honey over apples and pineapple juice.

Sprinkle nutmeg over the top.

Cook on high for 4 hours.
To mash apples
Remove the cinnamon stick and add the ground cinnamon.

Mash apples with a potato masher to the desired consistency or if you like smoother applause, pour apples into a food processor and process until smooth.

Add honey as needed if added sweetness is desired.

Store in airtight containers or freeze.
Nutrition
Serving:
1
serving
Calories:
29
kcal
Carbohydrates:
8
g
Protein:
0.1
g
Fat:
0.1
g
Saturated Fat:
0.02
g
Polyunsaturated Fat:
0.03
g
Monounsaturated Fat:
0.01
g
Sodium:
1
mg
Potassium:
56
mg
Fiber:
1
g
Sugar:
6
g
Vitamin A:
25
IU
Vitamin C:
3
mg
Calcium:
5
mg
Iron:
0.1
mg