Whole Wheat Cornbread
This post contains links to affiliate websites and we receive a small commission for any purchases made using these links. As always, we appreciate your support!
Since I'm totally on a fall kick over here, I decided I had to share my recipe for whole wheat cornbread to go with the Healthy Beef Stew I shared last week! They go together like bread and butter, quite literally! Ha!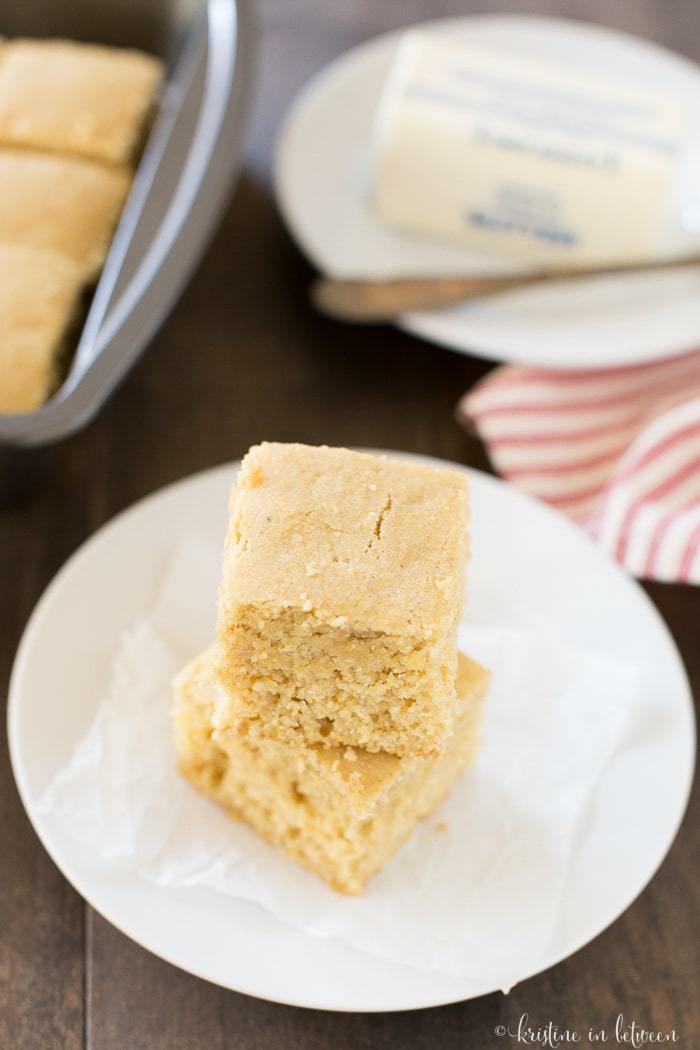 I didn't grow up loving chili or stew, or anything containing tomatoes really. For some reason, tomatoes were on the same list as grape jelly; you know, the 'gross me out' list. As a matter of fact, I ate pasta plain too! No sauce, no nothin', just to avoid having to consume tomatoes! (I can hear my mom now, but you ate pizza! Yep, I did, and I loved it! I don't know what to say…kids are crazy!)
What I did grow up loving though was the cornbread! In fact, I loved chili or stew night primarily because I knew cornbread would be on the side and I could eat one bite of stew with my 4 cornbread muffins!
I still sorta have that issue, but at least now I eat (and love) the main dish too, I just love the cornbread more!
I'm going to go way off track here for a second and tell you a story within a story, in honor of my dad. He was many things, but a baker he was not. You cannot use baking soda in place of baking powder, ever, and if you do, your family will make sad, bitter faces and cry because you ruined their cornbread (and for me, that was huge, since that's all I ate on chili night, haha). Yep, my dad, bless his heart, did this one night and made a dinner we'd never forget! We still laugh about it to this day.
Anyway, serving cornbread in the fall and winter is a must in my family. So, I made a few minor adjustments to my mom's recipe and it fits right in our real food diet now. Score!
Whether you make it in an 8 x 8 pan or in muffin cups, these little cornbread muffins will be a staple in your fall recipe box! Promise! Oh, and if you need the perfect classic chili to have with your cornbread, get my recipe here!
Have this for dinner tonight with…
Whole Wheat Cornbread
Perfectly golden and sweet cornbread made with whole wheat flour and sweetened with honey.
ingredients
1

cup

white whole wheat flour

1

cup

cornmeal

2

tsp

baking powder

1/4

cup

honey

1

cup

milk

1/4

cup

butter, melted (may substitute coconut oil)

1

egg

1/2

tsp

sea salt
INSTRUCTIONS
Preheat oven to 400 degrees

In a medium bowl, stir whole wheat flour, cornmeal, and baking powder

In a small bowl whisk egg, milk, and honey.

Pour wet ingredients into dry and mix well.

Stir in melted butter.

Pour into a prepared 8 x 8 baking dish or lined muffin pan.

Bake for 16-18 minutes, rotating halfway through.

Serve with butter and honey or just by itself.
Nutrition
Serving:
1
slice
Calories:
234
kcal
Carbohydrates:
37
g
Protein:
6
g
Fat:
8
g
Saturated Fat:
4
g
Polyunsaturated Fat:
1
g
Monounsaturated Fat:
2
g
Trans Fat:
0.2
g
Cholesterol:
39
mg
Sodium:
597
mg
Potassium:
121
mg
Fiber:
3
g
Sugar:
10
g
Vitamin A:
317
IU
Vitamin C:
0.1
mg
Calcium:
175
mg
Iron:
2
mg