So today, I'm sharing my all-time favorite pizza dough recipe (with white flour)! It's the most perfectly perfect thin and crispy pizza crust you'll ever eat. Yes, really.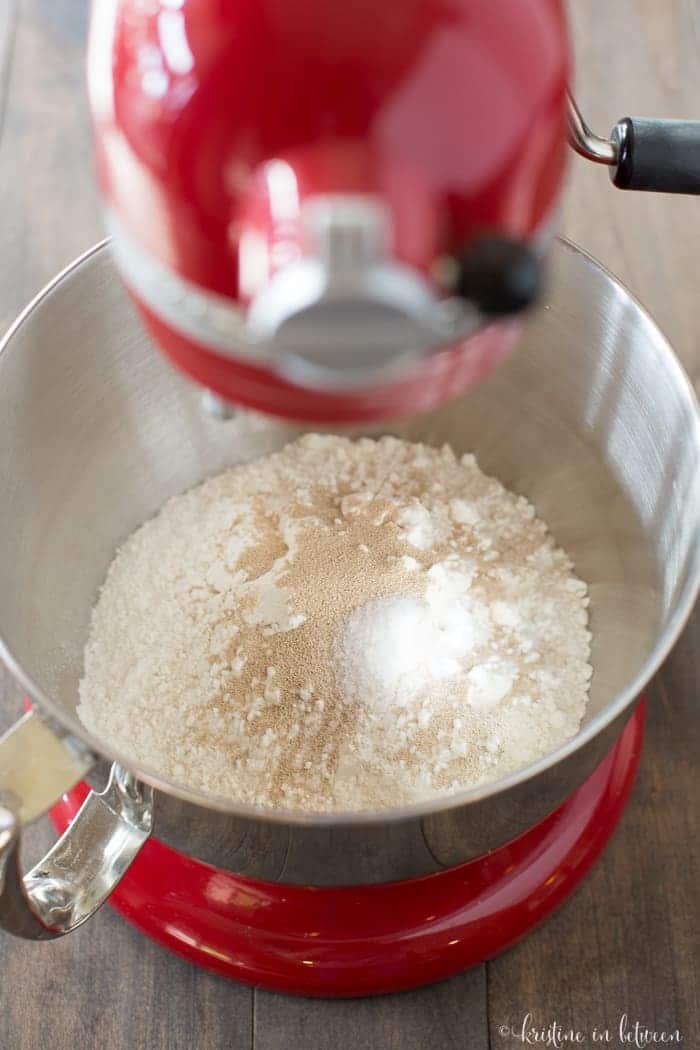 Y'all know I love pizza and because of that, I make my fair share of pizzas over here, but it took (what felt like) forever to find a crust I adored. After much trial and error this practically perfect thin and crispy pizza crust was born.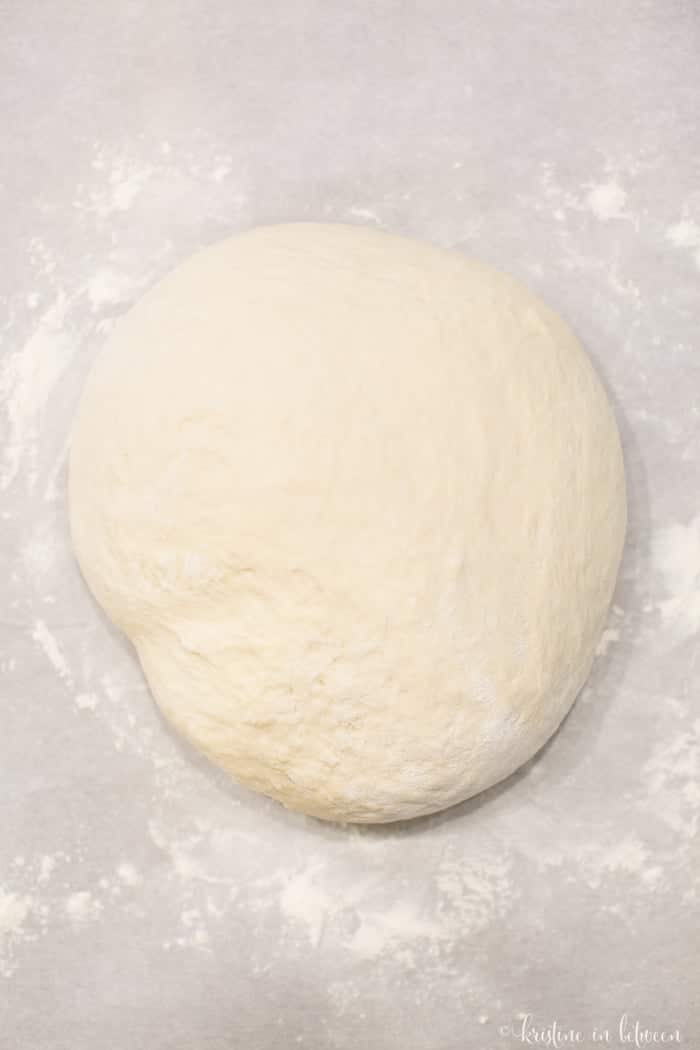 This thin and crispy pizza crust is not only easy to make, it's made in one bowl and uses one cookie sheet, so it's not a humongous mess to make, like pizza dough can sometimes be. You start off by combing the flour, yeast, and sea salt in the bowl of the stand mixer (yes, please use a stand mixer if you can) and whisk it all together.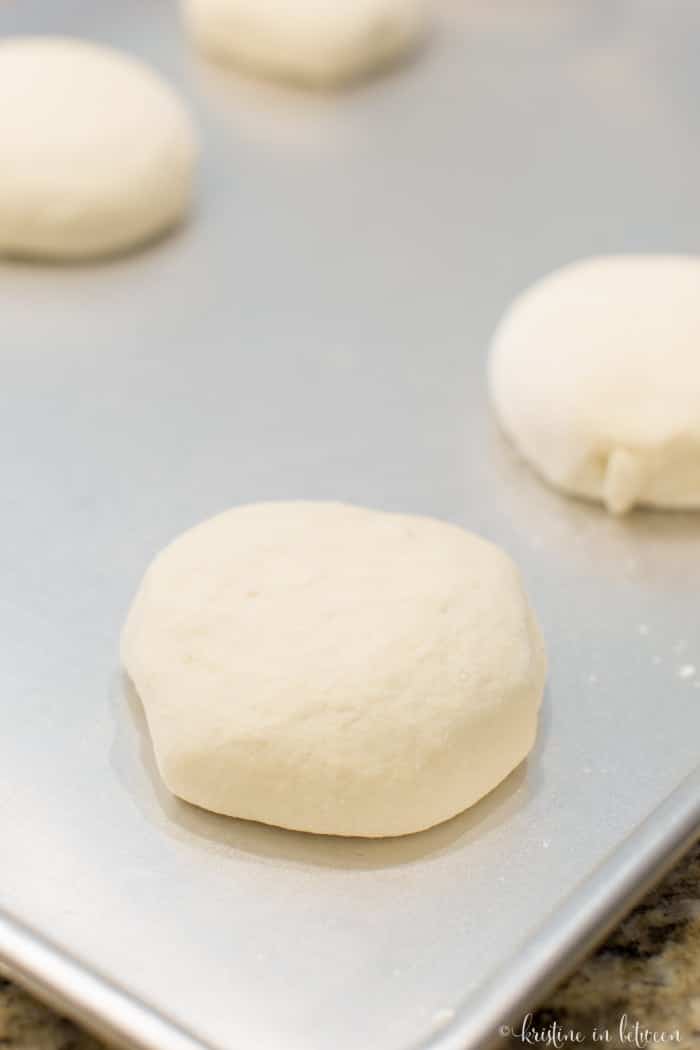 Then you add the water and let the mixer do it's thing for about 10 minutes total. This is a pretty sticky dough and will often stick to the bottom of the mixer bowl, which is totally normal. Do not freak out. It's perfect!
Then you remove the dough ball from the mixer (flour it really well and your hands too) and slice it into as many crusts as you want to make with a pizza slicer (we usually get about 8 personal pizzas out of one batch) and place them on the cookie sheet to rise. I like to rub the dough balls with a little olive oil before covering them with saran wrap to help them from sticking (they will grow like crazy).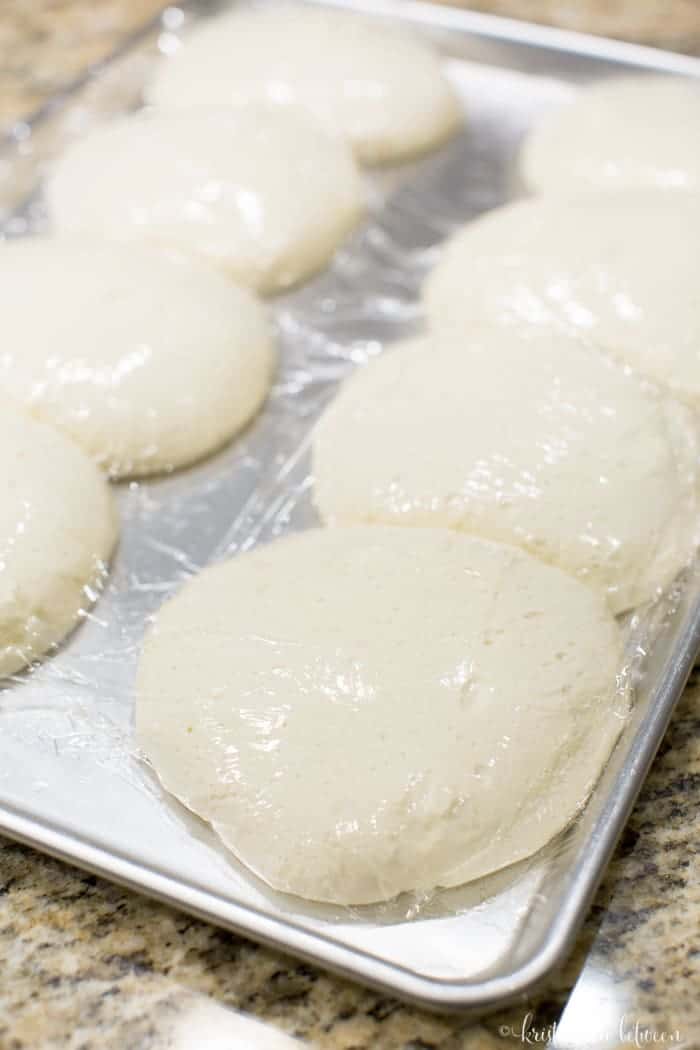 Once the dough has fully risen, about 2 hours later, you'll be ready to roll out the pizzas one at a time. Two things to know, number one – use lots of flour when handling and rolling out the dough and number two – place the pizzas on parchment paper lined with cornmeal prior to cooking, so they're easily transferred to the cooking stone (yes, we had a few stick and they turned into calzones – haha).
Then it's all about the toppings! Homemade sauce, veggies, meat, cheese, and of course some fresh basil. These pizzas take about 9 minutes on the grill or 11 in the oven, but I always, always cook them on a pizza stone to get that crispy brick oven type crust. Just trust me. Mmm!

When it's all said and done, you'll have the perfect thin and crispy pizza crust and some very tasty pizzas to devour for dinner! The best part is that everyone can have it their way!
Thin and Crispy Pizza Crust
Print
Servings:
8
personal pizzas
Ingredients
5

cups

white unbleached flour

1

package yeast

1-1/2

tsp

sea salt

2-1/4

cups

water

2

TBS

honey (optional)

Olive oil to coat dough balls
Instructions
In the bowl of a stand mixer, whisk together the flour, yeast, and sea salt.

Attach dough hook.

Begin mixing on low speed while adding the water and allow to mix completely.

Once the flour is completely mixed (you may need to scrape down the sides), allow to mixer to knead the dough for a full 8 minutes (the dough will be very sticky and may be stuck to the bottom, this is okay!).

Remove bowl from mixer and flour the dough ball well, remove the dough hook, and place ball on a well floured surface.

Using a pizza slicer or a sharp knife, cut the dough into 8 sections.

Gently form each piece into a ball and place on an oiled cookie sheet.

Rub the top of each dough ball with olive oil and cover with saran wrap.

Place cookie sheet in the oven (with it turned off) and allow the dough to rise for 2 hours.

When the dough is ready, it will be puffy and full of bubbles, this is normal.


To cook pizzas:
Preheat outdoor grill and pizza stone to 500 degrees or preheat indoor oven with a pizza stone to 450 degrees.

Remove a dough ball from the cookie sheet (keeping the rest covered), flour well, and roll out to desired thickness (I usually roll ours very thin).

Add sauce and pizza toppings of choice.

Grill pizzas for 9-10 min or bake for 10-11 min until browned and bubbly.

Serve hot.
Notes
Did you make this recipe? We want to see! Tag @kristineinbetween on Instagram and hashtag it #kinbetween
Nutrition
Serving:
1
pizza
|
Calories:
284
kcal
|
Carbohydrates:
62.2
g
|
Protein:
7.9
g
|
Fat:
1.8
g
|
Saturated Fat:
0.3
g
|
Fiber:
2.7
g
|
Sugar:
4.3
g
Use this pizza dough to make these fun heart shaped pizzas!  Or if you're looking for a healthier choice, try this honey whole wheat pizza crust, it's delicious too!