Heart Shaped Pizzas
This post contains links to affiliate websites and we receive a small commission for any purchases made using these links. As always, we appreciate your support!
Are you feeling the love these days? With Valentine's Day just about a week away, it's time for heart shaped everything isn't it? We are getting festive with these heart shaped pizzas!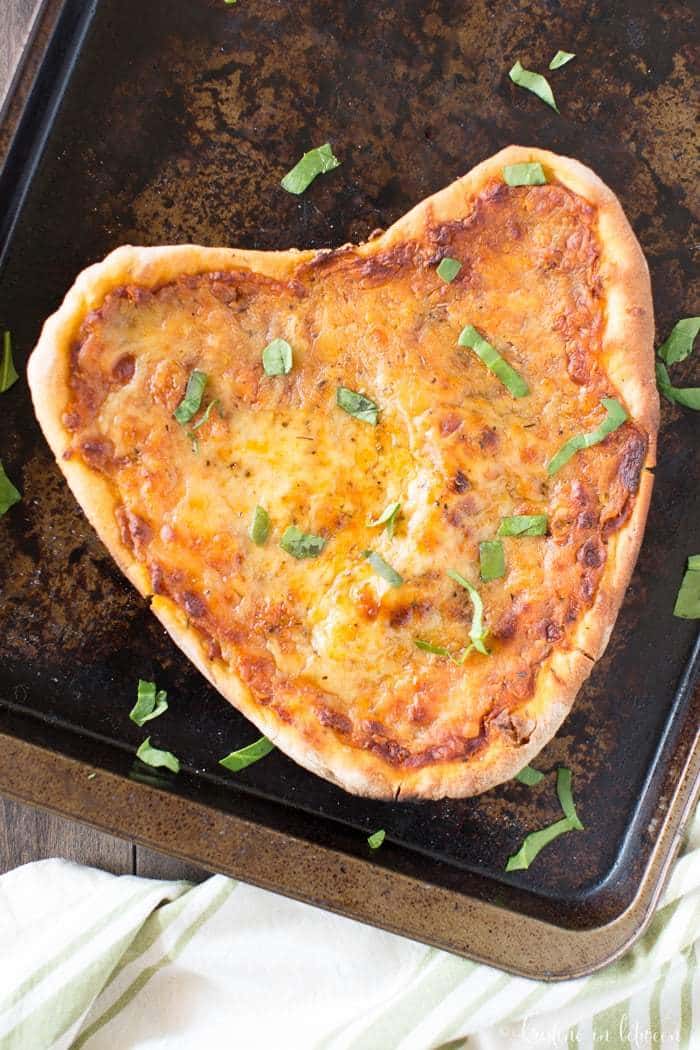 Not long ago, I posted about my deep love of homemade pizza and shared my all-time favorite artisan thin and crispy pizza crust with you. Well, while I was making the pizzas for those photos, I was inspired by Valentine's Day. ❤️
So, I made these totally adorable heart shaped pizzas for my sweet fam!

If you haven't read my post about the thin and crispy pizza crust, let me bring you up to speed here. This is an artisan style crust that tastes JUST LIKE brick oven pizza. Just like it, I swear! It gets brown and crispy on the edges and tastes like it came from a pizzeria. It has quickly become our go-to pizza crust and it will be yours too. It also happens to make the most perfect heart shaped pizzas!
Other dinner recipes for you
Heart Shaped Pizzas
Crispy, chewy, thin pizza crust that you can easily form into hearts to make your loved one feel special on Valentine's Day.
ingredients
5

cups

white unbleached flour

1

package yeast

1-1/2

tsp

sea salt

2-1/4

cups

water

2

TBS

honey (optional)

Olive oil to coat dough balls
INSTRUCTIONS
In the bowl of a stand mixer, whisk together the flour, yeast, and sea salt.

Attach dough hook.

Begin mixing on low speed while adding the water and allow to mix completely.

Once the flour is completely mixed (you may need to scrape down the sides), allow to mixer to knead the dough for a full 8 minutes (the dough will be very sticky and may be stuck to the bottom, this is okay!).

Remove bowl from mixer and flour the dough ball well, remove the dough hook, and place ball on a well floured surface.

Using a pizza slicer or a sharp knife, cut the dough into 8 sections.

Gently form each piece into a ball and place on an oiled cookie sheet.

Rub the top of each dough ball with olive oil and cover with saran wrap.

Place cookie sheet in the oven (with it turned off) and allow the dough to rise for 2 hours. When the dough is ready, it will be puffy and full of bubbles, this is normal.


To cook pizzas:
Preheat outdoor grill and pizza stone to 500 degrees or preheat indoor oven with a pizza stone to 450 degrees.

Remove a dough ball from the cookie sheet (keeping the rest covered), flour well, and roll out to desired thickness (I usually roll ours very thin) and shape into a heart.

Add sauce and pizza toppings of choice.

Grill pizzas for 9-10 min or bake for 10-11 min until browned and bubbly.

Serve hot.
Nutrition
Serving:
1
pizza
Calories:
284
kcal
Carbohydrates:
62.2
g
Protein:
7.9
g
Fat:
1.8
g
Saturated Fat:
0.3
g
Sodium:
236
mg
Fiber:
2.7
g
Sugar:
4.3
g