French Farmhouse Bath Decor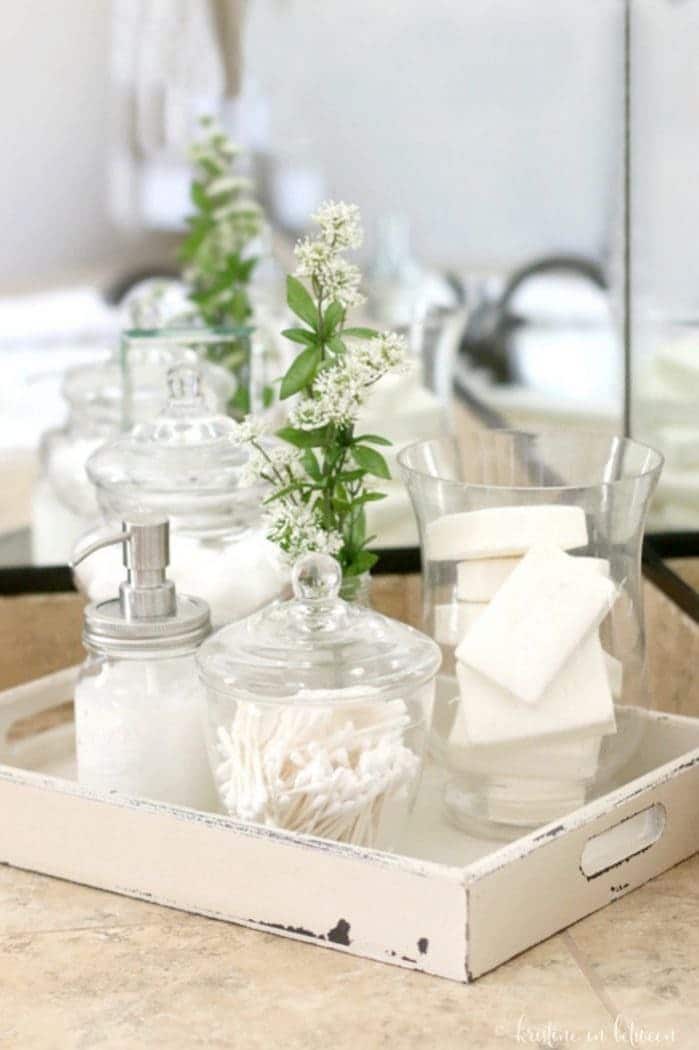 I have a confession. I get completely lost and overwhelmed when it comes to home decor sometimes. No, I'm totally serious! There are so many choices; I just shut down, right there in the middle of a store, wandering around, confused.
Because of that, I'm trying to stick to one room (heck, let's be real…one project!) at time.
As you know, I love uncluttered farmhouse decor, but I also have an appreciation for simple, small projects that I can do in an afternoon, but that will pull a room together and really give it some character.
This project is just that, an easy way to spruce up your bathroom and bring in some french farmhouse charm.
All you need for this project are a couple of apothecary jars, a candle holder, a mason jar and pump, a small vase or milk jar, and a silk wildflower (see below for where i purchased mine).
Then just fill the jars with some bathroom essentials (cotton balls, q-tips, and bar soap) and the mason jar with soap or lotion, arrange it nicely on the tray, and place on the bathroom counter.
See! That was easy! French farmhouse decor doesn't have to be complicated at all. this grouping looks lovely, and french, and farmhouse, yet is functional and is just about the right size for a master bathroom. If your bathroom is smaller or you have limited counter space, consider using only a couple of items or using small jars.
Want more decor inspiration and project ideas like this? Follow me on pinterest!
About Kristine
Kristine is a self-taught cookie baker and photographer. She's passionate about finding time for everything and making baking, crafting and homemaking simple. More...