*UPDATE – see my 2016 tree here and get my 3 tips to make a Christmas tree look magical!
**UPDATE – see my 2017 tree here and get my 10 Christmas tree decorating tips!
***UPDATE – see my 2018 tree here and get my 10 Christmas tree decorating tips!
Hi there! What do you say we get festive around here? I can't wait one more second! I've been busy over here getting my tree up and the house decorated. Haha, I know! Just today, I told a friend of mine today that Jay thinks I'm insane, but after 20 years, he just lets me. He accepts all of my craziness. And that's why I love him.
In previous years, I've had bright christmas colors in my house, including my tree which was almost always decorated in red and white. When we moved into this house in February, I decided it was time for a change and I wanted a softer feel.
And just so you understand how drastic of a change I'm talking about (and so you can see how far my photography has come over the past 5 years, no laughing, haha), here's our red and white tree, circa 2010.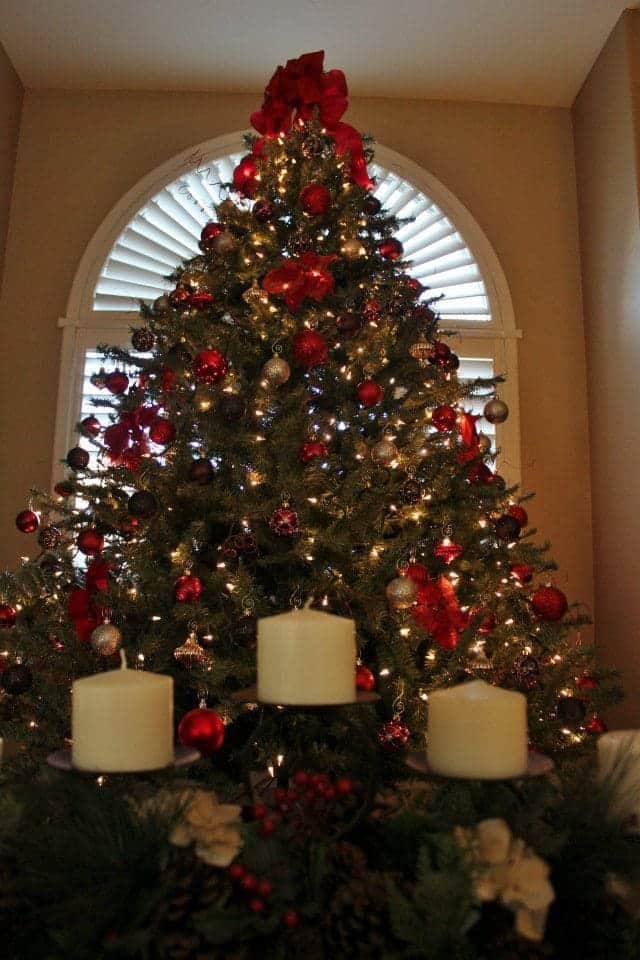 And here is what I've accomplished so far this year: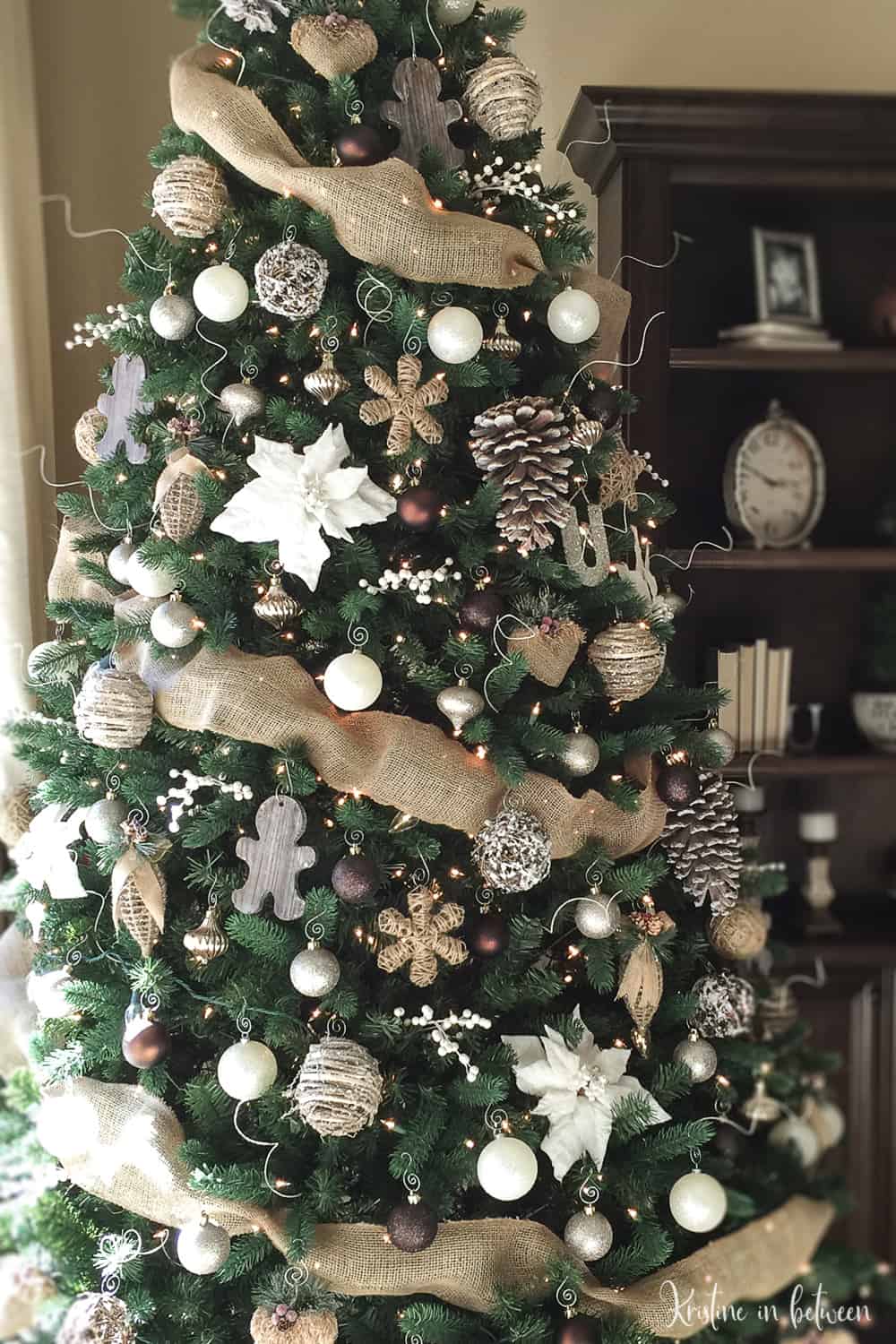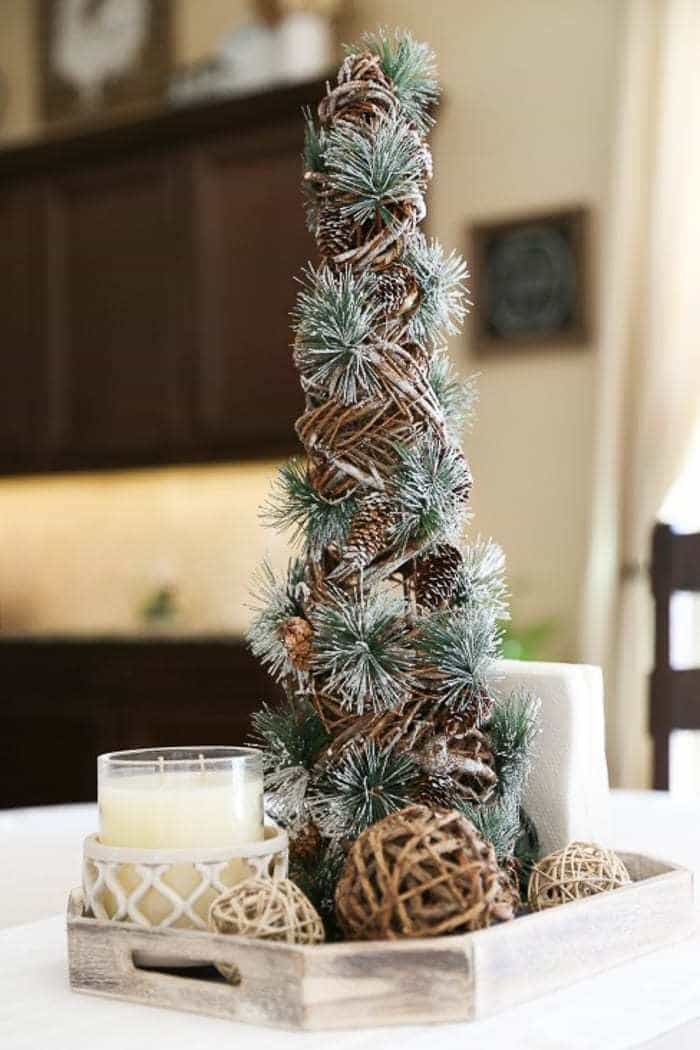 A few easy ways to add farmhouse holiday charm:
Soft neutral colors and lots of white.  Think earth tones with a splash of color.
Pinecones.  Put them anywhere and everywhere, on the tree, in a basket, in a jar, on a wreath, in a centerpiece, inside a lantern; the possibilities are endless.
Natural decor items and wreaths.  I look for twigs, leaves, branches, or anything made of wood. The gingerbread man ornaments on my tree are little wooden cutouts. Super simple, but I love them.
Antiques (or antique looking things), such as buckets, cups, pitchers, and glass jars. They all have that farmhouse feel.  With a holly branch stuck inside, even a mason jar looks festive and farmhouse fabulous!
Plaid/gingham blankets and pillows. Mix them, match them, layer them.
Burlap ribbon. Or burlap in general, tree skirts, table runners, wreaths, placemats, pillows, etc. Go crazy.
Trays. Load them up with candles, branches, pinecones, books, balls, ornaments, or some of all of the above!
Looking for more neutral Christmas decor or tree decorating tips? Check out these posts, 3 tips to make a Christmas tree look magical, Christmas tree decorating tips, and how to recycle your ornaments year after year for a totally new look!