How to Recycle Your Christmas Ornaments Year After Year
This post contains links to affiliate websites and we receive a small commission for any purchases made using these links. As always, we appreciate your support!
When it comes to holiday decor, it can be downright expensive to change every year, so I've got some awesome ideas to help you recycle your Christmas ornaments year after year for a totally new look!
But, before we dive into the good stuff here, let me introduce you to my 2018 Christmas tree!
As you can see, it's red this year – well, red and black, actually. Can you believe it, I stepped out of my comfort zone of all neutrals and went for a bold look this year…buffalo check!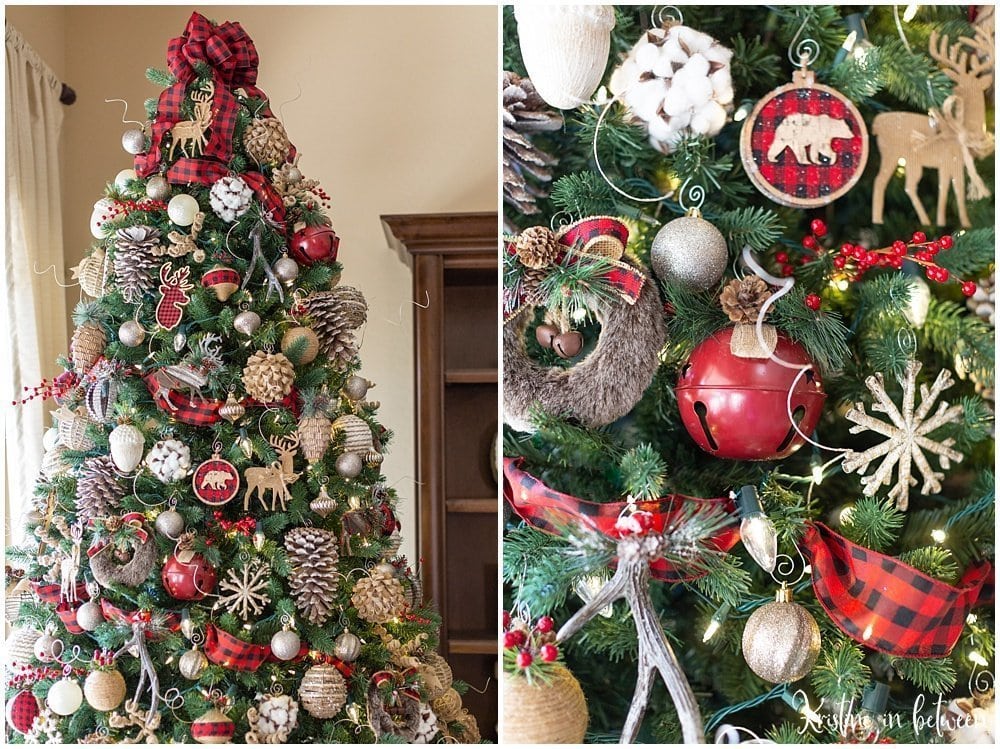 Here are a few closer up photos, so you can get a better look at some of the ornaments and decoerations I used to decorate the tree this year.
While the color scheme is slightly different this year, this tree looks pretty similar to my trees from the past several years and I love that!
Now let's talk about ornaments. Since replacing hundreds of ornaments every year (yes, that's about how many I use on my 9-1/2 foot tree!) isn't realistic or cost-effective, I've found that the best thing to do is create a solid base of neutral ornaments.
Brown, gold, silver, and white are great colors to start with. You'll also want to look for different shapes and sizes and of a variety of textures (glittery, twine, or burlap for example) and definitely buy some giant pinecones! And remember, ornaments don't have to cost a ton to look gorgeous. See those brown reindeer cutouts? Those are cardboard…from Walmart, they came in a pack of 6 and were $2.99. For real!
All of the balls I use on my trees came from one of those giant color cordinated shatterproof sets at Target or Walmart. I bought a brown and gold set, a silver set, and an all white set of different size and shape balls.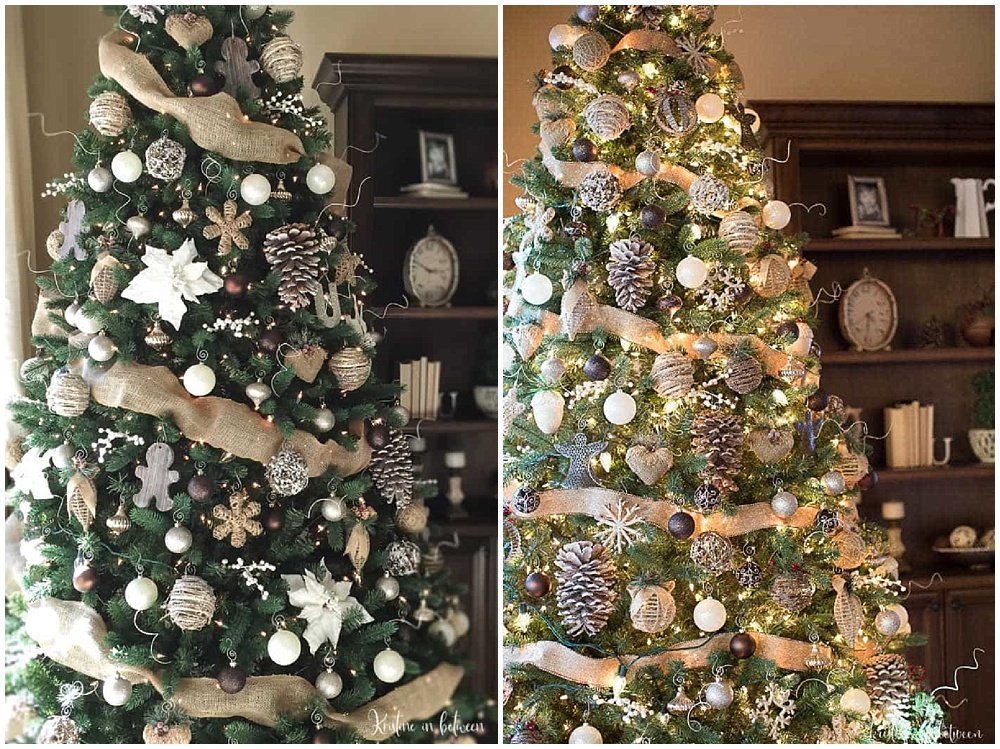 Here are my trees from 2015 and 2016. Things that I carried over – neutral ornaments, curly sprigs, and giant pinecones. Things that are new – the gold ribbon instead of burlap, angels instead of gingerbread men, and acorns and snowflakes instead of white poinsettias.
From 2016 to 2017, I only added some new glittery burlap ornaments, some new white and twine ornaments, and strands of pearls (from Amazon).
Here are my trees from 2017 and 2018. Things that I carried over – neutral ornaments, curly sprigs, burlap ribon, giant pinecones, antlers, snowflakes, and acorns. Things that are differnt – buffalo check ribbon instead of burlap, omitted dark brown balls, bow at the top instead of the angel, red ornaments.
How to recycle your Christmas ornaments year after year for a whole new look
Year 1 – Build your base
Start by building your base of neutral balls – all shapes and sizes, glittery, plain, and different shades. Browns, golds, silver, and whites are great ones to start with.
Add some textured ornaments, ornaments covered in material, made from twine, covered in burlap, wrapped (rope, twine, or even natural materials), etc.
Pick up some pinecones. The giant ones are my personal favorite, but any shape will do. I also prefer the ones that are painted white on the outside, for that added pop of white.
Choose one accent piece, curly twigs, sprigs with balls, glitter sticks, poinsettias – something to add texture to the tree. Again, stick to neutral colors.
Choose something for the top of the tree and/or ribbon to wrap the tree, stick with neutrals.
Select one set of specialty ornaments. Hobby Lobby has tons of ideas and most of the time, they come in packs of 2, 3, 4, or more. For an average size tree I would suggest at least 10-20 specialty ornaments.
Year 2 (and subsequent years) – Add some flair/omit ornaments/add a color
Use your same base of neutral ornaments.
Use your specialty ornaments.
Use your same tree accent pieces.
Pick up something new, another set of 10-20 speciality ornaments (maybe in a color, if you're changing or adding color this year), some new ribbon, a bow, new accent pieces or sprigs.
Leave off something from a previous tree. Deciding what to carry over and what to omit is the fun part, and is totally up to you. Using some of the same ornaments and decorating the tree evenly will be what gives it that feeling of uniformity year after year.
Great places to shop for ornaments:
Target.
Walmart.
Hobby Lobby.
Amazon.
You'll love these Christmas tree posts too