These pretty little farmhouse DIY etched flower vases will look perfect on your kitchen counter this spring!
This fabulous DIY project was sponsored by my sweet friends at JOANNs!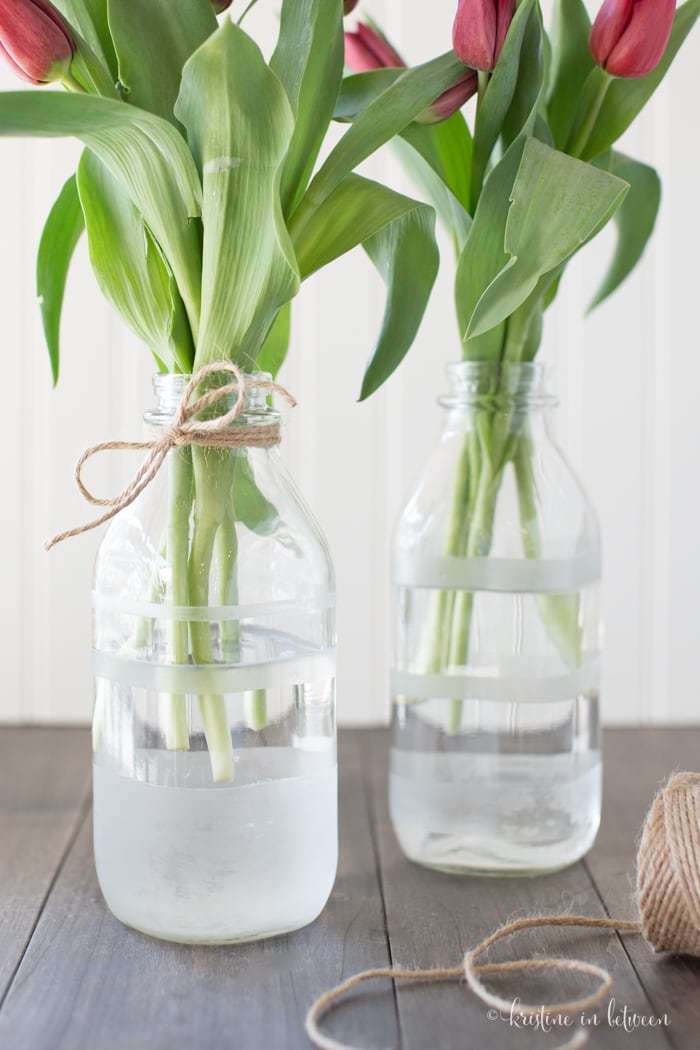 Spring has sprung here in Arizona and there are beautiful flowers sprouting up everywhere from my backyard to the grocery store! In fact, I saw these tulips and was inspired to make some vases for them! I love having fresh flowers in the house, especially during the springtime and what better way to showcase them than with some DIY etched flower vases!
If you've read this blog before, you know I'm all about the simple projects so these DIY etched flower vases are no exception, you can make them in just about 30 minutes and you don't need a ton of supplies! And speaking of supplies, let's talk about what you will need to make these DIY etched flower vases.
First and foremost, you'll need a vase (or vases if one just isn't enough – ME). I chose these adorable milk bottles that I found at JOANNs in the floral vase section. I had originally envisioned cylindrical vases, but then I saw these and knew I had to have them, but truly any glass vase, jar, or bottle you like will work. You'll need some masking tape. Any size or width is fine, I just grabbed what I had in the garage. You'll also need some small-ish paint brushes or a foam brush if that's more your thing. And finally, you'll need to grab a bottle of Armour Etch Etching Cream. This is the magic potion that makes this project possible!
Extra things you could use if you have them, stencils, lace, ribbon, or twine, but these are not required. 
Step 1
Using the masking tape, wrap the bottles in a pattern you like. Make some rows wide and some skinny. No need for perfection here. They don't need to be even, unless you want them to be. I made both of my bottles different. Get creative with your pattern! You could even go on the diagonal if you wanted to. Make sure to firmly press the tape all the way around the bottle so the etching cream doesn't bleed underneath the tape.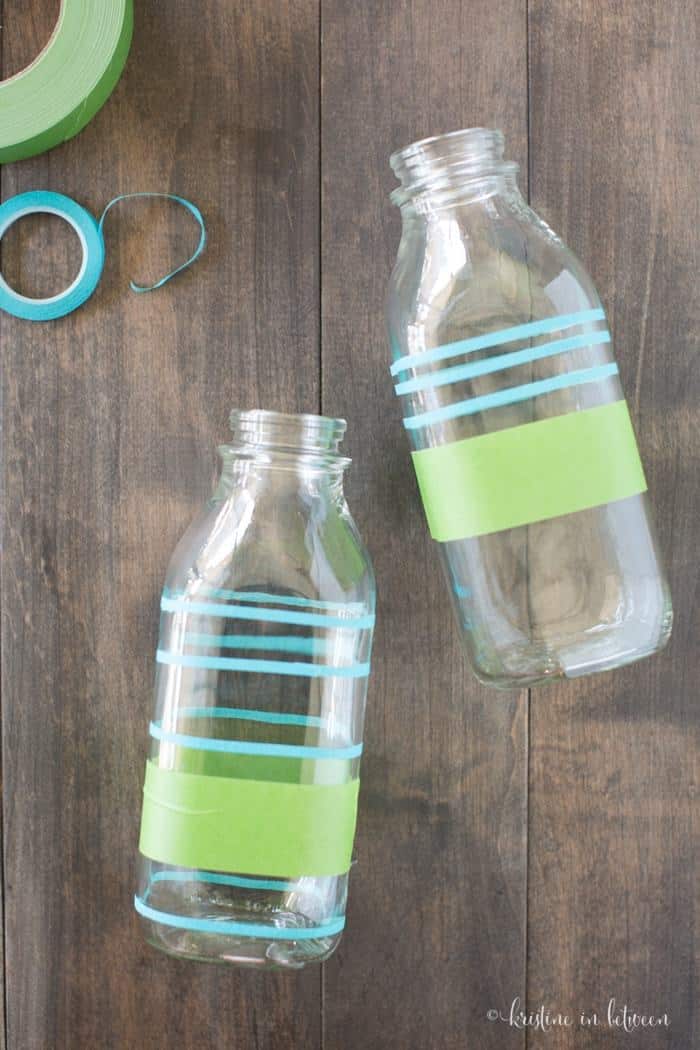 Step 2
Once the bottles are taped the way you want them, open the etching cream and using a small paintbrush, carefully paint the rows between the masking tape. I applied two coats on both bottles, one right after the other.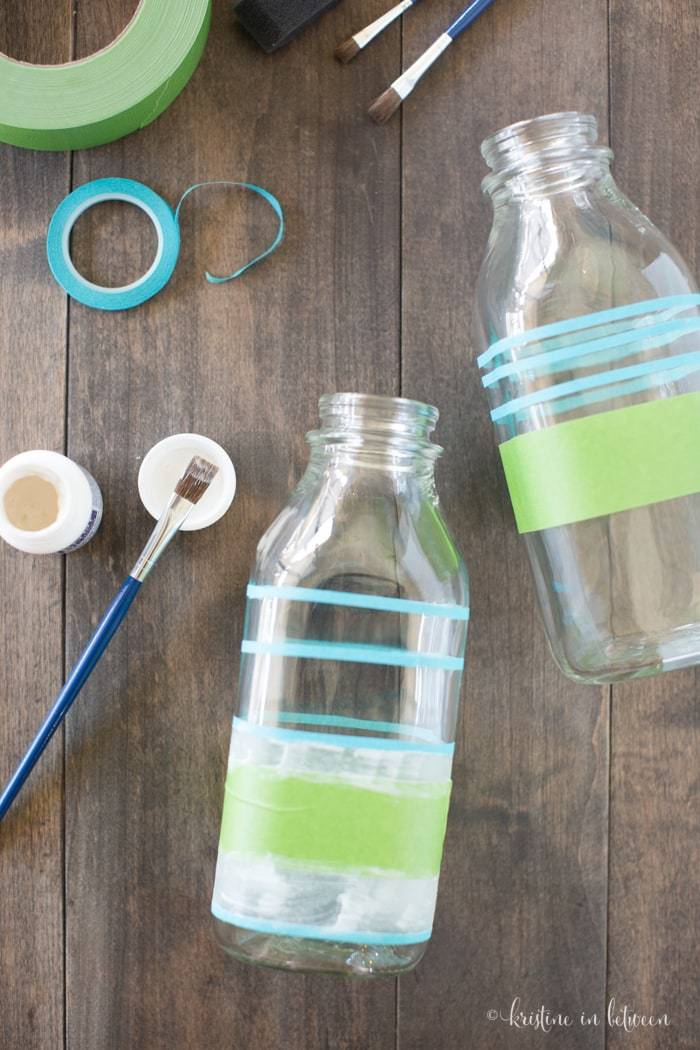 You need to use a generous amount of the etching cream, but don't go crazy and get it everywhere – this is pretty strong stuff. I stood the bottles upright on the paper towel to paint them.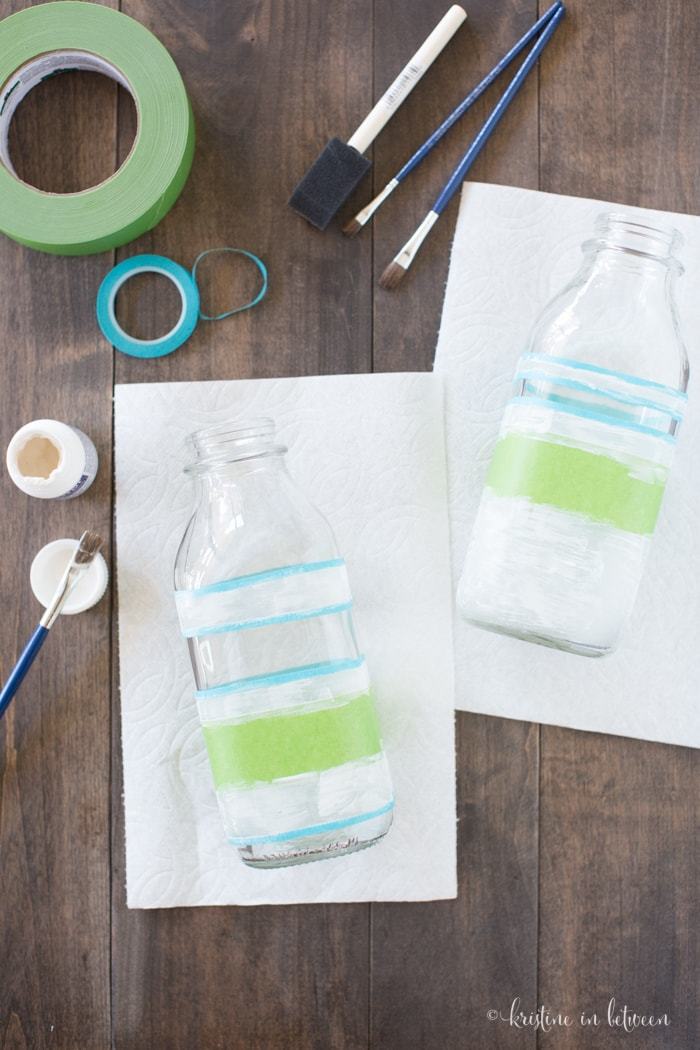 When you're painting the bottles make sure to stay within the margins of the tape. If you get the cream in the wrong spot, wipe it off immediately or it will etch where you don't want it to.
Step 3
Once you've applied two coats of the etching cream to the bottles, let them sit for several minutes. The package directions say 2-3 minutes, but I waited more like 5 minutes, just to be sure.
Step 4
After 5 minutes, rinse the etching cream off the bottles completely.
Step 5
Once the etching cream has been rinsed, peel the tape off and wash the bottles thoroughly. Once the bottles are dry, you should now see your pattern etched into the glass!
Step 6
Fill your beautiful new DIY etched flower vases with water and add your favorite springtime flowers! If you want to get fancy, you can tie the tops with some twine or a piece of lace, you can pick them both up at JOANNs too!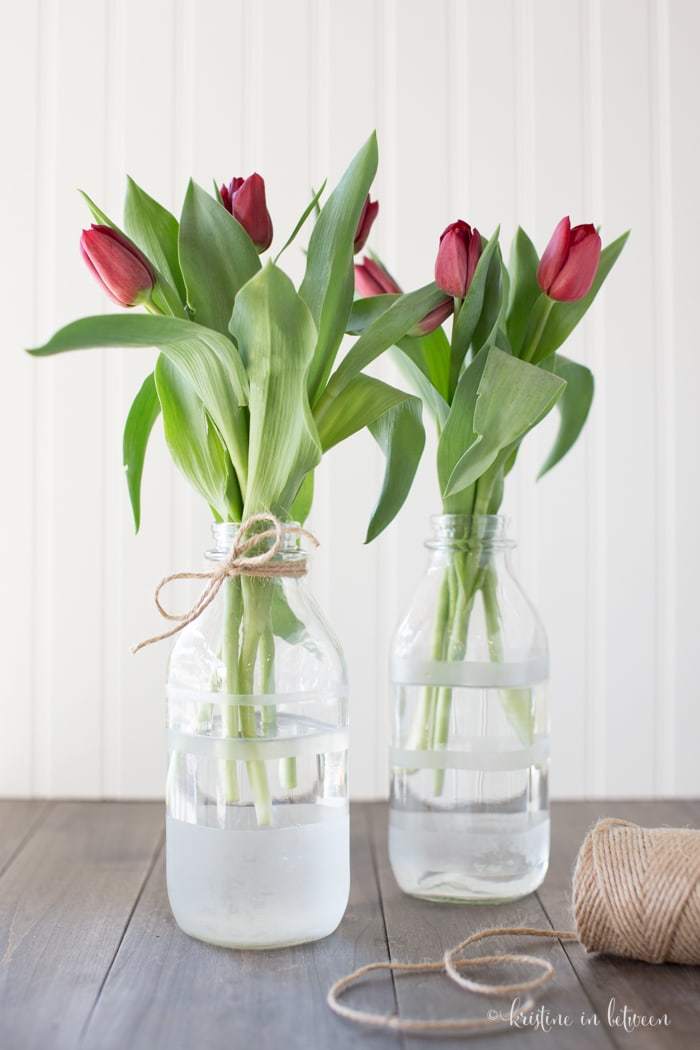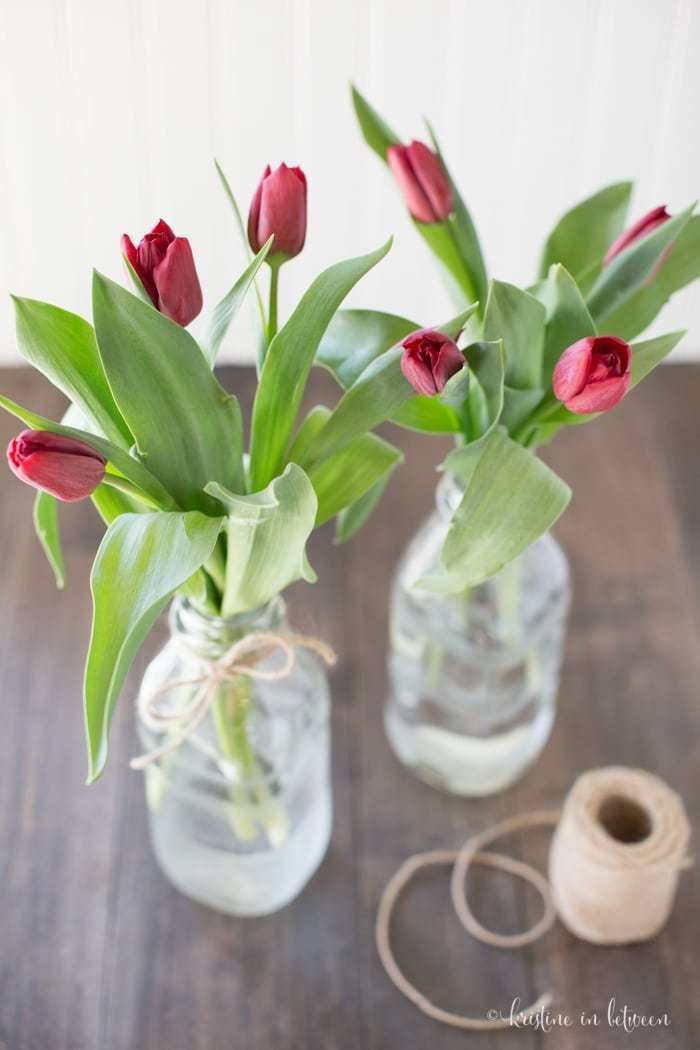 Now, head over to the JOANNs website to see this tutorial!
Did you make this project? We want to see! Tag @kristineinbetween on Instagram and hashtag it #kinbetween