The Easiest Crochet Blanket (Afghan) Ever
This post contains links to affiliate websites and we receive a small commission for any purchases made using these links. As always, we appreciate your support!
This is literally the easiest crochet blanket (afghan) ever, my friends! This blanket is made with all single crochet stitches, so you can easily walk away and pick it up later without having to count every stitch or remember what you're doing!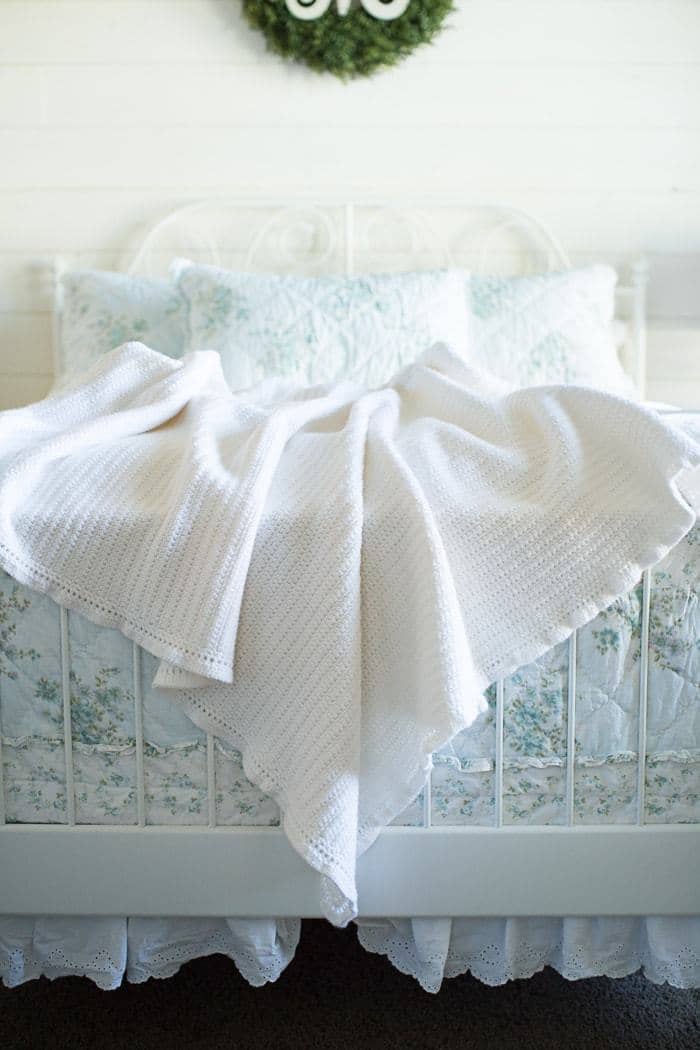 The story behind this blanket
I started this afghan when my dad was admitted to the ICU because I needed something to occupy my mind while we sat with him. My only option was a pattern that didn't require much (or any) counting or color changes because I was constantly getting interrupted and having to put it down.
I looked around on Pinterest and in a few of my crochet books, but couldn't find exactly what I wanted, so I just made this one up. I call it, The Easiest Afghan Ever! The whole afghan (minus the ruffle) is done in single crochet. Yep, that's it. A gazillion single crochet stitches.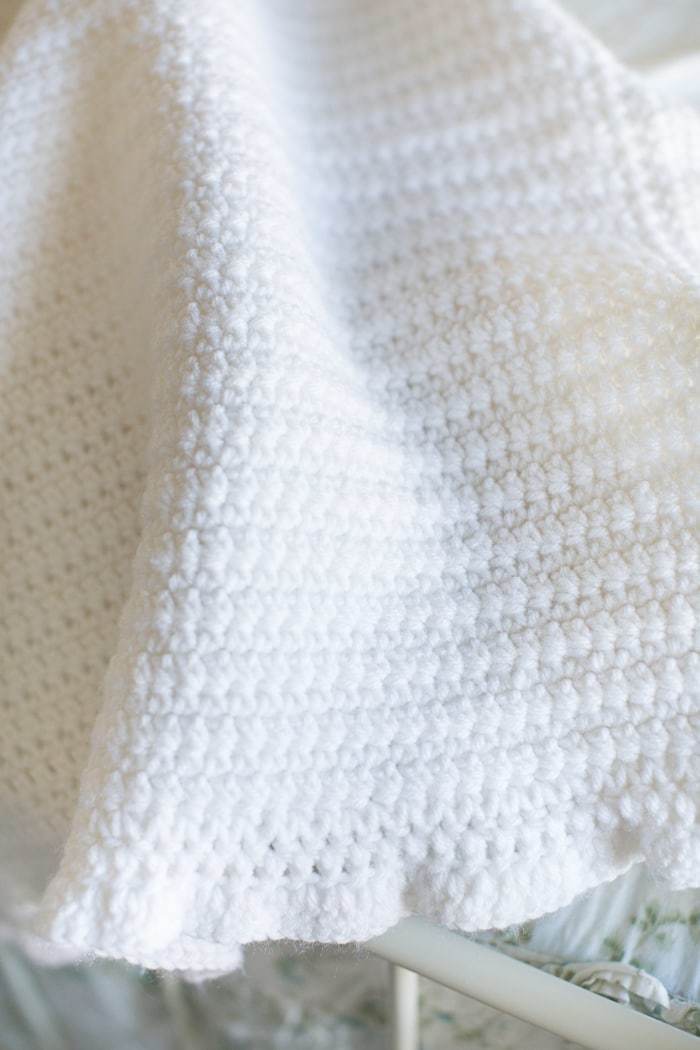 How to make this easy blanket
Using a size "G" hook, I chained 142 and starting in the second chain from the end, single crocheted all the way across. Then I chained 1 and turned. Back and forth, row after row.
This is totally "irresponsible" of me, but I didn't even count the rows, I just kept going until I thought it was long enough. Then I got out a tape measure and measured it. Nope not quite long enough, so I did some more. My finished size (minus the ruffle) ended up being 44 x 66″.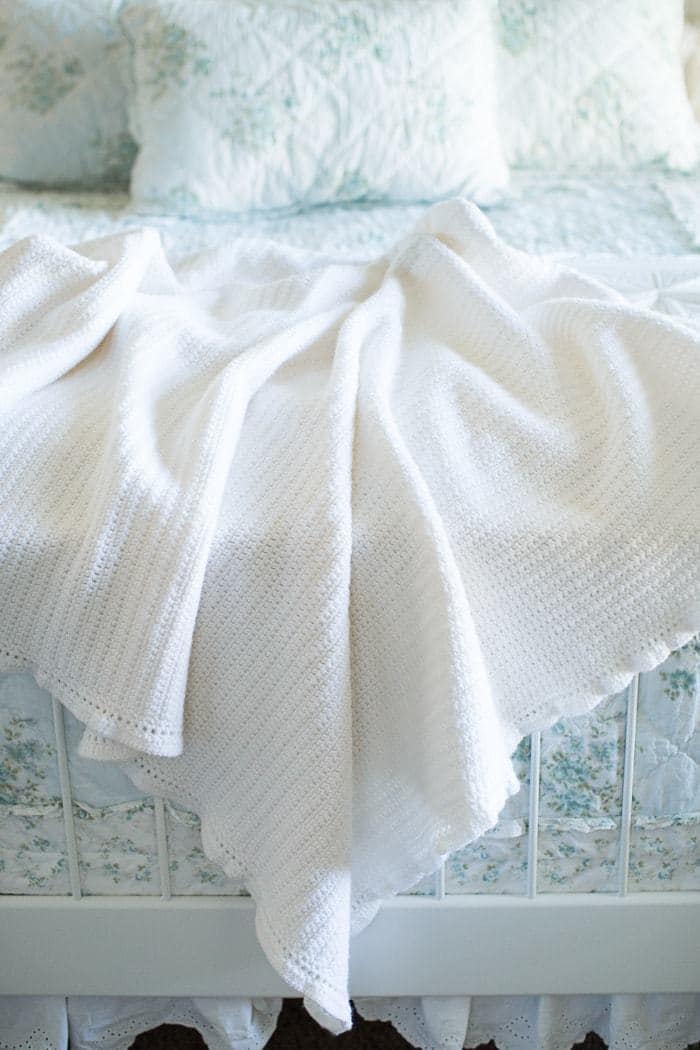 After I had the main body size I wanted, I did a row of single crochet all the way around the outside with 3 single crochets in each corner and a slip stitch to join ( to help secure the shape). The next row is double crochet all the way around with only 1 double crochet in each corner and a slip stitch to join.
For the border
And for the final row of the border (the ruffly part), I did 2 double crochets in each stitch all the way around with a slip stitch to join. Then I fastened it off and wove in the tails. Cramming two stitches in each hole gives it that ruffled look, which I discovered, I truly love.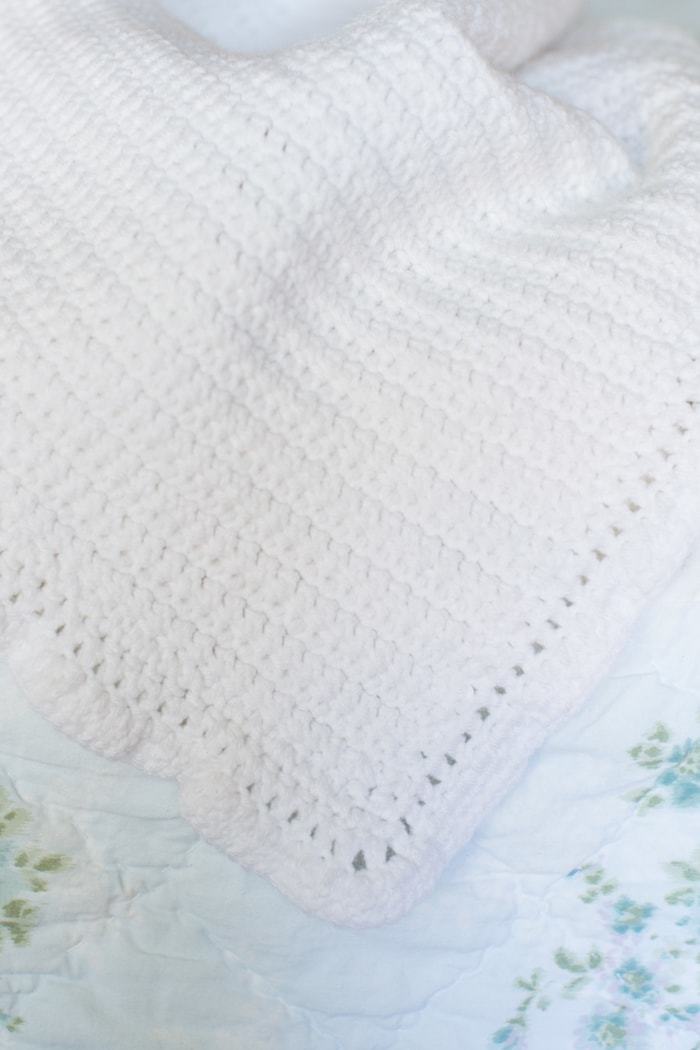 It took me just about 3 weeks to complete this afghan and I used approximately 3-1/2 pounds of white yarn. I'm so happy with the way this blanket came out; I just love the uniformity of it and let me tell you, it's so soft and warm!
Crochet blankets wrap you in love
Since I originally started this blanket for my dad and he is no longer with us, I lovingly gifted it to my mom in remembrance of him. It's stitched with hope, faith, and love.
If you have any other questions, please let me know!
Did you make this project? We want to see! Tag @kristineinbetween on Instagram and hashtag it #kinbetween
Looking for more crochet inspiration? Check out this double-crochet afghan or this granny stripe afghan!