10 Things To Do With A Waffle
This post contains links to affiliate websites and we receive a small commission for any purchases made using these links. As always, we appreciate your support!
So you know, on Saturday morning when you make a full batch of waffles and then even after your family has had their fill, you still have a dozen waffles left? Well, now that will be a good thing! Let's discuss what to do with waffles!
The most obvious answer is to freeze them of course, either individually in sandwich bags or in bunches. That's a very practical, but not very creative answer, so here's the rest of my more interesting ideas.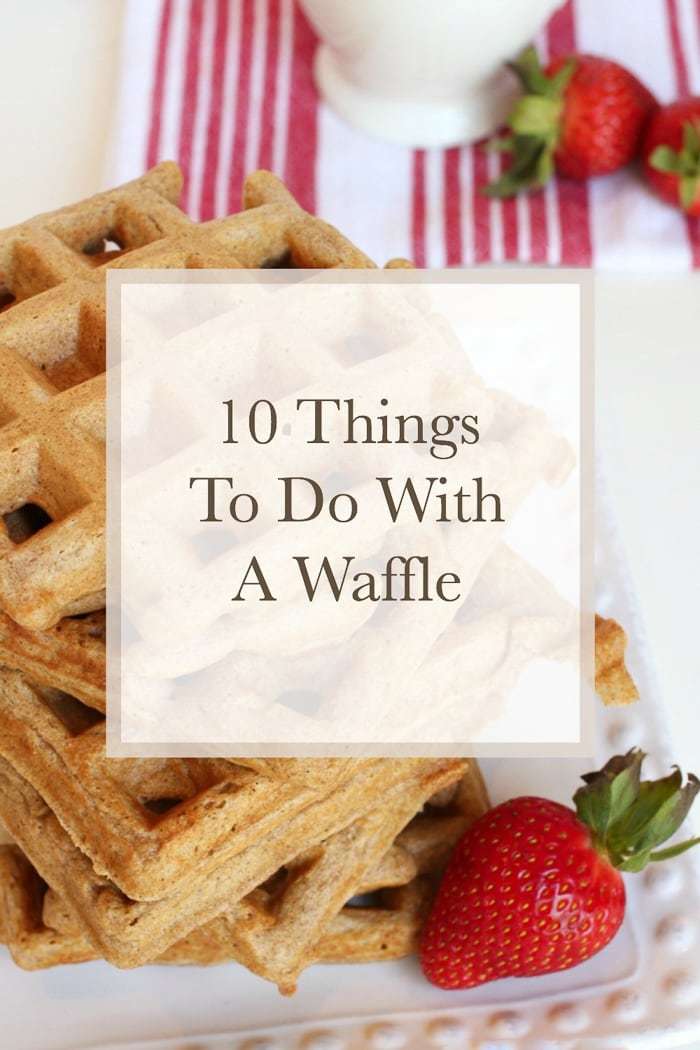 Chicken and waffles. This is always a winner in my book, it's delicious. Check out this recipe, it's one of my favorites!
Use a waffle as cornbread with chili. Seriously, this tastes wonderful! It's sweet and savory. I like to put them at the bottom of the bowl before pouring in the chili and then eat it all together. You've got to try it!
Warm up a waffle (either in the toaster or in the microwave), cut it in quarters, and top it with homemade vanilla ice cream and your choice of fresh chopped berries. MMM!
Cut a waffle in half and spread flavored cream cheese on it like a bagel…only better (or use plain cream cheese if you're a purist like me).
Make a PB&J or a peanut butter and banana waffle sandwich. My girls especially like this one; it's a fun spin on an original. They love it in their school lunches!
Make some waffle bread pudding for dessert. Try this chocolate recipe or this strawberry recipe. They both look to-die-for!
Make a waffle breakfast sandwich. Top the waffle with an an egg over easy or scrambled, bacon, and cheese. And if you want something sweet too, lightly drizzle maple syrup over the top and eat it with a fork. Breakfast. Complete.
This is one of my favorites – make a grilled cheese waffle sandwich. Yes, you read that right and yes it's delish! Top one waffle with your choice of cheese (we use cheddar) and another waffle. Then grill in lightly buttered pan until brown and toasted. Serve with fresh fruit and ENJOY!
To go along with #8, make a waffle panini. You could do any variety, but one of my favorites is to layer cheddar or brie and some apple slices between to waffles and either press into panini or sandwich maker or grill in a buttered pan until toasted.
Or finally, how about a turkey cranberry waffle sandwich? This is delicious around Thanksgiving time when turkey leftovers and cranberry sauce are just lying around! Pile it on your waffle and chow down!
There you have it, some very inventive, but incredibly tasty ways to enjoy those leftover waffles! Dig in!