Easy DIY Holiday Centerpiece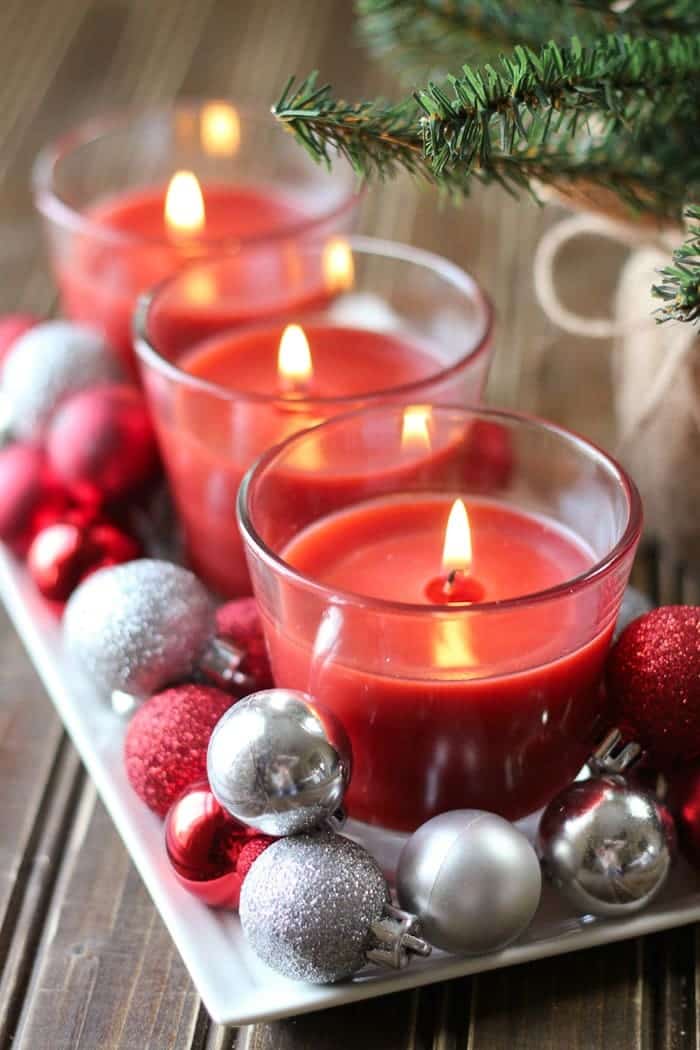 I love candles, like truly love them. I love the way they smell, I love the soft glow they give off, and I love how warm and cozy they can make a room! I almost always have a candle (or wax melter) going somewhere in my house.
This centerpiece, or 'counter-piece' as I've ben calling it (because I love how it looks sitting on my kitchen counter) is a great way to bring some holiday cheer to something I already use and love everyday, candles!
This one's super easy too, you'll love it! All you need are three candles, a package of mini ornaments or bells (I used ornaments for little tabletop trees; these are from Target), and a rectangular plate (this one is from Cost Plus World Market). I chose Glade holiday candles for my counter-piece because 3 of them fit perfectly on my plate, they're self-contained in glass cups (no messy melted wax), and because they smell great! But any candles will work just fine.
Okay, here we go!
Step 1: Remove the candles from the packaging and line them up on the plate.
Step 2: Open the ornaments and pour them out. Place them evenly around the candles, mixing up the colors for variation.
Step 3: Set the arrangement on your kitchen table or counter, light the candles, and enjoy!
And when the candles are used up, just slip in a new set! See, I told you it was easy!
Oh and nope, this is not a sponsored post. Just a girl sharing her favorite things!
Get inspired, see more craft projects!
Did you make this project? We want to see! Tag @kristineinbetween on Instagram and hashtag it #kinbetween
About Kristine
Kristine is a self-taught cookie baker and photographer. She's passionate about finding time for everything and making baking, crafting and homemaking simple. More...