I wanted this post to be about these totally tasty, yet healthy little banana chocolate chip muffins, because, well, they deserve it! But instead, I got sidetracked.
When I was at Target the other day, I found these parchment paper cupcake liners. "Hey now, that's a pretty cool idea" I thought to myself and into the cart they went. Okay, fine…I mainly bought them because they were a nice brown and I thought they'd make a perfect neutral backdrop for a muffin photo shoot!
Anyway, after the insane amount of food I ate last week, I decided to make a lightened up version of my favorite banana chocolate chip muffins…you know, to make myself feel better. Well, I baked the muffins in these liners…and I was blown away!
You know how when you use regular paper liners they become one with the cupcake/muffin after baking? Like, I'm pretty sure I've consumed the equivalent of an entire muffin liner over the course of my lifetime in my furry to get to the baked goodness inside. Well, no way Jose, not with these babies. They are literally just like parchment paper and nothing sticks to them!
After I baked my muffins (and let them cool, of course), they just rolled out of the liners. Seriously! You've got to try them, they're amazing! And, to answer your question, yes they are the perfect brown for a muffin photo shoot (see the photo above, haha!).
And now, about those muffins, which by the way, are equally amazing! This 'lighter' version is made with white whole wheat flour and honey, but don't let that fool you, they're really good! They're soft, and moist, and loaded with chocolate chips. They have just the right amount of sweetness for breakfast time and pair perfectly with coffee or milk (but are delicious any time of day!). For an added bonus, you can use Greek yogurt instead of butter too!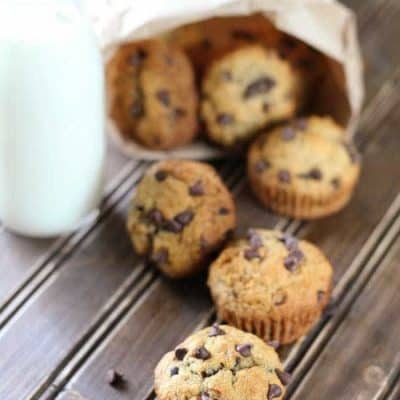 Whole Wheat Banana Muffins
Print
Ingredients
2

cups

white whole wheat flour

3/4

cup

butter or plain Greek yogurt

1/3

cup

honey

1

egg

1

tsp

vanilla

1

tsp

baking powder

1

tsp

baking soda

1/2

tsp

sea salt

1/2

cup

+ mini chocolate chips

3-4

overripe bananas, mashed
Instructions
Preheat oven to 350 degrees.

In a large bowl, cream butter and honey until smooth.

Add baking powder, baking soda, and salt.

Stir in egg and vanilla and mix until well combined.

Slowly add flour and stir.

Fold in mashed bananas.

Fold in chocolate chips.

Spoon batter into lined muffin cups, filling 3/4 full.

Sprinkle a few chocolate chips on the top of each muffin.

Bake for 16-18 minutes, rotating halfway through.

Cool on wire rack.

Store in an airtight container for up to 1 week or freeze.
Notes
Did you make this recipe? We want to see! Tag @kristineinbetween on Instagram and hashtag it #kinbetween