Shabby Chic Mason Jar Vases
This post contains links to affiliate websites and we receive a small commission for any purchases made using these links. As always, we appreciate your support!
Let me just say, I love this project! Like a lot! Okay, moving on…
If I had to choose, I'd say my style is rustic chic. Well, maybe a little vintage too. Yep, that's definitely me…rustic, vintage, chic. So of course, I adore mason jars. I use them everywhere!
I'm always looking for containers to hold everything from fresh flowers to colored pencils, so I got this great idea to decorate some mason jars! Today, I'm going to show you how I made these adorable rustic chic mason jar vases (or pencil holders, candy jars, or change dish…or whatever you want to throw inside!).
Here's what you need:
I made a set of 3 vases, so to do that, you need 3 pint size mason jars, ball of twine or rope (I used regular old twine from the hardware store), hi-temp glue gun and glue sticks, and ribbon to tie around the outside.
Just a little note on the mason jars, I chose Kerr jars because they are flat on the back side and I find they are not only more attractive (because they are plain), but it's easier to glue the twine to the flat surface. You can use any jar or brand you'd like though.
Step 1: To start, glue one end of the twine onto the back of the jar about 1 inch from the bottom. I used a paper plate to hold the glue gun and the jar, so it didn't get away from me (I am notorious for injuring myself during these little projects, haha).
Step 2: Begin wrapping the twine around the jar, stopping to glue it down in the front and the back with each pass. I held the jar in my left hand and wrapped and glued with my right. Just dab a little hot glue right next to the row beneath and lay the twine in the glue as you continue wrapping (see photo above). Remember to pull the twine pretty snug, you don't want any sagging!
Keep wrapping and gluing, pulling the twine tight with each pass until you've done between 1-1/2 and 2 inches of twine wrapping (or as much as you'd like).
Step 3: When you've reached the desired amount of twine (make sure you're on the back side of the jar) cut the twine and glue the end down. Cover the end completely with glue so it doesn't unravel.
Complete this same process with the other 2 jars.
Step 4: Cut 3 ribbons, each 34 inches long.
Step 5: Place the jar front side down, dab a little hot glue right in the center, on top of the twine. Center the ribbon and press it into the glue to hold it in place (again, we don't want any sagging and this makes it much easier to tie!). Then, turn the jar over and tie the ribbon in a pretty bow. Trim off any excess from each tail (make them the same length) and lightly burn the ends with a lighter or dab with fabric sealer to avoid fraying. If your bow looks wonky, use dabs of hot glue to secure the bow in the position you want.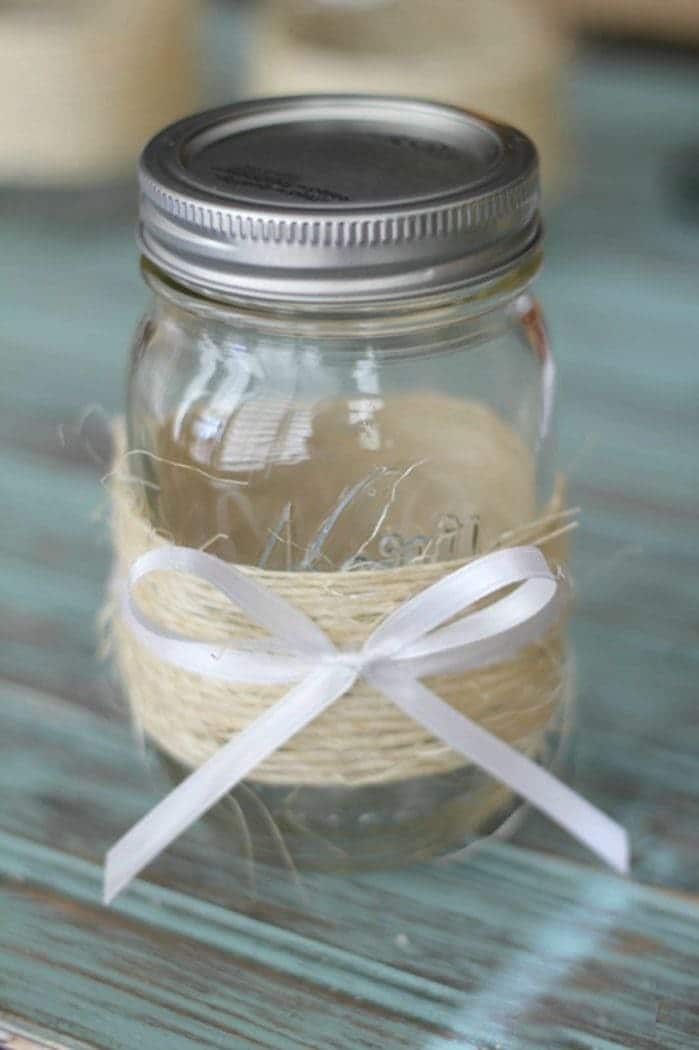 Again, do the same thing with the other 2 jars.
Voila! You now have a matching set of these lovely rustic chic vases to fill with whatever your heart desires! I have one sitting on my desk right now filled with pencils and one on the kitchen counter with some flowers from the yard! Go crazy!!
Did you make this project? We want to see! Tag @kristineinbetween on Instagram and hashtag it #kinbetween