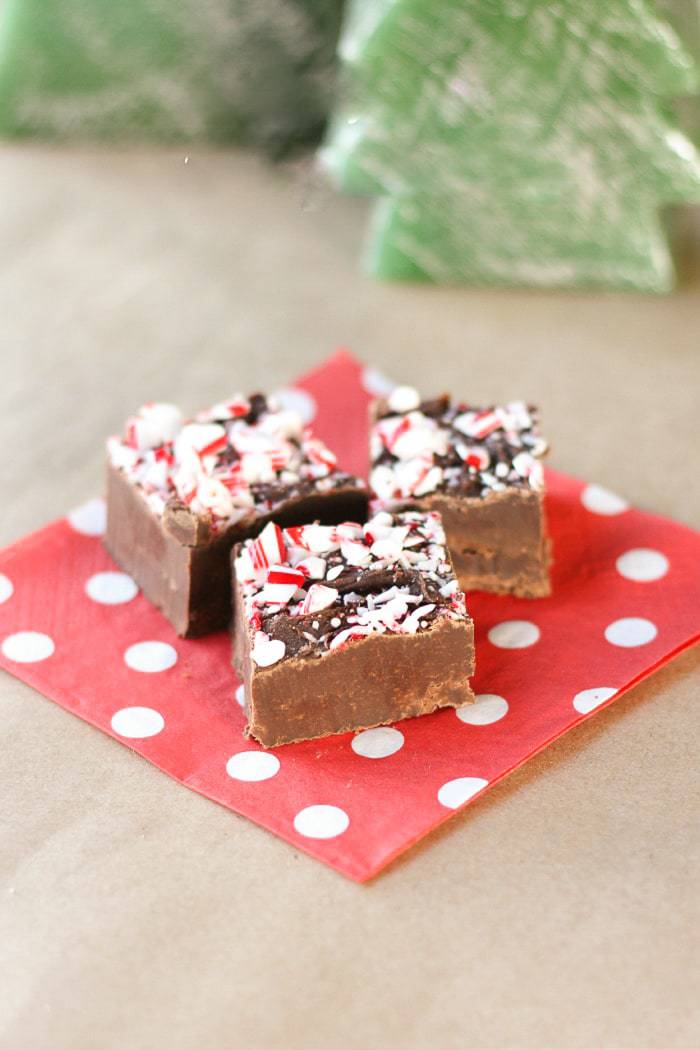 today, i'm excited to bring you this ridiculously easy (and delicious) peppermint fudge. It's so good, you won't believe how easy it is to make!
Why do you need this fudge recipe you ask? Well first of all because it's a fudge recipe, duh! And secondly (and thirdly), because this recipe has only 3 main ingredients and can be made on the stove or….wait for it… in the microwave! C'mon, you know you're excited now! You can have delicious fudge in like 5 minutes flat!
…Unless you go a step further like I did…and make your own sweetened and condensed milk of course, then it's more like 2 hours and 5 minutes!
I've never tried to make sweetened and condensed milk before, and actually I never even thought about that possibility, until yesterday when I read the ingredient list on the can. Light bulb! I could totally make this! It's really easy, minus the 2 hours of simmering time…that wasn't my favorite, but the final outcome was pretty fantastic (especially for use in fudge)!
And just so you know, I've made this fudge both ways (now) and they were both scrumptious, so don't feel like you have to get your Betty on and make your own sweetened and condensed milk unless, of course, you're dying to try it! Then by all means, check out my recipe below!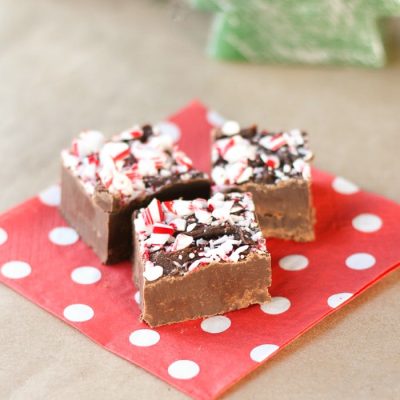 Ingredients
3

cups

chocolate chips

1

cup

sweetened and condensed milk (see homemade recipe below)

2

tsp

vanilla

Crushed (dye-free)
Instructions
In a medium saucepan or microwave save bowl, melt chocolate chips, sweetened and condensed milk, and vanilla, stirring frequently until smooth.

Line an 8 x 8 baking dish with aluminum foil and pour melted chocolate into pan. Smooth out with a spoon and sprinkle crushed peppermints over the top.

Refrigerate for 30-60 minutes, slice, and serve.
Notes
Did you make this recipe? We want to see! Tag @kristineinbetween on Instagram and hashtag it #kinbetween
Sweet & Condensed Milk
Print
Ingredients
1-1/2

cups

milk

1/2

cup

sugar (to substitute honey, see notes)

2

TBS

butter

1

tsp

vanilla
Instructions
In a medium saucepan, bring milk and sugar to a boil over medium heat.

Reduce heat and simmer for 2 hours or until the mixture has reduced by half. A skin may form on the top, remove as desired.

Stir in butter and vanilla and mix until smooth.

Pour into a clean glass jar and refrigerate at least 1 hour prior to use.

Store in refrigerator for up to 2 weeks.
Notes
*If substituting honey for sugar, reduce milk to 1-1/4 cups.
Organic ingredients are recommended.