Good nutrition can be a struggle but with these easy ways to stay on the nutrition wagon, you'll be able to stay strong and keep your motivation high!
This post has been sponsored by
Two Good™ by Light & Fit®
. All thoughts and opinions are my own.
When it comes to falling off the wagon, nutritionally speaking, I am a professional. Yes, friends, it happens to me all the time. I do really good with my food goals for a week or so, then the weekend hits or a dinner party comes up and, boom, off the wagon I go. It's like one little thing causes me to completely go off the rails, and then I lose all of my motivation. Sound familiar?
Well guess what, you guys, it doesn't have to be that way. You can have both; you can make good food choices AND live your life. What the what?!
I've put together a helpful list of 10 easy ways to stay on the nutrition wagon for you but before I get to that, I want to talk about the most important one first. For me, eating more frequent meals and snacks throughout the day is the number one way to avoid feeling hungry and, in turn, avoid making a less-than-ideal food choice.
And while we are talking about snacking here, one of my very favorite post-workout or afternoon snacks is this Two Good™ Yogurt by Light & Fit® because it has 2g of sugar per 5.3oz serving; that's 85% less sugar than average yogurts! Two Good yogurt is made using a slow-straining process that removes most of the sugar from the milk used to make the yogurt, which is genius!
And if you're a fitness enthusiast, like myself, haha, you'll appreciate that it also has 12g of protein and 80 calories per serving! It's a tasty, convenient, and high-in-protein snack.
Wondering where to find Two Good yogurt? You can pick it up at your local Safeway which, as you know, is my favorite grocery store because they're so helpful and friendly; before you rush out to find it, make sure you download the Safeway app and search for the $0.50 off one Two Good™ Yogurt coupon! The Safeway app makes shopping and saving super easy! #winning
Click below to save at your local store!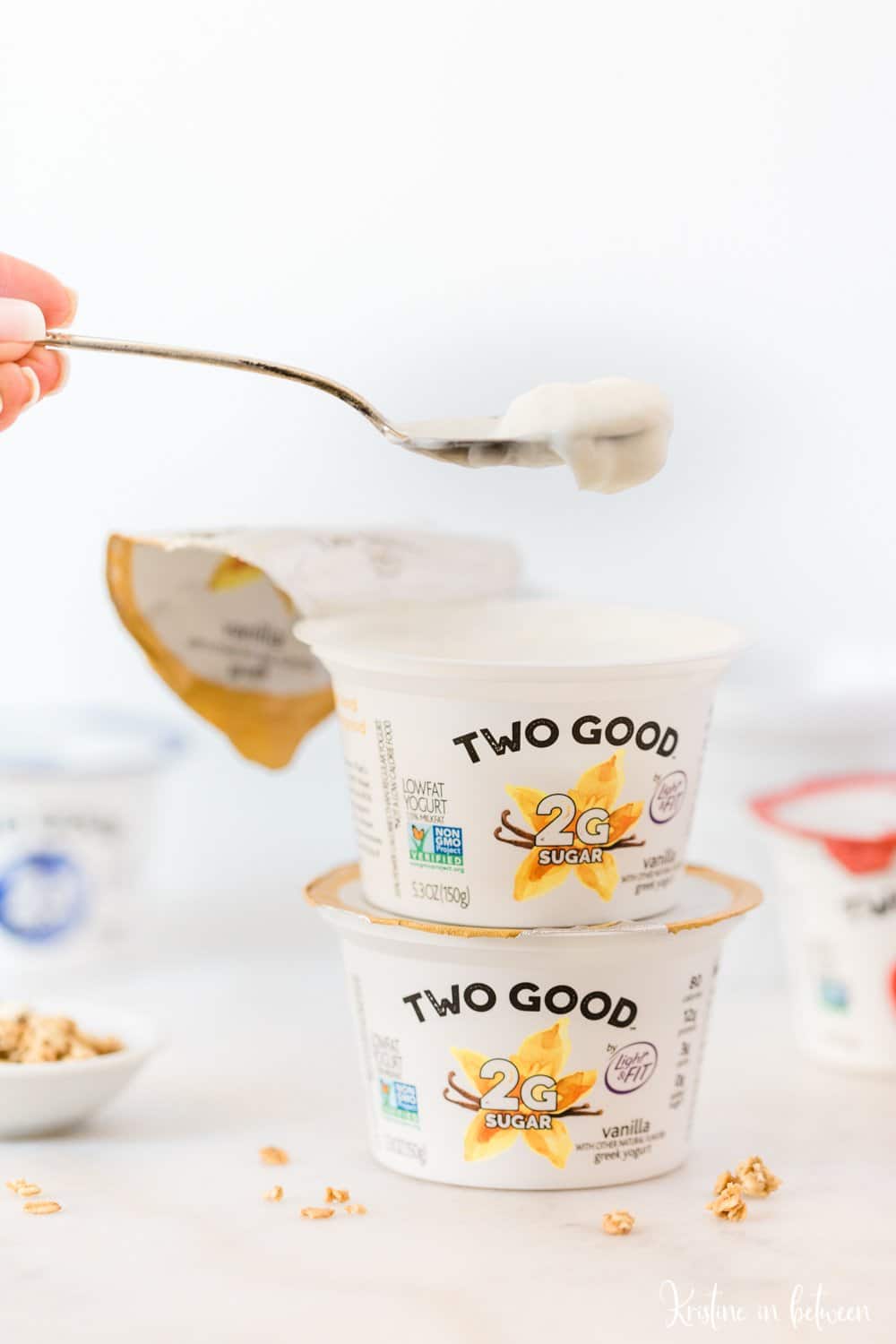 Now that we've covered my favorite snack and where to find it, let's go over the other 9 ways to help you stay motivated and ON the wagon all year long!
USING THESE EASY WAYS TO STAY ON THE NUTRITION WAGON, YOU CAN BALANCE GOOD EATING HABITS AND REAL LIFE:
Eat several small meals and snacks throughout the day to avoid feeling hungry. Hunger can sometimes influence us to make hasty food choices, which we might later regret.
Increase your water intake. Drinking a gallon or more a day will not only keep you hydrated, but keep you feeling full! It will also help flush some of the toxins from your body.
Clean out the pantry and cut down on junk and overly-processed foods. Junk food isn't good for anyone and if it's not around, you're less likely to consume it.
Set several small goals that will help get you to your larger overall goal. Don't be afraid to break things down into manageable challenges. Progress is progress, friends!
Continue to eat the food you love, but work on being mindful of portions—like one cookie, for example. And take the time to really enjoy your favorites without overindulging.
Stock up on whole foods, and eat lots of fruit and veggies—green veggies, particularly. You'll want to make sure you're getting plenty of micronutrients and fiber.
Eat lots of protein, some with every meal, and try new sources of protein. Protein is good for your muscles but also keeps you full for longer.
Track your food or keep a food journal. There's great power in knowing what you're eating, and it's a good idea to know exactly how many calories you're taking in every day, even if it's too much or too little.
Learn some basic food prep and keep nutritious food on hand and ready to grab and go. Whether it's convenient cups of Two Good yogurt or pre-sliced veggies, having something quick for snacking is ideal.
Work together with a friend or a group of friends for support. There's strength in numbers, you guys!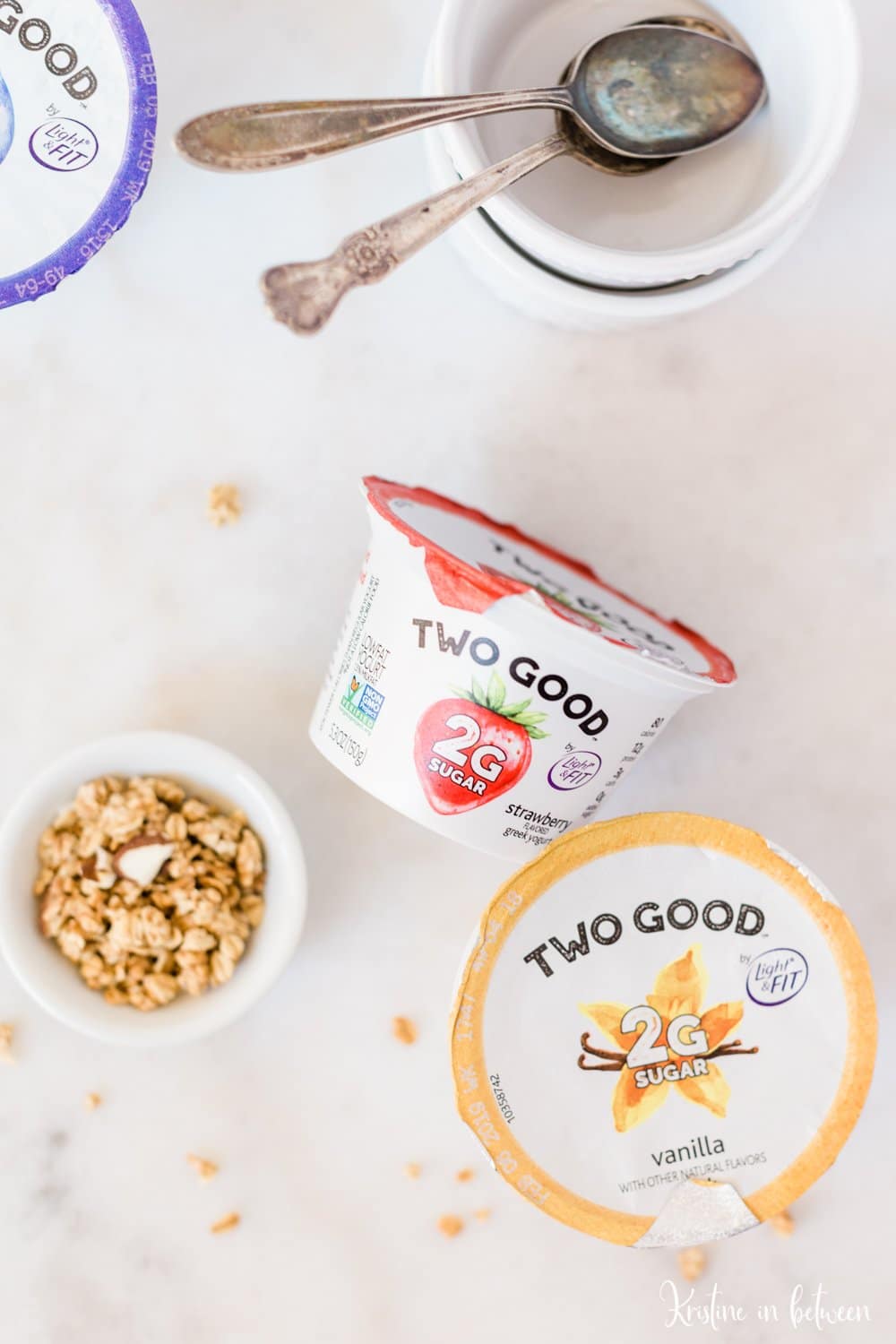 As with any lifestyle change, it can take some practice to implement these things into your daily routine and not go completely haywire when there's a disruption. After a while, it will become second nature and you just pick up where you left off. You'll find the balance. I call it, the new normal.
A big thanks to my friends at Two Good yogurt and Safeway for helping make this possible.